Ten years might seem like an eternity at Flipkart. Yet, as we look back and marvel at this inspiring decade in the history of e-commerce in India, we are humbled by how much we have discovered about the lives we touch every day. In July 2017, as we set out to acquire a deeper perspective of our customers' experiences, we chanced upon a story that moved us deeply. This story emerged from a community of customers whose existence has been ingrained in our nation's conscience for millennia, and whose struggle for equality, to assert their fundamental rights and find acceptance in society, remains a hard-fought one to this day. Yet, it was heartening to discover that online shopping has been the silver lining in their everyday battle for equality and acceptance. Through online shopping and artistic expression, Flipkart's spirited and savvy customers from the transgender community are breaking the barriers of gender bias and asserting their right to be part of a more equal society.
E-commerce is empowerment. Anyone who doubts that need look only as far as Flipkart's roster of customers. From women in middle India to differently abled knowledge workers in a Bengaluru BPO, Flipkart's customers attest to the access and choice that online shopping has brought into their lives. In July 2017, during the Month of Customers to observe 10 years of Flipkart, we crossed paths with a community of online shoppers unlike any other. These were customers of Flipkart from the transgender community, and they unveiled a remarkable story — that they have experienced liberation of a different kind in the world of online shopping. Discover their perspectives that have today enlightened us about the inclusiveness and empowerment that e-commerce can bring to the lives of all Indians.
---
For Shanthi Sonu and Priyanka Divaakar, mornings start early, sometimes before sunrise. As with most working professionals in Bengaluru, they begin their day with a quick glance at their smartphones, even as they get ready and make haste to get to work. Both Shanthi and Priyanka belong to the transgender community and work as radio jockeys at a community radio called 90.4 Radio Active — a Jain University initiative. Upon our encouragement, Priyanka and Shanthi visited us at the Flipkart office in Koramangala.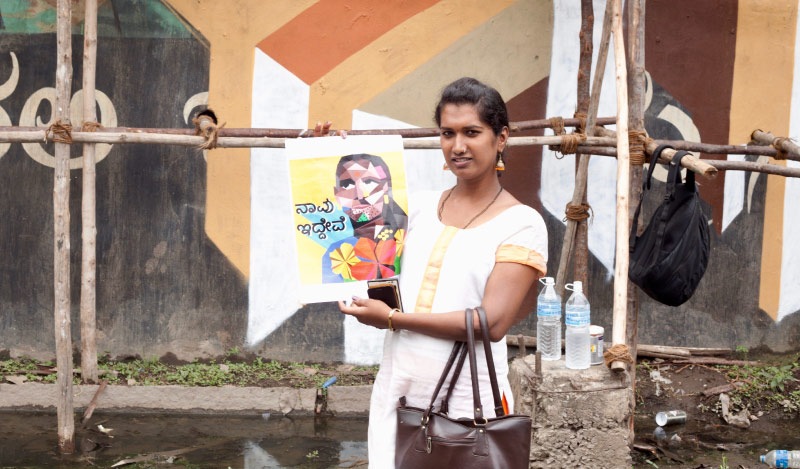 "Flipkart tumba chennagide," says Priyanka. " The Flipkart [app] is very nice" Her expressive hands mimic the act of shopping on her smartphone. Confident and charismatic, Priyanka has been an RJ with Radio Active for nearly seven years. "I run a daily slot on the radio where I speak about the achievements and challenges of people from the transgender community. During the show, I get many calls from people who need guidance. It feels good to empower them," she says with conviction. The 32-year-old's narration is brisk, reflecting her skills as a radio jockey. She is most comfortable conversing in Kannada, but finds no difficulty in switching to English and Tamil. Having found her identity as a transsexual early in life, Priyanka understands the need for help that others like her require at that juncture in life. Today, the radio is her channel to connect with those seeking guidance.
---
LISTEN: In this Studio 34 podcast, Flipkart's transgender customers speak up about life, art and online shopping (English, Kannada and Tamil)
---
Elegant and composed, Shanthi sits in a conference room at Flipkart's Koramangala office, observing the conversation. She waits for an interlude of silence to add to the discussion. "We [people from the transgender circle] are a close-knit community. And we watch out for each other," voices Shanthi. Unlike Priyanka, Shanthi's expressions exercise terseness. It is no surprise that her heart lies in poetry. "I host a one-hour slot on the radio where I bring out stories from the community. It is a tough life out there and the radio helps give voice to these whispers," she articulates.
Like Priyanka, Shanthi is no stranger to the world of online shopping. Smart and savvy, the 36-year-old  finds comfort in its convenience. "I love to shop. Who doesn't! But for people like us, it is awkward to walk into a retail outlet and enjoy the experience without inhibitions. There is always someone who judges you and there have been instances where I've not been allowed to enter some shopping outlets," she confides. 
Times of change for the transgender community
For centuries, transgender communities have played a unique role in India's culture, but their lives still largely remain misunderstood. It is no surprise that most would derive a mental image of people from this community as hijras begging at city junctions or conferring blessings on people during auspicious occasions like childbirth and weddings. "It is strange that we are considered as being a sign of luck during these celebrated events, but are looked upon differently under normal circumstances," highlights Shanthi. She is well-read on the subject and understands both sides of the coin. "We understand how the uncommon can be uncomfortable for people and we are used to this treatment," she adds.
History documents the genesis of people from the transgender community in India in many ways. Their references can be traced back in time to a point where history and mythology are blurred. In the Hindu epic Mahabharata, for example, there is a story of a girl child named Shikhandini being born to King Drupada and transforming her gender. She did it not to turn into a male, but a eunuch.
In April 2014, the Supreme Court of India took a progressive stance by giving the third gender formal recognition. In a landmark judgment, the court created the 'third gender' status for Hijras or transgenders — making India among the first countries in the world to give the community equal opportunity in education and employment. "While there have been amendments in the law to give our community more opportunities, the way the society perceives us is progressing at a slower pace," mentions Priyanka, reminiscing upon her own experiences.
For people from the transgender community who have been living in the backdrop of an open society, things are slowly changing. 
The art of breaking biases
"The problem is not individuals from the transgender community. The problem is the reluctance to understand them," says Poornima Sukumar, artist and founder of Aravani Art Project. Aravani Art Project (supported by Aarogya Seva) is a public wall-art initiative that advocates the idea of utilizing community spaces to support social causes — in this case, the welfare of individuals from the transgender community.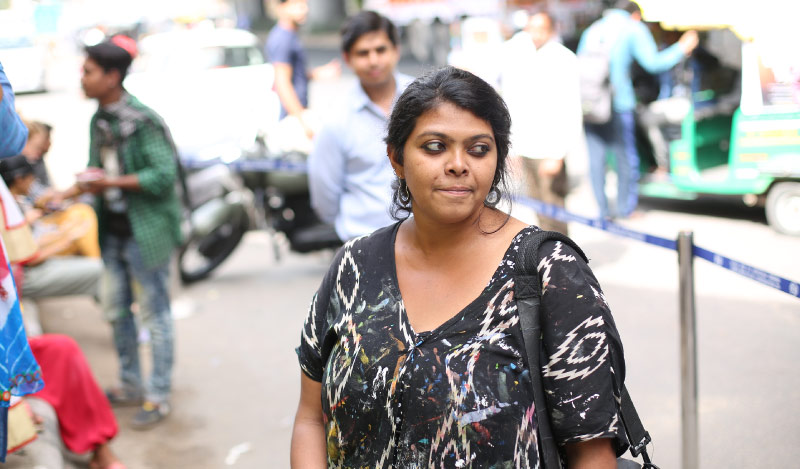 Poornima, a fine arts graduate from Bengaluru, has headed and executed nine successful live wall-art projects through Aravani Art Project. Her independent initiative has one mission – reduce the discrimination, stigma and systemic inequality faced by members of the transgender community.
"I've worked very closely with Shanthi, Priyanka and other members of the transgender community and clearly see how art is liberating them," says Poornima. Coincidentally, Poornima's social initiative saw participation from another artist — Flipster Sadhna Prasad. "I met Sadhna during an art project," recalls Poornima. Sadhna, who works as a designer with Flipkart, joined the Aravani Art Project, dedicating most of her personal time to the initiative.
"We launched Aravani in January 2016 and it has been a crazy journey for us!" exclaims Sadhna. "They [people from the transgender community] would come to me with questions around Flipkart — mainly around offers and sales," says the 25-year-old artist. To Sadhna's pleasant surprise, most of the community members were already accomplished shoppers on the online platform. 
Shopping without bias – experiences from the transgender community
"The kaleidoscope that I got for my nephew is my most cherished memory of shopping on Flipkart," says Shanthi. It was one of the objects that brought back memories of her own childhood and she wanted to share the experience with her nephew. "I keep window-shopping or buying random things on Flipkart — like this choker chain," she says pointing to her neck.
While Shanthi's shopping interest is spread across a variety of items, Priyanka's wishlist is more focused. "I am pretty clear on what I need before I go online," affirms Priyanka, who in the past has shopped for lifestyle and electronics products on Flipkart. In the past year, saris, a power bank, a voice recorder, and a pair of headphones have topped her checkout list. "Priyanka has been hunting for a smartphone and she has narrowed down on the Samsung Galaxy J7. I was surprised when she inquired about exchanging her old mobile and taking up the No Cost EMI option. Priyanka is very savvy that way," says Sadhna.
Across the state border in Tamil Nadu, 32-year-old Sowndharya Gopi sits brushing her long hair in a one-bedroom apartment nested within the Tsunami Quarters at Ernavoor in Chennai. The quarters form a part of the free housing division that the Government of Tamil Nadu granted to 220 transgender community members. Sowndharya was one of the few who received her apartment as part of the 'basic rights to live' movement in the aftermath of the 2004 tsunami, that too directly from the late former Chief Minister Jayalalithaa.
"I was lucky enough to meet the legend in person," recalls Sowndharya, another member of the transgender community and a regular customer at Flipkart. As one steps into her artfully decorated home, the affair with Flipkart is evident. "A lot of what you see in here have been bought from Flipkart," she says as she points to the vinyl stickers that ornament her cozy apartment's walls. But Sowndharya's shopping list does not end there, or with her.
"Many people who live here come to me for help when they want to buy on Flipkart," mentions Sowndharya. Another resident of these quarters, Kanchana, is one such novice shopper who has quickly learned the ropes of shopping online from Sowndharya. "I bought a few t-shirts on Flipkart and the best part is that there is so much variety," says the excited 24-year-old. Kanchana also finds it convenient to pay via Flipkart's innovative Cash on Delivery option. "I find it more comforting to pay after I get the package in hand," says the youngster.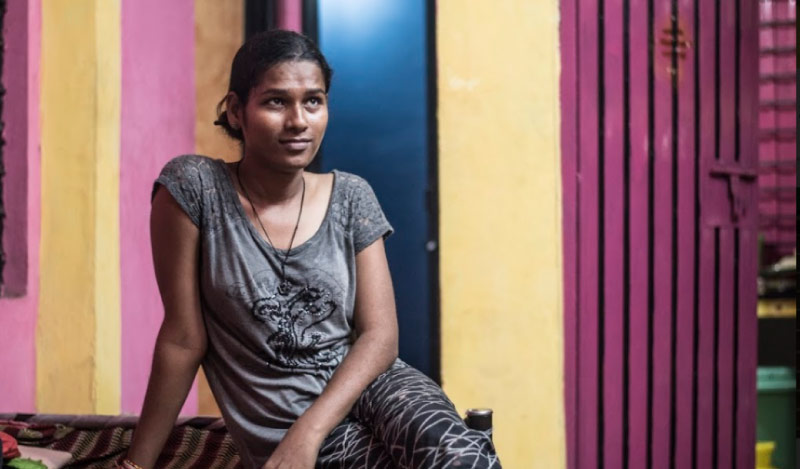 Both Sowndharya and Kanchana belong to the community of transgenders and are active members of the Aravani Art Project. Besides finding expression in art, these inspiring and audacious people are venturing beyond social biases and barriers to explore their liberation. Today, Sowndharya, a self-taught expert in MS Office and a video blogger, conducts workshops on exploring sexuality and spreading awareness about HIV. She is also an active member of a popular dance troupe and is a part of an art collective run by a renowned transgender artist.
Kanchana follows the path of her guru, Sowndharya, by joining the dance troupe and pursuing her personal interest in art.
"Shanthi, Priyanka, Sowndharya and Kanchana are all active participants in the Arvani Art Project. For us, it is heartwarming to know that they experience a different kind of liberation while shopping on Flipkart," says Poornima.
---
https://www.facebook.com/flipkart.stories/videos/787678044727319/
---
As of 2016, the transgender population in India has been estimated to be above 500,000. While prejudice still shadows this community, progressive initiatives are enabling these individuals to work towards integrating with an inclusive society. States like Kerala are opening venues for members of the community by offering opportunities in academic, professional and personal development. Every time Flipkart sets forth into a new phase of progress, we realize that it's our customers who have been enabling us to take that step. In the tenth year of Flipkart's journey, this and other new stories of our customers are unveiling new insights about the lives we touch in ways small and big.
---
Additional reporting and cover design by Sadhna Prasad.
Photography by Stevez Rodriguez, Soundarajan Krishnaswamy and Karthik Shetty. 
Special thanks to the members of the transgender community and the Aravani Art Project team.