In September 2016, Flipkart crossed the milestone of 100 million registered customers. As we reminisce the many facets of this exhilarating journey, we share with you extraordinary customer stories that reinforce our pride and joy in making wishes come true for our most loyal customers in India. In the first segment of this series that celebrates online shopping in India, learn how shopping on Flipkart has empowered women customers in non-metro cities.
The Flipkart story, as you may have read, began in October 2007 when a young man from Mahbubnagar bought a book online and put what was to become India's leading online shopping marketplace in business. It didn't take long for women to hop on the online shopping bandwagon. The story you are about to read begins between 2011 and 2012, at a time when both money and aspiration, the two key levers of a nation's economic machinery, were thrusting India forward on the global front. The spirit and independence of its citizens found outlet in spending power. Not surprisingly, women were leading the pack of early adopters.
From Mysuru, Chandigarh, Durgapur, Udaipur and many other non-metro cities in India, women embraced Flipkart, becoming its most loyal customers. This is their inspiring story.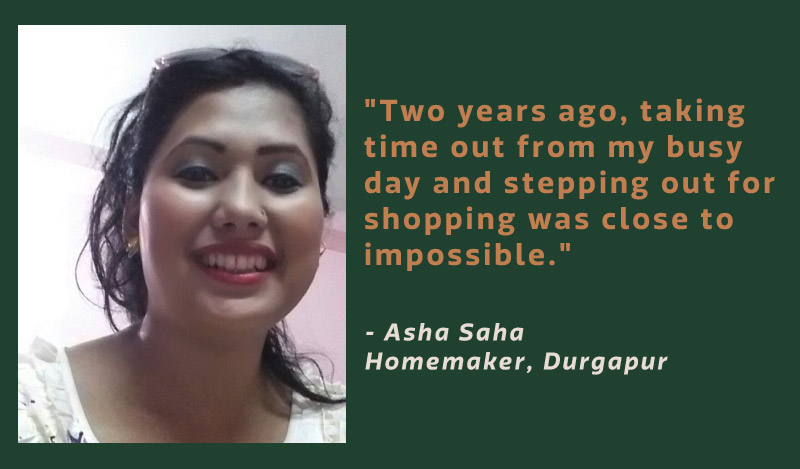 Small-town women, big-time dreams
Prithvi Gururaj, a student based in Mysuru, has always been smitten by the beauty, heritage and culture of her hometown. Four years ago, though, her love affair with Karnataka's cultural capital was not quite the same. An experienced and confident shopper, Prithvi was always clear about where to spend her money. But what was she to do when her wants were out of reach in the Tier II city? "It was difficult to get access to a lot of products in Mysuru. Many a time, the brands and products that I sought weren't available here," she says.
Although Prithvi was aware that she could find everything on her shopping list in most metro cities, they were inconveniently far. Even Bengaluru, just three hours away by road, seemed too distant. A single child, Prithvi bore the sole responsibility of looking after her parents, and had no siblings to ask favors from. "I wasn't too keen to ask my relatives to send products costing over Rs 10,000 or so. I was hunting for alternatives in despair!"
Three years ago, in Chandigarh, Punjab, entrepreneur Simran Gill faced a similar dilemma. She enjoyed reading stories to her little son every day, but was finding it difficult to conjure up newly released books to feed his appetite for stories. "I began scouting bookstores in and around Chandigarh but I was running out of luck," she reminisces. "Most shops didn't have anything new and exciting."
In neighboring Amritsar, homemaker Shanu Gupta was facing her own shopping woes. The quest to find apparel of the right size was beginning to frustrate her. Frequently, after a shopping trip, she returned home empty-handed. "Often, I would learn that the particular model of a product I was seeking wasn't available. Shopping in my city was gradually becoming the bane of my life."
For Asha Saha, a homemaker in Durgapur, West Bengal, the typical day revolved around attending to her family and home chores. She loved to shop for herself and her loved ones, but since domestic work occupied most of her time, she was in a fix. "Two years ago, taking time out from my busy day and stepping out for shopping was close to impossible," she recalls.
Limited accessibility to products was dashing the spirits of millions of women from non-metro cities in India. These women knew what exactly they wanted. Many of them were capable of buying the best, but most products on their wish list appeared as if they would remain just that — a wish. The unavailability of luxury brands, latest home appliances or trendy apparel, compounded by a busy lifestyle that hindered frequent shopping trips to the metros, put these ladies at a disadvantage. How could they gain access to the same selection — not to mention competitive pricing, discount and deals — that was available to their cousins in larger cities? What was the solution to their shopping woes? Was there one at all?
She found a friend in Flipkart
When Flipkart came knocking at her door, Neelam Garg realized that shopping wouldn't be the same anymore. It was her husband who encouraged her to explore the e-commerce platform. A homemaker from Siliguri, West Bengal, Neelam had heard about how the company had created an online shopping furore in the metros. She thought, "Why not try my luck at online shopping?" She clicked the 'Buy' button for the first time ever on Flipkart, back in 2013. "It was a lipstick," says Neelam with a smile.
In Kharagpur, West Bengal, word-of-mouth from loved ones prompted physician Dr Gargi Mitra to try out Flipkart. "My sister, my brothers… in fact my entire family recommended Flipkart to me." Vadodara-based Chetna Agarwal, on the other hand, was won over by other features. "Delivery on time is what I like the most about Flipkart, and sometimes if I am lucky, I get good discounts," she says. Chetna was already aware of Flipkart when she started shopping and the brand didn't need any special introduction." The deal was sealed when she "saw that sari," as she puts it, on Flipkart. And then she knew she had to buy it.
For Thanjavur homemaker Jayanti Ramakrishnan, Flipkart was a social media surprise. "I read this post about Flipkart, and what it was offering to customers," she says. The tiny fear she harbored was snuffed out when she learned about the easy returns and replacement policies that made online shopping safe and easy. It all sounded pretty convincing, and she wasted no time in signing up as a customer. "I've bought everything from home appliances and smartphones to accessories and cosmetics from Flipkart ever since," reveals Jayanti.
Others chose to shop on Flipkart purely for products that weren't available at local retail stores in their hometowns. Simran Gill, who couldn't find storybooks for her little son in and around Chandigarh, ventured online and discovered what she wanted on Flipkart. "I came across Flipkart and its extensive collection of kids' books that have mastered the art of the cute!" she says. She browsed, she smiled for joy, and she ordered. "Being the mother of a young child meant I couldn't make a trip to the market every time I needed something," she said. With Flipkart, she could place the order at the click of a mouse. "And it would be delivered right to my doorstep. It was such a relief!"
Her first Flipkart order
Their first order on Flipkart was triggered by a variety of reasons — good pricing, great variety and ease of delivery — but how did the first shopping experience pan out for these Indian women in non-metro cities? Did they have apprehensions? Did Flipkart put them to rest? How did the the delivery of their first order go?
Though the desire to buy the best for herself is what got Prithvi excited about online shopping, the first order she placed on Flipkart was a book for her mother. Excitement creeps into her voice as she reveals, "The anticipation when you do something new is something that cannot be explained. My mother and I were really happy and excited about the first delivery. The book was shipped within a week. It came beautifully wrapped and was in perfect condition. No earmarks!"
As a first-time shopper with Flipkart, Sharwari Kirtany, a lawyer from Goa, was testing the online waters by placing an order for a book on Flipkart. Her brother, himself a loyal customer, recommended Flipkart to her, and she is all praises about her first package. "It was a good experience — what I ordered is exactly what was delivered to me."
Katarina Banaulikar, a restaurateur in Candolim, is unsure of what her first Flipkart purchase was, but she says, "If my first experience had been bad, I would not have continued shopping with Flipkart." She talks about an instance where she'd ordered from another online shopping site, which refused to refund her money for an unsatisfactory product. "I told them that you have just lost a customer and that I will never ever buy anything from their site again," she states. That said, she hopes that Flipkart will expand its delivery to all parts the state.
"I've always had a good experience," says Asha Saha. "And that's the reason I continue to shop at Flipkart." Shanu Gupta from Amritsar is a happy soul too. "The experience was good, but then Flipkart has always been good when it comes to delivery service and product quality," she says.
How to win a woman's heart
"Anything I order from Flipkart is always delivered before time," says Simran. "Sometimes, surprisingly, a day earlier than the estimated time." She loves that Flipkart offers better and more competitive prices on products and that its customer service is efficient. "Right from browsing to delivery, you can track your order. If ever there is an issue, it's easy to raise the concern with the customer service team, which, so far, has been efficiently resolved."
As Simran goes about her daily routine as a wife, mother and entrepreneur, she is thrilled that all she needs to do is thumb around on Flipkart's mobile app and the rest is taken care of. "I know I don't have to expect a phone call from the team, or give an explanation, or talk to different people," she says. Little surprise then that this empowered woman from one of India's better known non-metro cities has been a loyal customer with Flipkart since 2013.
Another loyalist, Dr Mitra, chose for her first Flipkart order a music CD that she couldn't find in her city. It was also a safe, low-cost bet on the novel online promise. She was impressed with Flipkart's exhaustive collection of books and CDs the first time, and even today, this ever-increasing selection is what keeps her coming back. In her own words, she's even "stopped going to the market" and in the last year, she has shopped over 20 times from Flipkart for family and friends.
For those itching to make a snarky remark about the fickle minds of women shopping online, let's just say we saw that coming. Flipkart's women customers in non-metro cities, like women everywhere, are very observant about returns and refunds. Jayanti Ramakrishnan checks each online purchase with an eagle eye. "The best thing I like about Flipkart is the quality," she says. "Apart from the best deals, the quality of Flipkart's products has been the best in my experience. And, in case there is an issue with the product, Flipkart does the pick-up without any hassle."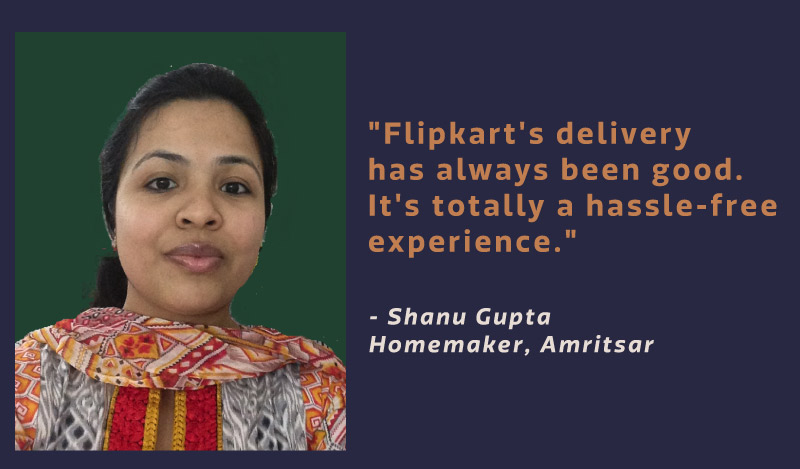 An occasional lovers' tiff, but no love lost
No long-term relationship is a bed of roses, and so it has been for these women shoppers in non-metro cities.
"Some of the furniture pieces do not have a delivery option for my pincode," grumbles Simran, but she believes that Flipkart will soon set that right. Prithvi felt betrayed one time when a perfume she purchased turned out to be fake. "The bottle looked different from what it should have looked like, and naturally I was a little disturbed," she said. We have worked on feedback like hers to educate customers about how to detect fake perfumes before buying them (please read our Safe Shopping guide for more information).
Shanu Gupta is one demanding customer, and we love that about her because she makes us work harder to remain the best in the business. She wishes Flipkart would improve on competitive pricing in its fashion selection. We're listening, Shanu, and you already know that we're in the business of fulfilling wishes.
The one thing that Jayanti feels that Flipkart could do better is faster deliveries to her city. "I feel that Flipkart is currently doing quicker deliveries to metro pincodes only." We fulfilled Jayanti's wish recently. Our speed and quality assurance program Flipkart Assured has been formulated just for people like her who live in non-metro cities.
It's a great time to be a woman in India. And there's no better time to be a woman shopping on Flipkart. Even if you are a woman from one of India's smaller, non-metro cities, you don't have to cut back on dreaming big. Because no matter how big or small your hometown, Flipkart is never too far from fulfilling your heart's desires.
---
Reported, written and designed by Flipkart Stories Editorial.
Customer data analysis by Pushpendu Kumar. Infographic designed by Arjun Paul
Read more customer stories
Are you a woman shopper on Flipkart with your own story to share? Leave a comment or drop us a line