Have you been saving up to buy that big ticket product from Flipkart? Put an end to the wait and effort. Flipkart No Cost EMI — a monthly installment-based payment scheme with no processing fee, no hidden costs, no down payment and no interest payout — takes you one step closer to making your wishes come true, no matter what the price tag. Here's everything you need to know about it.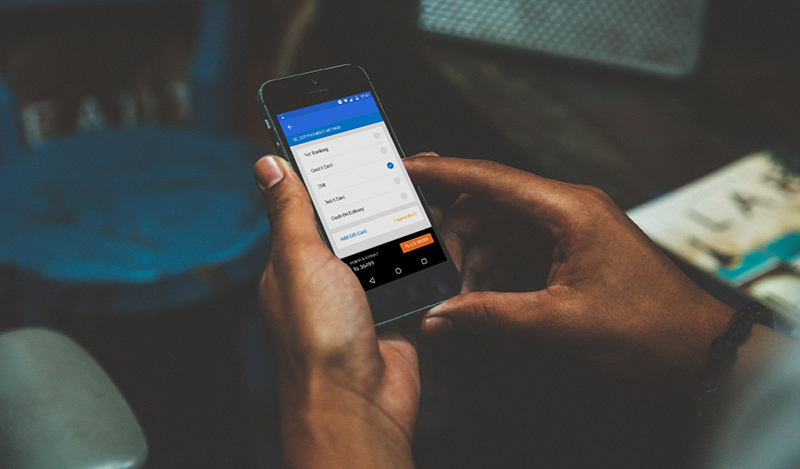 No Cost EMI is one of the most popular financing options that customers choose on Flipkart. Find out more about how it makes your wishes affordable.
Over the years, Flipkart has brought revolutionary online shopping experiences to fulfill the wishes of customers. From Cash-on-Delivery (CoD), we have introduced new capabilities and pioneered change in the ecommerce space, making your online buying experience convenient, accessible and affordable. In continuation to these efforts and to improve your shopping experience, Flipkart has introduced the Flipkart No Cost EMI.
---
Want to know more about No Cost EMI from Flipkart? Watch this video
---
The innovative online financing option, a breakthrough in the consumer financing space, provides customers the opportunity to make shopping more affordable. Fact remains that less than 1% of our countrymen have access to credit cards and that traditional banking industry is still tackling the nitty-gritty of small personal loans. Flipkart No Cost EMI is a first step towards making online shopping truly affordable for the masses and holds the potential to disrupt the online payment space.

This is exactly why this simple and easy financing option has been introduced to help our customers buy what they require without the burden of expensive loan interests and fees.
Read on to learn more about how Flipkart No Cost EMI (brought to you in association with Bajaj FinServ and key brands) can give you access to premium priced products without burning a hole in your pocket.
Don't break the piggy bank

A first-of-its-kind online financing option, the Flipkart No Cost EMI enables shoppers to access big-ticket products without bearing the burden of lump-sum payments. The service will let you skip the long wait and purchase your favorite products through Equated Monthly Installments (EMI) at no additional cost.
Unlike regular EMI offerings where customers need to pay a significant amount as a down payment, processing fee and interest on top, Flipkart No Cost EMI comes easy. The new service has zero processing fees, zero down-payments and zero monthly interest!
Pay a bit every month

Flipkart has partnered with Bajaj Finserv to create this unique offering for you. The Flipkart No Cost EMI comes with loan tenures ranging from 3 to 12 months, making sure it doesn't dent your savings. Based on the term of payment and cost of the product, an agreed amount is deducted every month until the loan term is completed.
The scheme is currently available for a select set of Brands and Products and can be availed from the convenience of your smartphone (see FAQ for more details). Some of the Top brands — on the likes of Apple, LG, Vu, Panasonic, InFocus, etc. — are participating in this program to make their high-end products within reach of masses.
Getting started with Flipkart No Cost EMI

To avail this scheme, all you need is a Bajaj Finserv EMI Card. Once you select a pre-approved loan amount, you have the freedom to buy the products of your choice. At the time of purchase, you can choose the duration of your interest-free loan. The installment amount will be deducted directly from your account. Once you have paid the first installment, you also have the freedom to pre-close your EMIs before the term ends, at no extra charge.
4 simple steps to apply for Flipkart No Cost EMI
Below are 4 simple steps to apply for Flipkart No Cost EMI. Make sure you have your Bajaj Finserv Card ready before you start. Remember, the No Cost EMI option is currently available only for select products and sellers on Flipkart.  
Step 1: Open the Flipkart mobile app and choose/search for the product you want to buy.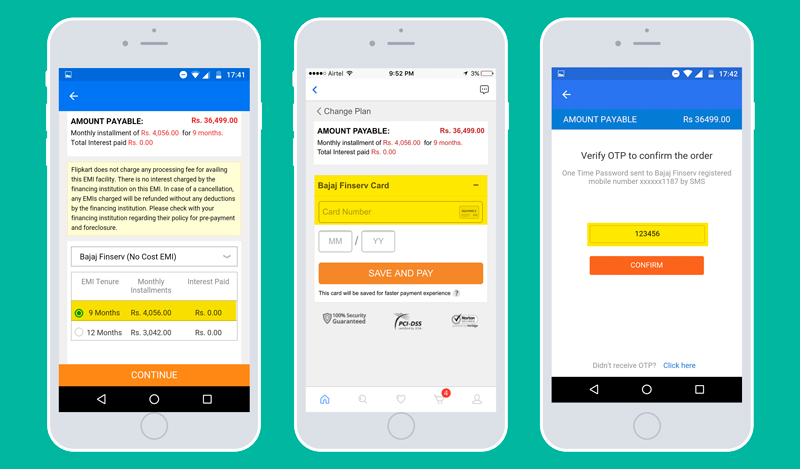 Step 2: On the product page, check whether 'No Cost EMI on Bajaj Finserv Cards' is mentioned. If yes, you can avail this service for the product. Read the Term & Conditions by clicking on the link.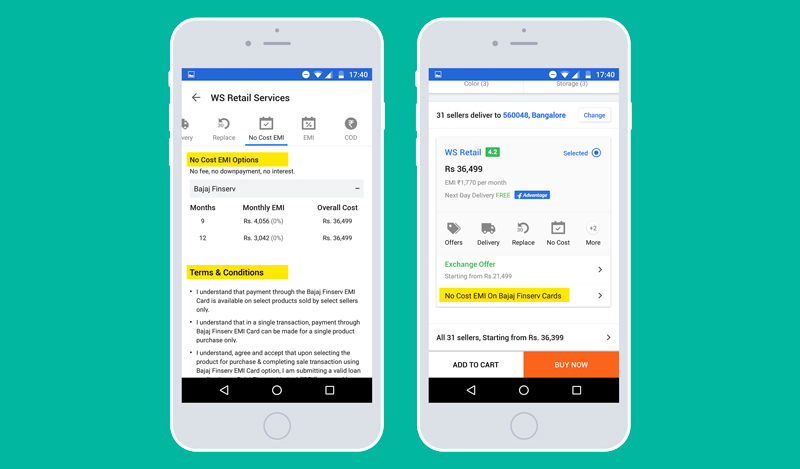 Step 3: Click on 'Buy Now' and move to 'Proceed to Pay'. Select 'EMI' as the payment method and click on 'Place Order'. You can select 'Bajaj Finserv (No Cost EMI)' as your payment option.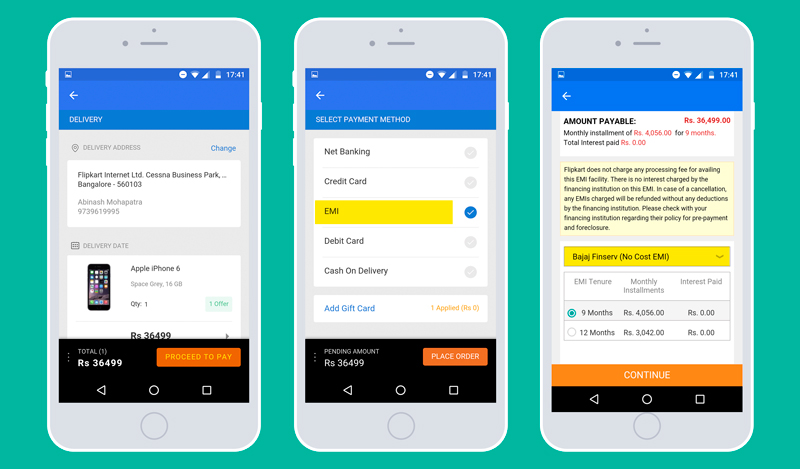 Step 4: Choose the EMI tenure from the next screen and continue to fill in your Bajaj Finserv Card details. You will receive an OTP to your registered mobile number, which you need to enter on the Flipkart mobile app. Verify the OTP and you are done.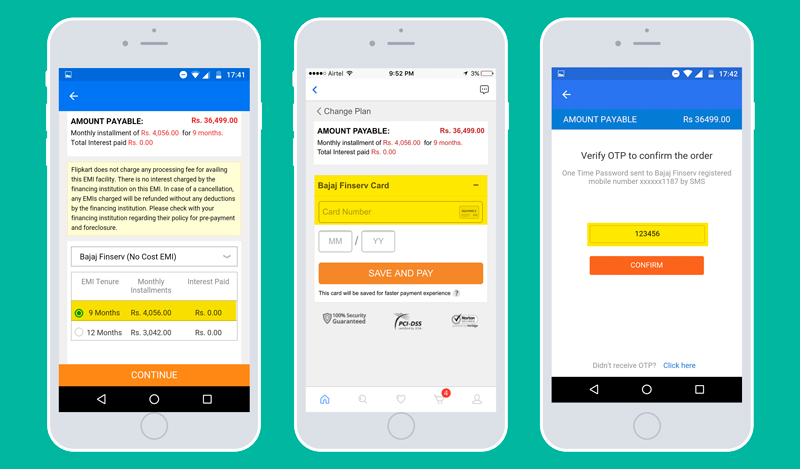 Flipkart No Cost EMI – Top 3 Frequently Asked Questions

How to get a Bajaj Finserv card?
If you wish to get a Bajaj Finserv EMI Card, please check out the eligibility and process of application on their website. Click here to find out. You can click this link to access the card application form.
Is the Bajaj Finserv payment mode available on Flipkart's Android, Windows and iOS apps?
Flipkart No Cost EMI is currently available across Android, iOS and Windows mobile app platforms and the desktop. Watch this space for updates on payment mode for Windows or iOS-based devices.
Is Bajaj Finserv payment mode available on both the website and the mobile app?
The Flipkart No Cost EMI feature is currently available across all Flipkart mobile app platforms — Android, iOS and Windows — and the desktop site.
Planning to buy some big ticket products on Flipkart? Learn more about the Flipkart No Cost EMI by clicking on this FAQs link for more information.
---
ALSO READ
No credit card? Shop without fuss on Flipkart with Debit Card EMI