When Customer Support Executive Chandrakanti Nayak gets a call from a Flipkart customer, she has only one goal in mind: to do everything in her power to resolve their issues. And it's this dogged determination that is winning her appreciation from customers and accolades at work, including Employee of the Month. Read her story.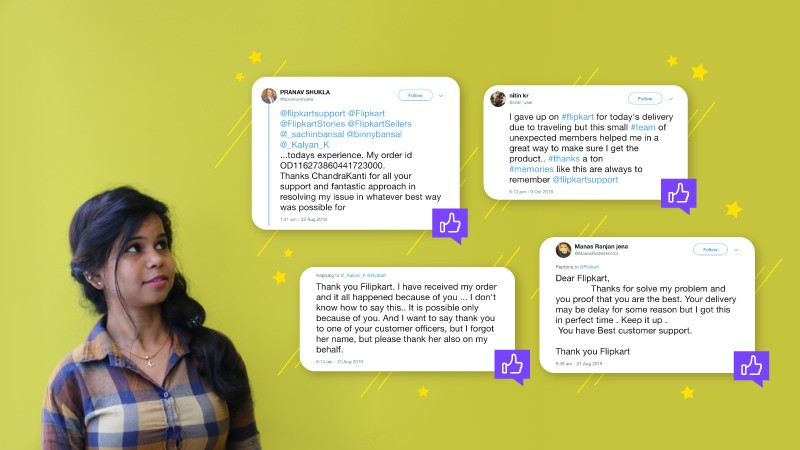 Scores of customers call Flipkart Customer Support every day – to confirm order details, to convey concerns regarding their order, or to seek help. Flipkart Customer Support Executives are specially trained to step up and make the online shopping experience as seamless as possible for our customers. But rarely do our customers get to know the person at the other end of the call.
As per routine, customers have recently been calling Flipkart Customer Support regarding their online purchase. But here's what stands out – they're all specifically asking for Flipkart Customer Support Executive Chandrakanti Nayak to help them out. What makes her so trustworthy and reliable?
@flipkartsupport @Flipkart @FlipkartStories @FlipkartSellers @_sachinbansal @binnybansal @_Kalyan_K
…todays experience. My order id OD116273860441723000.
Thanks ChandraKanti for all your support and fantastic approach in resolving my issue in whatever best way was possible for

— PRANAV SHUKLA (@epranavshukla) August 22, 2019
In her own words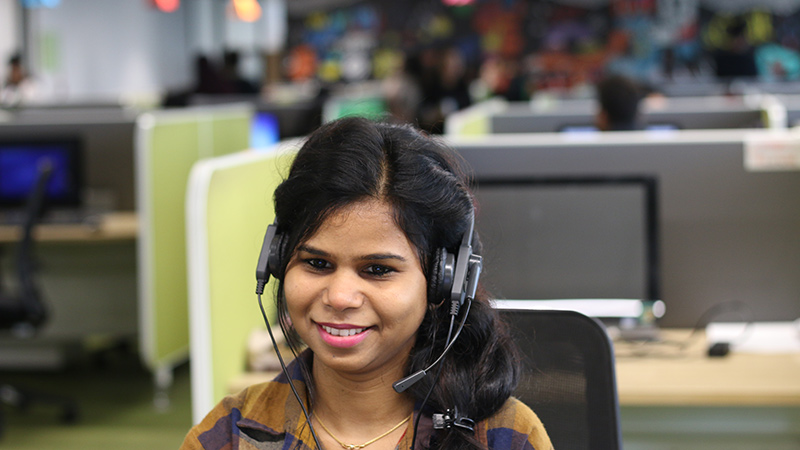 "I come from Bhubaneswar in Odisha. I came to Bengaluru a year ago for an interview at Flipkart and I've been here ever since. My family members were very supportive when I told them I wanted to move here to take this job.
Working here, I have understood one thing very clearly – patience is everything if you want to do this job and do it well. It is important to understand the customers' pain because they are trusting us with their money. They pay for a product and if they have any queries they can only get in touch with us. So we have to do everything in our power to resolve their issues.
https://twitter.com/sinha_tejsingh/status/1167787713480679424
This job is very important to me. I'm a very career-focused individual and I couldn't have reached where I am if not for my parents and especially, my colleagues. My mentors here always look out for what's best for us and train us accordingly."
No easy task
When a Flipkart customer from Delhi, Nitin Kumar, found out that there was going to be a slight delay in the delivery of his brand new Apple iPhone 11, he was shocked. He was to travel the next day and he really needed the phone.
Desperate for a solution, he called Flipkart Customer Support and Chandrakanti happened to be the executive who handled his issue. Chandrakanti sensed his distress and went out of her way to ensure that the iPhone that the customer was really excited about was delivered to his address right on time.
And it was no easy task. She reached out to the Flipkart hub where the iPhone was stuck, and explained the predicament to them. After following up with numerous teams concerned, Chandrakanti was able to ensure that the product was handed over to an overjoyed Nitin. Nitin says that he was only able to get the phone on time owing to Chandrakanti's determination to resolve Flipkart's customers' issues!
not all #heroes wear Cape
on my way to airport.. a big #thanks to Mr. Sandeep from mother hub #flipkart who out of d way got my product delivered through a sweet Ms. Dolly Sharma, his teammate.
And a special thanks for Ms. Chandrakanti who actually made this to happen. @Flipkart

— nitin kr (@nitin_tinkr) October 10, 2019
---
There are other determined Flipkart Customer Support executives like Chandrakanti who go out of their way to help customers have a delightful shopping experience.
Read Jagruthi Shetty's story here.
---
Photos: Ashwarya Malviya
Want to read more stories like these? Click here!