What's the big deal about No Cost EMI? Why do Flipkart customers swear by it? We spoke to customers across India to see why they had chosen to pay via this innovative financing option pioneered by Flipkart. And we came away with glimpses into lives and peeks into these redeeming and humbling human stories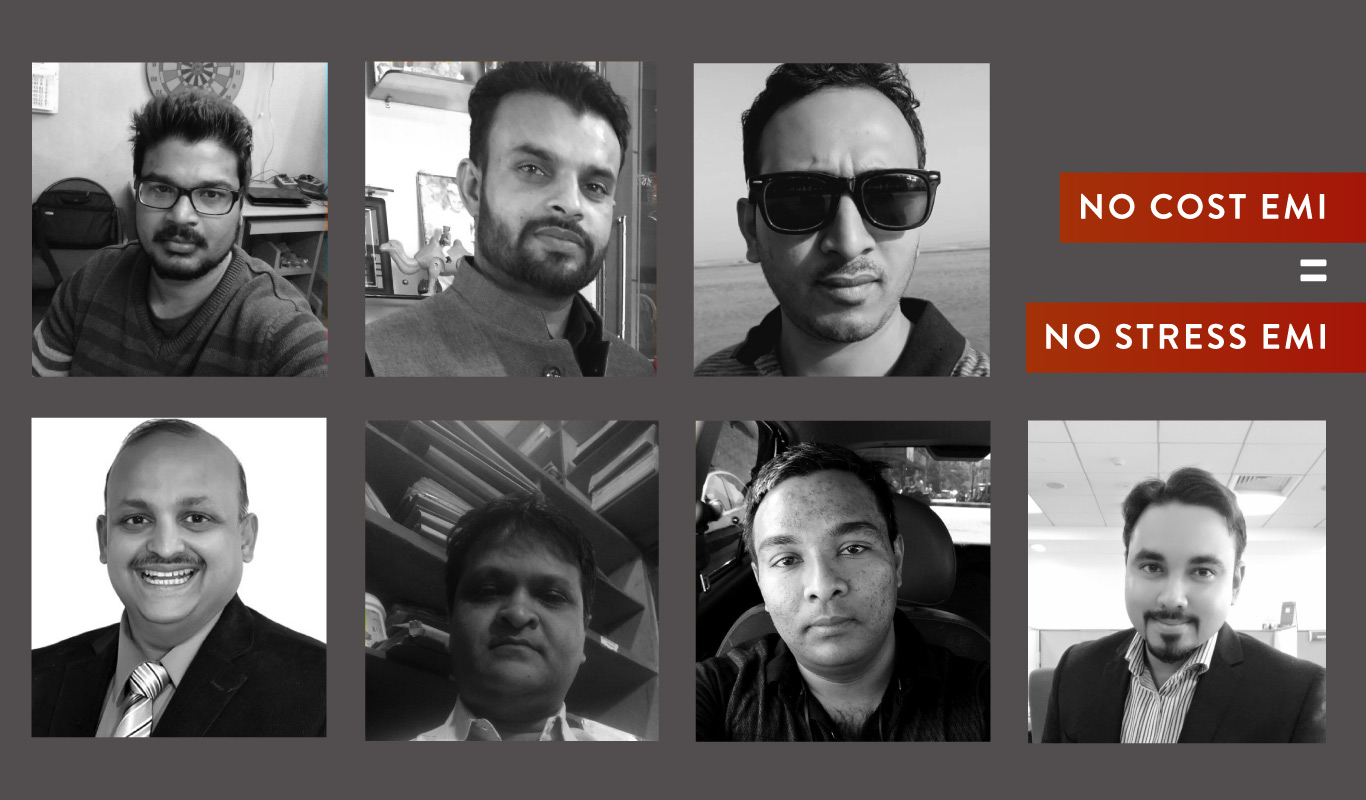 Spread over 2,000 sq km and squeezed in between Jalandhar in the north and Ludhiana in the east, Moga is an archetypal district in Punjab. Tractors vie for space on the roads, far exceeding buses, cows outnumber people three to one, and every second person you meet is an agriculturist. The birthplace of the pre-Independence nationalist leader Lala Lajpat Rai, Moga is today a place in flux — staying true to its agrarian roots, yet enjoying the rights and freedoms that Digital India has brought to its doorstep. And one of the levers of change has been No Cost EMI, the innovative financing option that Flipkart pioneered in 2016.
In this idyllic setting lives Jaswant Singh Khosa, who is involved in both farming and business. Happily married to his wife of 10 years and proud father to his sons aged 6 and 9, Jaswant often logs on to Flipkart to browse. "Mujhe jo cheez ki zaroorat hoti hai, aur woh cheez acchi price par Flipkart par mil jaati hai, toh main le leta hoon. Flipkart se maine bluetooth bhi khareeda hai aur joote bhi," he says in Punjabi-laced Hindi. [If what I need is available at a good price on Flipkart, I buy it —  be it a Bluetooth earphone or shoes.] 
Jaswant found himself on browsing on Flipkart this time around for a new smartphone. His two-year-old purchase, an iPhone 6, was a 16GB device and its low memory was bogging him down. "Whenever I'd click a photo or download a song, my phone would display the 'memory full' icon." Frustrated with deleting old songs and photos that he had hoped to store, he wanted a new phone — this time, one with a larger memory. "My new phone was going to be the iPhone7 or nothing. But I didn't want to put together an amount like ₹80,000 all at once for a new phone." 

Leaving Jaswant to surf on his [tooltip title="Learn how to get started with the Flipkart mobile app"]Flipkart app[/tooltip], looking up deals and discounts as he is accustomed to doing once every day — and perhaps to find a way to finance the phone on his wish list, let's move to West Bengal. The pre-colonial city of Serampore, located on the west bank of the Hooghly river, is situated about 30 km from Kolkata. In colonial times it was a commercial center for the Danish and later became a site for a cultural renaissance by the British. Its Indo-Danish and British architecture and old-world charm, however, do not disguise the evolution of its people, instead offering an unblinking testimony to its population's transient dreams and desires.
One of the city's residents is 33-year-old professional Gaurav Ghosh, who, much like Jaswant, was wrestling with his own demons: Should he make do with an affordable computer or go for his coveted Microsoft laptop?
"The last laptop I bought was 3 or 4 years back with the software available at that time. Now it was hard to do my office work and use it for entertainment without new and updated software," he explains. Always on the move, he was also in search of a laptop that would be light on his shoulders — without proving too heavy for his wallet either. So far, things didn't look too good. Just six months ago, he had pooled his savings to buy the latest DSLR. So this month, he would have to make up his mind — go for a more pocket-friendly laptop that he could afford to pay for in one chunk, or wait a few more months for his Microsoft laptop priced at around ₹80,000. He knew the Microsoft laptop was the one he wanted. "But at this time, it was difficult for me to buy it," he mused.
As Gaurav, for the hundredth time, browses the specs of his dream machine, let's move our scope back west, to Gujarat. In Vapi, the industrial epicenter and one of the most developed cities in Gujarat, lives 40-year-old Nimit Shah. Engaged in the sales of FMCG products, he is well versed with the ups and downs that were part and parcel of business. He lives with his mother, wife and two children, and his fondest wish was to get a big-screen TV for his family. Whether it was serials for his mother and wife, or cartoons for his sons, sports matches that he liked, or movies that the whole family could watch together, he had already planned where he would place the new TV — right in the drawing room.
After loads of research, visits to retail stores and a plenty of browsing online, Nimit saw what he wanted at his cousin's house. The 65-inch VU TV was the one. Having dreamed of his purchase a million times, he excitedly went on to Flipkart and got his credit card ready, when it suddenly hit him. "The limit on my credit card was ₹1,04,000, so I would have had to increase it in order to place my order." This would take time and effort, and that threw a spanner in the works of his plan.

Dreams deferred? No more!
Uniting the stories of Jaswant, Gaurav and Nimit is one common thread: A desire to purchase some of the best products out there in the market, but worry over finding a way to afford them. When Jaswant Singh discovered the No Cost EMI option on Flipkart he knew that it was a silver lining he hadn't expected to find. 
"Flipkart par dekha No Cost EMI aur humne socha, phone khareedna hi hai, chalo." [I saw the no cost EMI option on Flipkart and thought, this is it.] When his iPhone 7 was delivered barely a week after, the smile on Jaswant's face could overshadow the sun itself! Gaurav found that with this option, he didn't have to compromise on his laptop either. "I don't have to pay interest, and at the time of buying, I don't have to pay the full amount. What could be better than that?"
An innovative system that makes shopping truly affordable, No Cost EMI has become a true game-changer for buyers across India. After all, financing offers strongly influence purchase desire in 83% of all shoppers (according to a survey conducted by Hitachi Capital Consumer Finance). And why not? In a bid to find easier, more convenient ways to pay, customers find the fact that No Cost EMI lets them can buy anything they want and pay for it in easily manageable monthly installments a boon — and no extra interest is a cherry on the cake.

With this EMI, monthly budgets don't feel the pinch!
Take Dr Abhijit Nadkarni, for example. A radiologist who now writes medical software for new-generation MRI and scanning machines, he had moved homes recently. His new place in Thane had just one thing missing: a flat-screen TV for the bedroom.
"I had done my homework and I knew which model was good. This particular VU TV model was available only in very, very few stores," he says. The TV was an urgent need for Dr Nadkarni who wanted to finish furnishing his new bedroom with all the best electronics and durables. "I had already made a budget for it, but because of this No Cost EMI, I could plan my other things around it, so it was helpful," he explains.
Similarly, Tushar Ekka, a business solutions manager at Cushman & Wakefield, found himself taking advantage of No Cost EMI at the most opportune time. Though he worked in Koramangala, Bengaluru, he was visiting his parents in Lalpur, Ranchi. Seeing them after quite a few months, he had the sudden urge to gift them an iPhone.
"My dad is around 70 and my mom is around 58 and the idea behind gifting them this phone is because I also have an iPhone. It would make my life so much easier to be able to have video chats with them," he tells us with a laugh. At first, he was looking for an older model, but with No Cost EMI, he zeroed in on the latest phone. "The zero EMI was a bonus, since I was already going to buy my parents an iPhone. Most importantly, the latest model was available for delivery at that location only on Flipkart. So, I said 'OK. Instead of paying the whole thing up front, it makes sense to put it on EMI."

Waiting for the future is now a thing of the past
"When you're not really planning to purchase something expensive, then you have to think twice about your finances," Tushar reasons. "But since I got the option of zero percent EMI, it was much easier to make the decision. So I was like 'let's pick it up and take care of the payment later'." 
Tushar is not the only one who felt that no cost EMI eliminated his worry over a high price tag.  "People who are salaried won't be able to buy their dream gadgets that cost between ₹70,000 to ₹1 lakh. So there's nothing better than those products being covered under EMI without interest," puts in Gaurav.
"The biggest pro is convenience," adds Dr Nadkarni. "If you have a limited monthly budget, you can get products which do not fit into your budget especially if they are priced high." 
For those who would otherwise use a credit card, like Vapi resident Nimit, No Cost EMI eliminates the need to increase the credit limit to keep up with other daily expenses. In agreement, Rahul Dev Rana, an Infrastructure Management Principal at IT company Atos in Vadodara, says, "If you make a purchase close to a lakh, usually the credit card gets jammed for most people including myself. So there's no balance left on the credit card to make any other payments. So that's where this No Cost EMI option comes in handy, because if you're making a high-value purchase, you no longer have to reserve money for other expenses." 
Rahul, who was initially planning to buy his VU TV before Diwali, was caught up in getting his credit limit increased and was still making up his mind. When he saw this no cost EMI option however, uncertainly become a thing of the past. Thirty-four-year-old Mumbai resident Kaustubh Gharat, senior CSR executive at the Prem Punita Foundation, also appreciates the ease of paying via No Cost EMI online. "There are processes offline that I don't like. They want the PAN card information and other details but online, there are no formalities." His 60-inch VU TV now occupies the pride of place in the hall. 
"Had there been No Cost EMI, I would have taken a little more time to buy it but because of No Cost EMI, I bought it immediately," he says.

Cheers to keeping it simple!
Smooth and comfortable is how Dr Nadkarni describes the whole process. Impressed with the ease of his experience, Tushar also pitches in to say, "There was no documentation required since the payment was done through my credit card. I just went online and punched in my details and it was processed. So, the overall experience was very comfortable." After all, who wants to spend time gathering documents and getting involved in aggravating processes? "I would give 10/10 for my shopping experience using the No Cost EMI option," adds Gaurav with a smile.  
Jaswant Singh, for one, was so thrilled with his no cost EMI purchase that he spread the word. 
"My three friends also bought products using No Cost EMI on my credit card; one of them bought the same iPhone 7 that I did!."

No Cost EMI = No Stress EMI
Not every online retailer has a delivery arm that reaches Moga, Serampore or even Ranchi for that matter. "I stay at a place which is a little far from Kolkata so a few products are not delivered to our district from other online stores but that's not the case with Flipkart. I don't know how Flipkart provides service to this PIN code," says Gaurav. Echoing him, Tushar also reveals, "Flipkart was the only website offering delivery in Ranchi, Jharkhand. And the EMI option? It definitely reduced my stress."
The e-commerce market in India is projected to reach ₹3800 crore by 2020. Therefore, whether it is offering an affordable No Cost EMI payment option or delivering to PIN codes that are just barely on the digital map, it all boils down to the customer. And that's why we like to hear that Nimit's family — from his mother to his 6-year-old son — is excited about his new TV; that Gaurav could buy a laptop that he really wanted; and Tushar could now video-chat with his parents. 
Jaswant puts it in a nutshell when he says, "Bahut badhiya laga ki paise toh ek saal mein dene hain aur phone aaj hi mil gaya. Aur khushi toh bahut hui ki bina extra payment kare, phone khareed bhi liya." (It felt great that I had the phone in my hand today but its payment could take a year. And I feel so happy that it was all without any extra payment.) 
The freedom to fulfill wishes without incurring additional financial burden is now becoming a reality for Flipkart customers in India. Why defer a dream when there's No Cost EMI?
---
Customer data analysis by Pushpendu Kumar
Read more customer stories