You are forgiven if you haven't heard of Makhu. It is a small village in rural Punjab, 67 km from Amritsar. It popped up on the online shopping map of India recently when young Gurwinder Singh got online to shop for a pair of sneakers on Flipkart.
By the end of 2016, 450 million Indians are expected to be online, over a third of them from rural India. With the increasing availability of broadband internet and more affordable mobile data connectivity, small towns and villages deep in the nation's heart are being knit into the tapestry of Digital India. In fact, about 60%-65% of total e-commerce sales are being generated from mobile devices such as smartphones and tablets, according to a recent ASSOCHAM-Forrester study.
New adopters, many of them the first in their bloodlines to taste the benefits of literacy and education, are digitally native. They are born into an era of computers, mobile phones, software and apps that have become almost indispensable to their lives and, very often, livelihoods. For them, accessible consumer technology is the passport to a world outside the physical boundaries of their homes, villages and workplaces. The mobile phone has paved a pathway to liberation from poverty and enabled access to new opportunities and lifestyles, not to mention contact with people both virtually and physically. Not surprisingly, to attain their material goals, more and more users from remote locations are exploring online shopping. Because Flipkart, which achieved the milestone of 100 million registered customers in September 2016, has demonstrated that no location is too remote if it can be hooked up to the internet and serviced by last-mile logistics. Flipkart Stories explored these aspects in our customer stories on women in non-metro cities and Flipkart's most loyal shoppers, many of them who live in smaller cities.
In the Digital India series, Flipkart Stories uncovered stories of online shopping customers from Jhumri Telaiya and Ranchi that illustrate this transformation. What you are about to read, however, is a different story. It is about a Flipkart customer in the heart of rural Punjab, the first in his family to benefit from an education, taking the first steps into e-commerce and, in that process, to a new life. So momentous was his first step that Flipkart's co-founder and Chairman Sachin Bansal visited his tiny hamlet to make a very special, very personal delivery.
---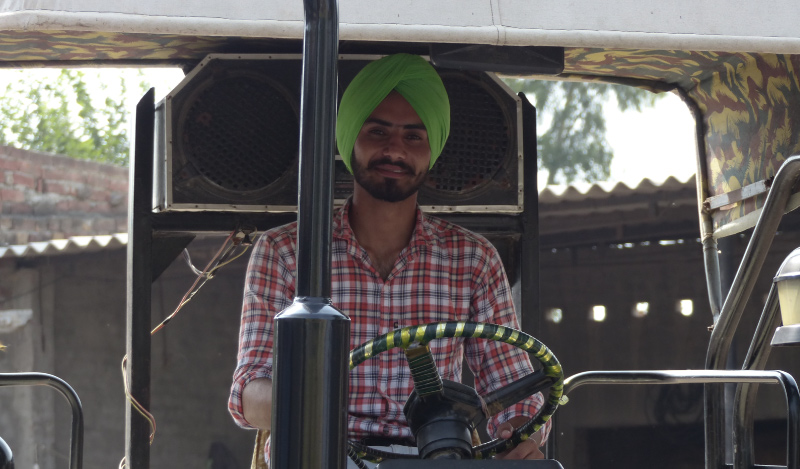 When he was not yet old enough to drive, Gurwinder Singh asked his father if he could get behind the wheel of the family's tractor. Sukhdev Singh, a sinewy farmer who looks older than his 45-odd years, indulged his son's wish with a broad smile. Two weeks ago Gurwinder, now a handsome lad of 20 in a Sikh turban and a beard who has inherited his father's soft-spoken confidence and deep, kindly eyes, mustered the guts to ask his dad for another favor: Could he please use his credit card? It was to pay for a pair of Reebok sneakers that he had spotted while browsing for discounts on the Flipkart mobile app during the Big Billion Days sale. The coveted tennis sneakers were available at an attractive discount and Gurwinder felt tempted to own them. Being a student, though, he had no income of his own. Sukhdev Singh, indulgent as ever, agreed.
Fingers trembling in anticipation, Gurwinder entered the PIN code of Makhu — 142044. To his pleasant surprise, the app informed him that delivery was indeed possible. The young man clicked on 'Buy', entered his father's credit card details at the payment stage, and grinned with delight as the app confirmed his order. Until that moment, no one had ever made an online purchase from this hamlet 8 km from the tehsil of Makhu in Punjab's Ferozepur district. Unwittingly, Gurwinder Singh had woven Makhu, and consequently his nondescript hamlet of Shaamewali Wasti in the village of Joge Wala, into the e-commerce tapestry of Digital India.
Gurwinder and his friends heard of Flipkart's Big Billion Days sale for the very first time when they watched the television ads. However, after making the purchase, the young man worried if Flipkart would deliver his order.
His wait, however, was destined to be shorter than he had expected.
---
In the heart of the Doaba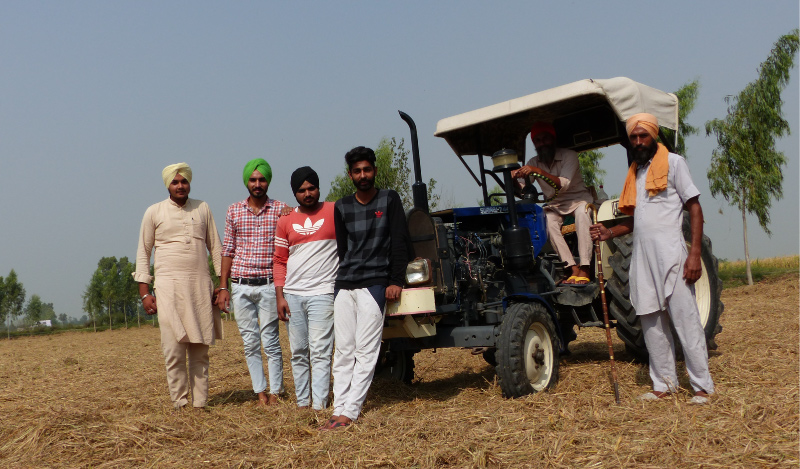 The agrarian landscape of Makhu presents a tableau of cultivation crisscrossed by irrigation channels. The dark forms of wallowing buffaloes glisten in the water. A short drive from a turnoff on the state highway leads to Shaamewali Wasti. Gurwinder's home, situated at the end of this dusty road, looks out on yellow-green fields of fragrant basmati rice ripening in the early autumn sun. This monsoon crop is rotated with the wheat that is raised in the summer and harvested before the rains arrive in late June.
Makhu, 67 km from Amritsar and served by a railway station, sits right at the edge of the Bist Doab, or Doaba as the locals know it. This is the heart of the Land of the Five Rivers. Following the bifurcation of Punjab in 1947 three of these rivers, which are tributaries of the mighty Indus, were fated to flow through Pakistan. The remaining two rivers — the Beas and the Sutlej — converge near Makhu, enclosing a triangular 'tongue' of land fertile with silt that they have washed down the aeons from their Himalayan origins. The Doaba was the epicenter of the Green Revolution, which boosted agricultural productivity in the early 1960s and founded the agrarian economy upon which Punjab's post-Independence fortunes thrived.
Long lines of trucks transporting grain to the cities of Ludhiana, Amritsar, Jalandhar and Chandigarh dodge flashy SUVs and luxury cars on the highways. The bucolic landscape of the Doaba is dotted with fields, orchards, mills and granaries. Most of those toiling in the fields, though, are immigrants from Bihar and therein lies the backstory of the dark and controversial Bollywood thriller Udta Punjab, a tale of drugs and ruin that youngsters aver is close to the truth even as elders dismiss it as over-the-top bunkum.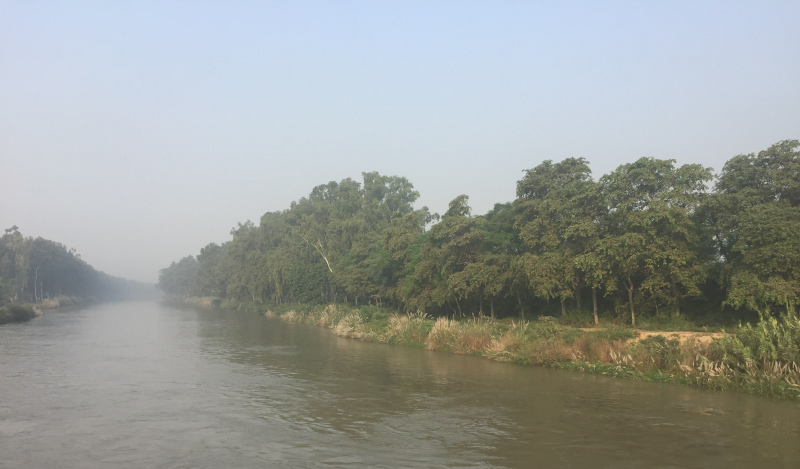 Winter brings ample international traffic to Makhu, not necessarily all of the human kind. The township is a short distance from Harike Pattan, the largest wetland in northern India, formed in 1953 when headworks were constructed across the Sutlej river. The waters of the Beas and the Sutlej commingle in this verdant expanse, which attracts the largest concentration of migratory birds in India after Keoladeo Ghana in Bharatpur, Rajasthan. All of 4,100 hectares, the wetland sprawls across three districts — Kapurthala, Tarn Taran and Ferozepur. The Harike Bird Sanctuary, with its entrance in the village of Patti, is the haunt of birdwatchers in winter. It is a Ramsar site boasting a rich biodiversity that includes over 200 species of migratory and resident birds, freshwater turtles, otters and critically endangered river dolphins. Wildlife officials are contemplating a plan to reintroduce the endangered gharial, a unique species of fish-eating crocodile, in these waters where they have been extinct for decades.
Not all immigration is welcome, though. Across the water, earthmovers uproot water hyacinth on an industrial scale. The invasive weed, native to the Amazon basin, has almost choked the wetland.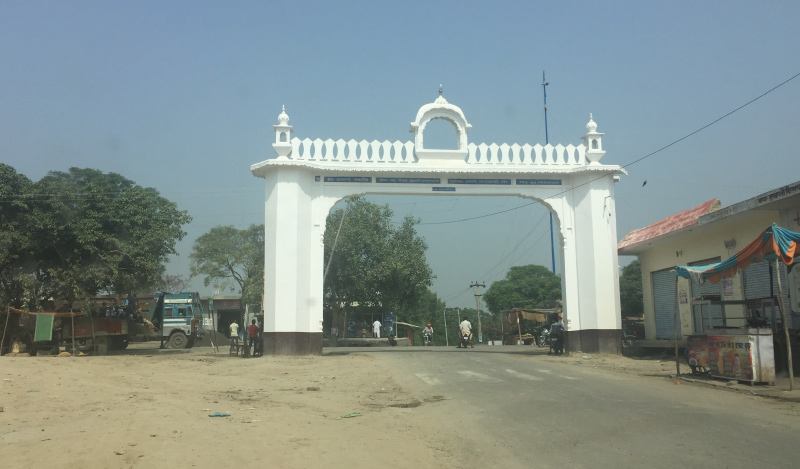 On the river bank, boat-makers apply finishing touches to canoes honed out of light, strong timber. The upturned vessels, stacked in front of the workshops, shimmer with smooth alluvial dust whisked up by passing motor vehicles. Roadside stalls advertise fresh river fish and the air is heavy with the pungent aroma of frying.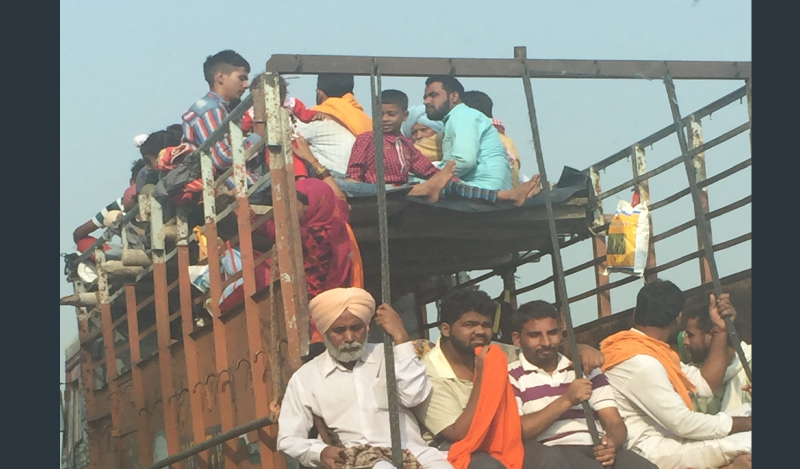 During the period of Navratri, a festive atmosphere pervades this rural landscape. Devotional music streams from loudspeakers at marquees erected on fallow fields. Tractor-trailers and mini-trucks packed with people make a beeline for these langars, the Sikh community kitchens that dole out limitless servings of free food on the occasion of Gurpurab — a feast to commemorate the birth or death anniversary of a Sikh guru — or a festival to commemorate any other spiritual leader known as a baba or peer.
This stretch of the highway leading up to the holy city of Amritsar is a blessed land for Sikhs. Only 15 kilometers from Joge Wala is Sultanpur Lodhi, the site of Gurudwara Shree Ber Sahib, where Guru Nanak was known to meditate under a Ber tree (Zizyphus jujube). The old tree that stands here is believed to be the very same one under which the first Guru of the Sikh faith rested in the 16th century.
---
No Country for Young Men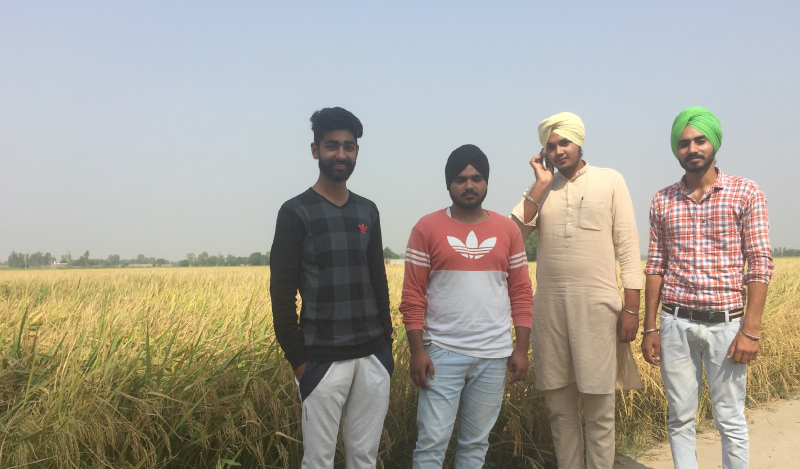 A patch of dark soil planted with fresh shoots of turmeric adjoins the compound of Gurwinder's family home in Shaamewali Wasti. The single-story concrete-roofed structure is set in a large paved courtyard packed with bales of hay. Redolent of woodsmoke, it exudes the rich pastoral scent of the countryside. A blue tractor, detached from a trailer of the same color, is parked under a shelter facing the gate.
At the entrance to the house a mongrel, reluctant to interrupt its nap, raises its head to bark a lazy warning. Shushed by its owners, the dog thumps its tail and drifts back to sleep near a dormant air-cooler that it appears to be guarding with its life. Two milch buffaloes and a calf lounge under the shelter of a cowshed in a cool, dark corner, mechanically chomping cud and regarding the world with a benign gaze. The walls of the barn are tacked with discs of drying dung, which will serve as fuel stock for the braziers that will keep the family and its livestock warm when cold waves sweep the plains of Punjab in winter. Once the paddy is harvested, the winter wheat is sown. That's about the most eventful thing that happens in this sleepy village.
"Guri!" Navdeep calls out as he steers his motorbike in the direction of Gurwinder's home. Navdeep, along with Gurjant and Meher, are his childhood friends. The four went to school together. Now they all attend an IELTS (International English Language Testing System) course in Makhu.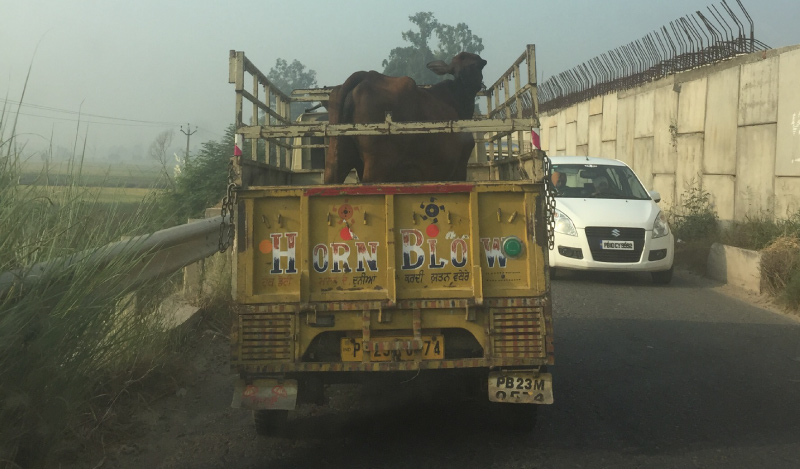 To see Gurwinder along with his four young friends is refreshing. However, it is a matter of time before they too follow their inescapable fate and leave the country.
The streets of small-town Punjab are curiously devoid of youth, cementing the impression that this land is fast turning into No Country for Young Men. While the older generations earned their lot by the sweat of their brow, the youth are too restless to remain here and accept this inheritance. They are compelled to seek their fortunes outside the country.
At the spanking new international terminal at Mohali, where the Chandigarh airport was relocated in 2015, details of new flights to Dubai and Sharjah flash on the departure board. There is also a shadowy side to this frenzy to flee abroad. Every other week, a new immigration fraud makes headlines in the local papers. Immigration — legit or otherwise — is lucrative business. A recent study revealed that 81 percent of youth from rural Punjab routinely migrate to Dubai, Canada, Australia and the United Kingdom. Nearly every family in the Doaba has at least one relative or family member settled abroad. While most of them seldom return, they do send money home. The outcome is that most households are sufficiently well off despite complaints of the state's floundering economy.
"There are limited employment prospects in Punjab," says Gurjant morosely as he pins the blame on the government for not creating enough jobs. Like other youth from this part of Punjab, his primary life goal is to earn his IELTS certification and emigrate to Canada or the United Kingdom.
---
Shoes that fit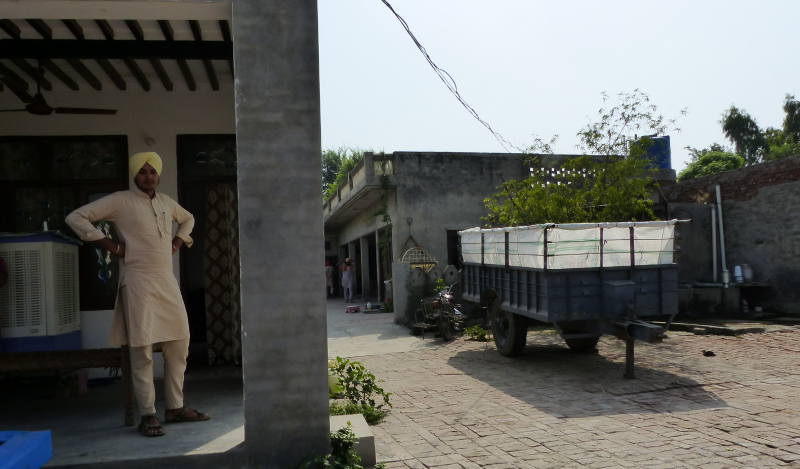 The tallest of the four, baby-faced Gurjant was incidentally the first to discover online shopping on the Flipkart mobile app. "I heard about Flipkart from my classmates," he says. "They told me that the discounts were very good. I was looking for watches and I browsed a lot of items from kurtas and jeans to mobiles. Finally, I settled on a pair of shoes. I thought I'd buy them but then I got busy with my studies."
"The truth is that no one makes shoes for his feet!" jokes Navdeep. Gurjant acknowledges his friend's jest with a shy smile, displaying his oversized feet. "Does Flipkart have shoes my size?" he asks.
Gurwinder, who had first tried out the Flipkart app on Gurjant's phone, downloaded it on his own Android smartphone, which he had bought from a store in Moga, a large town 42 km from Makhu. While browsing Flipkart's exhaustive collection of branded footwear, his heart was set on a pair of blue-and-white Reebok tennis sneakers.
As teenagers, Gurwinder and his friends were introduced to browsing the internet on desktop computers. "We used to browse the web on the desktop but now we find it boring," says Navdeep.
"It's hard to get a broadband internet connection here," he adds, saying that a cable had been laid at the bus stop at Joge Wala, near the highway to Makhu. "But it costs at least ₹10,000 to extend it up to here."
In the last few years, high speed mobile internet has come to Makhu. Outside the gate of Gurwinder's home in Shaamewali Wasti, a smartphone picks up a full-strength 3G signal.
"Just last year, we had to go as far as Makhu to get a decent signal but it has improved since then," observes Gurwinder. "Now I find it hard to stay away from my phone. I don't even watch TV that much anymore. I get all my news on Whatsapp."
Gurwinder, who enjoys the features of the Flipkart Android app, appreciates that it runs smoothly on weaker signals as well. As he spent more time exploring the app, he felt confident that the products were of high quality and the site was trustworthy. And that's how the mobile-savvy lad beat Gurjant to make the first purchase on Flipkart and become the first online shopping customer from his village.
What do his parents think of online shopping?
"My father knows that I have spent money on something," Gurwinder says, smiling. "The text message of the payment confirmation, after all, went to his phone. I have no experience with net banking and since I have no income of my own, he will have to bear the cost!"
Yearning to fly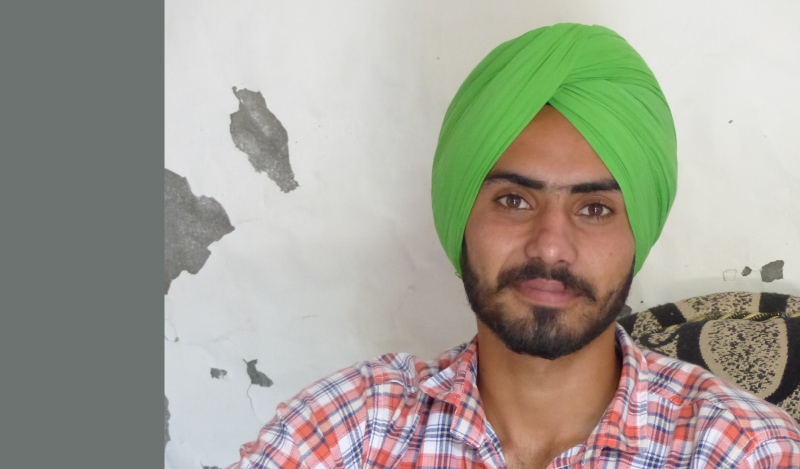 Gurwinder and his sister, who is completing her studies in a nearby town, were the first in the family to go to school. "My parents are, you see, illiterate," he says, his voice dropping to a low pitch. "They are farmers. This is their life."
This is their life.
Gurwinder speaks that last sentence in English. And when he does, he no longer sounds like a boy from a village. There is the affirmation of a bigger aspiration in the way he enunciates the words, in his stress on an acquired, learned accent. It is the ticket to his destiny.
"All the young people in Punjab want to go away," Navdeep chips in. "We learn English, then we go away."
"All of us want more in life but circumstances don't permit us to follow our dreams," Gurjant pipes in. "We seek our fortunes outside."
The friends love to watch movies. Besides Punjabi movies, other regional language movies are often screened in Makhu. "We watched [the Telugu film] Baahubali dubbed in Punjabi," says Navdeep.
The youngsters say that the tradition of folk music, for which rural Punjab was once famous, is fast fading. "Music, drums, bhangra… our parents were more into that kind of thing," says Gurwinder, a closet songwriter who pens poetry and lyrics. "As for us, our main aim is to go abroad."
"Most of our ancestors in this village migrated from across the border," says the reticent Meher, who has been silent so far though he had been following the conversation keenly. "From my grandfather's hometown we can see the wire fence, across which lies Pakistan."
In 1947, when Punjab was riven by Partition, tens of thousands of Sikh and Hindu families were forced to leave their homes in the new Muslim nation of Pakistan and move across the Radcliffe Line to the Indian territory where they started new lives from scratch. The high human cost of the Partition, the largest displacement of humanity in recorded history, has been evoked in the powerful post-Independence literature of the subcontinent, notably in the award-winning novel Pinjar by Amrita Pritam and Khushwant Singh's Train to Pakistan among others.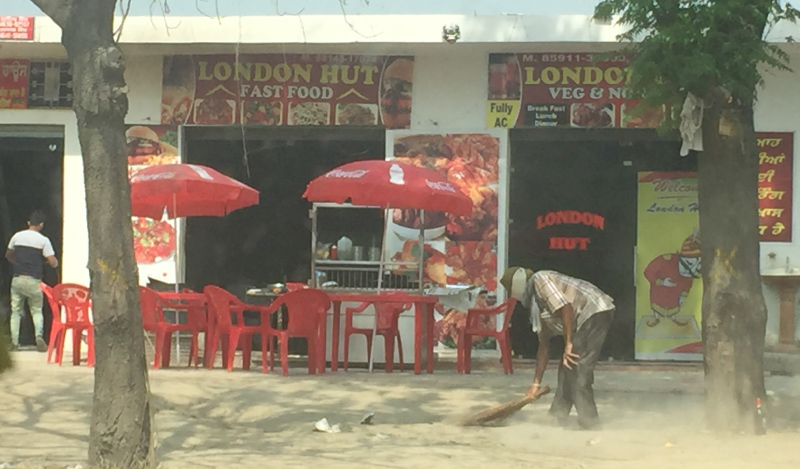 Time has numbed these separation pangs. Today, only the older generation feels any nostalgia for their lost birthplaces. The youth, on the other hand, can't wait to leave.
Even the shop signs have names that trigger this yearning to go away. Opposite the Joge Wala bus stop, beside a white arched gateway leading towards Shaamewale Wasti, is a dhaba that answers to the name of London Hut.
A personal delivery to Makhu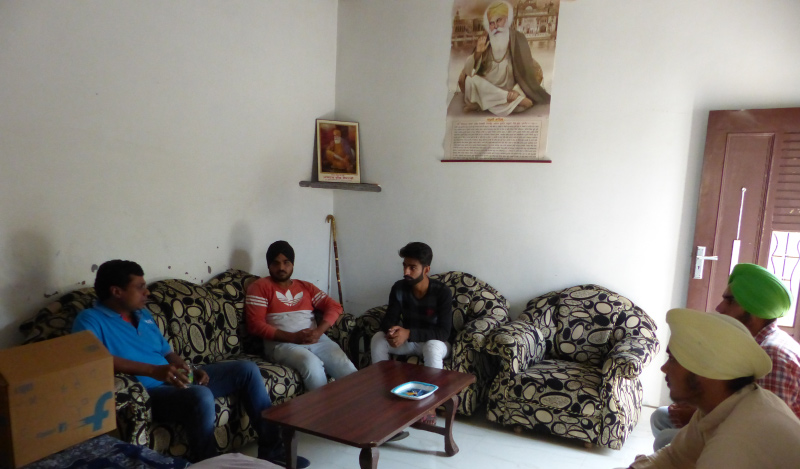 For Flipkart, a first-time online shopping customer from rural India who opted to pay by credit card (rather than the more popular mode of cash-on-delivery) was an oddity. Co-founder and Chairman Sachin Bansal, who was in Chandigarh to personally deliver orders to customers following the Big Billion Days sale, intended to find out more about this new Flipkart customer from the Doaba. After completing his deliveries in his hometown with the Ekart delivery team, he borrowed his father's car and made short work of the 204 kilometers to Makhu.
It is late in the afternoon when Sachin pulls into Gurwinder's driveway bearing a brown cardboard box emblazoned with the blue logo of Flipkart. Gurwinder and his friends receive him warmly and invite him indoors, where a picture of Guru Nanak presides over the living room. A calendar on the wall bears the images of Guru Nanak and Guru Gobind Singh, the first and tenth Sikh Gurus.
Clearly, the young men are astonished that Sachin chose to deliver the order in person.
A special delivery to the first online shopping customer from Jogewala village, Punjab. @_sachinbansal makes it personal #FlipkartStories pic.twitter.com/oMjsjR0qwS

— Flipkart Stories (@FlipkartStories) October 7, 2016
"This is not how it usually happens," the Flipkart co-founder jokes. "Your order would have been delivered by courier or speed post to Makhu."
Seated in the drawing room of Gurwinder's home, the four curious friends ply Sachin with questions.
"How much of a gamble was it to start Flipkart?" asks Gurjant.
"Why did you start your company in Bangalore and not Chandigarh?" asks Navdeep.
"Didn't you want to go abroad?" asks Gurwinder.
Answering each one patiently, Sachin tells them how a majority of alumni from the Indian Institute of Technology-Delhi, where he and Flipkart co-founder Binny Bansal met in 2005, also go abroad to seek their fortunes. "However," he says, "many of them do come back to work in India. We — my friend and I — decided to stay back in India and start our company here, because the Indian market needed us."
"Starting a company is a gamble, isn't it?" Gurjant wonders aloud.
"So is going abroad, isn't it?" Sachin interjects. "There's an element of risk in everything. You just take that risk and see what happens."
The friends nod pensively. Gurwinder strokes his beard and, glancing at Gurjant, mutters, "Well, the guy who started London Hut dhaba in Joge Wala… he took a risk, too. Now his business is doing well."
It's an interesting parting thought but perhaps not one that will test the firmness of their decision. Like the rest of the youth in Punjab, Gurwinder and his friends will in all probability chase the destiny that lies in store for them. In a few months, the young men will complete their IELTS course and soon it will be time to unfurl their wings.
When Gurwinder walks through the immigration gates to his new life, he may or may not wear his new sneakers. Either way, here in Punjab's No Country for Young Men, another fresh-faced youth with dollar dreams will fill his lucky shoes.
---
Customer data analysis by Pushpendu Kumar
Special thanks to Dharmendra Kumar Gupta, Ambur Iyyappa, Gokul M, Bharath R, Abhishek Kumar, Abhidnya Karhadkar, Devendra Pawar, David Varte, Prabhakar Z, Saurabh Saini, Rajdeep Kumar Mittal, Nitesh Kumar and Sushant Mittal
Photographs: Bijoy Venugopal