What's special about the Vu Iconium TV?
The evolution of smart TVs has introduced us to a brave new world of entertainment, gaming and social sharing. From mere fixtures in the living room, TVs have now become media centers for the family that fulfill a gamut of functions. Laptops, computers and mobile devices can be effortlessly connected to these TVs to give viewers a sensational experience. The smart televisions can also be connected to the internet and host a number of apps, allowing one to make the most of multimedia experiences, and the features don't just end there.
The Netflix-enabled Vu Iconium TV from homegrown brand Vu is redefining the smart TV experience. More lively and intuitive than anything we've experienced before, the Vu Iconium TV is a Flipkart-only brand.
Here are 5 reasons why the new range of Vu Iconium TV is worth buying.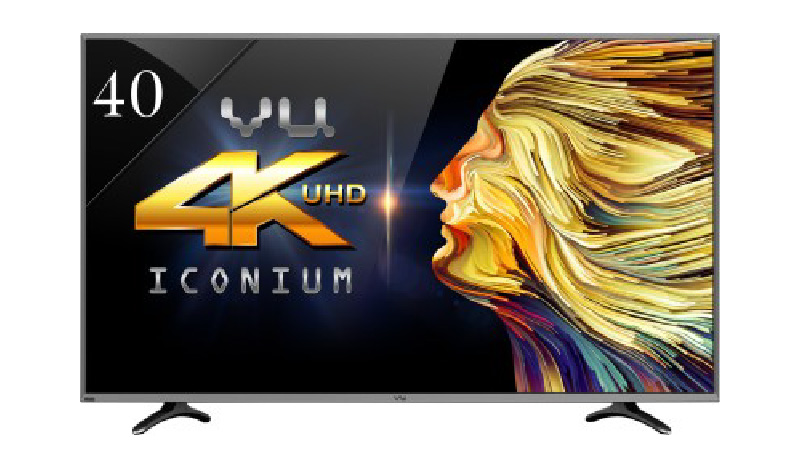 Netflix at your fingertips!
Netflix, one of the world's most popular online film and TV streaming platforms has opened shop in India. In readiness, this range of Vu smart televisions ensure you're in on the action with nary a pause. The 40-inch, 50-inch, 55-inch and 65-inch models from the Iconium series come with an in-built Netflix app, giving you direct access to media content via the internet. The TV remote control also features a dedicated Netflix button that will allow you to access your account almost as soon as you've turned your TV on. This isn't the only connectivity option that the TV offers. A separate YouTube app lets the user access their favorite video content at the click of a button.
One stop for all your media
Doing more than just allowing you to surf channels, Vu TVs are designed to play almost any media device you've got. Armed with 4 HDMI ports and 3 USB ports, these TVs work on a plug-and-play model. Just plug in your pen drive to access, play and browse through music, videos and photos. Vu TVs also have more input nodes than any other smart TV in the country and can be fashioned into a one-stop media hub for digital home entertainment. The other amazing aspect of the TV is that the hardware supports all the software functionality really well. This translates to a response time of 6.5 milliseconds for every command, it'll ensure that every function you're trying to execute will be as fast as greased lightning.
Check out a video review of the Vu Iconium 55-inch TV below:
4K – the new normal on the Vu Iconium TV
The reign of full HD with 1920 X 1080 pixels has come to an end with 4K Ultra HD. Featuring 3840 X 2160 pixels, this video format is slowly taking over with even YouTube offering select videos in the mode. How that will affect your broadband bill is a different story altogether. With four times the resolution of regular HD, the 4K Ultra HD viewing mode provides crystal clear imaging that can rival your own sight! If that wasn't enough, the TV is also equipped with total surround sound powered by DBX, making your home theater and gaming experience far richer.
Wireless connections to your phone
If you're obsessed with the screen size of your smartphone when it comes to viewing photos, videos, movies and shows, these Vu TV series will make your concerns redundant. A number of connectivity options let you sync your smartphone to your TV, mirroring the smartphone screen through wireless connections. This nifty feature lets you share and experience videos, photos and presentations on the big screen. Not just phones, you can also connect other gadgets without the traditional hiccups experienced on cross-platform connections. The TV's 1:1 pixel mapping feature also adjusts the television's resolution to automatically match the native resolution of the gadget. The increased sharpness and accuracy to the content ensures that your experience is not diluted. Now that's what we call smart!
Here's a video that talks about the Vu TV's performance when gaming:
A+ all the way
While this may not have been your grade in school, Vu's Iconium televisions come with the A+ grade rating. Why does this matter? Well, only 15% of the TVs in the world get an A+ rating courtesy the technology that eliminates ambient light reflection and the pure prism panel, which ensures that the picture quality is maintained in its original and pure detail. The only Indian manufacturer to do so, Vu ensures that scratches, lines, marks and dark spots do not mar your viewing experience.
Along with all these great features, all models of the Vu Iconium TV have a built-in digital player and a network Ethernet port that means you don't even need the built-in wi-fi for the TV to function properly. The TVs also come with in-built versions of social media channels (Facebook, Twitter and more) and browsing widgets. They're also quite energy efficient.
Launched during CES 2016 at Las Vegas, the new range of TV's are currently available on Flipkart. Priced between a very affordable ₹36990 and ₹1,20,000, Vu Iconium TVs are redefining the smart television experience.
Click here to browse the entire range.