Fulfilling Flipkart's 'Customer First' promise is no easy feat, but Prajwal R does it with the spirit of a true-blue problem-solver. The zeal and gusto inherent in this Flipkart customer service executive are the reasons why he's received a thumbs-up from happy Flipkart shoppers across the country.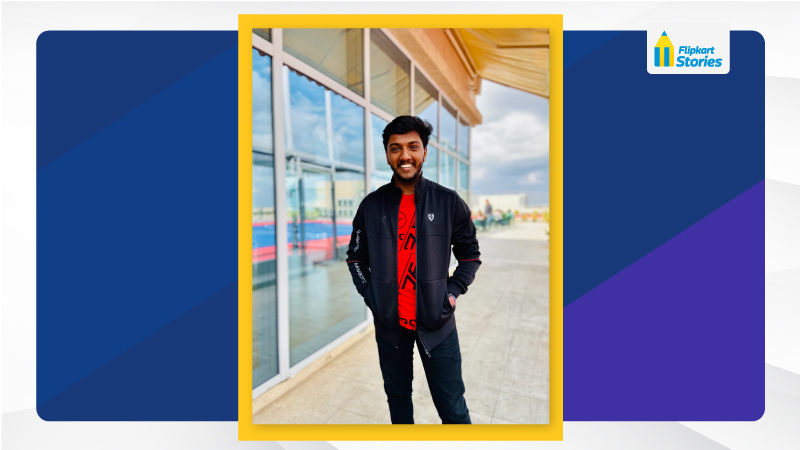 From delivery hassles to product exchanges, from refunds to queries, the calls received by the Flipkart customer service team on any given day are varied. Solving every unique caller's inquiry takes a personalized and original approach — something that Prajwal R knows only too well. Prajwal, in just 6 months, has learnt to push the envelope a little more, delighting customers with early resolutions, proactive problem-solving, and a warmth that's memorable.
To know why this young Flipkart support executive (social media) is the reason why calls start with "Hello" and end with a personable "Bye Prajwal," read on.
In His Words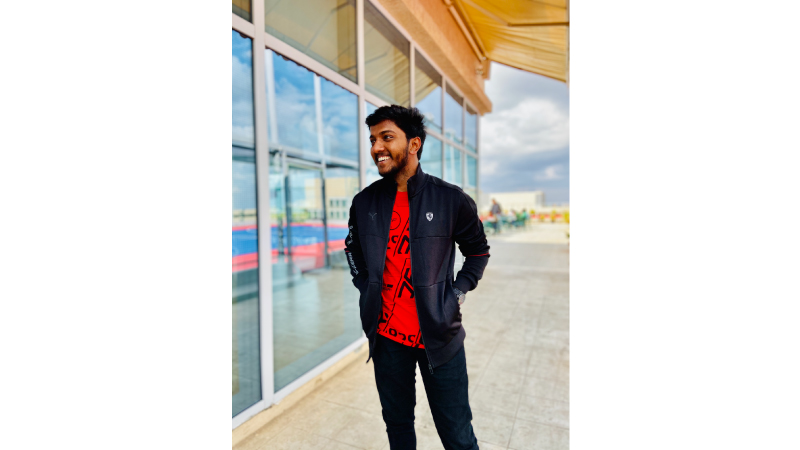 "I grew up in Marathahalli, Bengaluru, and studied Mechanical Engineering in college. But honestly, my heart wasn't in pursuing technical fields and I was more interested in sales and marketing. I joined the Flipkart customer service team in August 2019 as I knew I'd like talking to customers. But, this was my first job and I was very nervous when I took my first call. Back then, I wasn't even able to talk properly! However, after learning from my trainers and getting certification, things went really well. I now take escalation calls that go up to an hour or more.
While guidelines are there for us to follow, sometimes it's about more than processes. At times, we have to push it. We have to contact other people, we have to take steps. It's not about filling out a form or sending an email, but pushing various teams to reply soon. What can take 48 hours, I try to resolve in 24 hours, and giving customers resolutions quicker than the stated timeline is what results in appreciation.
What works for me is to first listen to customers. Let them talk. Every case is different and sometimes a query is critical and we have to do everything simultaneously. I answer each call thinking I have to give a resolution and create a bond. This way, most customers call me by my name by the end of the call."
Setting a benchmark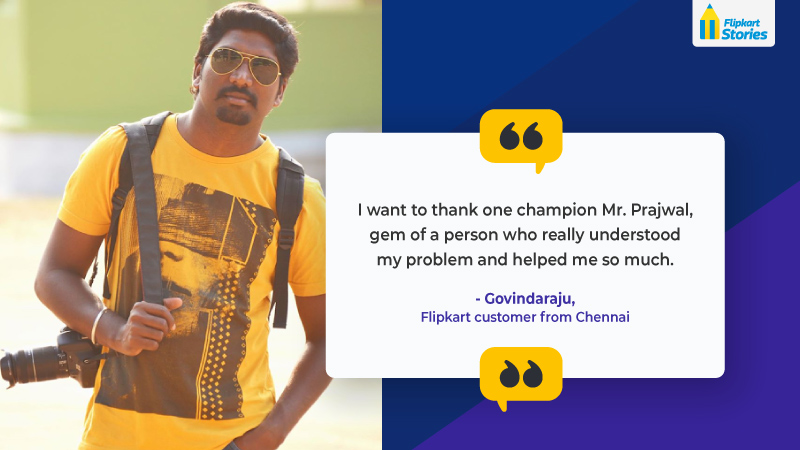 Perhaps it is this spirit of going above and beyond the call of duty that helped Prajwal address a particularly irate caller. When Govindaraju, a Flipkart shopper from Chennai, bought a brand new recliner for himself, he was excited. However, there was a delay in delivery by 5 days. He dialed the Flipkart customer service number, and with Prajwal on the other end of the call, matters were resolved quickly and efficiently.
Investigating the matter, Prajwal called the Flipkart hub and other points of contact with online and offline follow-ups. As a result, the recliner was delivered on priority to the customer.
After a few days, Prajwal noticed that the same customer was having another problem. Govindaraju had purchased a TV, which he wanted to return, and while his request was approved, it took some time to schedule the pickup.
When Prajwal spotted Govindaraju's post, he sensed the customer's frustration and took it upon himself to provide a solution. On one hand, he processed the refund from the seller and on the other, diligently followed up with Govindaraju until he received his refund. No wonder then that the happy customer sent his favorite executive heartfelt words of appreciation!
@flipkartsupport forgot to give a feedback for responsible person Mr Prajwal .Even after the complaint is closed, he called me back for finding if my refunds are received ..Very good customer service from him.Thanks Mr Prajwal, @Flipkart kindly recognise his work by any awards .

— Govindaraja J (@rajshoponline) November 3, 2019
There are other determined individuals like Prajwal on the Flipkart customer service team, who are a reason why millions of customers can turn to the helplines with an assurance of a solution. Read the stories of Jagruthi Shetty, Mohammed Rameez and Chandrakanti Nayak here.