The Big Billion Days 2020 is the biggest flagship event of the year that is now in its seventh edition. Initiated in 2014, The Big Billion Days has evolved over the years into a festive season celebration of people, partnership and progress, which brings cheer to millions of Indians. Watch this page to get the latest news and updates.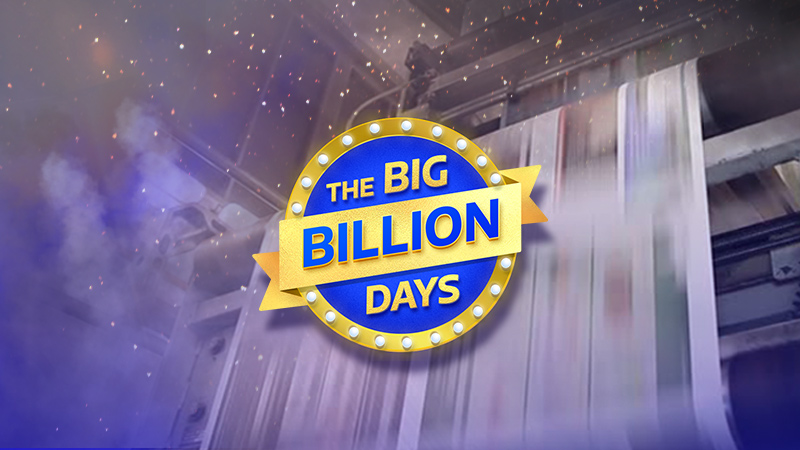 Thank you, India!
Kiranas and retailers reap big savings from  The Big Billion Days sale at Flipkart Wholesale, Best Price 
Over a lakh retailers, most of which are small kiranas, across over 3,000 PIN codes, shopped at Best Price and Flipkart Wholesale during The Big Billion Days 

Flipkart Wholesale app, which currently serves 16 cities, saw 5X growth in total orders during The Big Billion Days sale 

 Best Price's share of e-commerce transactions more than doubled during the sale   

Bharat dominated The Big Billion Days with 40% sale for Flipkart Wholesale and 95% sale for Best Price coming from tier 2 and tier 3 cities 

Top brands such as Hindustan Unilever, P&G, Nestle, Britannia, Amul, Haldiram, Cadbury, Red Bull, Lays, Dabur, Garnier, Bombay Dyeing, Raymond, Puma, Nivea, Borosil, Duke, Action, Liberty, Red Tape, as well as hundreds of MSME suppliers participated in the sale across Flipkart Wholesale and Best Price 
Bengaluru – October 22, 2020: Kiranas and retailers across the country joined the festive cheer as Flipkart Wholesale, the digital B2B marketplace of India's homegrown Flipkart Group, and Best Price cash-and-carry stores hosted 'The Big Billion Days' sale for the first time. 
Over a lakh retailers, most of which are small kiranas, from more than 3,000 PIN codes, shopped at Best Price stores and its e-commerce channels, and on the Flipkart Wholesale app from October 16 to October 21, when the Flipkart Group came together to bring a uniquely inclusive event for the country – 'The Big Billion Days'.   Members of Flipkart's B2B businesses reaped up to 60% savings on a variety of merchandise in categories such as packaged food, home care, personal care, electronics and appliances, apparel, footwear and general merchandise.  
Adarsh Menon, Senior Vice President and Head – Flipkart Wholesale & Walmart India, said, "This is the first time Flipkart's B2B businesses hosted The Big Billion Days, extending the value and potential of this annual event to kiranas and MSMEs. Reiterating our deep-rooted commitment to bringing prosperity to kiranas and MSMEs and nurturing the retail ecosystem, we brought some of the best offers of the year for our members for this sale. We are elated with the enormous response we have received, and that we have been able to yield significant savings for them. We look forward to many more successful events and will strive to make the next Big Billion Days at Flipkart Wholesale and Walmart India bigger and better."  
Bharat goes digital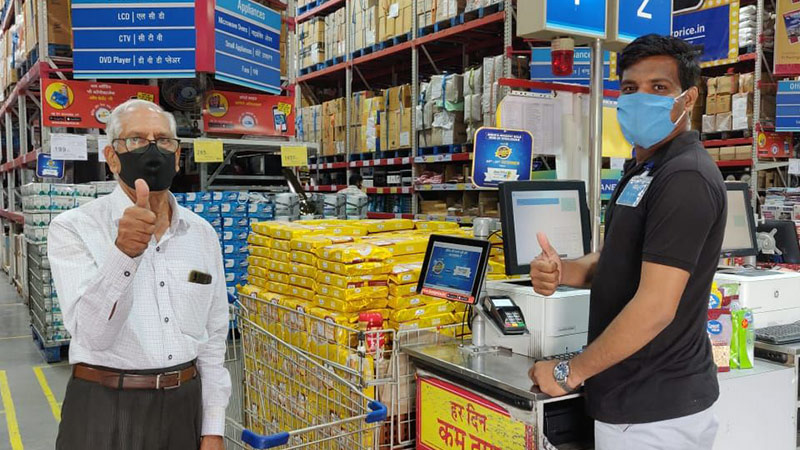 For Best Price, the share of e-commerce transactions more than doubled during this event, with cities such as Guntur, Amravati and Rajahmundry dominating digital uptake. Olive oil, ghee and hot beverages were the highest selling categories on Best Price's website and app.   The Flipkart Wholesale app, which currently serves 16 cities, saw five times surge in total orders during the Big Billion Days sale. Almost half of this demand came from smaller towns like Mysuru, Meerut, Agra, Chandigarh, and Ghaziabad.  
Top trends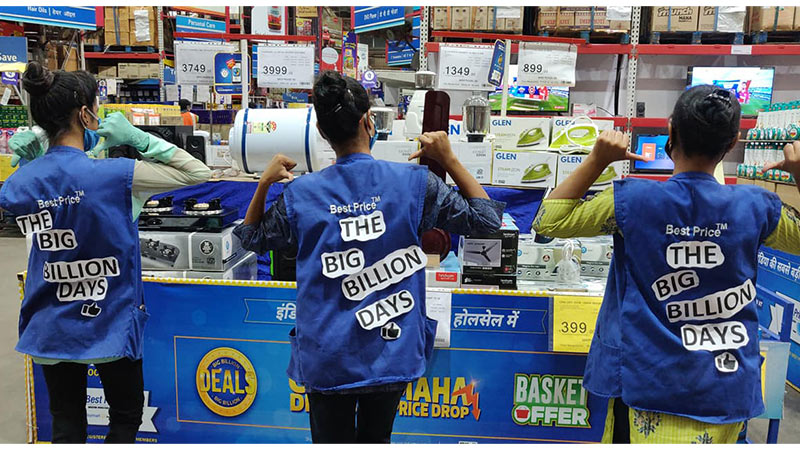 Sugar was the highest-selling item across Best Price stores and e-commerce channels, indicating that the country is bracing for yet another sweetness induced festive season. Small towns such as Amravati, Bhopal, Guntur, Kota, etc, led the demand for Best Price. Hot beverages such as tea and coffee remained a high-demand category as well.   Sports shoes and T-shirts were top-selling categories on Flipkart Wholesale during the sale. The digital B2B marketplace witnessed continued demand for casual and loungewear in addition to seeing a surge in ethnic wear, especially from Surat and Jaipur as fashion retailers gear up for the festive season. 
There was also an uptick in demand for trendy fashion products such as slogan T-shirts, flared and ripped denims, and bright coloured footwear.  
Brand speak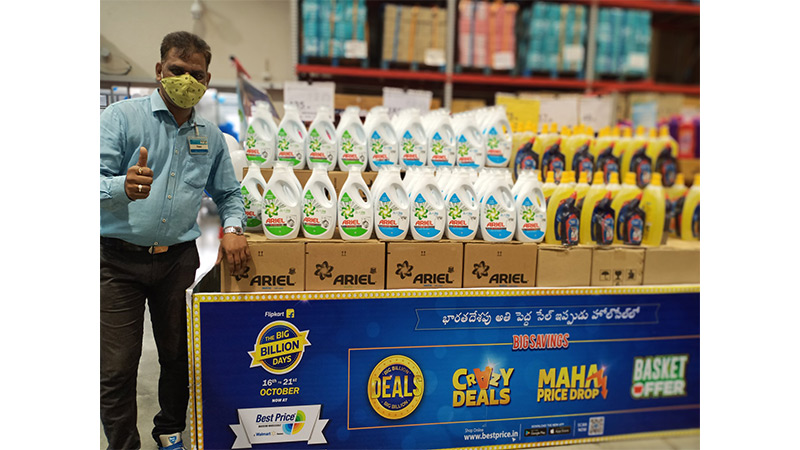 Top brands such as Hindustan Unilever, P&G, Nestle, Britannia, Amul, Haldiram, Cadbury, Red Bull, Lays, Dabur, Garnier, Bombay Dyeing, Raymond, 
Puma, Nivea, Borosil, Duke, Action, Liberty, Red Tape, as well as hundreds of MSME suppliers participated in the sale across Flipkart Wholesale and Best Price. 
Ruchika Aggarwal, Chief Executive Officer, ActionEStore, said, "Action is proud to partner with Flipkart Wholesale and we look forward to working with this dynamic team which after revolutionising online retail in India, is now looking to digitally transform kiranas through Flipkart Wholesale. For us, Flipkart Wholesale has been a valuable partner since launch and the first edition of Big Billion Days has seen a great response to our products." 
Vipin Pilania, Modern Trade Head of VKC Nuts, owner of Nutraj Brand, said, "Nutraj dry fruits is thankful to Flipkart Wholesale for the opportunity to participate in Big Billion Days and get traction from tier 2 and tier 3 cities. Great business queries from customers motivate us to do better and go the extra mile. In the aftermath of the pandemic, Big Billion Days has brought festive cheer for us and we look forward to a great journey with Flipkart Wholesale." 
---
Flipkart's The Big Billion Days brings festive cheer like never before for MSMEs and Consumers across India
Over 666 million visits on Flipkart recorded during the Big Billion Days with over 52% of these visits recorded from Tier III cities and beyond
The platform witnessed 110 orders placements per second
10 million deliveries achieved with more than 3.5 million deliveries done through Kirana partners in first five days of TBBD
Bengaluru – October 21, 2020: As Flipkart's The Big Billion Days 2020 draws to an end, it has yet again reaffirmed the role e-commerce plays in uplifting consumer consumption sentiment and catalyzing growth for local MSMEs. This Big Billion Days showcased the undying passion and entrepreneurship of sellers who took to digital commerce to bring festive cheer for Indian consumers. It showcased the power of partnerships when brands and kiranas joined hands to fulfil consumer aspirations while also creating more employment opportunities.
Nandita Sinha, Vice President – Customer Growth & Engagement, Flipkart said, "Flipkart's aim this festive season has been to bring resilience back into the community. The remarkable enthusiasm from consumers has ushered in green shoots of recovery for everyone across the value chain. TBBD 2020 has been a celebration of sellers, artisans, kiranas and Wishmasters, who have delivered unmatched value to our consumers. The revival in demand and resurgence of consumption is expected to remain even after TBBD, as we continue to uplift the entire ecosystem. This was also the first completely virtual TBBD, as we adapted to the advent of a 'new normal' and its success comes on the back of the hard work of our teams across verticals and locations."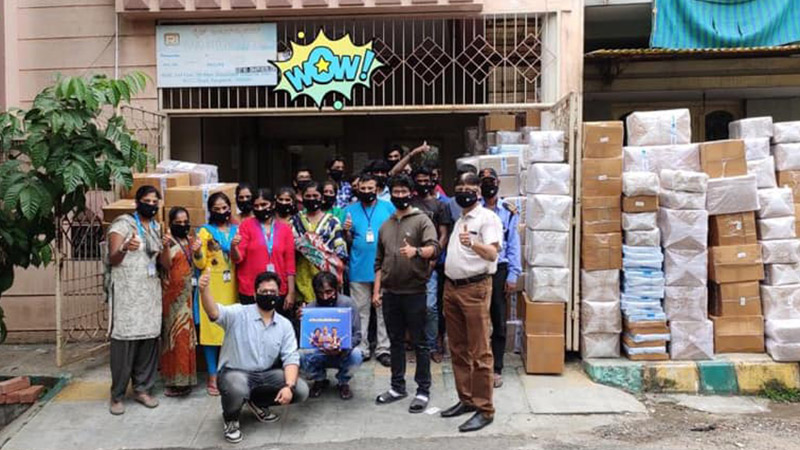 Kindling progress
This year TBBD saw 1.5X number of transacting sellers compared to last year, amongst whom more than 35% witnessed 3X more sales vis-a-vis TBBD 2019. The number of crorepati sellers went up 1.5X and the number of Lakhpati sellers saw a 1.7X jump. Flipkart marketplace has in fact seen 40,000 Lakhpati sellers post COVID-19; reinforcing the trust MSMEs have shown on e-commerce.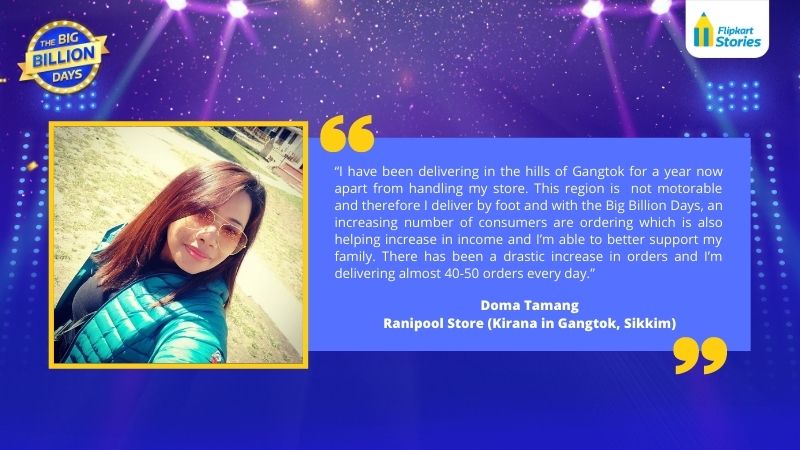 This Big Billion Days further brought forth small businesses from smaller towns. Within the 35%+ new seller base this BBD, around 60% of the sellers were from Tier II and Tier III towns. The cherished Flipkart Samarth program for artisans and weavers saw a 7X growth in the number of sellers. With the program reaching 7X more cities; 60%+ Samarth sellers came from Tier II and beyond cities with top performing categories being handloom cotton saree, home decor, etc.
In the first 5 days, Flipkart has already delivered 10 million shipments with over 3.5 million shipments delivered by its Kirana partners (compared to 1 million deliveries last BBD 19), between Oct 16-21 across Mobiles, Fashion, Electronics, BGMH and home furnishing categories. These deliveries were made across the country ranging from the Indo-Pak border in Gujarat to 5,000 feet above sea level in Siliguri, West Bengal, and through the jungles of Gir.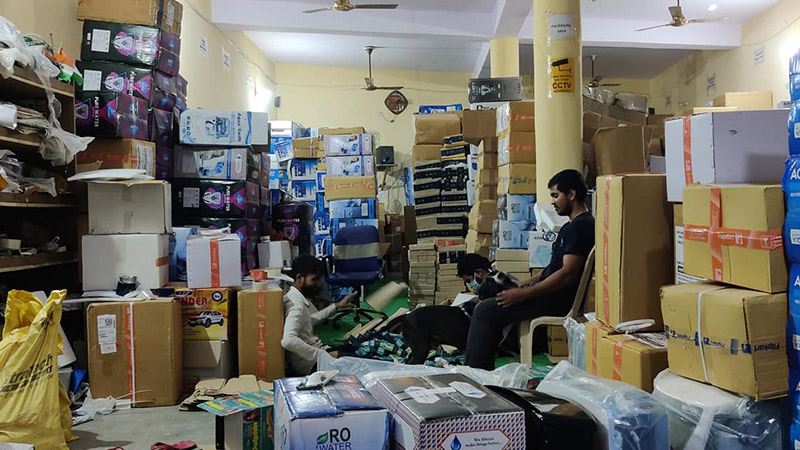 Digital payments boost India's shopping aspirations:
This year's TBBD reached far and wide with digital and financial constructs such as EMIs and Pay later that enabled consumers to realise their aspirations and shop hassle free. This year TBBD witnessed more than 55% increase in digital payments transactions on Flipkart with a sharp increase in the New to digital customer base. Customer savings through various bank and wallet led offers were 1.6X of last year.
Flipkart also partnered with Paytm and designed value offers specially for low ticket size purchases that have contributed to 3X higher adoption in categories which are known to be cash dominant such as lifestyle, beauty and general merchandise, home, mobile accessories and more.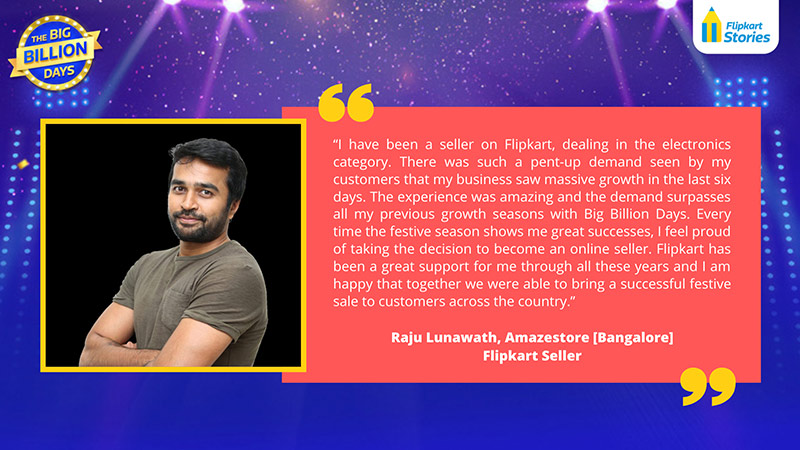 EMI options and Pay Later were an enabler of credit for customers during TBBD, with Pay Later customers clocking in 7X higher spends and EMIs showing 1.7X higher adoption in the sale. The Flipkart Axis Bank Co-branded credit card also witnessed huge adoption with the transaction on the co-branded credit card going up 5X vis-a-vis TBBD 2019. Electronic Gift Vouchers (EGVs) too have been a favorite for customers as this construct witnessed a 40% jump this year compared to last year.
Key category highlights
Mobiles
2X growth in customers visiting the mobiles category this BBD
Premium segment of smartphones saw a growth of 3.2X, predominantly driven by Apple, Google and Samsung phones
30% growth in customers adopting for product exchange and 46% growth in adoption of bank offers compared to BBD2019
41% adoption on the industry-first Flipkart Smart Upgrade Plan with Samsung
realme has seen 2X growth in BBD 2020 over BBD 2019
POCO did higher numbers in BBD 2020 than entire 2019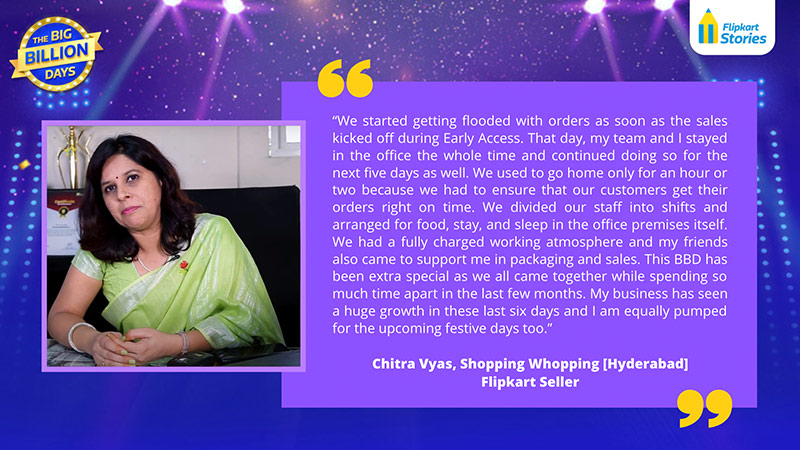 Fashion
1,500 new cities shopped for fashion this TBBD
Top brands were Puma, Saara, ADIDAS, Metronaut and Nike
A 51% growth in customers from Tier II+ markets, over TBBD 2019
16+ million products sold in total by more than 40,000 unique brands/labels in fashion
Large Appliances
Bharat (Tier III) customers drove the sale of large appliances with nearly 50% demand coming from the region for this ASP category
Over 500 brands made available their large products to millions of customers
1 in every 35 people was a small office / home office business owners
1 in every 6 customers who bought appliances opted for Complete Appliance Protection
1 TV was sold every 2 seconds and 1 Microwave was sold every 14 sec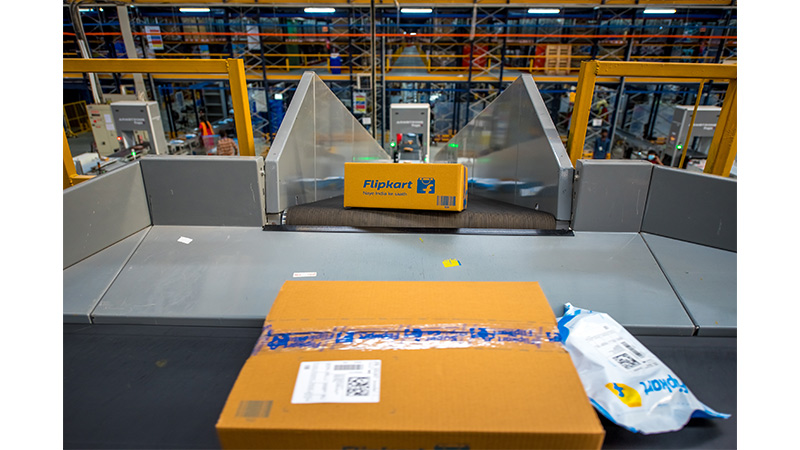 Electronics
The electronics category witnessed a 2x YOY Growth this BBD, with laptops, desktops followed by audio, IoT, camera and tablet being top selling

Nearly 3.5 Million Audio devices & accessories where 1M headphones were sold by the end of day 1
11 headphones sold every second till day 1 while Apple Airpods sold 1 every 4 seconds
1 Home theatre/soundbar sold every 2 seconds
3x YOY growth in premium devices
1 in 4 audio sold was premium – Apple, Sony, Bose were the top brands
10x YOY growth in True Wireless segment against last year BBD
Furniture
WFH furniture segment witnessed the highest growth in the furniture category
Flipkart set up almost 50000 WFH desks all over India, and furnished 1 Indian house in every 3 seconds
1.5 orders per second were placed for furniture with 75% of the customers making prepayments
Customers opted for 3-year furniture maintenance plan
Some key micro cities which drove significant demand were Chanasma, Barkagaon, Balijipeta, Chelakkara, Bhatpara etc.
Beauty, General Merchandise and Home (BGMH)
BGMH saw a 100% growth in units as compared to TBBD 2019, with 40% of the units sold contributed by BGMH in this BBD.
1.4X growth in grooming 3x growth for cookware, 2.5X for pressure cookers and 2x for choppers, 10X growth in bakeware, 3X growth in cleaning supplies.
2.2X growth in units this festive season in Food, Nutrition and Healthcare category, with customers buying festive offerings such as Cadbury Bournvita and Celebrations packages along with daily needs such as Saffola Oil, Dabur Chyawanprash and Honey, Happilo and Granola California Almonds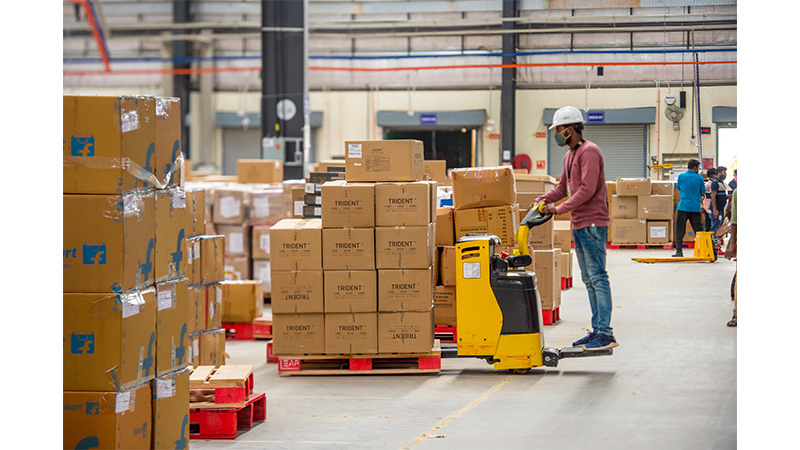 Offices & Institutes
Almost 1,00,000 offices and institutes shopped online and availed GSTIN.
Offices and institutes from New Delhi, Mumbai, Bangalore, Ahmedabad, Pune, Surat, Hyderabad, Chennai, Jaipur and Kolkata led the top cities chart from where demand was seen.
Top categories included mobile handsets, laptops, television, Wireless earphones, bluetooth headsets, smart watches, routers, power banks and furniture such as beds, Sofas and sectionals amongst others.
2GUD
3.5X growth this TBBD, in comparison to TBBD 2019, while the non-branded vertical across home, fashion and decor saw a growth of 4.3X
BBD Specials
20X growth over last year, with consumer electronics and fashion being the key drivers
Flipkart Video
BBD Muqabala was the best-performing interactive show, as users from across India engaged with this unique entertainment concept
The top 10 cities that witnessed the highest engagement on FK Video were New Delhi, Bangalore,Hyderabad ,Mumbai, Kolkata, Chennai, Pune, Patna, Gurgaon, Lucknow
---
This year, The Big Billion Days was a celebration of people, partnership and progress, orchestrating the power of the entire ecosystem and bringing deep benefits to consumers, sellers, artisans, MSMEs, brands, vendor-partners and kiranas among a host of stakeholders, while creating lakhs of direct and indirect jobs during the festive season.
Truly a #FlipkartForIndia event!
Here's what we had in store
The Big Billion Days began at midnight of October 16 and ran until October 21
State Bank of India offered 10% Instant Discount for its Debit and Credit Card users
Flipkart Plus customers enjoyed 'Early Access' on October 15
No Cost EMI* with Bajaj Finserv EMI Cards, and leading bank credit & debit cards
Assured cashback for consumers paying through Paytm Wallet and Paytm UPI
Unique and never-before selection across top categories such as Mobiles, TVs, Appliances, Fashion, Beauty, Home & Kitchen, Furniture, Grocery, and more
Lakhs of sellers, artisans, weavers, and handicraft-makers from Flipkart Samarth brought exciting offers
50,000 Kiranas onboarded to bring festive cheer to consumers across 850+ cities
Partnered with India's biggest film and sports stars including Amitabh Bachchan, Alia Bhatt, Ranbir Kapoor, Virat Kohli, Mahesh Babu and Sudeep Kiccha
---
Partnerships with key mobile brands bring affordable value to customers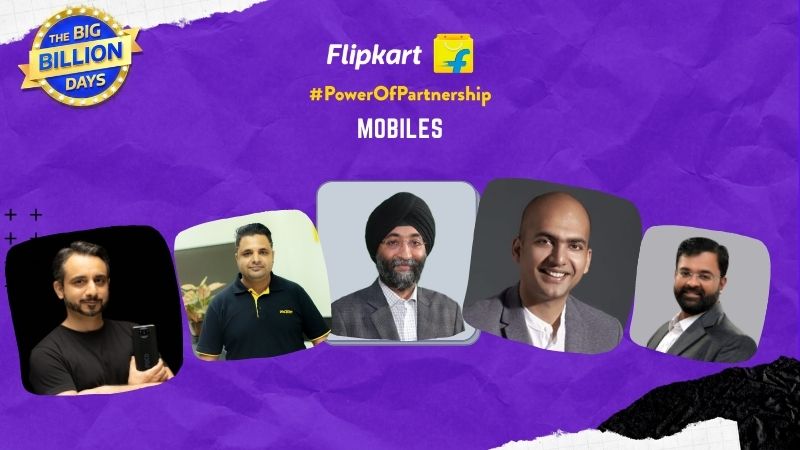 With Indian consumers increasingly relying on mobiles for learning, working, and entertainment, Flipkart's mobile partnership with key brands has resulted in a slew of benefits in terms of features and affordable buying options. To offer value to consumers at every price point and roll out several affordability constructs to deliver flagship specs on a budget, Flipkart has partnered with leading brands and sellers in the smartphone arena during several months leading up to The Big Billion Days 2020. A safe and seamless supply chain is simply the finishing touch of this incredible partnership. Find out more in this story featuring Samsung, Mi, Motorola, realme and POCO.
---
Infographic: Empowerment with Flipkart Samarth
Have you bought a product from the Flipkart Samarth store during The Big Billion Days sale? This Flipkart flagship program supports weavers, artisans, craftspersons and small businesses. Learn more about the impact that Flipkart Samarth has created in little more than a year from inception.
---
Kirana Revolution – Small business, big impact
Flipkart's kirana partners speak up on their dreams, the pandemic, and expanding their businesses during The Big Billion Days sale.
From Harish K and Raghavendra Chitta in Bengaluru, Vaishnavi in Pune, Jitendra Kumar from Haryana, and Dinesh Kumar in Panchkula, read their stories.
---
Infographic: Flipkart's Voice Assistant is bringing Bharat shoppers online!
---
The Power Of Partnership
From banking and financial services, entertainment, technology and healthcare, to beauty, fashion and more, leaders of the top Indian and international brands unlock the secrets of their partnerships with Flipkart. Captains of industry share thoughts on why it matters to partner with Flipkart to reach new markets and new consumers in Bharat.
---
Infographic: Flipkart's Sustainability Journey
This Big Billion Days, you'll notice small changes in the packaging and in the deliveries made by electric vehicles for orders originating in our own supply chain. Small steps towards building a sustainable supply chain en route to our mission to go 100% by 2030.
---
The Studio 34 Big Billion Days 2020 playlist
Get the stories behind The Big Billion Days with our specially curated podcast playlist, featuring brand partner CEOs, Flipkart leaders, wishmasters and more.
---
Infographic – The rise and rise of regional languages
This Big Billion Days, many shoppers are browsing the Flipkart app in a language of their choice. The Flipkart app is currently available in English, Hindi, Tamil, Telugu and Kannada.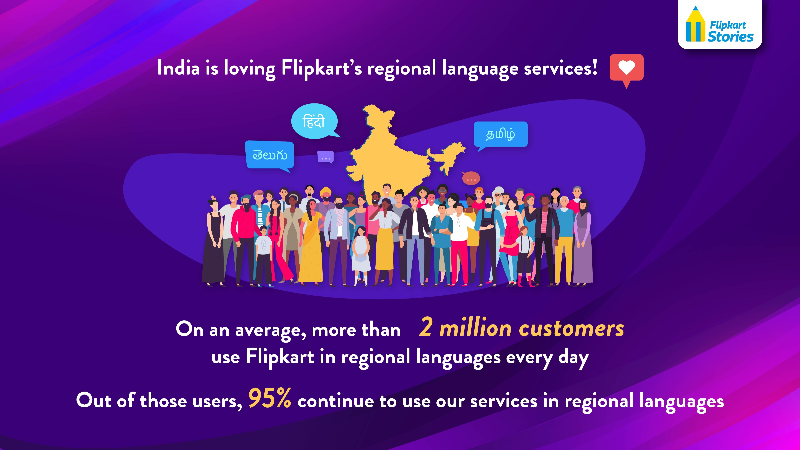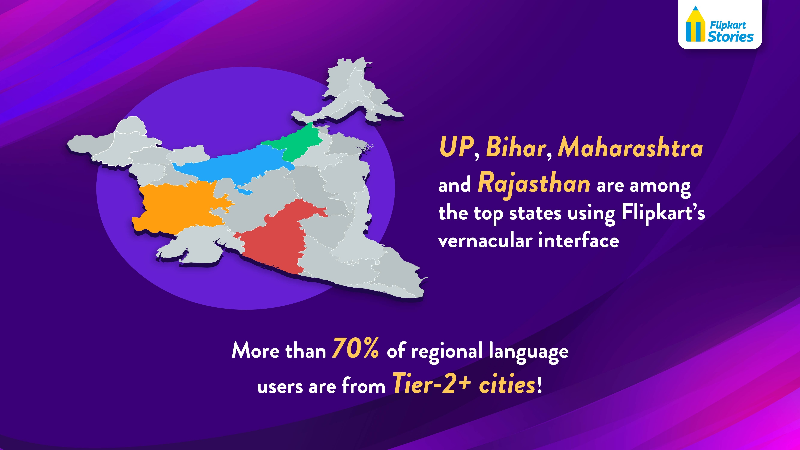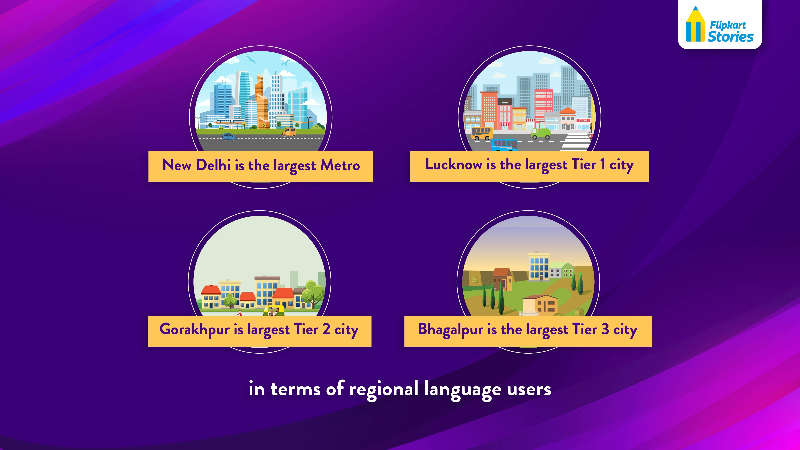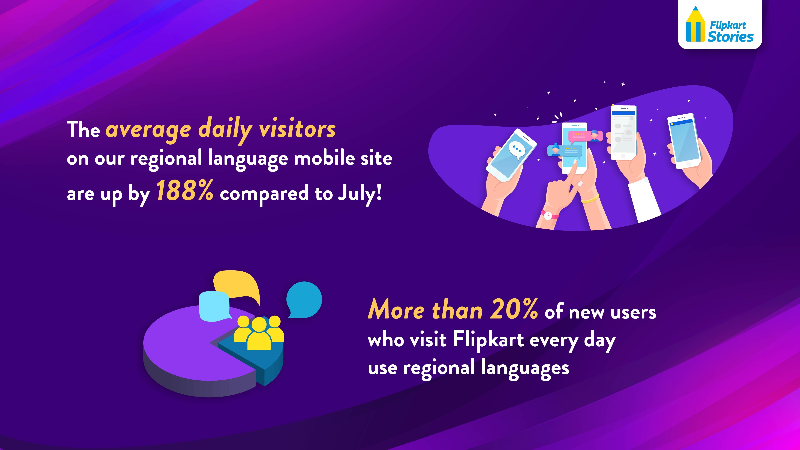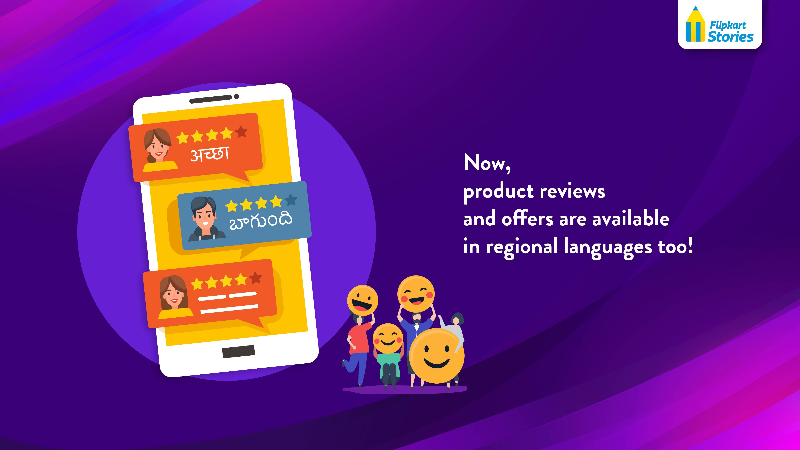 GRAPHICS: SANA KHAN | TEXT: VISHNU SREEKUMAR
---
DAY 3 WRAP-UP: SUNDAY, OCTOBER 18
MSMEs and Consumers from Tier 2 & Beyond drive festivities for India
Digital adoption grows by 60% through early access and 3 days of TBBD 2020
Essential categories continue to be demand across metros, tier 2 & beyond
36 million new app downloads in the run upto festive season
Bengaluru – October 18, 2020: Over 3 lakh sellers out of which ~60% coming from Tier 2 and beyond have enabled festive cheers to 250mn + consumers across India this Big Billion Days. Fuelled by affordability and value purchasing, The Big Billions Days has seen India pivoting to meet consumer demand that caters to the 'new normal'. This year has witnessed the whole retail ecosystem come together to form partnerships – from Kiranas to MSMEs and brands bring a uniquely inclusive event for the country – 'The Big Billion Days.'
Local MSMEs witness festive cheer
Bringing all this together were the marketplace seller, local MSMEs, artisans and weavers, with 60% of them coming from Tier 2 cities and beyond. The seller base reach has expanded by 20% this year totalling up to 3000+ pincodes. In just about 2 days of TBBD 2020 marketplace sellers have witnessed growth that they saw during the 6 days of TBBD 2019, showcasing the pent-up demand they have seen from consumers across India. This also highlights the support to the safe supply chain & robust SOPs of Flipkart logistics. This festive period has seen over 70+ sellers become Crorepatis and ~10,000 become Lakhpati through Early Access and the three days of TBBD 2020. As essential products continue to remain in demand with consumers across the country taking necessary precautions to safeguard themselves are their families against COVID-19; sellers in categories such as household products personal care continue to see day-on-day growth.
This year Flipkart Wholesale, the digital B2B marketplace of the Flipkart Group and the Best Price Stores joined The Big Billion Days ecosystem to bring great value for retailers and kiranas as they prepare for the festive season. In the first two days of TBBD 2020 (16 -17 October) both Flipkart Wholesale and the Best Price (cash-and-carry) stores witnessed over 35,000 retailers and 18,000 Kiranas operating in categories such as Fashion, Fashion accessories and Grocery joining the festivities. For Flipkart Wholesale tier 2 and tier 3 cities accounted for almost half of the sales. The digital B2B marketplace witnesses continued demand for casual and lounge wear in addition to seeing a surge in men and women's ethnic wear, especially from Surat and Jaipur as fashion retailers gear up for the upcoming festive season. The Best Price (cash-and-carry) stores alone witnessed an average adoption of (over) 15% of purchases through e-commerce in which the stores from southern India dominated digital uptake. With over 95% of products locally sourced, the demand came from cities such as Agra, Mysore, Karimnagar, Kurnool, Meerut, Amravati, Bhopal, Amritsar amongst others.
India played big on affordability
The Big Billion Days in the first 72 hours has been a huge catalyst to the Digital India campaign with Flipkart witnessing over 60% increase in digital payments transactions in comparison to non festive event days. There is particularly strong growth in adoption of UPI based instruments as a result of joint efforts with NPCI to bring the benefits of digital payments to customers, especially in Tier 2 and Tier 3 cities across India.
In the first three days of the festive event, customers across India have availed several unique and payment based offers brought to them by Flipkart in partnership with State Bank of India, Paytm and other leading financial institutions. Using these various bank and wallet led offers alone, more than 4 million customers have saved INR 3000Mn collectively.
With affordability and value driving customer purchases this year, this TBBD EMI to buy mobiles, laptops & white goods saw a 65% increase. Reflecting the adoption of these constructs. Through Early Access and the 3 days of TBBD 2020 the platform witnessed a 1.5X higher spend per customer across EMIs and Flipkart Pay Later transactions.
Further, attractive No Cost EMI offers on Bajaj Finserv EMI Cards and leading bank credit cards were key enablers in driving high-ticket purchases. More than 25% of Appliances & Electronics are being purchased on EMIs during this period.
With regards to device/appliance insurance, the adoption of Appliance Protection and Extended Warranty programs for brands across TV, AC, Refrigerator and Microwave Ovens has also seen an increase of 60% in comparison to TBBD 2019. With smartphones becoming an essential for most people, the need for upgrading has increased and there has been over a 40% increase in the number of smartphones purchased and a 50% increase in people availing product exchange.
Indian shoppers redefine essentials
Ahead of the festive season (September 1 – October 14), there were more than 36 million new app downloads by customers across the country. Besides metros, majority of these downloads happened from smaller cities such as Ranchi, Medinipur, Cuttack, Guwahati, Darbhanga.
While cities such as Bangalore, New Delhi, Mumbai, Hyderabad and Kolkata continue to lead the pack, the Tier 3+ cities made up for almost 60% of the demand, this year. Customers from new cities including Jhumri Telaiya (Jharkhand), Chamba (Himachal Pradesh), Cumbum (Andhra Pradesh), Thottiyam (Tamil Nadu) have shopped during TBBD.
Fashion products have seen an uptake, as consumers look to upgrade their wardrobes during the festive season, even as they stay indoors. Over 1500 new cities shopped for fashion this year with products such as women's ethnic wear and men's sportswear being some of the top fashion choices this year.
Meanwhile, the demand from Tier 2 & 3 markets continues to intensify as options for shopping in their language of choice drove customers to the platform. Over 9 million visitors used the vernacular interface to avail the "new essentials" which included mobiles, apparels and electronics through Early Access and the 3 days of TBBD 2020 .
Interestingly, over half of all electronics purchases made by the consumers was in the work-from-home segment, as consumers look to enhance their productivity, whilst working remotely. Products such as large screen televisions, laptops, IT accessories and peripherals witnessed an increase of over 1.4x from last year. Furthermore, overall wellness and self care continues to retain its importance as nutrition and grooming products see an uptick.
---
DAY 1 WRAP-UP – OCTOBER 16, 2020
This festive season, we focus on our commitment to drive value for consumers, and progress and growth for sellers, MSMEs and artisans. Some early indications we see show the move towards India increasingly adopting digitization.
India gets Online
Along with the momentum witnessed from metros and Tier 2 cities, Tier 3+ cities have seen an uptick of 50% new customers
The Home category saw a surge in 53% new customers, and Large Appliances plus BGM (Beauty & General Merchandise) each witnessed a near 50% increase in new customers, all from Tier 3 cities
MSMEs bounce back this festive season with Sellers from Tier 2 and beyond seeing growth on e-commerce
Local MSMEs from over 2,550 PIN codes saw demand coming in from across the country
Sellers from 167 new cities joined e-commerce this BBD
~60% of sellers reside in Tier 2 cities and beyond, including small cities such as Talcher, Velur, Sohagpur, Sindi amongst others
Top performing Tier 2 seller cities include Jaipur, Surat and Panipat sellers
Affordability constructs driving Consumption
There has been a perceptible shift towards Digital India, with a 75% increase in prepaid transactions, which showcased a strong endorsement for digital payments as consumers continue to maintain social distancing when making purchases
The EMI options served as a good trigger to keep the festive spirit buoyant. 1 out of every 5 purchases in high-ticket segments like Mobiles, Furniture, Large Appliances & Electronics were driven through an EMI construct
---
Top headlines this week
---
#HumansOfBBD – Meet the incredible humans running India's most beloved sale!
They're just a few thousand, but they serve a billion-plus. The phenomenon that is The Big Billion Days is brought to you by these remarkable Flipsters working behind the scenes to make your shopping experience incredible. Meet these superstars!
Watch this space over the next few days as we bring you profiles of these remarkable people.
Tales of courage, determination, and inspiration from the people who work behind the scenes to make #TheBigBillionDays truly special! Read their incredible #HumansOfBBD stories. @Flipkart @WorkAtFlipkart https://t.co/VIF9GD5Bv0

— Flipkart Stories (@FlipkartStories) October 12, 2020
---
Connecting furniture clusters across India to millions of customers
October 14: Flipkart has onboarded several micro, small and medium sellers from furniture clusters across the country to connect them to millions of consumers ahead of the festive season and the Big Billion Days. These clusters are spread across Churu (Rajasthan), Saharanpur (UP), Jabalpur and Indore (MP), and Surat (Gujarat) to name a few. They specialise in wood, metal and plastic furniture.
As part of the process, Flipkart has established small pick up hubs across these clusters to connect their sellers to its large supply chain, thereby giving them access to a pan-India consumer base. This becomes essential as most of these sellers operate at a micro level which limits their ability to serve a large number of consumers and lack of bandwidth and business know-how restricts their expansion beyond the clusters.
By onboarding with Flipkart, they will be able to leverage Flipkart's onboarding support, technical expertise, consumer insights, and marketplace constructs for enhanced business growth and continuity.
---
Max out on Affordability!
October 14: This festive season, Flipkart has massively scaled fintech constructs through partnerships to provide customers with increased accessibility to credit and affordability options during the festive season.
Highlights:
Flipkart has partnered with one of India's biggest banks – State Bank of India and with SBI Card, India's largest pure-play credit card issuer – to provide both their Debit and Credit cards holders a 10% instant discount
No Cost EMI will be available for Bajaj Finserv EMI card holders across a wide range of products. With the newly launched OTP-based authentication process, customers will be able to avail friction-less and hassle-free credit for their purchases
With the launch of Kotak Mahindra Bank and Federal Bank Debit Card EMI payment option, customers can now avail pre-approved credit from 7 leading banking and fintech players
Through a partnership with Paytm, Flipkart is offering more value to shoppers with assured cashback on wallet & UPI transactions. This will aid in faster checkouts, especially during the much-awaited flash sales
In terms of insurance, customers can safeguard themselves against cyber frauds with the Digital Suraksha Group Insurance, in partnership with Bajaj Allianz General Insurance Company
Flipkart is also launching a Gift Card Store catering to customer needs across 60 brands such as Joyalukkas, Kalyan Jewellers, Croma, FabIndia and KFC, among others
To enable the purchase of gift cards (Digital & Physical) during the festive season, Flipkart will offer a discount of up to 10%
---
Q&A – Flipkart leaders explain how Flipkart is ready for the festive season!
The COVID-19 pandemic has changed the way India shops. E-commerce, which was a lifeline to Indians during the early days of the pandemic, has moved large numbers of shoppers online. Flipkart has forged deep ecosystem partnerships, bringing brands, sellers, small businesses, micro-manufacturers, kiranas and logistics partners into the fray to make The Big Billion Days a truly inclusive event for Bharat. As sale day draws near, Flipkart's leaders answer the questions that matter.
"We are seeing growth in both metros and non-metros. Non-metros, in particular, have witnessed a 2X increase in demand for work-from-home furniture. To cater to this growing demand, we have strengthened the Furniture category ahead of The Big Billion Days, with an enhanced focus on availability, affordability, accessibility and quality," says Manish Kumar, Senior Vice President and head of the Furniture business.
"There is a new set of needs, wants and demands that we are seeing on the platform. As most organizations extend their work-from-home policies, we are seeing huge traction for products consumed at home. For example, television sales have shown 2X growth. We are also seeing growth in laptops, with children attending virtual classrooms and most corporate meetings now going digital. Demand for dishwashers, for instance, used to be quite muted earlier but has seen a big surge. With consumers still very careful in venturing out of home, demand has shifted strongly to e-commerce in these categories. In the upcoming festive season, we're pivoting to launch private brands and license brands in these segments and driving customer growth."
That's Dev Iyer, Vice President and head of the Private Brands business at Flipkart, expressing optimism ahead of the festive season.
Nishit Garg, Vice President and head of Fashion at Flipkart, says, "With the aim of ensuring business continuity for offline retailers during these times, we're creating a fully integrated seamless shopping experience for customers through strategic partnerships. This is being initiated by integrating offline stores with the Flipkart platform and creating an ecosystem of services that benefits both sellers and customers. In preparation for the festive season, we will continue to expand our fashion portfolio through such partnerships."
Flipkart's Beauty, General Merchandise and Home business (BGMH to insiders) — encompassing a suite of product categories including books, beauty, personal care, baby care, toys, home products, and more — has expanded its customer base and, consequently, its portfolio to include categories such as Healthcare, bolstered by strong ecosystem partnerships.
"There has been a surge in onboarding new sellers, and existing sellers and brands listing a lot more of their selection on Flipkart owing to the shift in consumer preference," says Nishant Gupta, Senior Director heading BGMH at Flipkart, as he sheds light on the thinking and decisive actions behind the customer-focused initiatives that Flipkart has introduced ahead of the festive season.
Look out for more Q&As with Flipkart's leadership, and more insights that let you into what makes The Big Billion Days the remarkable festival it is.
---
Her story. And hers. And hers!
DID YOU KNOW? 
"Today Flipkart has women-only shifts, called the Pink Shifts, at the sortation centres or mother hubs (MHs) across cities and has employed women delivery executives for delivering furniture and large appliances to consumers' homes."
That's a fact. YourStory's women-centric channel HerStory published a rousing read about some of the wonderful women behind The Big Billion Days action. Mohima Khatun, a wishmaster at a new hub in Howrah, West Bengal, who's an avid footballer. Sumathy Nagendran, Hub-in-Charge at Chennai Mother Hub, who helms an all-woman shift. Ashwini DN, who works in a Fulfillment Center in Malur, Karnataka, and is self-funding her studies.
---
In Kohima, Nagaland, wishmasters await to deliver joy during The Big Billion Days!
Flipkart has established an extensive last-mile reach across the country, with significant expansion in northeast Indian states such as Nagaland, Mizoram and Sikkim, among others. In Kohima, the state capital of Nagaland, Flipkart has over 42 delivery executives or wishmasters on the ground who are making deliveries across the rugged terrain to meet the growing demand for e-commerce services in the region.
While bringing cheer to consumers, Flipkart's expansion in the region has also enabled young people to find employment opportunities in their home state.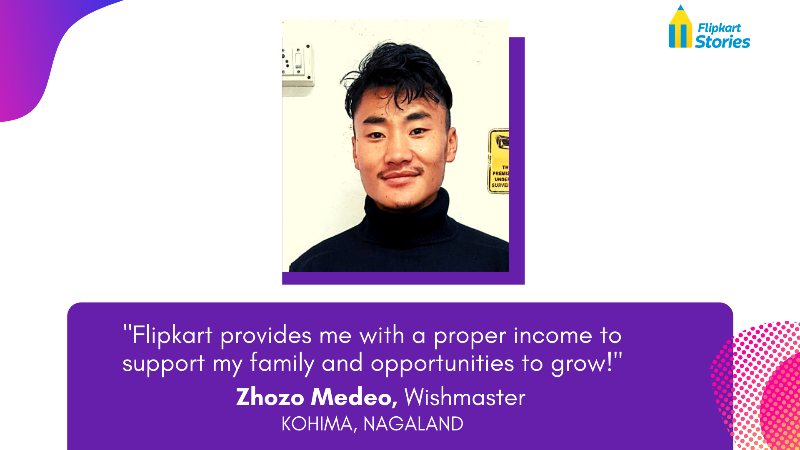 Zhozo Medeo from Kohima has been working as a wishmaster for over a month now after completing his Masters in English. He says the gig provides him a proper income to support his family and also offers opportunities to grow without having to move out of his home state.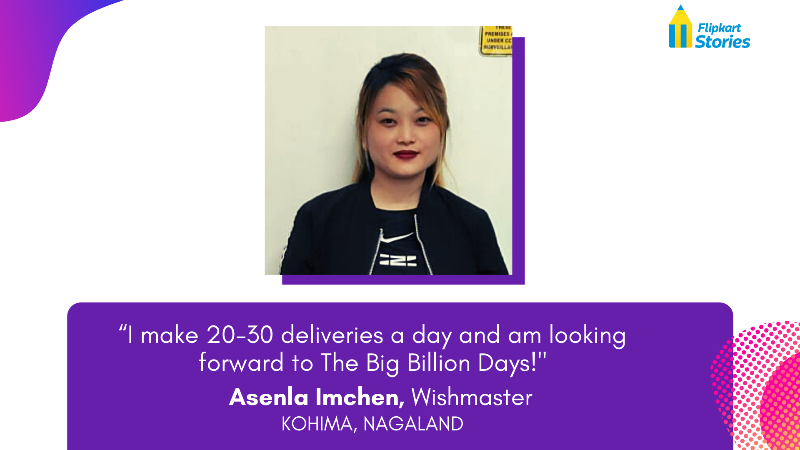 Asenla Imchen is one of many women wishmasters from the region who are taking up new job roles.
"I make 20-30 deliveries a day and am looking forward to The Big Billion Days as I want to make the most of it through faster deliveries and shopping for myself," she says.
Both Zhozo and Asenla are part of the Kohima delivery hub, which opened a month ago as Flipkart expanded its reach to India's northeastern region.
---
We're ready… are you?
That's the question that our supply chain staff is asking you as they spare no effort to bring you the most complete Big Billion Days ever. While ensuring that all safety and sanitisation precautions are followed in making your every wish come true, the enthused staff at this Fulfillment Centre near Bengaluru have a message for you.
Watch to know more!
---
Where does your Flipkart order originate?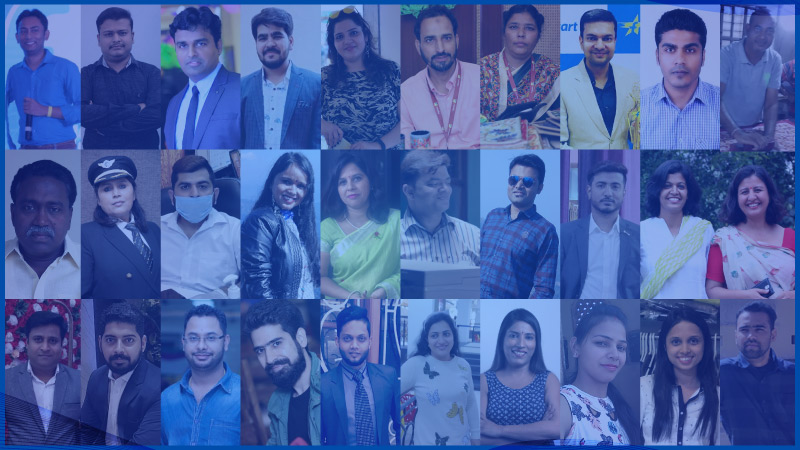 As you tap away on your Flipkart app, does it ever strike you to wonder where the products you love and crave are sourced from? One of the unacknowledged miracles of e-commerce is in how it connects people and livelihoods behind a curtain of technological sophistication.
Each of our sellers is palpably human. Each has a story to tell… a human story underwrit with emotions. A story of ambition, dreams, struggle and often, adversity, but always culminating in triumph.
And, yet, these are but a fraction of the thousands of sellers on the Flipkart platform who are making this edition of The Big Billion Days extra special for you. We invite you to explore this interactive map of India and discover the ever-growing meshwork of sellers and partners across India.
---
Flipkart Launches Global-First Range of Motorola Smart Home Appliances and Expands Motorola Smart TV Range with Android 10.0 Variant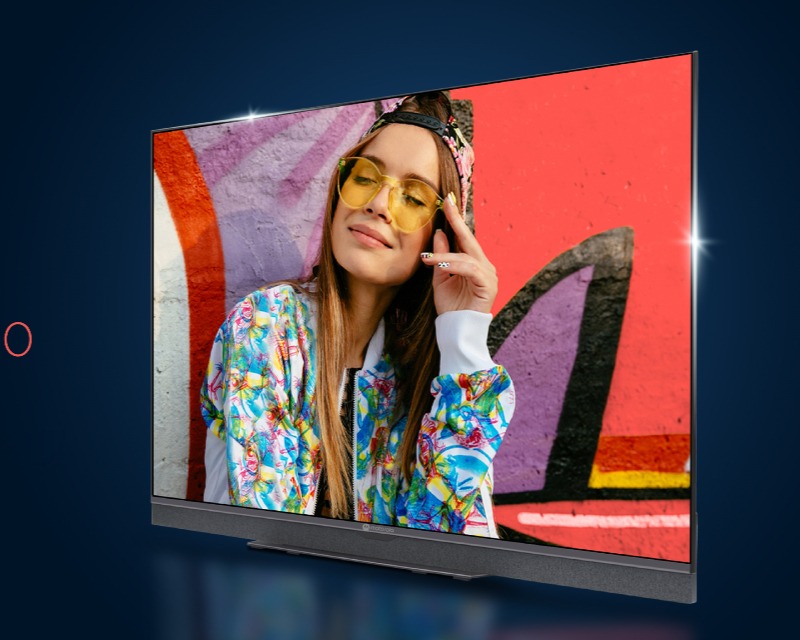 October 9: Flipkart, through its deep understanding of consumers' needs and shopping behavior, is bringing to market the first line of Motorola Smart Home Appliances, integrated with the brand's premium and innovative proposition to introduce power-packed products for its consumers.
Available from October 15, during Flipkart's The Big Billion Days sale-event, the product range comprises Smart Refrigerators (starting at Rs. 51,990), Smart Air-Conditioners (starting at Rs. 32,999), and Smart Washing Machines (starting at Rs. 23,499) that come with TruWifi technology, allowing consumers to access the appliance from their smartphone – anytime and anywhere. The new suite of products will also include the first Android 10.0 Smart TV in India – Motorola Revou Series and Motorola ZX2 Series, at a starting price of Rs. 13,999 — making the collection a part of this year's 'The Big Billion Days Specials', a unique line of special products curated in partnership with leading brands across various categories.
---
Worried about missing out? Head over to the Pre-Book Store!
October 9: FOMO (Millennial-speak for Fear Of Missing Out) is a thing if you have tried to shop at sales before. While you're making up your mind, high-demand products can go out of stock. But there is an insurance against disappointment, if you will. Ahead of The Big Billion Days sale event, Flipkart is giving consumers a unique chance to pre-book some of their favorite products and build their shopping cart.
Through the Pre-Book store, which goes live from October 11 to October 14, consumers will be able to place their orders at a minimal price of Re. 1, giving them an opportunity to get their favorite products and offers before they run out of stock. Once the booking is confirmed, consumers can come back to the platform during the first day of The Big Billion Days, i.e. October 16, to pay the balance amount, either online through various payment constructs or through Cash-on-Delivery.
No more FOMO!
---
boAt CMO Aman Gupta on his brand's powerful partnership with Flipkart!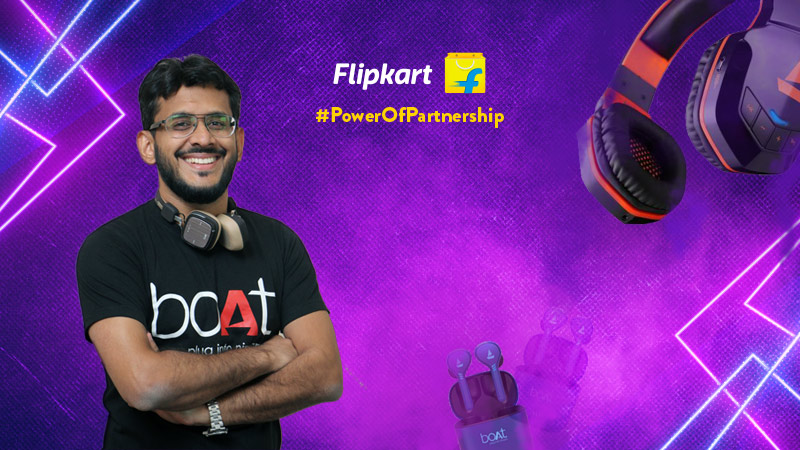 With its deep insight into consumer behavior and consumption trends, Flipkart caters to the growing needs of Indian shoppers through meaningful co-creation with leading brands. Among the rising brands moving fast on Flipkart's shelves has been Delhi-based boAt. Over the last few years, boAt and Flipkart have partnered to bring compelling products to consumers at affordable prices.
In an enthused interview with Flipkart Stories, boAt CMO Aman Gupta outlines the essence of a powerful partnership with Flipkart that has propelled boAt to new heights and grown its community of loyalists manifold.
---
Well-trained! A Month-Long Learning & Development Workshop Series equips lakhs of sellers ahead of The Big Billion Days
October 8: Flipkart hosted a practical month-long Learning and Development Program for our pan-India seller base to apprise them of best practices and insights to boost their business during the upcoming festive season. Through 16 sessions spanning over a month, the event enabled Flipkart's country-wide seller ecosystem to connect with the team through unique 1:1 networking sessions and keynote speakers. Sellers learned about the latest initiatives from Flipkart to fortify their understanding with learning to scale up operations and meet the massive festive season demand.
---
Bringing festive cheer to Bharat with a pan-India supply chain expansion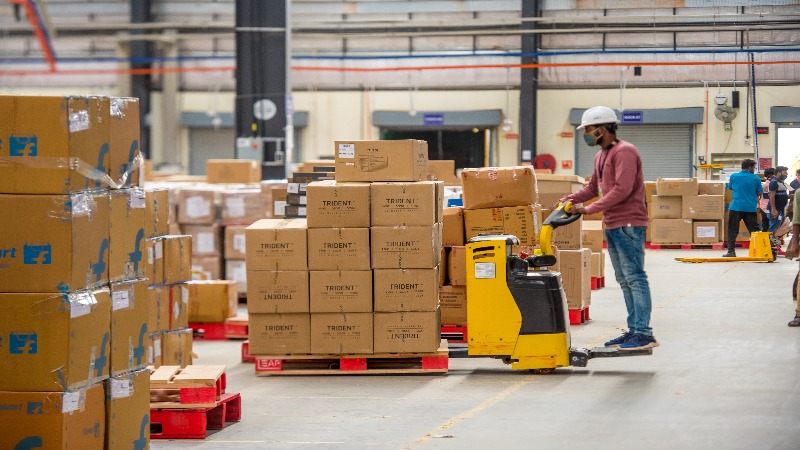 October 7: To cater to the growing needs of millions of new and existing consumers moving online and to support market access for lakhs of MSMEs, sellers, artisans and kiranas, Flipkart has significantly expanded its supply chain across the country. This massive infrastructure investment is aimed at bringing festive cheer to consumers' doorsteps ahead of the festive season and The Big Billion Days festive event.
#News: @Flipkart brings festive cheer to Bharat with pan-India supply chain expansion
● Last-mile reach to Tier-3 & beyond with 3,000+ facilities
● Supports new livelihood opportunities, brings MSMEs, Sellers & Artisans closer to market
Read more https://t.co/9dhLQTN8Kz pic.twitter.com/m7a8KNHkBS

— Flipkart Stories (@FlipkartStories) October 7, 2020
Overall, Flipkart has added over 3.4 million square feet space across its supply chain assets including fulfilment centres, mother hubs and delivery centres throughout the country. Besides adding more than 3,000 facilities to strengthen its presence in India's tier-III cities and beyond, the infrastructure expansion will also support new livelihood opportunities, while helping bring MSMEs, sellers and artisans closer to market.
---
IN THE HEADLINES
The Economic Times | Flipkart to host 'Big Billion Days' sale from October 16-21 | Read
Financial Express | Flipkart, Paytm join hands to provide a cracking offer this festive season – Check details | Read
ET Tech | Flipkart decks up with tech for festival shoppers | Read
Business Standard | Big Billion Days sale: Flipkart readies virtual war room for the festive season | Read
Mint | Flipkart's virtual Big Billion Days sale to be led by value buying | Read
HT Tech | Flipkart to offer over 200 special edition products during the Big Billion Days sale | Read
The Drum | Brand bounce back: Flipkart marketing lead expects Indian festive season to trigger growth | Read
Forbes India | Unlocking the digital door | Read
India Today | Flipkart brings 6 Nokia TVs for the Big Billion Days sale, price starts from Rs. 12,999 | Read
Mint | Hyperlocal biz takes center stage | Read
---
#PowerOfPartnership – Flipkart Launches A New Suite Of Made-In-India Nokia Smart TVs During 'The Big Billion Days'
October 6: The launch of Nokia Smart TVs' new Android 9.0 range powered by Sound by Onkyo, ahead of The Big Billion Days 2020, marks Nokia's entry into the mainstream screen sizes. At a starting price of Rs. 12,999*, the new range of Nokia Smart TVs will be available in screen sizes ranging from 32" to 65". The Smart TV range will be equipped with Sound by Onkyo to bring a home-theater like experience for consumers. Designed and made in India, the Nokia Smart TV range will be available from October 15, 2020 during Flipkart's annual festive sale event as part of 'The Big Billion Days Specials' – a unique line of special products curated in partnership with leading brands across various categories.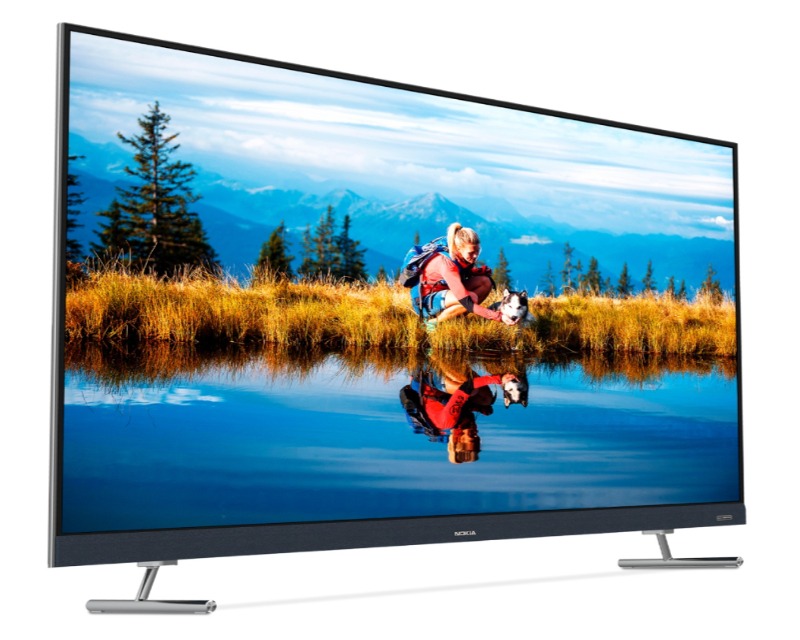 Flipkart has partnered with Onkyo, a leading Japanese brand with superior audio expertise, to power the new range of Nokia Smart TVs. Sound by Onkyo will bring expertise through their Onkyo soundbar, certified by the Onkyo home theater system and 6D sound experience. The new range of TVs will have minimal distortion (and dynamic amplification technology for lossless sound, in turn, elevating the impeccable sound performance for consumers, from the comfort of their homes. The Nokia Smart TV range also comes with a diamond-cut bezel design, micro dimming, MaxBrite display and advanced contrast ratio to ensure superior and life-like viewing quality and display. It is additionally equipped with Pronto Focal AI Engine which enables a full AI experience in pictures, sound, and interaction for a seamless TV-viewing experience.
---
Not to be missed — The Big Billion Days Specials!
October 6: Flipkart is making the festive shopping experience with The Big Billion Days even more special for consumers this year, with the introduction of a bigger and more attractive range of special edition products. The Big Billion Days Specials are a range of unique products across categories, co-created with leading brands, including limited edition products and collectables. In partnership with more than 100 brands, exciting products across categories including fashion, electronics, mobile phones, large appliances, personal care, handicrafts, and others will be made accessible to consumers. These 200+ products will be available only during the 6 Big Billion Days, which begins from midnight of October 16, with early access for Flipkart Plus consumers on October 15, until October 21, 2020.
Flipkart had first introduced the Big Billion Days Specials in 2019, with the aim to create curated special collections, that are thematic or have industry-first innovations, to make the consumer shopping experience a memorable one, while meeting their growing aspirations. The number of partnerships for this year's Big Billion Days Specials have more than doubled, as Flipkart continues to strengthen the partnership ecosystem and bring brands closer to consumers across the country.
---
This festive season, Flipkart and Paytm partner to provide a cracking offer to customers
October 5: As customers prepare their wishlists for this festive season, Flipkart and Paytm, India's leading digital financial services platform, have partnered to provide customers with a slew of offers and benefits. This partnership enables customers to pay through their Paytm Wallet and Paytm UPI on Flipkart while availing assured cashback on Paytm Wallet & UPI transactions.
From an experience point of view, paying with wallet balance will be the fastest way for Paytm users to checkout during The Big Billion Days Sale, making sure they don't miss out on flash sales and limited stocks. In addition, Flipkart customers will enjoy instant cashback to their Paytm wallets.
Read coverage in Financial Express
---
Cozy and comfortable while WFH with India Ka Furniture Studio
September 25: Flipkart unveiled a new campaign "India Ka Furniture Studio", bringing consumers across India the widest selection of quality furniture at affordable prices.
The COVID-19 pandemic has catalysed new demand patterns across product categories, including furniture, as people spend more time at home. With consumers investing more in creating comfortable spaces at home, there is a notable increase in the demand for ergonomic furniture across segments. While metro cities accounted for a large percentage of this demand before the pandemic, an increasing number of consumers from Tier-2 and Tier-3 markets are purchasing furniture online since the lockdown. With the festive season nearing, Flipkart offers customers a one-stop destination for furniture shopping.
The Furniture category has more than doubled its marketplace seller numbers since last year to over 10,000 sellers across the country and increased selection to over 3.5 lakh products to meet consumers' evolving demand. These sellers, including small and micro furniture manufacturers, have been onboarded from various furniture clusters across Churu, Ratangad, Sardharsheher in Rajasthan, Jabalpur, Indore in MP and Saharanpur in Bihar.
Flipkart has expanded its WFH furniture seller count with brands such as Wipro and Featherlite by over 30% as more consumers look to meet their work and learn from home requirements. Coupled with newer and convenient payment constructs such as Flipkart Pay Later, our Furniture category aims to make quality furniture more affordable and make the purchase process easier for customers.
Flipkart has also increased its PIN code reach to 100% of the serviceable PIN codes across the country through its state-of-the-art supply chain to support consumers looking for affordable and quality furniture.
---
#PowerOfPartnership – Samsung and Flipkart unveil Samsung Galaxy F41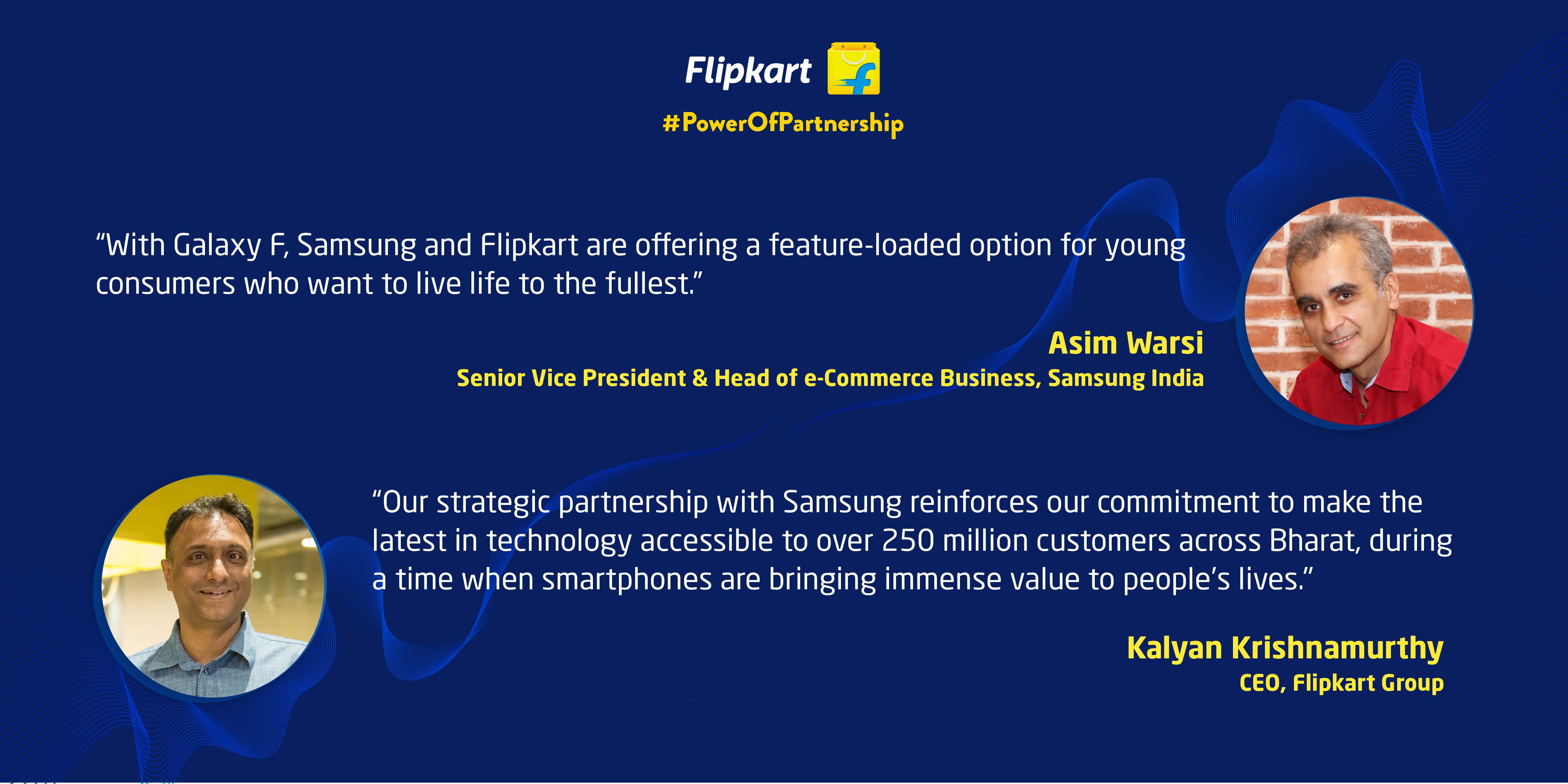 September 24: Samsung, India's most trusted smartphone brand, announced a partnership with Flipkart to address the growing demands of aspiring young consumers in India.
A wacky social media intrigue got audiences hunting for a certain "F" as multiple brands chimed into the conversation. After two days of searching, F was finally found!
Hey @Flipkart, I think we know where your F might be. Click on the link below to see: https://t.co/7b1RJBqhJG #Samsung

— Samsung India (@SamsungIndia) September 22, 2020
The F in question was the much-awaited Samsung Galaxy F41, the first smartphone in the F series, which makes its global debut in India in October 2020. The Galaxy F Series is built on Flipkart's deep consumer understanding and Samsung's innovation prowess, and the collaboration between the two companies will bring consumer delight during the festive season and the much-awaited Big Billion Days sale.
---
#PowerOfPartnership – Flipkart partners with Max Fashion to bring affordable high-quality fashion to Indian consumers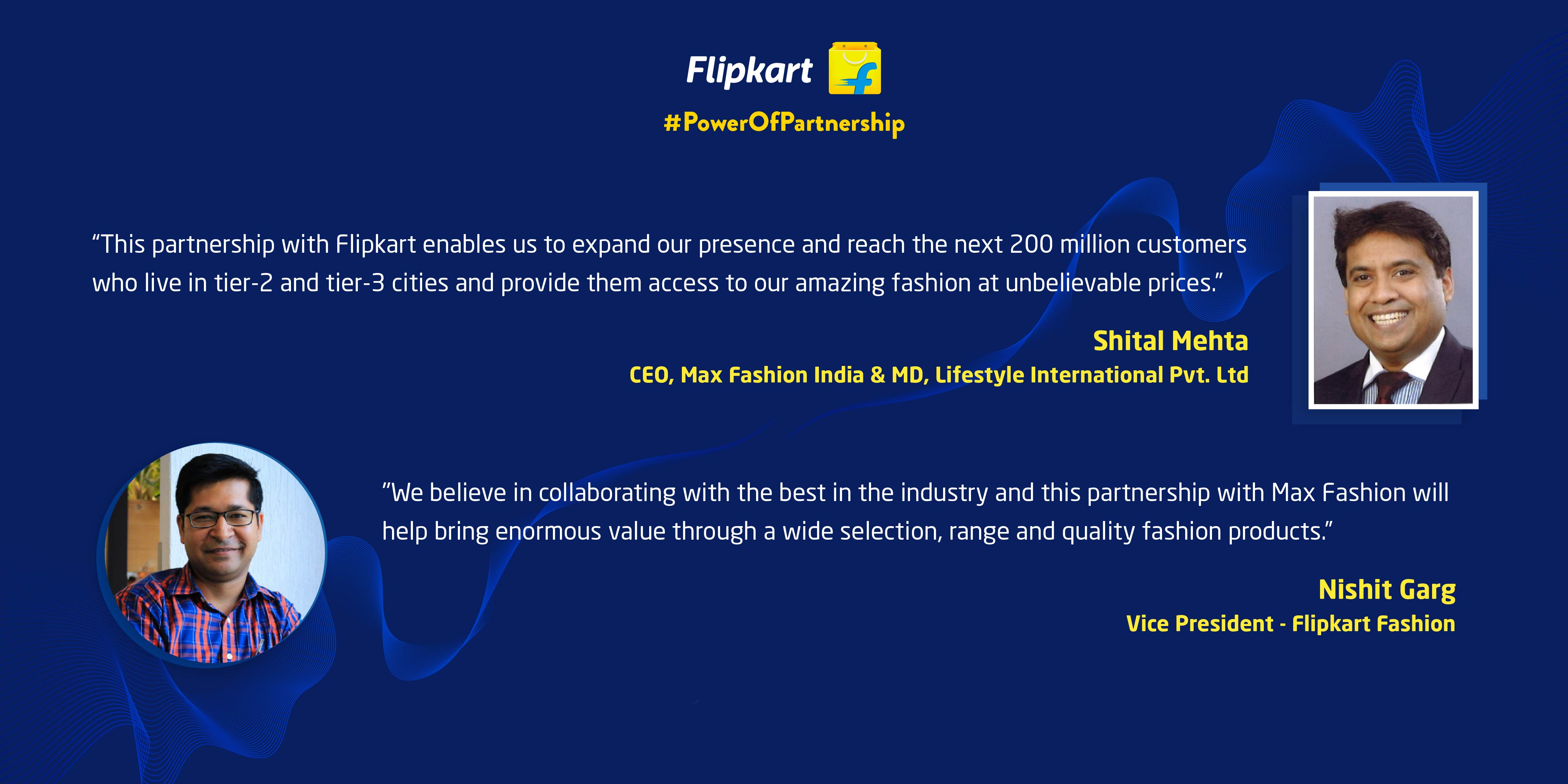 September 23: Flipkart has partnered with Max Fashion, the retailer known for its strong presence across various fashion verticals. This partnership assumes significance as Flipkart prepares for its annual Big Billion Days, focusing on bringing India's best fashion brands and collaborating with them to bring the best styles for Indian consumers.
With a strong presence across fashion verticals, Max is the single largest player in India with 375+ stores in 130 cities across the country. Max already sells more than 100 million garments through its wide omni channel presence. Through this partnership, Max Fashion will be able to get wider market access and make their products across categories including accessories, footwear, womenswear, menswear,and kids wear, available in newer geographies and PIN codes.
The Max Fashion store on Flipkart will have more than 13,000 new styles, and majority of them under the ₹1,000 price point. This partnership with Flipkart enables Max to further democratize fashion by enabling the brand to reach out to a wider array of shoppers through Flipkart's excellent reach in smaller towns and cities. This partnership is also aligned to Flipkart's priority to continuously expand its fashion portfolio and make latest trends accessible to consumers across India.
With an increasing number of shoppers today seeking a convenient shopping experience with a focus on affordable fashion, the collaboration between the two brands will offer a wide selection of latest fashion by bringing value to millions of consumers.
---
MarQ by Flipkart brings Android 9.0 Smart TV to content-hungry Millennial & Gen Z customers
September 18: The Indian Smart TV market is seeing exponential growth backed by increased internet penetration along with the rise of OTT consumption. A recent report by DAN India 1 on OTT content consumption showed that 'binge-watching' is at an all-time high in India, especially given the current pandemic-induced circumstances. On average, Millennials and Gen Z consume four hours of content daily. Understanding this need, MarQ Android 9.0 Smart TVs come with power-packed features including 'Retina-Safe' technology, which brings an intelligent custom tuning brightness to ensure minimal eye strain for viewers.
Further, MarQ Android 9.0 Smart TVs come with new design features such as an elegant metal ribbon stand that occupies less space and gives it a premium and sleek look. Equipped with Dolby Audio, MarQ Android 9.0 Smart TVs have a total harmonic distortion of less than 1% (while most TVs typically have distortion levels as high as 7%) and maintain excellent sound quality even when playing at loud volumes so that consumers are not interrupted with shrill sounds. They also provide greater connectivity options to ensure hassle-free entertainment — the HD variants consist of 3 HDMI and 2 USB ports, while the 43" Ultra-HD variant comes with 4 HDMI and 3 USB ports.
---
#PowerOfPartnership – Motorola and Flipkart go festive with bold, new Smart TVs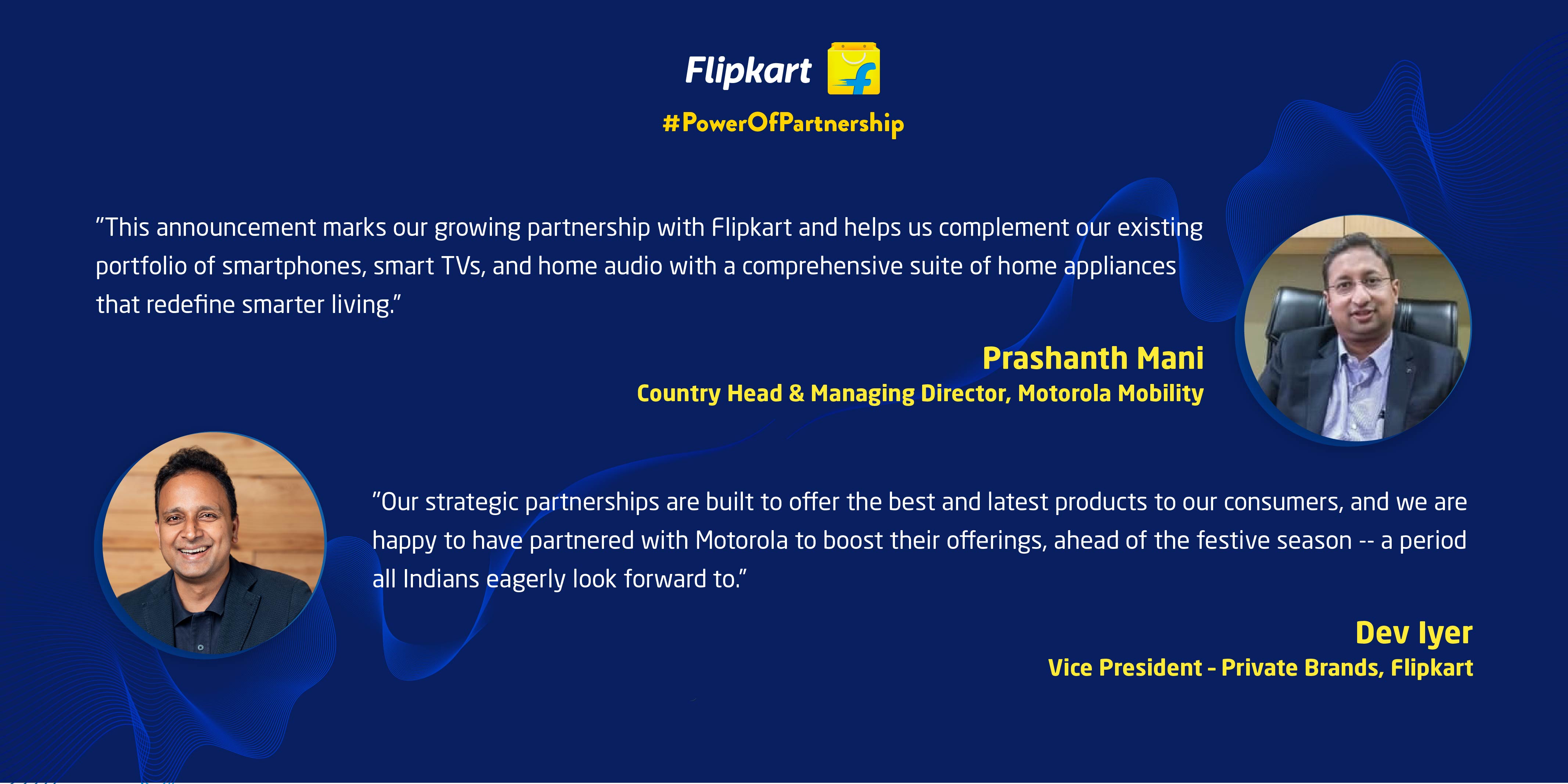 September 17: Ahead of the festive season, Motorola announced its global-first launch of Smart Home Appliances in India with Flipkart. The partnership will see the expansion of new variants in Smart TVs with advanced technologies and the recently launched Home Audio range.
According to industry reports, the Indian smart home market is expected to touch around $6 billion by 2022, and globally that number is expected to reach $53.45 billion, showing the massive growth opportunity for smart devices across the globe.
After a successful foray into Smart TVs and Home Audio, Motorola further strengthened its partnership with Flipkart, to mark its entry into the smart home appliances category in India. With new offerings including washing machines, refrigerators, and air conditioners, Indian consumers will be introduced to a 'truly smart, truly revolutionary' line of products, backed by Motorola's premium brand proposition and Flipkart's understanding of dynamic consumer behavior.
Over the last year, Flipkart and Motorola have worked closely to build the brand's portfolio of consumer durable products in a market that is witnessing rapid technological adoption. Flipkart has a strong track record of using consumer feedback and insights to bring relevant, best-in-class product experiences for its growing pan-India customer base. The strategic partnership between the two companies resonates with Motorola's ethos of bringing innovative and premium offerings to its customers, designed for their comfort.
Apart from marking its debut in smart home appliances, Motorola in collaboration with Flipkart is further set to expand Motorola's Smart TVs range and the recently launched Home Audio range on its platform — all in time for the festive season.
---
The Big Billion Days to create 70,000 direct jobs and lakhs of indirect jobs
September 15: The complexity and scale of The Big Billion Days requires investments for capacity, storage, sorting, packaging, human resources, training and delivery, which helps generate additional employment during the festive season. This year, Flipkart is employing nearly 70,000 people in its supply chain (which includes delivery executives, pickers, packers and sorters), along with generating lakhs indirect jobs at its seller and other ecosystem partners' locations. The onboarding of more than 50,000 kiranas by Flipkart for last-mile delivery will also create thousands of seasonal jobs to deliver millions of packages this festive season.
Additional indirect jobs will be created at Flipkart's seller partner locations and kiranas. This will be further supplemented by job creation in ancillary industries including vendor locations, and freight partners, as the entire ecosystem scales up for the festive season.
The expansion and strengthening of the supply chain will help create a robust system enabling millions of new e-commerce users to shop online seamlessly as lakhs of ecosystem players gear up for the festive season.
For these lakhs of seller-partners, MSMEs and artisans who begin preparations for the festive season months in advance, Flipkart provides dedicated training in warehouse management, packaging and more. The process of hiring and upskilling follows the government's National Skill Development Mission and will significantly spur local employment and economy.
Flipkart has a tech-enabled robust supply chain, delivering millions of shipments across 100% serviceable PIN codes serving millions of consumers from Nangaon in Assam and Hadaspur in Maharashtra to Kannur in Kerala. Over the years, Flipkart has created millions of local job opportunities through its supply chain along with entrepreneurial and festive job opportunities across the country with The Big Billion Days.
---
Over 50,000 kiranas partner with Flipkart to deliver festive cheer for India
September 9: In preparation for the festive season and the Big Billion Days, Flipkart has significantly expanded its kirana onboarding program to make deliveries to customers in more than 850 cities. With over 50,000 kiranas onboarded, Flipkart will provide a fast and personalized e-commerce experience to millions of consumers while creating opportunities for digital upskilling as well as additional income for kiranas.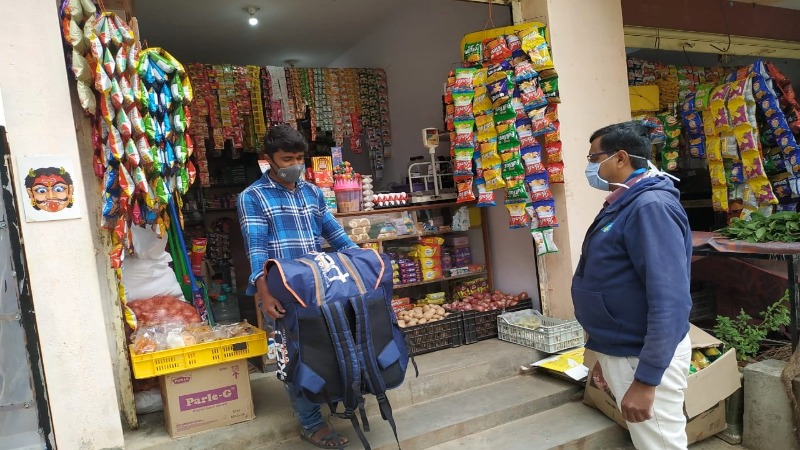 To on-board kiranas and help them participate actively in the festive season, Flipkart's team initiated contactless onboarding of kiranas through online application forms where kirana partners directly uploaded details along with required documentation. This enabled seamless onboarding without them having to step out during COVID19 times. Following a detailed verification check, the kirana partners were brought into the program. The Flipkart team also organised digital training on various tools including app-based dashboards and digital payments, helping kiranas transform their business from traditional general trade stores to modern convenience stores.