Time was when owning a smartphone was seen as a luxury. In 2020, however, the pandemic has impacted our daily lives in unexpected ways, and many important aspects including work, entertainment, fitness, and even formal education have shifted to the safety of our homes. This has led to the smartphone emerging as an 'essential' for many.
The biggest advantage of owning a smartphone is its familiarity and versatility. Even people with limited digital literacy – whether in rural or urban areas – and those who might not be adept at using a PC or a laptop, feel more comfortable and confident using a smartphone. Underpinned by cheaper data plans and internet penetration, smartphones have become integral to the lives of consumers, especially in Bharat.
As India unpacks industry-first offerings during The Big Billion Days, the country's most awaited festive sale, what customers are experiencing is the fruit of the partnerships that Flipkart has forged with top mobile brands. Throughout its journey with key partners, Flipkart has viewed e-commerce with a distinctly customer-centric lens: the offerings have never been about just 'introducing' a new category, but 'solving' for it completely.
When it comes to the smartphone segment in India, Flipkart's partnerships are a result of solving unique problems created by the ongoing pandemic, which has kept the population largely homebound, in addition to catering to the increased use of smartphones across demographics. Providing budget-friendly yet powerful smartphones translates into customers owning ideal products, which they can use for their professional and recreational needs.
"Flipkart has a deep understanding of customers' needs and understands the responsibility it has to help millions of customers get value selection of mobile phones. Mobiles/smartphones form the digital entry point for millions of Indians and we understand the role we play in growing this category along with partner brands. We work collaboratively with brands to give our customers significantly better specs for their money," observes Aditya Soni, Senior Director – Mobiles at Flipkart.
These insights also help brands co-create their consumer and product strategy. With a keen understanding of the customer DNA, and a pulse that beats synchronously with the brands, Flipkart brings value to every player involved.
22 new launches to celebrate
Giving customers access to the widest selection of smartphones from the latest portfolio of leading brands across varying price points is key to Flipkart meeting festive season aspirations. This time around, and inclusive of The Big Billion Days special launches, there are a total of 22 new launches, which feature next-gen specs like 108MP cameras, 144Hz screens, and 65W fast charging for customers to choose from.
Part of the offerings at The Big Billion Days 2020 are premium smartphone variants like iPhone SE, XR, 11 Pro, Asus ROG Phone 3, Samsung Galaxy S20+ and 10+, Google Pixel 4a, and Mi 10T Pro. There's sure to be something special for everyone, as a diversity of brands including realme, Samsung, Infinix, POCO, Google, Mi, Tecno, vivo and Motorola bring forward the widest collection.
Insight-driven offerings tailored to consumer preferences
Recent research suggests that around 450 million Indians own smartphones — with over 500 million users yet to come onboard, leaving room for further exponential growth. So, naturally, smartphones are becoming, at once, increasingly smarter and increasingly affordable. They come in a variety of screen sizes and with varying features. Almost everyone can find a smartphone they can afford within their means and which suits their purpose.
Flipkart's extensive experience and key analyses have been a driving force for brands.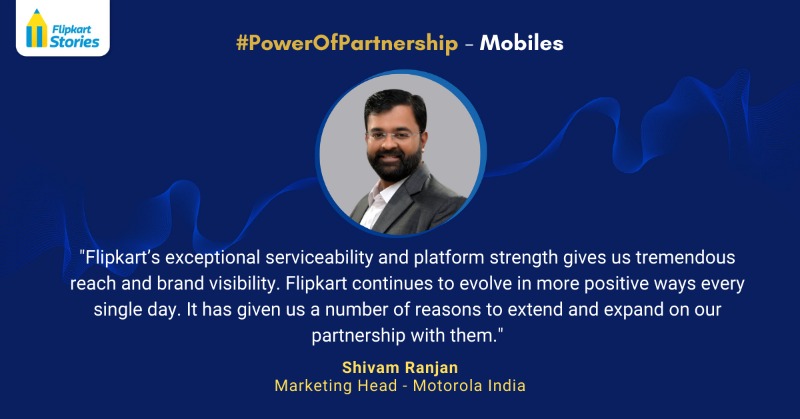 "Working with Flipkart, we have been able to optimize and create products to cater to specific consumer needs and demands, and also ensure that we stay competitive and relevant in the cluttered smartphone market," says Shivam Ranjan, Head of Marketing, Motorola India.
Flagship specs for all with affordable payment constructs
From onboarding the next 200 million customers through offline-to-online transition, to democratizing the market and bringing flagship features to all, affordability and trust drive Flipkart's customer-centric efforts.
"It is important for us to make smartphones accessible and affordable to [tier 2 and tier 3 markets] and drive a shift from feature phones to smartphones. State Bank of India (SBI) is the most well-penetrated bank, so we partnered with them to pass incremental benefit to our customers through affordability and credit constructs," relates Aditya Soni.
During BBD 2020, the affordable payment constructs customers can avail include:
10% instant discount with SBI credit/ debit card
No Cost EMI via Bajaj Finserv EMI Card
Pre-approved credit limit from banks like Kotak Mahindra Bank
Assured cashback through Paytm wallet and UPI transaction
Likewise, value-driven services that customers can avail include:
30-day return policy
Cash on delivery
Product exchange
Flipkart warranty assistant
Complete mobile protection
Cyber fraud insurance via Bajaj Allianz
Smart Upgrade (purchase a Samsung smartphone by paying only 70% upfront, and at the end of 12 months, exchange device for a new phone on Flipkart device or pay the balance 30%)
"The Big Billion Days this year is unique, it's a landmark one — the form factor has changed by leaps and bounds as we have quickly adapted to the new normal, giving customers assurance of safety and timely delivery," says Aditya Soni. This three-pronged approach of offering mobiles across prices, with affordability constructs and value-added services, together with safe and secure doorstep delivery is exactly what sets this mobile partnership apart.
Many a milestone in a journey together
The Galaxy F Series, built with Flipkart's deep customer understanding and Samsung's innovation prowess, is a prime example of what Flipkart aims for in its partnerships.
Customers today seek quick upgrades, have evolving needs and are constantly on the lookout for the phones with the latest innovation or simply, the better features. Ahead of The Big Billion Days 2020, Flipkart and Samsung joined forces to offer customers a smart and affordable way to upgrade their smartphones, ensuring that prices are not an impediment in fulfilling aspirations and requirements.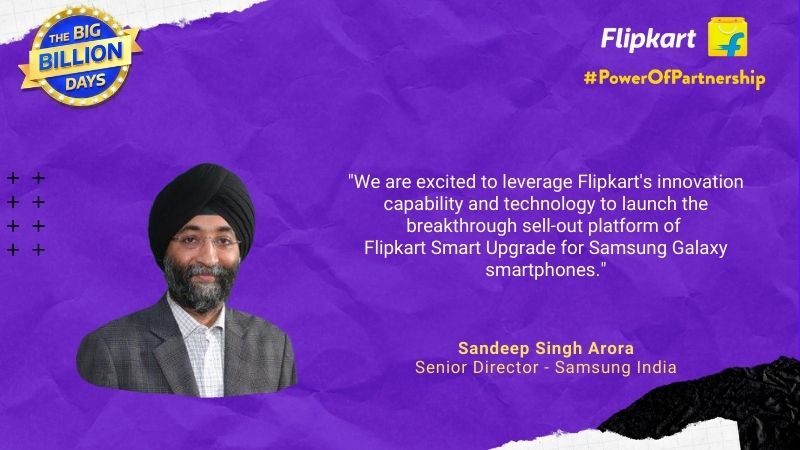 "We are excited to leverage Flipkart's innovation capability and technology to launch the breakthrough sell-out platform of Flipkart Smart Upgrade for Samsung Galaxy smartphones. This new platform has seen tremendous consumer adoption this BBD," said Sandeep Singh Arora, Senior Director – Samsung India.
Flipkart's holistic, industry-first Smart Upgrade Plan, launched in partnership with Samsung, enables customers to avail of cost-effective upgrades of their Samsung devices. Customers can pay 70% of the price upon purchasing the Samsung phone. The plan will be available for payments made through both credit card and credit card EMI. After a 12-month period, customers can upgrade to a new phone on Flipkart and return the initial phone purchased. Alternatively, in case the customer wishes to retain the phone, they can make a payment for the instant advance amount received at the time of purchase.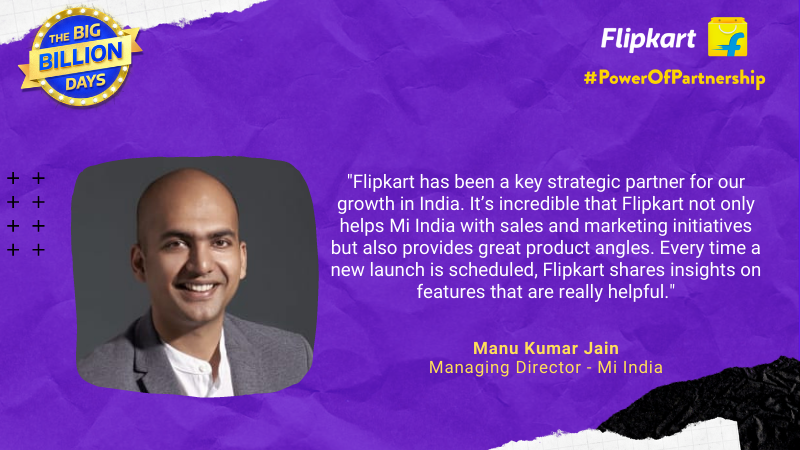 There are some brands whose growth in the Indian market has been tied to Flipkart from the word go. Mi India's partnership with Flipkart goes back to July 2014 when the brand launched in India. The story, oft-narrated by Manu Kumar Jain, MD, Mi India, goes that the Flipkart website crashed when over 500,000 users logged on simultaneously trying to get their hands on a new Mi 3 smartphone. The site bounced back soon, and the entire stock of Mi3 phones sold out in a few minutes. The partnership grew in strength over the years, continuing even after Mi launched Mi TV, its first smart TV, on Flipkart and later diversified its sales into an omnichannel approach with its own online shopping platform.
"Flipkart has been a key strategic partner for our growth in India," observes Manu Kumar Jain. "It's incredible that Flipkart not only helps Mi India with sales and marketing initiatives but also provides great product angles. Every time a new launch is scheduled, Flipkart shares insights on features that are really helpful."
Other brands that have partnered with Flipkart on their eventful journey to the heart of the Indian consumer echo a similar sentiment — that Flipkart plays the role of an enabler.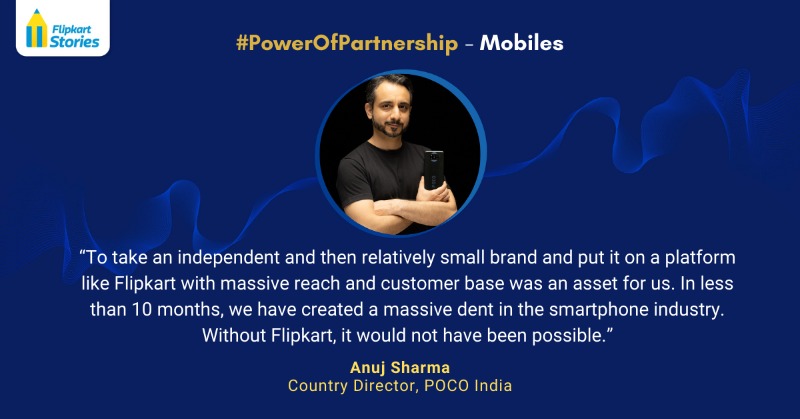 "I don't think I would be able to see where POCO is today if it wasn't for Flipkart. To be able to take an independent and relatively small brand at that point and put it on a platform like Flipkart that has a massive reach, it really does help scale up quickly," relays Anuj Sharma, Country Director at POCO India.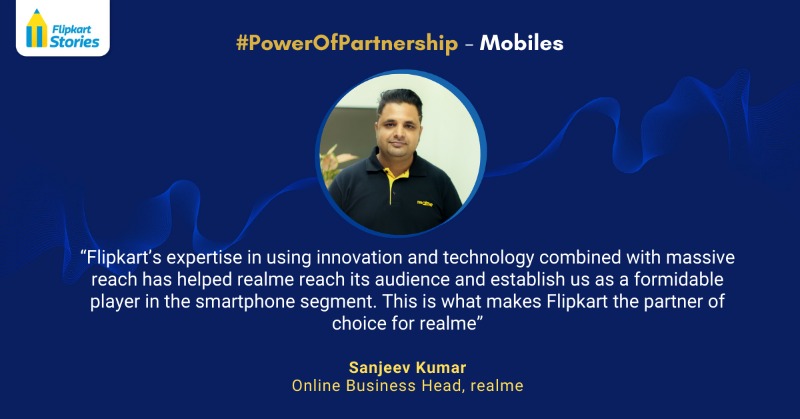 As Indian customers place their trust in Flipkart, so do mobile companies. "Flipkart's expertise in using innovation and technology combined with massive reach has helped realme reach its audience and establish us as a formidable player in the smartphone segment. This is what makes Flipkart the partner of choice for realme," notes Sanjeev Kumar, Online Business Head, realme.
In a partnership like this one, everyone's a winner, with the journey only getting more inclusive by bringing newer segments of Indian consumers into the fold.