Days and nights of hard work, endless hours of phone calls, back-to-back meetings, unfaltering attention to detail, and passion to keep Flipkart's customer promise — these #HumansOfBBD do everything to make India's favorite sale truly special. Even amid a global pandemic, they ensure that our customers across the country have access to and can purchase everything they need, from the safety of their homes, at affordable prices! Each of these individuals has an incredible life story to share — these are stories of courage, resilience, determination, and everything that makes us all human.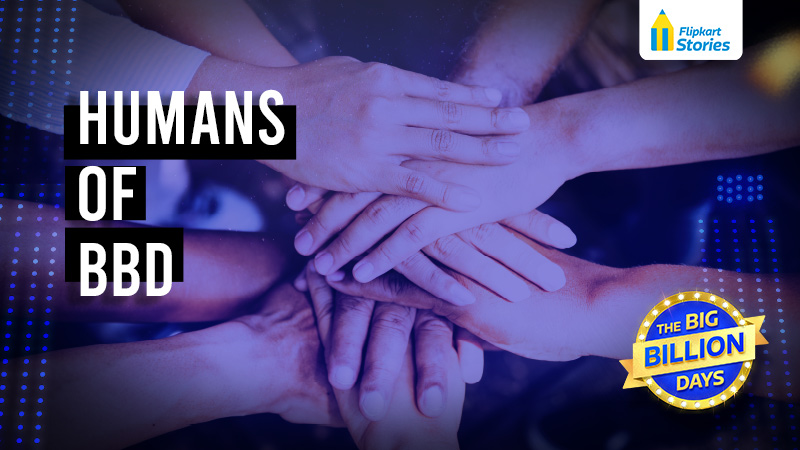 The Big Billion Days is a time for celebration and joy for online shoppers across the country.
A new phone, a washing machine, a Smart TV, or even the most popular toys – products that may have been on wishlists for long, finally arrive at their doorsteps.
This year is unprecedented in many ways. A global pandemic continues to affect the lives of people worldwide and COVID-19 has put our lives in a bind. But no matter how big the challenge, Flipsters have been working to ensure that every customer's needs are met in the safest and most affordable way.
As they adapt to a new normal, Flipsters are full of hope, working hard to achieve their dreams and aspirations. And they are here to have their stories heard.
Follow the #HumansOfBBD series through this festive season and the next time you think of #TheBigBillionDays, think not only of great deals and offers, but also about the people who make it all possible!
---
Customer first, come what may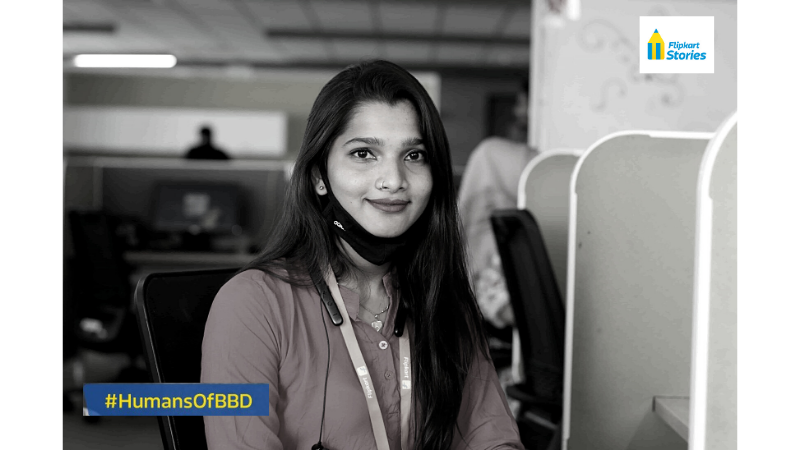 Liman Sabha
Service Recovery, Customer Support
I come from Mandya, Karnataka. I grew up there with my family. I got married after Class 12 and my husband supported me to continue my education and become an undergraduate. Soon after, I started working in the field of Customer Support. I worked for a few companies before I came to Flipkart a year ago.
At Flipkart, I handle critical cases that come to Customer Support, with my peers. If an issue comes across my desk, it is my responsibility to give a resolution no matter what. When the issue comes to me, it comes with notes from the previous executives who attempted to solve it. Once I study the case, I take an informed decision and help the customer in the best way possible.
I had to go through training before I joined the team despite my previous experience working in the field. It's very different working here and everything we do, especially as Customer Support, has to be customer-centric and we are trained to do that. We go through two to three months of training before we start helping customers.
We keep ourselves and our peers in the team motivated at all times. After a few calls where we are constantly solving, it can get hard. There are very challenging cases too, but we are trained well enough to put ourselves in the customers' shoes and understand their pain. Moreover, our team leads and managers are very keen on team building exercises and stress-relieving activities to keep us on our feet and enthusiastic to help our customers.
I had been working from home for a few months when the COVID-19 lockdown was imposed. I have two children at home who require my attention, and unwittingly they would require my attention the most when I was on a call! So once the lockdown was lifted, I took some time and then I requested a seat in the office to work, stress-free. Flipkart arranged for a cab service to pick me up and drop me home safely.
---
Making e-commerce accessible #ForIndia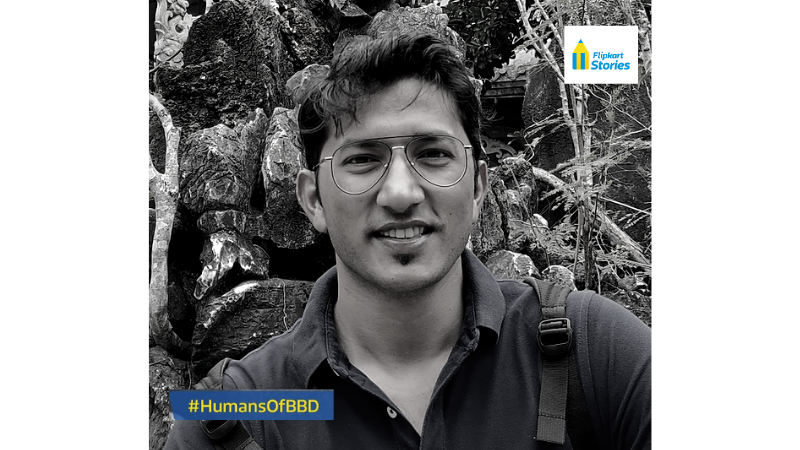 Shikhar Goel
Product Manager, Vernacular
I have traveled all across India. In fact, when I was growing up, I changed schools eight times! I started living independently very early on in my life when my parents placed me in a hostel. Staying away from home teaches you a lot.
My role at Flipkart is to find the best ways to engage and invite potential customers to our platform. Flipkart works to accomplish that goal with many innovations and customer-centric programs. We're looking at making e-commerce accessible to more people living in tier-2 and tier-3 cities. As customers, their needs, and usage of our platform differ from that of customers in metro cities. So how do we make Flipkart accessible to them?
One of the ways is making Flipkart accessible in a language they are comfortable with. I work on making Flipkart vernacular to users across tier-2 and tier-3 cities and towns. And I'm not talking about simple translations. We work to bring in the regional nuances in the languages – that includes the history, culture, dialects, slang, and even regional variations that may come with a language.
Here's an example from my own experience – I lived in Chennai when I was a student in college and I found that Chennai Tamil is an amalgamation of different dialects of Tamil spoken across Tamil Nadu. If one were to simply translate what's in front of them to pure Tamil, they wouldn't be able to capture the essence of the language as it's spoken in Chennai. Even Hindi, for that matter, is different in Rajasthan, Uttar Pradesh, Delhi and other northern states. My wife and I are from different parts of Uttar Pradesh, but even we have very different ways of expressing the same thing!
When the COVID-19 lockdown was imposed, what we noticed was that many more people were starting to use Flipkart. It also helps keep them safe as they don't have to step out to get essentials and other products. And during this time, Flipkart's vernacular capabilities have helped even more customers than the platform could have earlier.
The Big Billion Days sale is probably the biggest festival in a Flipster's life. I remember what it was like during the first-ever sale. It was my first stint at Flipkart and I was working with Customer Support at the time. The environment was wonderful, chaotic, and just bursting with energy. It's very different this time, but it's as big as ever!
---
An electrifying attitude at work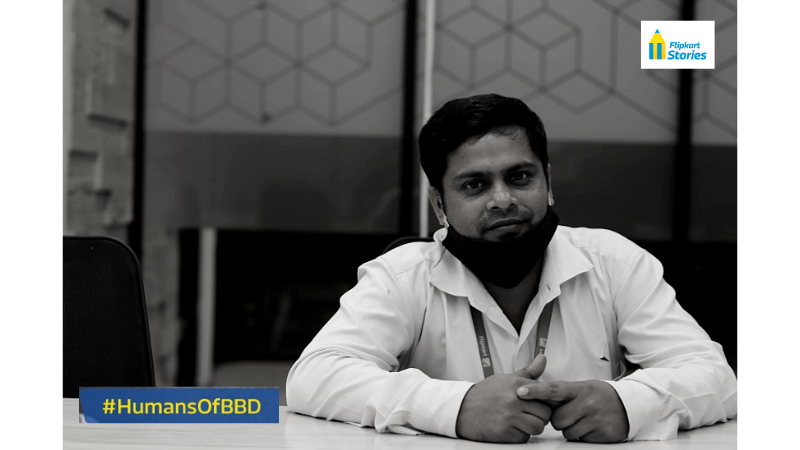 Uttam Sikari
Steward
I'm from Kolkata, West Bengal. I stay in Bengaluru with my wife, my son and my mother. I came to Bengaluru looking for a job after leaving my previous employment as an on-call electrician working in a hotel.
I had a diploma in electronics and I thought I could find a job with steady pay and fixed hours to support my family. But, at the hotel, I was asked to do more than just electrical repairs and installations. I was asked to do building repair work too. And they weren't even willing to pay me more for my efforts. When I voiced my concerns to the management there, they said I didn't have a choice, and that I had to do the repair work too.
I was also asked to stay hours longer than my regular working hours. So I left that job and I started searching for another job. But I couldn't find any that met my needs.
During that time, some of my friends had started working at Flipkart and I heard a lot about the company. I heard that employees here are taken care of, so I decided to apply here. The timings here are fixed and because of that, I have time to spend with my family at the end of the day. I've been working at Flipkart for a few years now, even before we moved to the big Flipkart office here in Embassy Tech Village. Flipkart has had offices in many parts of Bengaluru, I worked in all those offices!
Today, I help the CEO of this company with whatever he needs. I also ensure that his office is neat and clean. I speak to Kalyan sir a lot and he's a very kind human being. It's always a pleasure to speak with him. I speak to everyone in the office and everybody here treats me like a friend. I know it's because of my attitude towards the employees here. I am always smiling, always energetic and I enjoy treating people with kindness and respect.
The Big Billion Days sale this year is very different. I have seen this office at its busiest during the previous years' sales. The crowds, employees running around to solve issues, the various events, food, music and comedy shows at the office – I have seen it and been part of it all! But this year, the office is quiet. Many are working from home because of COVID-19 and it doesn't feel the same.
I'm still excited for the sale because I plan on buying some things for the family. I bought a phone for both my mother and my wife last year. Of late, my son has become very interested in airplanes. He always steps out to look up at the flights passing by. So this year, I'm buying a toy airplane for him. I can't wait to see the look on his face!
---
In the customer's shoes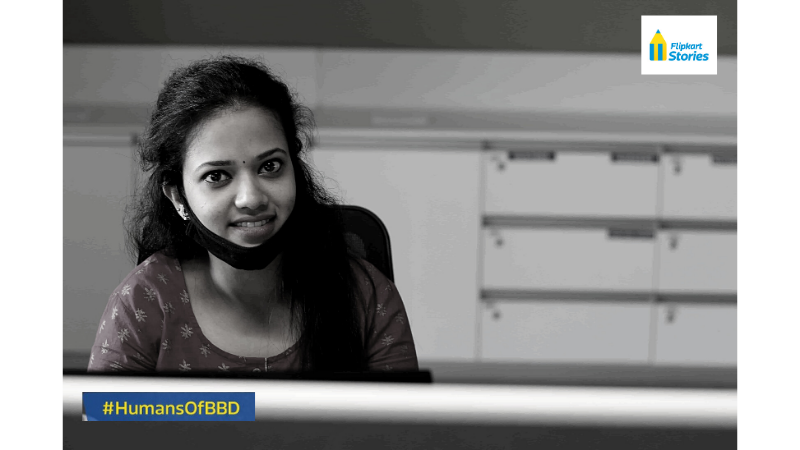 Divya MC
Social Media Team, Flipkart Customer Support
I joined Flipkart a year ago. After graduating in Computer Science, I was looking forward to doing my Masters, but circumstances forced me to find a job as soon as possible.
My family was struggling financially and I wanted to support them, so I pushed my dream aside and started working in sales for a health insurance company. Then when I came across a better opportunity, I moved to a startup.
Working in sales really strengthened my skills interacting with customers and those skills are helping me reach new heights in my career today! Earlier, I had to convince customers that they needed what I was selling. Now, I'm helping customers with their issues regarding products or deliveries they are expecting. These are very different jobs, but once you learn how to stand in the shoes of the customer, it doesn't matter what the purpose of the interaction is, you can always find a way to help your customer.
Our role as the Social Media team of Flipkart Customer Support is unique. Various issues are solved by different teams within Flipkart Customer Support. So my team is active on social media 24/7. From the customer complaints we find, we offer immediate resolutions for many customers. We flag the rest and direct it to the appropriate teams and ensure resolution.
I've been working from home since the COVID-19 lockdown. It is more difficult because, at work, our work culture allows us to directly approach our team leads if we're facing a block solving a customer's issue. When the interaction happens in person, the resolution is easier to come to. Virtually, it takes some more time.
We usually prep in advance for #TheBigBillionDays because customer queries increase during this time of the year. But since the lockdown in March, more people have moved to shopping online. So all of us were prepared well in advance to help customers during the sale.
---
A stepping stone to empowerment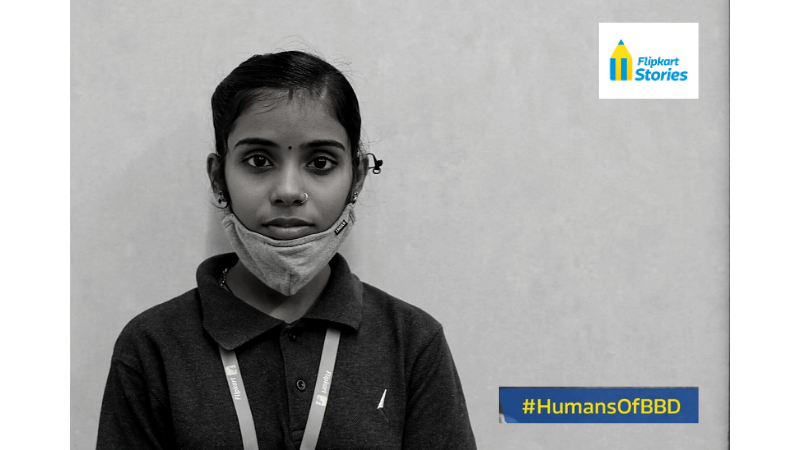 Priyanka Jana
Pantry Staff
I am 19 years old and a native of Kolkata, West Bengal. I came to Bengaluru in November, 2019, and joined Flipkart in January this year. My father is a tailor and my mother is a homemaker. I have a younger brother too and he's studying in Class 8. I stay here with my husband who is a painter.
My husband and I left our home in Kolkata and came to Bengaluru because we wanted to find jobs that could help us provide for our family back home. So when we arrived here, my husband asked around and found this job for me. With my salary, we take care of our expenses here and his, we send home to the family. I miss my family, but I only plan on going back once it's safe to travel.
I stopped my studies when I was in Class 12. I had to because of the financial struggles at home. I got married and I came here with my husband. Once our financial situation becomes more stable, I plan on going back home and completing my studies. Back home, the women in our community usually don't go to work. They become homemakers. This is my first job and I enjoy working and earning my own salary.
This is my first #TheBigBillionDays and I'm excited! I've heard a lot about the sale before, but this time I'm going to make my first purchase. I'm buying a refrigerator for my family at home. I think they'd like that.
---
The student becomes the master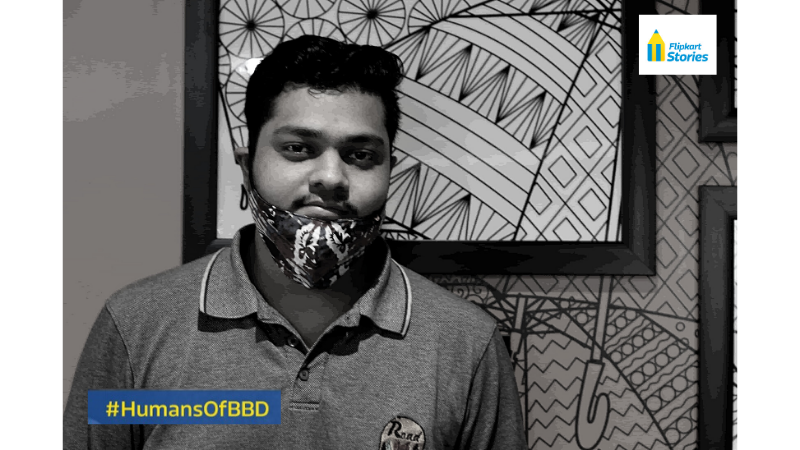 Rajas S
Social Media, 2GUD
I'm a Bangalorean through and through. I grew up here and studied here. I took a job at Flipkart as part of Customer Support by chance! My friend coaxed me into giving the interview here because he knew I was looking for a job to help my family financially. I cracked the interview and joined immediately.
Before I joined Flipkart, as I said, I was just looking for a means of income. But when I was surrounded by driven and ambitious peers, I started to focus on my career growth. I've been at Flipkart for six-and-a-half years now, growing at every juncture. I've worked with many teams at Flipkart during my tenure and now I work with 2GUD's social media team. Our role is to respond to customer complaints on social media platforms and resolve the issue for the customer.
2GUD being a platform that listed refurbished products, presented a new challenge and I didn't hesitate to take it up. For the last couple of months, owing to my experience in Customer Support, I've been pulled into training the new batches of executives being onboarded to the team.
COVID-19 made things really difficult for many of my friends and family. Personally, when my manager gave me the choice of working from home or coming to work, I was relieved. I could come to work whenever I wanted and work from home on the other days, stress-free. I adjusted to the new normal fairly quickly. What I found difficult to adjust to, was not being able to go home to my nephew, whom I love very much, every day. It was a choice I made with a heavy heart because I didn't want him to be at risk.
But I'm not as worried, seeing the many safety measures Flipkart is taking with safety as the top priority. Few of us are here at work, and we're all wearing masks throughout the day. We sanitize regularly without fail and not a single person in the office is without the Aarogya Setu app on the phone.
I've witnessed The Big Billion Days since its conception seven years ago. I have seen first-hand how far this sale has come and how many more customers we deliver to every year! I remember how the first year of the sale had us thinking on their feet, for the most part, to solve issues. But we always learn from the experience every year. That's why The Big Billion Days sale is bigger and better every year!
This year, however, the sale is a different experience altogether. Most of the work is happening virtually. But I'm still seeing so much done to ensure that customers leave the platform happy after shopping. I myself am excited to shop this year!
---
The power of an inclusive culture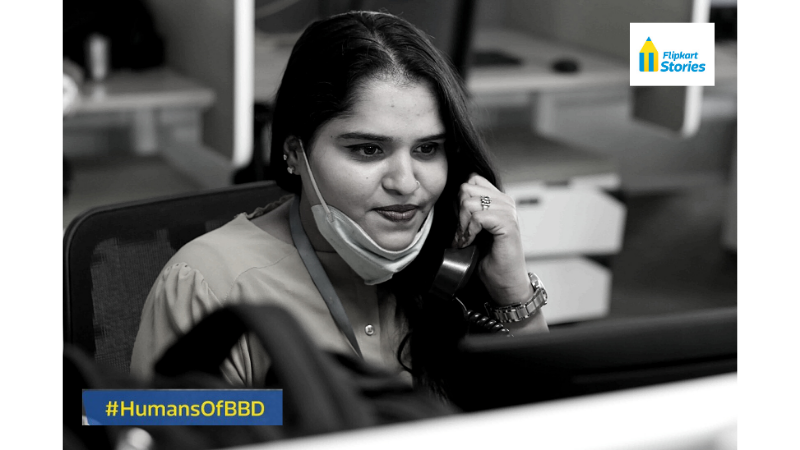 Shahanaz Begum
Service Recovery, Flipkart Customer Support
I come from Anantapur district in Andhra Pradesh. I grew up in a middle-class family — my father was a businessman and my mother a homemaker.
When I first joined Flipkart, I was working with Flipkart Seller support. From my experience working with our sellers, I realized that I have good people skills. Soon, I moved to Flipkart Customer Support and started helping out our customers. Customer Support is challenging, and I was nervous but excited.
I've worked for an e-commerce company before so I knew what to expect with respect to customers' issues. I needed the training to speak to our customers and resolve their issues, and went through it smoothly. I thought nothing about this job could surprise me, but I was wrong!
This is definitely an interesting place to work. The work culture here is so inclusive and upbeat, and that's what surprised me. Despite the number of customer calls coming in daily and resolutions made, not a single person here is demotivated. And our managers and supervisors are the reason. They come up with the most fun activities to keep our morale high and our peers are very friendly and helpful, also boosting morale. The diversity here is also inspiring. Men and women work together for our customers' benefit.
When the COVID-19 lockdown was imposed, I was asked to work from home for three months. Like for most people with family members at home, I found it difficult to find a quiet nook and focus on my work tasks for the day. Initially, it was a struggle, and I missed coming to the office. At Flipkart, the environment is very conducive to working stress-free, and for Customer Support, that's very important. So when the lockdown was lifted, I immediately contacted my manager and transportation was arranged for me to come to work safely.
The Big Billion Days sale is very different this year. The office environment is nothing like my peers and I have witnessed at Flipkart before. Once a place brimming with crowds and fervent energy, it's evident that safety is the biggest priority now. All of us wear masks throughout the day and we are asked to sanitize every two hours. But needless to say, I'm still very excited and also can't wait to shop!
---
Sending #TheBigBillionDays happiness home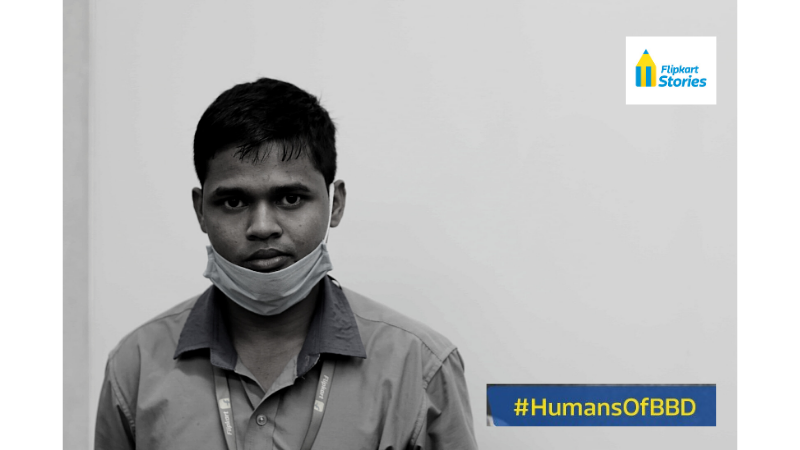 Sujay Mehta
Housekeeping Staff
I was a farmer in my village in West Bengal. I had to put a stop to my studies in Class 10 because my family did not have the means to pay the school fees. On my farm, my family and I would grow potatoes, beans, and we had paddy fields too. But I had to leave farming because I wasn't able to earn a sustainable income to support my family. 
My friends and I came to Bengaluru looking for employment. That's when I got a job at Flipkart as part of the Housekeeping Staff. I've been working here for a year now. Now I am earning a fixed salary and it's helping me support my family at home. 
During the COVID-19 lockdown, I was afraid of losing my job. But my supervisor told me that I didn't have to come to work. We were asked to stay safe at home and we were assured that our full salaries would be paid without fail. So, even during COVID-19, I was able to send money back home. I'm proud that I've been able to uplift my family from our financial issues. 
I'm trying to save as much money as possible every month. I'm also sending some money home so that my family can buy something during The Big Billion Days sale. I haven't seen my family since I've reached Bengaluru, but once it's safe to travel, I'd like to go back and see my mother and father. I'm looking forward to that.
---
A role model for women in Security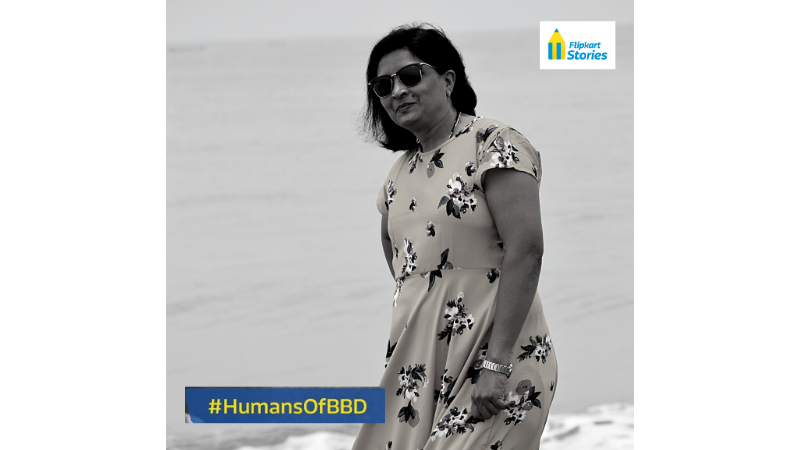 Bharathi Pillai
Assistant Manager, Flipkart Security Team
I am from an army background. My father served in The Indian Army and fought in the Indo-China war. An injury he sustained back then required him to leave the force, and my family and I moved to Bengaluru. I did my schooling in St. Johns and I went to Jain College after that. I got into the field of Security in 2005 and I've been at Flipkart for 2 years now.
Last year's The Big Billion Days happened in a very different environment. COVID-19 was not in our lives back then, and our concerns were managing crowds, ensuring that the many events happening were conducted securely, ensuring that those without necessary approvals couldn't enter and other security concerns. It was challenging, but this year is a whole new situation. COVID-19 presented challenges we'd never faced before. Today, safety is our biggest priority.
We have implemented measures to ensure that our employees are safe at work. If they have to come into the office for whatever reason, employees cannot just walk in without following the due process, which involves booking seats in advance. This way we can ensure social distancing among the employees present at work and we have a bird's eye view on threats to safety and security with respect to COVID-19. It also helps us implement our security measures like regular sanitization, masks worn at all times, and the Aarogya Setu app on the phone of every employee coming in to work.
Coming from an army background, and having been a sports enthusiast all my life – I played hockey for the state of Karnataka for 10 years, I was bold and wasn't hesitant to enter the field of security. The field being a male-dominated bastion could not stop me from achieving my goals. It showed me that I could accomplish anything my male peers could, if not more. And the diverse workforce here at Flipkart is a pleasure to be part of. My colleagues in the Flipkart Security Team have offered me unfaltering support in all my professional endeavors.
A testament to this organization's diversity is our team of women security guards. I ask them to see me as a role model if it helps them. I motivate them to finish their education, become graduates, and climb up the ladder to a position of leadership in the field. Even Ratnakar Bade, who heads the Flipkart Security Team echoes this message and pushes our security force to realize their true potential, not only as a team but also as individuals.
To the women out there who want to find success in this field, I have a message. Don't let anything stand in the way of your dreams. Women can do this and more women should take leading roles in this field. We are brave, we can tackle obstacles head-on, and we can overcome many challenges at once! Hard work, determination, and the will to succeed are all you need.
---
Quick Bytes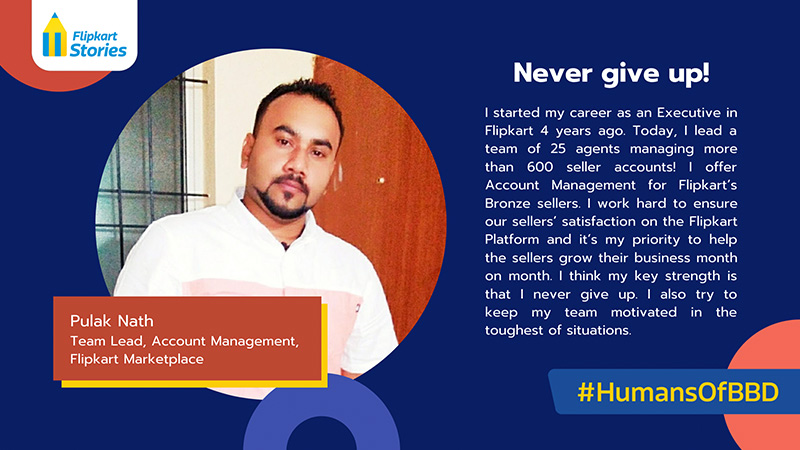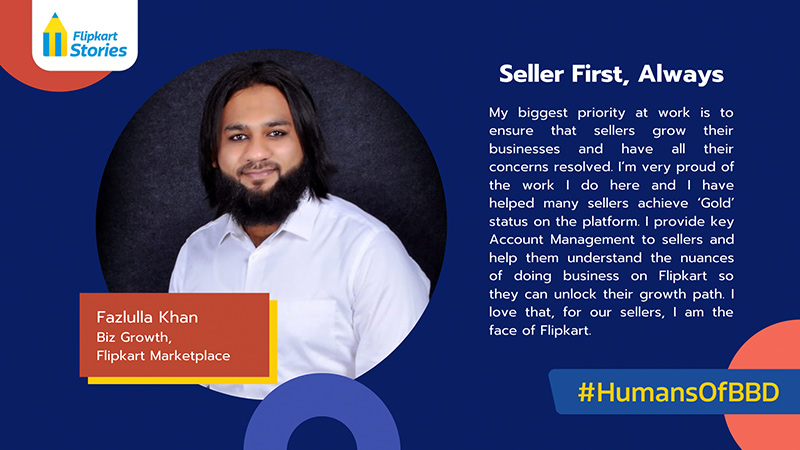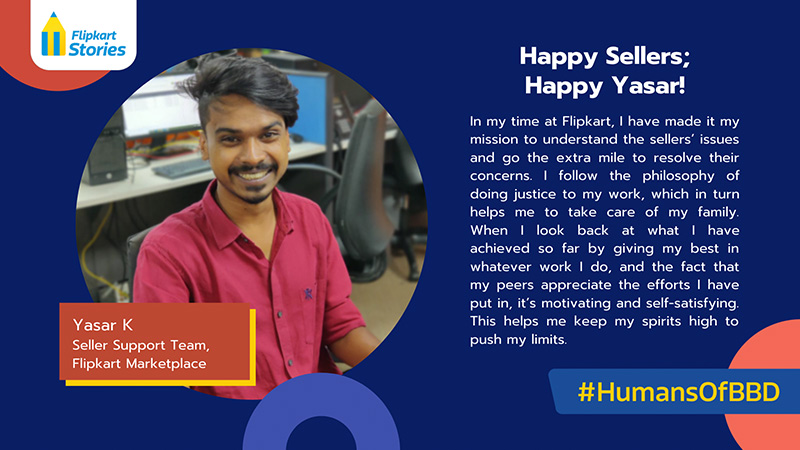 ---
Embracing change & new dreams
Suraj Pradhan
Pantry staff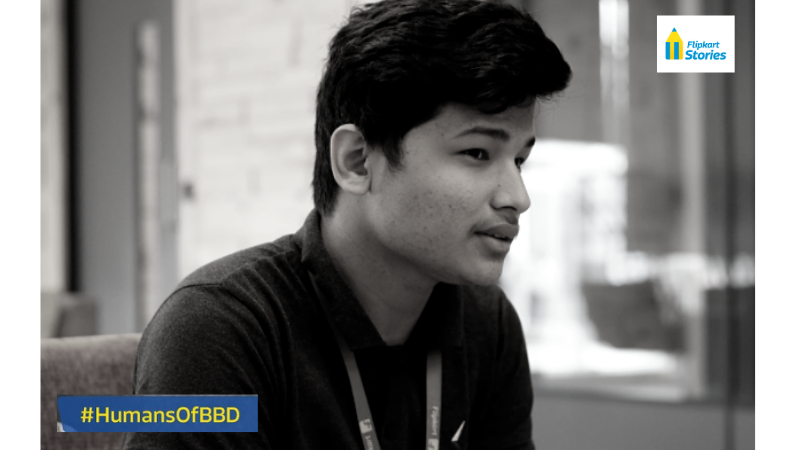 My dreams were shattered the day I met with an accident in Arunachal Pradesh. I had always dreamed of joining the Indian Army, but after I fractured my leg in a bike accident, it wasn't possible for me to fulfil that dream.
My name is Suraj Pradhan. I come from a family of farmers in the Dhemaji district of Assam. I moved to Bengaluru over 3 years ago in search of a job to support my family. My mother, father and two sisters (who are twins) are still in Assam.
When I moved here, I took up a job repairing small medical equipment. I then moved to Shivajinagar and worked at a guest house there. It was a 24-hour job. I wouldn't get to sleep even at night and the pay was poor. I was not able to send home much money either.
My uncle happened to work in Flipkart at the time. And he told me about an opening here. I came for the interview and got the job. Now, I work as part of the pantry staff. I stock up the food in the pantry, look after the coffee and tea machines, and ensure that there's always drinking water available. I do a 9-hour shift so I go back home at the end of the day and get a good night's sleep.
During my accident, I was admitted to the hospital where I had to stay for quite a few days. My parents, who are farmers, were not able to afford the treatment. They had taken loans to be able to cover costs at the time. With this job, I am able to send money home to help them with the loans. My sisters study in class 9, and I also send money to support their education. I go home during the Nepali festival of dashain to meet everyone.
I still think about my dream of joining the army sometimes. If not for the accident, I would probably be in the army. But for now, I like it here. It's been 2 years since I joined Flipkart. My co-workers are nice and I think I'm good at what I do.
---
WFH = Work FOR Home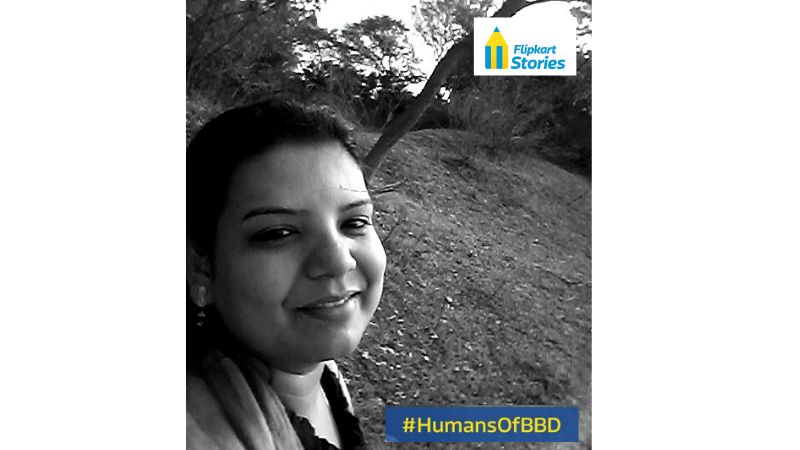 Pallavi Sudhakar
Content writer, Flipkart Marketplace
I was always interested in coding and debugging software. So I studied engineering. When I completed my studies in 2009 and was looking for a job, the economy was in recession and every job opening required candidates with experience. Since I was a fresher, I didn't fit the bill.
I decided not to waste my time looking for a job as an engineer, and ventured into the HR field. It was for a startup company but I got the opportunity to improve my communication and writing skills. Once I picked up these skills, I left my hometown of Nagpur, Maharashtra and moved to Pune, where I worked with Infosys. I moved around a lot after that and I ended up in Hyderabad. I started working for a small company as a content writer and that's when I fell in love with the job.
Soon, I found myself at Flipkart and I'm loving it here! The Big Billion Days sale is just around the corner, and this is extra special to me because it's my first time working for the sale. I've found that to make this sale a success, we have to be prepared to go well out of our way to get work done and be very creative with our ideas and problem-solving. Timelines are very important and every minute counts. It's ironic because we work well into the night for the sale and we don't really look at the clock, but time management is still crucial.
The Big Billion Days sale is different this year because most of us are working on this remotely. So there are added challenges. I like to think of WFH not just as Work From Home, but also Work For Home.
I have a 3-year-old daughter, who requires a lot of my attention. So I had to tell her, "Mummy has to work for so many hours. After that, you and I can do anything you want." And the best thing is, even at this tender age, she is so understanding! My husband is very supportive and he helps me whenever I need him. So my family's support gives me the strength to get my work done for this sale.
I work for Flipkart's seller team, and the energy I am seeing among our sellers is infectious. Sometimes when I call them, they're too busy prepping to even talk for 5 minutes! The seller team and the sellers are focused on every little detail. This time, COVID-19 safety is a top priority. Many sellers have also procured eco-friendly packaging following our guidelines.
Our sellers are more than ready for this sale. They even motivate other sellers by making motivational videos and sharing them! In fact, over the last year, we've had many sellers who want to partner with us after watching these videos and reading our #SellfMade stories.
This year the sale is centered around the customer, even more so than the years past. With COVID-19 still very much a part of our lives, customers cannot step out without risking their health and at Flipkart, we're trying to ensure that they don't have to, at all.
So my message to our customers is, stay safe, shop safe, and enjoy the sale!
---
Harnessing the power of sustainability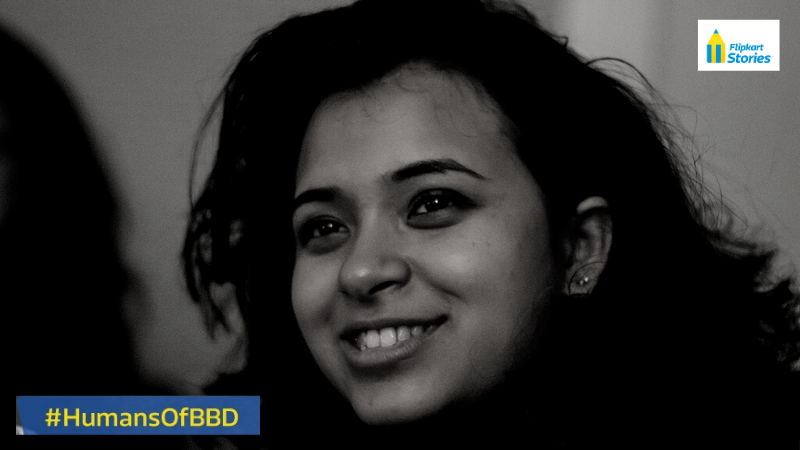 Dharashree Panda
Associate Director, Sustainability, Flipkart Group
Making an organization like Flipkart sustainable is an art and a science. The work involves bringing forth the passion and commitment of your peers to create impact while also making sure that the impact is measurable, well defined, and can grow at a rapid pace. Having spent a majority of my time traveling to different parts of the country and the world, what has helped me is learning from various organizations and keeping an open mind about how you can create a positive impact on the world
At Flipkart, there are various ongoing sustainability initiatives that have helped us reduce our environmental impact considerably. Implementing eco-friendly measures in our supply chain has really helped us cut down on the use of single-use plastic — today, half of our packaging is done with recyclable materials. As we continue to build a more responsible value chain, we are also focusing on our last-mile delivery fleet. We've been taking many steps to ensure that we're shifting to electric mobility for our Wishmasters. We have committed to transition to 100% electric vehicles by 2030 and have garnered support from many Flipkart teams for this project.
Apart from all this, our most-recently constructed facilities like warehouses, hubs, etc., and the ones to be built in the future adhere to green building standards and guidelines to minimize our impact on the environment. We are making every effort to ensure that everything we do at Flipkart, is fully compatible with environmental safety regulations in every state across the county where Flipkart is delivering smiles.
There are many opportunities here to promote sustainability and we're leaving no stone unturned in exploring these opportunities. And we're not just looking within the organization to promote sustainability. We're collaborating with an ecosystem of partners to drive sustainability centered around Flipkart. From our sellers, consumers and delivery partners to the communities of farmers and weavers partnering with us to sell their wares online – we're promoting sustainability principles to create impact across the value chain.
Our greatest strength in promoting sustainability is our Flipster workforce. We also invite industry leaders to educate and inform our employees. We also have sessions with our own leaders chipping in with their experiences and learnings.
While this is my first Big Billion Days sale, it's different for everyone this time around. There are many things happening that haven't been done before. This year, a lot of the work that goes into making the sale a reality is being done virtually. So there's a lot of excitement and expectations.
Ensuring that the sale is a success this year will be testament to how much this organization has evolved and grown over the years. The Big Billion Days sale has evolved over the years and brings smiles to the faces of millions of customers across the country.
For me, working from home is a unique challenge. I joined the organization in January, 2020, and I'd begun to connect with my peers at work. But no sooner than March, the COVID-19 lockdown was imposed and for our safety, we were asked to stay at home. As BBD came closer, I had to speak and connect with many Flipsters looking to collaborate on projects. That's when it hit me — I have never had the opportunity to meet these people face-to-face!
That was a little daunting, but the spirit of Flipsters took me by surprise. People here are open-minded to any idea on the table, and everything proposed is met with a lot of compassion, empathy and vigor and that's truly welcoming.
There are a lot of positive voices and supporters in our efforts to be sustainable. So we're harnessing the positivity to drive this as much as we can.
---
A whole new experience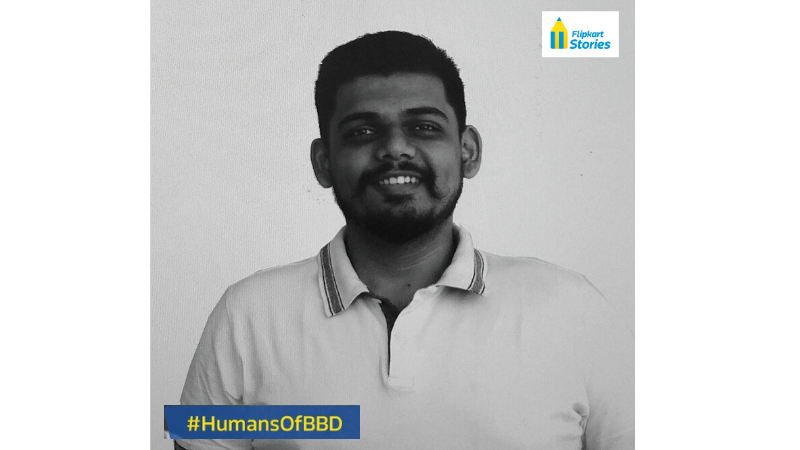 Dhananjay Sharma
Manager, Business Development
Flipkart Samarth
I live in Chennai — I grew up and did my schooling here as well. I have an undergraduate degree in engineering. I joined Flipkart in March 2020, but the nationwide lockdown due to COVID-19 restricted my travel to Bengaluru. I have been working from home ever since.
This is my first The Big Billion Days sale. So far I've only experienced the sale as a customer and now that I'm involved as a Flipster, I have a better understanding of the scale of work that goes into making a sale like this a success.
I live with my parents and in the past years, my family and I would eagerly wait for The Big Billion Days sale to come around. My brother and I would spend hours doing research on the products, comparing brands and prices, before choosing what to buy.
Whatever we purchased during the sale was for the house or for the entire family to enjoy. But now, as a Flipkart employee, The Big Billion Days sale has become a personal experience for me.
It's been a learning curve. I joined Flipkart only a few months ago, so e-commerce, and the dependent ecosystem is fairly new to me. And just when I thought I had a grip on how things work at Flipkart, The Big Billion Days brought about a change in the work atmosphere entirely.
This will be Flipkart Samarth's second year participating in the sale. Last year, Samarth had just launched and the goal was to acclimatize our Samarth partners to the consumer demand during the sale. So, our seller base last year was fairly limited.
But, since then, we have onboarded many more Samarth partners and prepped them to make the most of this sale. This year, we have ensured that our Samarth partners are part of specific constructs that would help them sell their products across categories. The team's focus is on bringing the unique qualities of our Samarth sellers into the spotlight. Artisans and weavers from all over India are excited to contribute and gain visibility for their handicrafts and traditional work through e-commerce. We have also engaged with our NGO partners to ensure that we're creating a significant impact for their beneficiaries and to help them sell their products online.
We've onboarded around 150 individual sellers already. We're also looking to onboard about 40 government entities to help us reach out to even more local artisans, weavers and craftsmen and enable them to sell on our platform.
With our efforts we hope to not just help our Samarth partners and their businesses, but also educate our customers about the artforms and the heritage these products represent.
---
Breaking glass ceilings: From the air force to e-commerce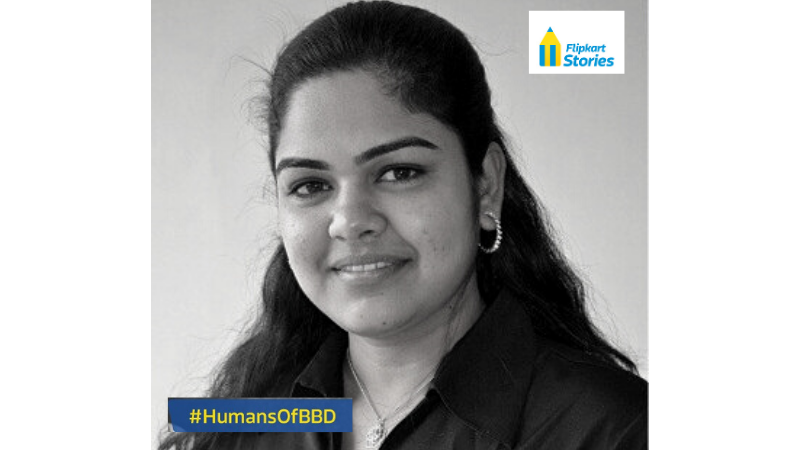 Lalitha KC
Senior Manager, South, Flipkart Security Team
I spent 10 amazing years of my life in the Indian Air Force as an aeronautical engineer, posted in towns and cities across India. My last posting was in 2012 in Bengaluru, where I handed in my uniform and retired as a Squadron Leader.
I was born and raised in Chennai but I'm originally from Andhra Pradesh. I did my engineering in SRM, Chennai — I got a university 3rd rank. After I retired from the air force, I joined IIM, Lucknow.
In 2016, I had just gotten married and I was working at Tata Steel in Jamshedpur while my husband was in Bengaluru. I decided I wanted to focus on my personal life for a while and took a planned career break. At that point, my personal life was more important.
Around mid-2019, when I wanted to join the workforce again, I got through to Flipkart. That was a very crucial time in my life — when I got a call from Flipkart regarding the face-to-face interview, I was in Tirupati as my father had fallen ill and was in the ICU. I decided I wanted to go ahead with the interview, and when I saw the way Flipkart took care of me at such a sensitive time, I knew I wanted to work here and grabbed the opportunity.
I lead Regional Security for Flipkart Group (Flipkart, Myntra, and Jeeves) in Karnataka and Kerala. I handle logistics security management, security facilities across the Flipkart group, deployment integration, crisis management, to name a few. Recently, when the pandemic hit and the lockdown was announced, I was one of the people at the DCP's office getting passes for our security team and other essential personnel for business continuity. I was very proud that everyone recognized the effort.
Security is really an on-ground duty — for example, if a security guard sees you there in person, it motivates him or her to work with zeal. Now, as things stand in the pandemic, that face to face connect is less and I do miss that. It also makes my work a lot more challenging especially as we ramp up for The Big Billion Days. My work used to also include frequent travel across Karnataka and Kerala — that has also reduced drastically.
There aren't too many women doing what I do. And especially from the defense forces, not too many women join security. I'm from a technical background and now I'm doing operations. I'll admit that I took a risk, but I believe I'm performing well and I'm proud of that. Our work profile is very different from a regular desk job — I often get calls as late as 12.30 am from centers across India. But I focus on my work, satisfied that Flipkart takes care of my safety every step of the way.
That's also something I tell the other women in security who look to me for advice. It's really these things that add up. For example, when I first joined Flipkart, I had to go in for surgery. And everyone in the office made me feel so comfortable. I was able to focus on recovering and getting back to work.
I live with my husband and mother-in-law and they both support me and are proud of the work I do. My mother is a Telugu actress and I also tried my hand at acting for some time but it was not for me. I am a classical dancer by training and that really is one of my biggest passions. When I have some downtime in my busy schedule, I sketch or play poker as it helps me stay alert at all times.
---
Leading lady: Qualities that make a leader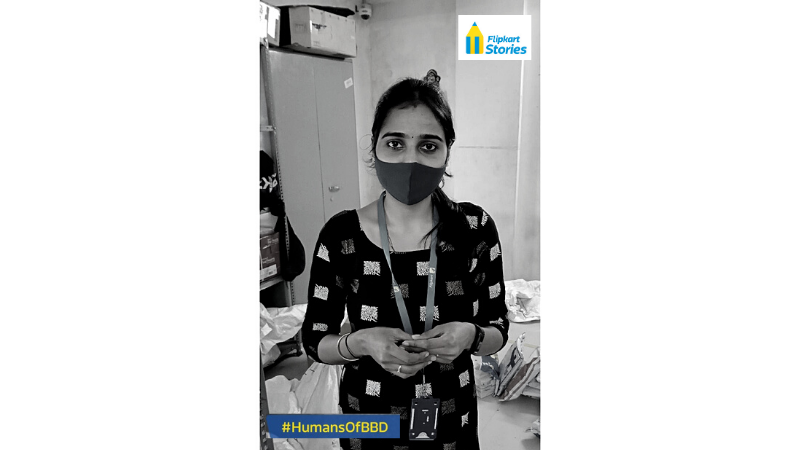 Shilpa Shetty
Team Leader, Brahmavara Hub, Udupi
My name is Shilpa Shetty. I am a Team Leader at the Brahmavara Hub in Udupi, Karnataka.
I grew up in Hyderabad. My father owned a business there. After 10 years, my entire family shifted to Udupi. I completed my studies here and I was married soon after. Then I moved to Bengaluru and secured a job in a software company, but I was unable to spend time with my family. And that is very important to me so I quit my job and moved back home.
When I found out that Flipkart was hiring women as Team Leaders at their hubs, I was immediately drawn to the organization. I've seen that the workforce here is very diverse and people come from different parts of the country and have different backgrounds. Even so, everyone here is treated equally. Appreciation here is based on merit and nothing else.
At the hub, we have employed every safety measure issued by the government and we are also strictly adhering to Flipkart's safety guidelines. To begin with, our team strength has been divided into three groups. This way, we are able to practice physical distancing at the hub throughout the day.
Before we enter the hub, we are required to undergo thermal scanning, temperature checks, and mandatory sanitization. While inside the hub, every two hours, each one of us is required to take a small break from our tasks to sanitize ourselves. The instruments and machinery are sanitized before we get to the hub and after we leave for the day.
For the upcoming sale, we have onboarded more team members but we have divided the workload in such a way that, at no point during the day is physical distancing compromised.
This is my first Big Billion Days sale. For me, before coming to Flipkart, whenever I heard "The Big Billion Days," I would immediately think of my shopping list and get excited. After becoming a Flipster, and having started preparations for this year's sale, I think of this sale as a festival that's spreading happiness.
I also now have the opportunity to see the work that goes into making this sale a success. I'm looking forward to the sale now in terms of the number of orders, shipments, and deliveries completed. And I've noticed that the orders coming in on a daily basis are a lot – so I am excited to see the scale of orders being processed at this hub during the sale. I'm sure it's going to exceed my expectations.
In order to prepare our Wishmasters for deliveries during the sale, we have already started giving them a larger number of orders to deliver. Their efforts in meeting the target allow us to determine our last-mile capabilities for the sale and make improvements where needed.
As Team Leader, it's important for me to keep my team motivated. I am an avid listener and I listen to any concerns my team members may have, and try to help them to the best of my abilities. My superiors support me similarly and I try to trickle that support down to my team members. Amid the COVID-19 pandemic, it has become even more important to me to ensure that my team is safe and motivated.
I enjoy working at Flipkart. Before I became a part of the Flipkart family, I knew that the organization worked with a customer-centric approach. Now, I'm seeing a side of Flipkart that is also very employee-centric. Especially as a woman employee at a delivery hub, I feel safe and motivated.
---
Back on my feet: Empowering differently-abled employees with eDAB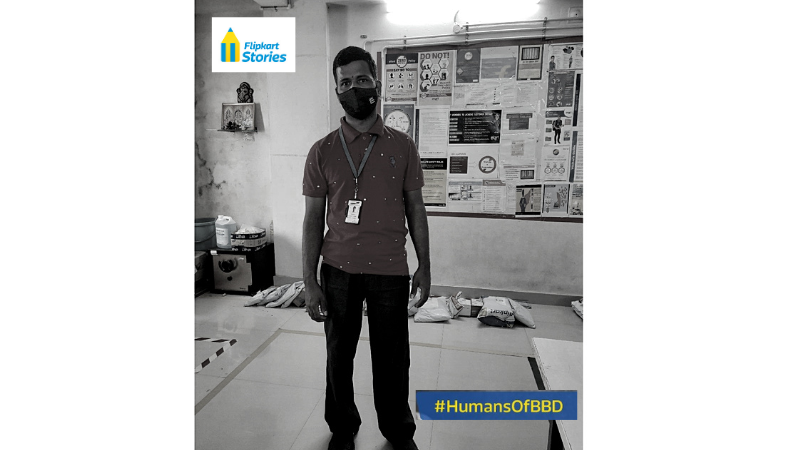 Srinivas Shetty
Sorter, Brahmavara Hub, Udupi
A few years ago, I was running a small catering business in Bengaluru. I'd make fast food and sell it from a cart on the road itself. Then one day, I met with an accident and I lost my leg.
I was hospitalized and fitted with a prosthetic to help me walk again. But I couldn't go back to my old job, and for a whole year, I remained unemployed. I had to find a way to support my family.
I'm from Udupi, Karnataka. I have an old father, a wife, and a child who are relying on me. My family was going through some serious financial strain and my wife had to pick up odd jobs to make ends meet. After the accident, I also decided that I did not want to spend time away from my family at all. So I moved back to Udupi and I started searching for jobs here.
Then I heard about the opening for a Sorter's job at a Flipkart hub in Udupi. I joined Flipkart in September, 2019 as a sorter at the Brahmavara Hub in Udupi. The management team at my hub was very welcoming. I underwent training that enabled me to take on my responsibilities comfortably.
From then on, I was part of Flipkart's eDAB program that helps and empowers persons with disabilities like myself. My supervisor is very understanding and supportive. With my job at Flipkart, my family's financial situation is not dire anymore. I am good at my job here, and I am determined to continue my work and grow. I even reach the hub early to help move operations along, so that we can get a head-start on our day.
I am very excited for The Big Billion Days sale this year. I am planning on buying new clothes and some household items. I'm sure my family will be very happy.
Like what you're reading? Watch this space over the next few days as we add more such heartwarming and inspiring stories from the #HumansOfBBD!
Note: Photographs in this story were taken following all recommended safety precautions and physical distancing norms.