Flipkart's kirana partners on their dreams, the pandemic and expanding their businesses during The Big Billion Days sale.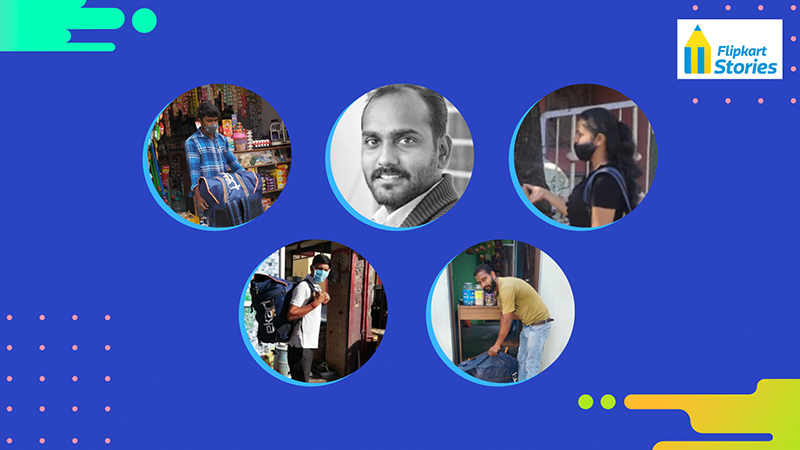 Harish K, Bengaluru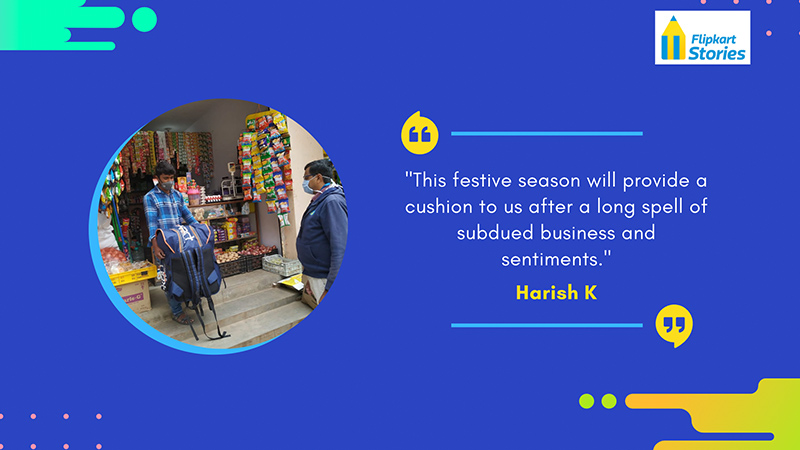 Harish has been a part of the Flipkart Kirana program for a year now. He relocated to Bengaluru 7 years ago from Karnataka's Mandya district in the quest for a better livelihood. Prior to starting his own provision store, Harish worked as a corporate cab driver for 5 years, working 12- to 14-hour days. He earned a fixed salary of INR 20,000. 
Exhausted by this routine, he decided to start something of his own and become an entrepreneur. 
Narrating his story, Harish says, "When I opened my provision store, a field officer from Flipkart approached me and explained the Kirana program and how it could create an additional source of income. This really intrigued me and I was excited to join the program. We had to go through a four-day training program on how to interact with customers, the importance of on-time deliveries, etc. Now I deliver nearly a 1,000 packages per month!" 
Now, Harish is able to significantly supplement his income from his provisions store through the Flipkart kirana program. He delivers packages between 7 am and 3 pm and then gets back to his store. While he is delivering, his wife supports him by managing the store. 
Harish adds, "My family and I are now financially stable. I have been able to manage my own store and maintain an extra source of income through the Kirana program."
Harish is also helping neighboring stores to join Flipkart's Kirana program. 
"The festive season and the Big Billion Days are a great opportunity for us to expand the scope of our delivery to help meet customers' requirements and enhance our incomes. Considering the current COVID-19 situation, the festive season will also provide more cushion to us after a long spell of subdued business and sentiments. Last year, we delivered over 4,000 packages a month during The Big Billion Days sale."
---
Raghavendra Chitta, Bengaluru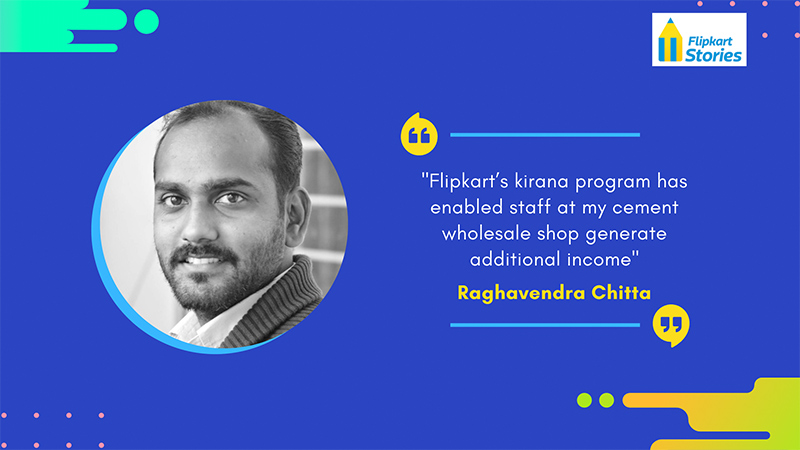 While the term 'Employee Development' has been primarily associated with large corporations, small traders and businesses across the country also support the growth and development of their employees. 
Raghavendra, a wholesale cement trader based in Hubli, Karnataka, has helped two of his employees grow through Flipkart's Kirana program and create a new source of income. Given that his employees had time available apart from regular store work, Rajendra joined Flipkart's Kirana program in July 2019 and has since been working with them to deliver products for Flipkart. 
Describing the journey, Raghavendra says, "The program helped us use the spare time to create additional income for the staff to support their families. Flipkart conducted training on customer service and the use of digital payments as well as the aspects of safety and sanitization to safeguard the customers and themselves from COVID-19. Currently, each of us delivers almost 25 packages per day, and as the festive season and The Big Billion Days approach, we are excited to see more growth."
Today, the additional income has helped them support their families and also improve their lives. Their families too have started their own micro-businesses in electricals, making them financially independent.
"The kirana program has enabled the staff at my cement wholesale shop to generate an additional source of income and improve their livelihood. As we inch closer to the Big Billion Days, the higher deliveries will further help them contribute significantly to their season festive business run by their families."
---
Vaishnavi, Pune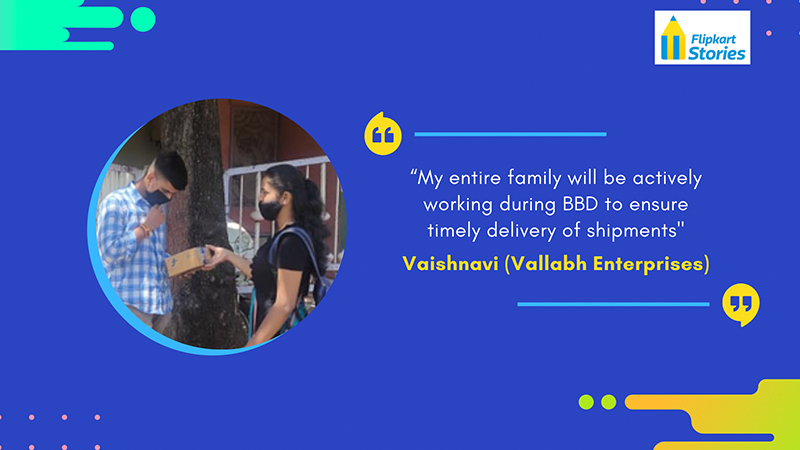 "I manage a footwear godown with my mother along with my studies. The kirana program has given us the flexibility of delivering shipments without hampering our godown's operations and also provides financial support to pursue my studies. I'm excited about my first Big Billion Days to witness the scale of its operations and get an opportunity to serve more consumers. My entire family will be actively working during BBD days to ensure there is timely delivery of shipments."
---
Jitendra Kumar, Hissar, Haryana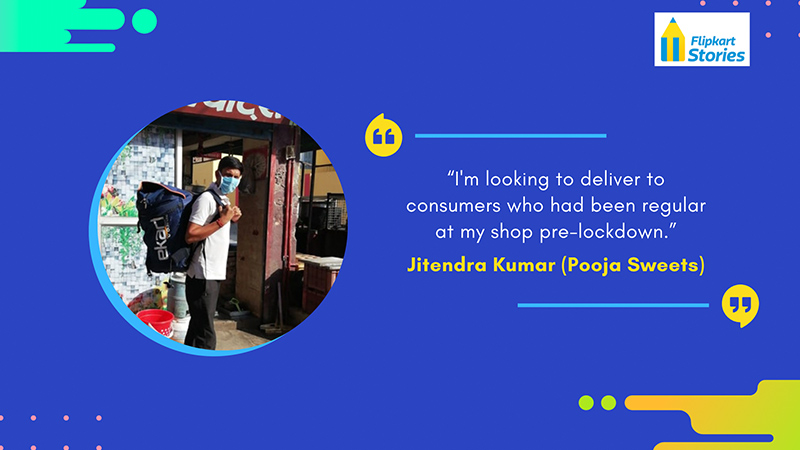 Pooja Sweets Shop owner Jitender Kumar is another kirana partner from Hissar, Haryana, who is looking forward to his first experience of the annual Big Billion Days sale. 
"Festive season will be busy for me this year with my sweet shop expected to witness good demand from consumers and Flipkart's deliveries to help me connect to a large number of consumers, making it a win-win situation for me," he says. 
Jitender, who has a 2-year-old daughter, looks forward to making his daughter's life even more secure through the additional income from Flipkart's Kirana programme. 
As part of the thousands of kiranas across the country joining Flipkart's Kirana program ahead of the festive season and The Big Billion Days, Jitender will play a crucial role in providing a fast and personalized e-commerce experience to consumers. 
"This festive season, a lot of consumers will be using e-commerce for the first time and I'm looking to deliver to consumers in my area who had been regular at my shop during the pre-lockdown period. This is also a good way of keeping in touch with your consumers," he adds. 
---
Dinesh Kumar, Panchkula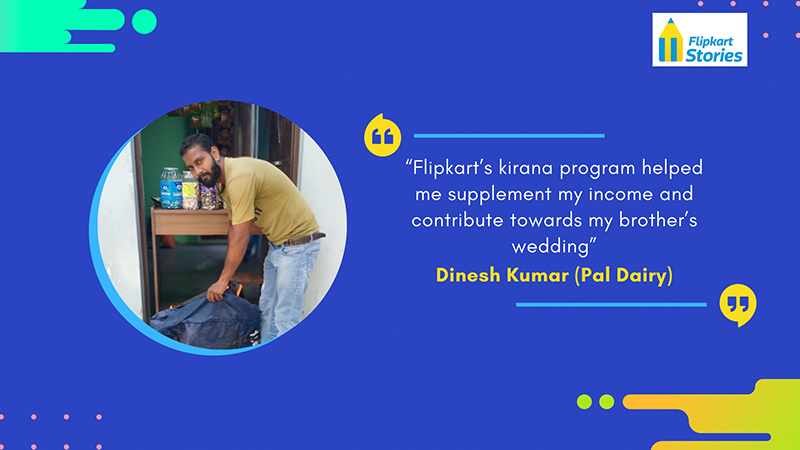 Dinesh Kumar, a 27-year-old from Panchkula District, Haryana, is a dairy shop owner who joined Flipkart's Kirana program in 2019. With extra time and space at hand, he started making deliveries in nearby areas and underwent training with Flipkart as part of the onboarding process in shipment handling, customer management, among others. 
"The kirana program has helped me supplement my income and contribute towards my brother's wedding last year apart from supporting my family during the pandemic-induced lockdown. Now with things coming back to some level of normalcy, I'm preparing for the upcoming Big Billion Days as I feel it will be a good opportunity for him to service more customers and contribute to the fight against COVID," he says. 
Dinesh recalls his experience from last year when he delivered more than 2,000 parcels during The Big Billion Days. He says that while it was hectic, he was happy to earn an additional income and support his family. While he is out for deliveries, his family takes care of the store.
Dinesh is among several other small retailers who have transformed their lives by joining Flipkart's Kirana program.
---
Also read: Heroes of The Big Billion Days: Empowering Entrepreneurship