Shopping on a fake website pretending to be Flipkart can cause you to lose your data and money. But, with the right precautions you'll be able to stop cyber fraud in its tracks. Here are some simple ways to identify a fraudulent website or app and shop stress-free every time.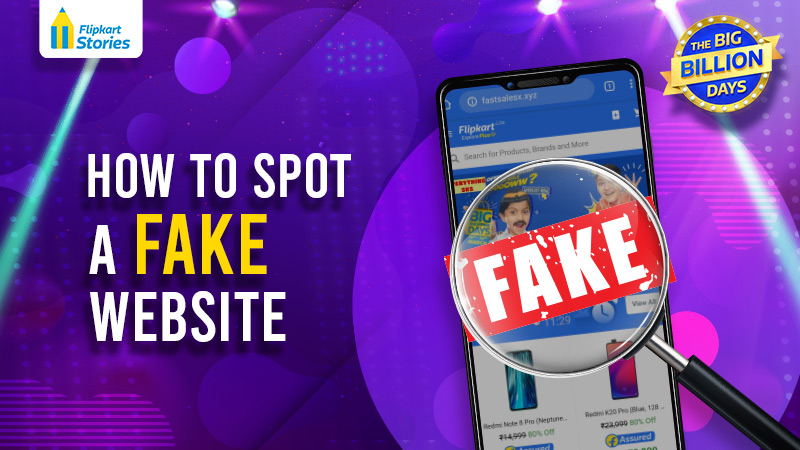 Ever clicked on a website that looks a lot like Flipkart, but always had that nagging feeling that something just didn't feel right? Well, that gut feeling is a good indicator. But for times that your instinct fails you, here are some simple ways for you to sniff out a fake website or app. Read if you want to keep your personal and financial data safe, and shop without worry! 
How to spot a fake website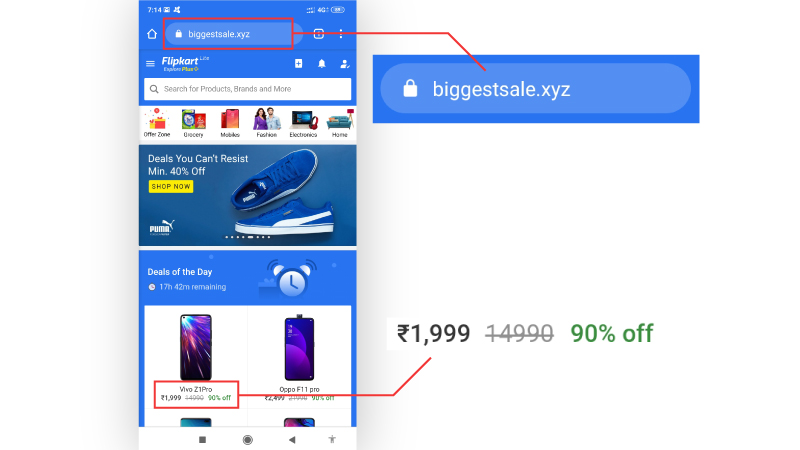 Looks the same, but has the wrong domain name
When cybercriminals create a fake website, they take care to make their website look exactly like Flipkart. You may find the Flipkart logo and official artwork and trademarks, such as The Big Billion Days logo, on the fake website. In such cases, there are two things you can do:
Look for photoshopped images: For instance, you may find wrong sales dates, the text will have a different font, there will be an extra word like 'Lite', or you may notice the images to be smudged.
Check the URL: Only Flipkart owns the domain 'flipkart.com'. Fake e-commerce sites, which look like Flipkart, may use similar-looking URLs, such as:
Flipkart.dhamaka-offers.com/
Flipkart-bigbillion-sale.com/
http://flipkart.hikhop.com/
Or the website will have something else instead of '.com', such as:
Flipkart.biz
Flipkart.org
Flipkart.info
At times, a fake Flipkart website will only look similar, but the URL will be completely unrelated. For example:
60dukan.xyz

Offernoffer.xyz

big-saving-days.xyz
2. Unbelievable offers or discounts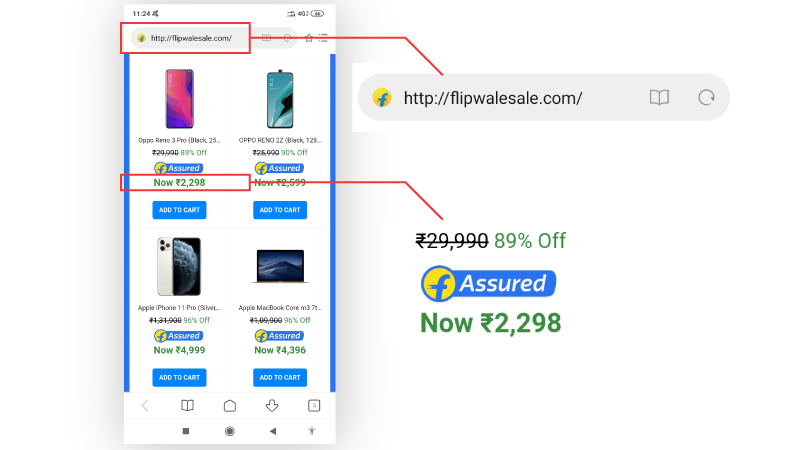 To entice shoppers, a fake website will offer unimaginable deals such as:
98% off on Samsung Note 8

Samsung Galaxy 10+ for Rs.2,499

iPhone 11 for Rs.10,000
These absurd prices are not just ridiculous, but also unethical and illegal. Stay away from such offers and websites.
3. 'Not secure' in the address bar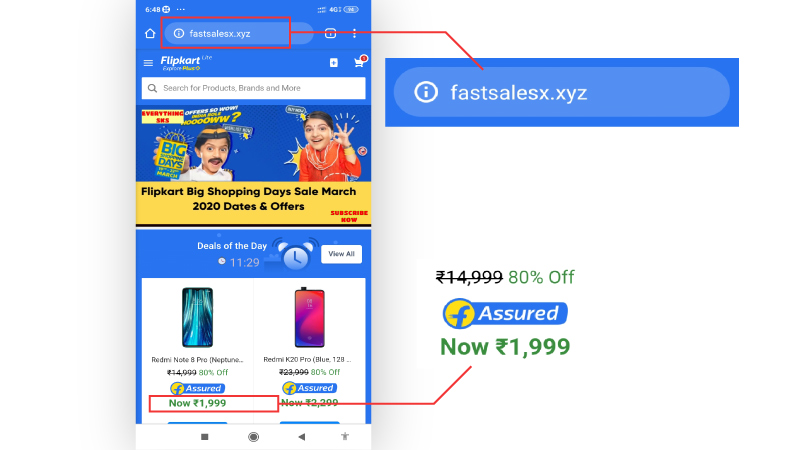 The official Flipkart website is safe and verified. Its URL starts with 'https://'. The 's' stands for secure and with 'https' the data your transfer is encrypted. Your browser may indicate that the website is safe with a lock symbol. Remember that a fake Flipkart website may start off as 'Not Secure' but appear to be 'Secure' at the payment step. This is because the payment gateway they are using is secure. However, the official Flipkart website is secure all the way through.
4. The website doesn't work as expected
A fake Flipkart website can have any or all of the following elements:
Cart is not clickable but pre-loaded

No prompt to sign in

Some links are not active

Hamburger menu is not active

You can enter incorrect or incomplete information and proceed
How to spot a fake Flipkart App
Read the name of the app carefully
The name of the app may be fishy or contain spelling mistakes. For example:  Lite for Fk – Online Shopping App. This app avoids using the word Flipkart but gives the impression that it is original
Inspect the logo
The Flipkart online shopping app and other official apps such as the Flipkart Seller Hub and Flipkart Fake apps try to mimic Flipkart's branding, but it is easy to spot the differences.
Check the developer
The official Flipkart app is developed by Flipkart, and under the developer section you will find a link to the official website and an email ID, for feedback, that ends with @flipkart.com.
Be wary of suspicious practices
In the case of a fake website, watch out for:
Massive, unreal deals
Inactive links
Inauthentic reviews
How to shop securely on Flipkart
The best way to avoid a fake Flipkart website or app is to shop on the official platforms. Here are the ones you should use:
You can follow this guide for instructions on how to download the app on your phone.
If you suspect fraudulent activity when shopping online, do not hesitate to dial the Flipkart Customer Support toll free number 1800 208 9898. Remember that authorized Flipkart representatives never ask for sensitive information such as your passwords, OTP, and PIN.
Armed with the knowledge of how to spot a fake Flipkart website or app, you can shop in peace, knowing that your credentials are safe, and your order will be at your doorstep in no time at all!
For more cybersecurity tips, read our master guide.