All your questions about Flipkart SuperCoins answered! Read on to know all the benefits you can reap with Flipkart SuperCoins.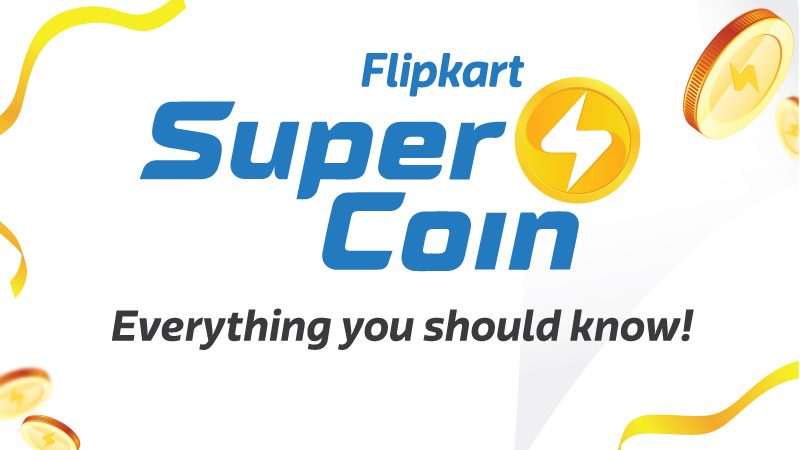 Flipkart SuperCoins is a first-of-its-kind rewards ecosystem designed to provide benefits to millions of Flipkart customers. Customers will now be rewarded for doing everything they love, with a larger variety of rewards partners to choose from, and it will all be managed on one single platform. 
Here is your guide to everything you need to know about this unique rewards ecosystem:
How are SuperCoins different from other rewards programs?
While other reward programs are limited by their constraints in terms of redemption and being limited within their own business ecosystem. Flipkart's SuperCoin ecosystem overcomes these challenges meaningfully, by bringing in a wide range of partners from across the food, travel and entertainment segments. It even does one better, by enabling customers to use SuperCoins outside the Flipkart platform too.
How can I earn SuperCoins?
While you can get SuperCoins as you shop on Flipkart, there are more avenues to earn this digital currency too. The plethora of bingeable Flipkart Videos gives everyone a chance to earn coins on every show. That's literally making money while you relax!
You can also shop for products that give you a chance to earn extra coins. You can even take part in challenges that reward you coins as you complete each task. That sounds like a lot of work. Why not earn SuperCoins as you play too? With select Flipkart Games you even stand a chance to earn coins as you play, and level up.
Is earning Flipkart SuperCoins convenient?
Since customer convenience is the one-and-only principle for everything in Flipkart, the SuperCoins rewards program too follows this approach. No additional effort is required for renewing the Flipkart Plus membership. Once you have earned 200 SuperCoins in a year, you can easily activate your Flipkart Plus membership by visiting the Plus Zone. For a Plus member, your membership is auto-renewed if you earn 200 SuperCoins in a year.
What's the best time to be a Flipkart Plus member? Now!
You can avail 2X SuperCoins every time you shop on Flipkart. So why wait?.
What are the SuperCoin benefits to Flipkart Plus customers?
If you are Plus member then you get 4 coins for every Rs. 100 spent on Flipkart upto a maximum limit of 100 SuperCoins in a single transaction. That's double the SuperCoins if you shopped as a non-Plus member.
Is this all that I can do with so many accumulated SuperCoins? Not at all. You can use SuperCoins for lots of stuff. Here's what you can do with your SuperCoin kitty.
Use them for discounts on products when you shop
Use SuperCoins and buy products as low as Rs.1, Rs. 49 and Rs. 99
Unlock Flipkart Gift vouchers
Redeem SuperCoins for getting your favorite Entertainment subscriptions, food and so many other Rewards
Use SuperCoins to play games and win exciting prizes
Use SuperCoins for your Mobile Recharges and Bill payments
'Wouldn't it be great if you could use my SuperCoins outside Flipkart?
That's what we thought too.
Myntra Insider points are now SuperCoins, so you can Use your SuperCoins on Myntra while Shopping as well as Earn SuperCoins during your transactions. With post pandemic travel slowly opening up and people itching to travel, SuperCoins gives you a great excuse to do so. Now you don't have to scour through multiple sites for coupons, you can just use SuperCoins in lieu of cash on ClearTrip and book flights for free.
Travel. Check.
Apparel. Check
What about everyday transactions?
Wouldn't it be cool if you could use SuperCoins to pay your card bills. Well, we have you covered. Now you can even pay your card bills using SuperCoins on Flipkart on your Kotak 811 Debit Card and Slice Credit Card.
With SuperCoins now aiming to be the go-to digital currency and revolutionising the customer rewards landscape, it will usher in a new set of customers for whom Flipkart will be the one-stop destination for all purchase requirements.