Staying true to the customer-first promise, Flipkart revisited its earned loyalty program, Flipkart Plus, to take it one step further. With the introduction of Plus and Plus Premium, online shoppers can now get more value with every purchase on the platform. To delight the modern customer, Plus and Plus Premium builds on the existing Flipkart Plus membership program. Here's how.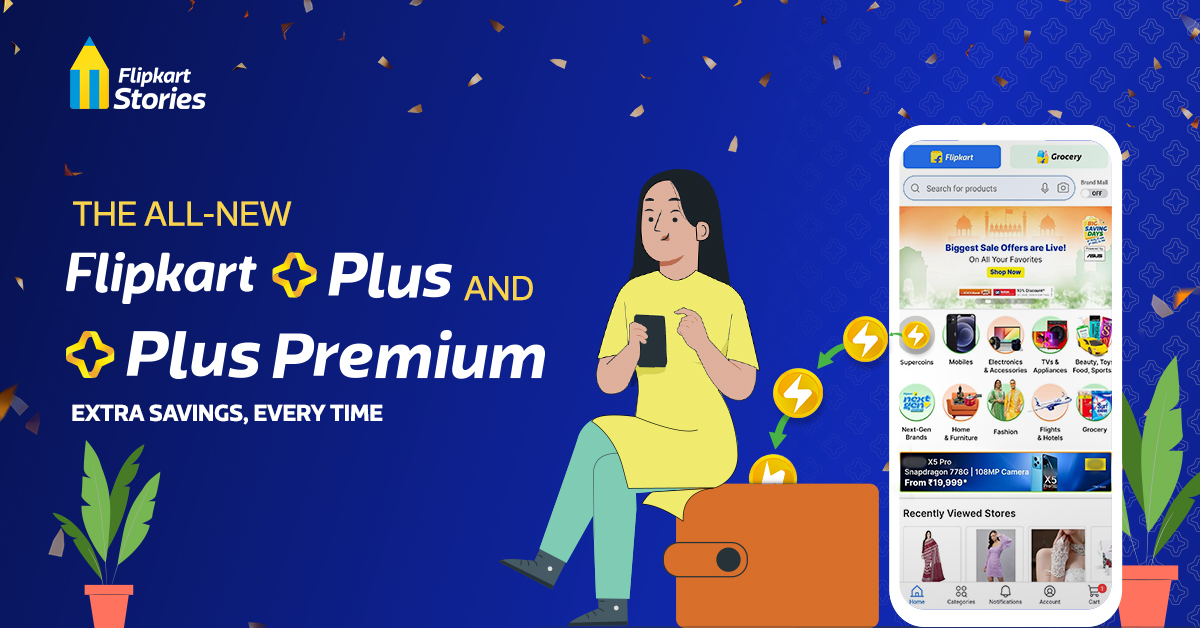 The Flipkart Plus loyalty program has always offered additional value to shoppers, helping you get more with each purchase. Now, the loyalty program gets an upgrade, as Flipkart introduces Plus and Plus Premium, designed to offer even more value to shoppers.
With a more dynamic structure, Plus and Plus Premium offer benefits that go one step further, along with even simpler entry criteria.
The existing loyalty program has garnered over 20 million users across the country, and the new loyalty program aims to offer enhanced perks to these customers. Read on for a detailed overview of the upgraded loyalty program, and what the new Flipkart Plus Membership program offers the modern customer.
The Upgraded Loyalty Program: Taking Plus Membership Further, For a Wider Audience
The existing loyalty program has been successful for more than 4 years, and we are innovating to offer an enhanced experience. Shifting to an upgraded version of the program, both Plus and Plus Premium memberships will have newer benefits.
The update to the loyalty program as a whole will enhance the customer's shopping experience on Flipkart. For one, it banks on a newer transaction-based entry criteria system. In the past, shoppers needed 200 SuperCoins to become a Flipkart Plus member. Simplifying this, the upgraded program is now accessible to shoppers based on their transaction history only.
This takes away any complexities associated with the loyalty program, making entry a lot more streamlined. In all these changes, the SuperCoins will remain a crucial element of the perk system, but with an enhancement.

Here are all the must-know details of the upgraded Flipkart Plus loyalty program:
Members will get incentives on 2 Cr+ products
Additional 300 SuperCoins for all Flipkart customers joining for the very first time
Early access to flagship sales such as The Big Billion Days Sale
Simplified entry criteria, ranging between 4 and 8 transactions during the last 12 months, for Plus and Plus Premium respectively
Flipkart Plus members get up to 2% SuperCoins on purchases, up to 50 SuperCoins
Earn more SuperCoins, up to 2x more and up to 300 SuperCoins with Plus Premium, on all transactions equal to or exceeding Rs.10,000
Best of all, existing Flipkart Plus members are automatically upgraded to Plus Premium on completing 8 transactions in a 12-month period. No extra subscriptions or additional steps; the entire process is easy and automatic.
Plus and Plus Premium by Flipkart: What Shoppers Should Know
Both Plus and Plus Premium members can enjoy the benefits of the programs – by using SuperCoins, members eligible for Plus and Plus Premium can enjoy additional value.
Early access to flagship sales is also a highlight perk, and one that all members of Plus and Plus Premium program enjoy. The product selection, on which you can use SuperCoins, is about 10 times more so Flipkart Plus members can avail enhanced value during sales with SuperCoins.
The upgraded loyalty program and their benefits align with Flipkart's customer-first promise and simplifies opportunities for you to get more with each purchase.
For more stories about Flipkart creating value for India, click here.