On a rainy day in October 2007, a man bought a book online. We caught up with the first Flipkart customer to hear his story.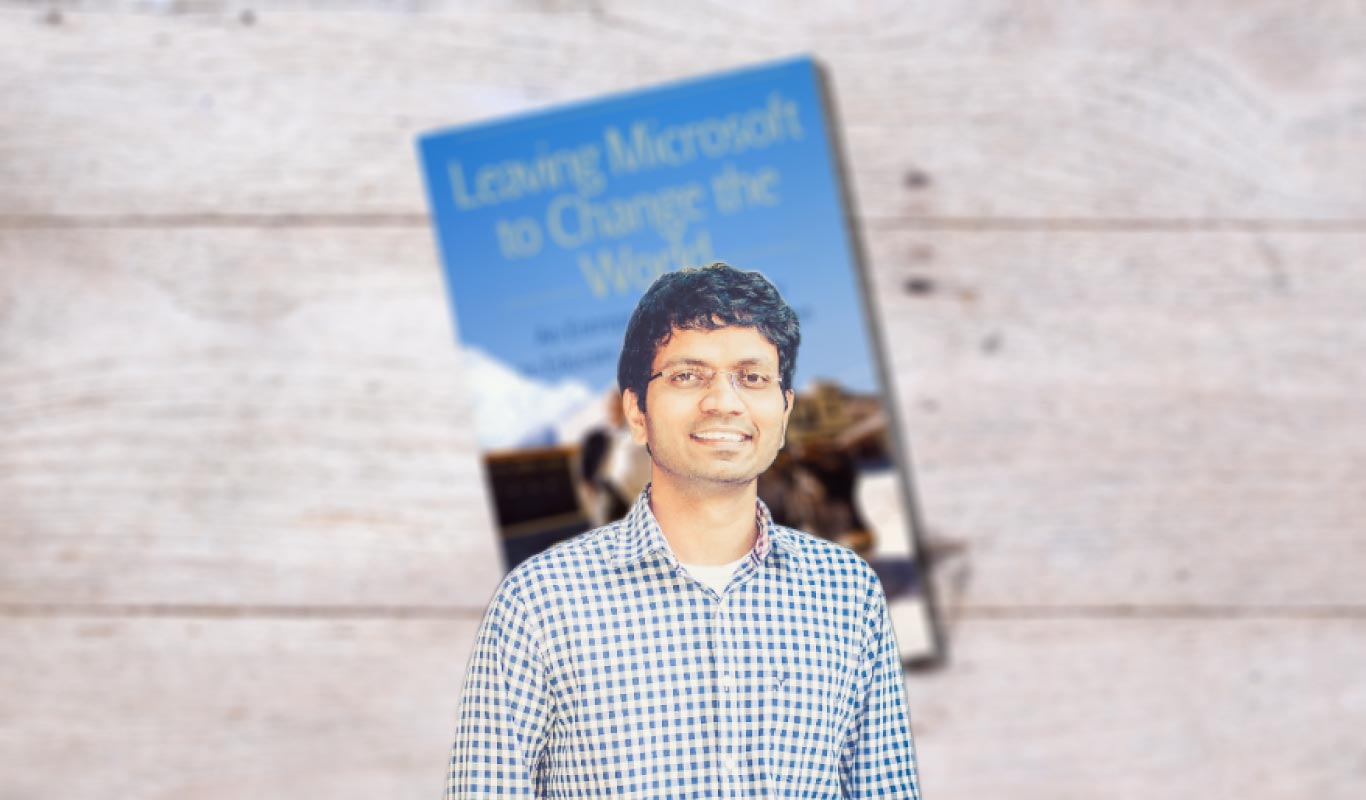 Great beginnings are dramatic. The story of the first-ever sale on Flipkart is a page-turner in itself, packing in a fair share of crisis and climax, nail-biting tension and hot-wheels action, inclement weather, borrowed money, a race against time, and a victorious finale. We caught up with the first Flipkart customer to relive the memory of the sale that changed the future of e-commerce in India.
8 years ago, a man from Mahabubnagar bought a book online. Page 1 of the @Flipkart story http://t.co/km4Vaz1oDw pic.twitter.com/Tn0t4us5ap

— Flipkart Stories (@FlipkartStories) October 15, 2015
It was late October 2007. V V K Chandra lived in Mahabubnagar, a town in undivided Andhra Pradesh that is now the headquarters of the largest district in the new state of Telangana. Chandra used to run a freelance web consultancy at the time. His voracious appetite for books brought him frequently to Hyderabad, 90 km away, where he combed the city's famous bookstores for inspiration. But even Hyderabad's best didn't stock the one book he craved – John Wood's memoir Leaving Microsoft to Change The World.
Chandra used to blog about technology and the internet. Beneath one of his posts, a user who identified himself as Sachin had left a comment with the link: www.flipkart.com.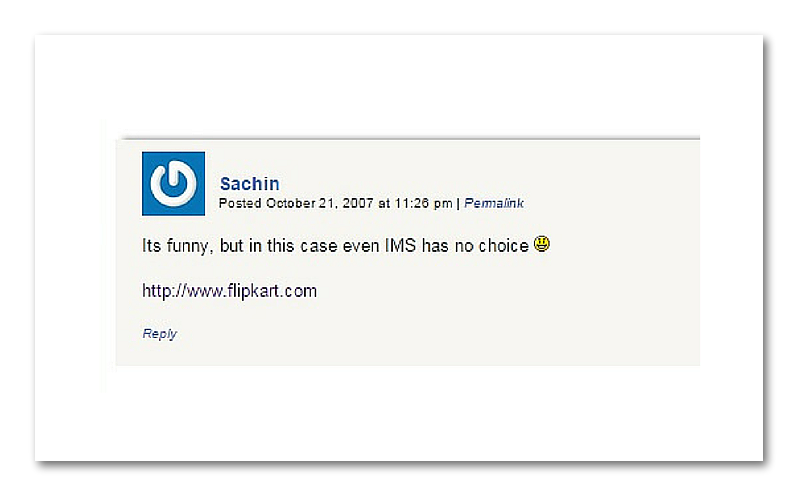 "In hindsight, I guess he was really marketing his site!" laughs Chandra, who now works in the San Francisco Bay Area. Intrigued by the unfamiliar link, he clicked, and found himself on a site that purported to sell books and ship them anywhere in India. He hadn't seen anything like it before.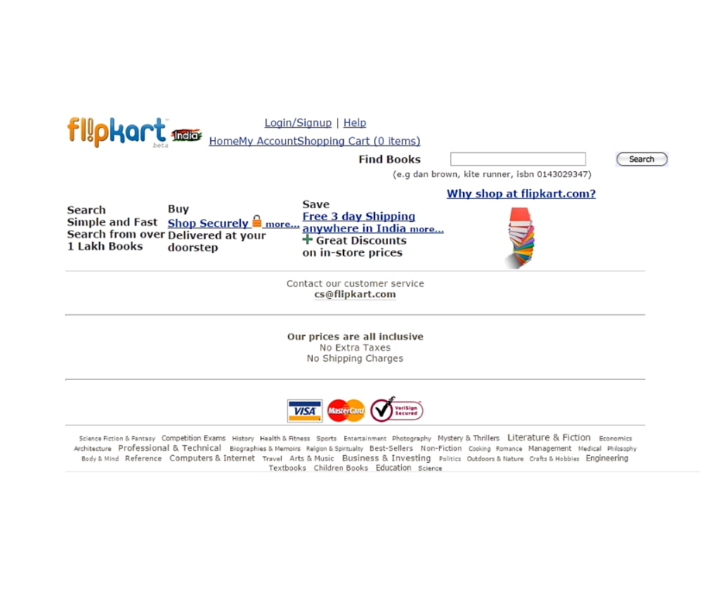 "The website looked decent. I won't say it was amazing," recalls Chandra, who was then keenly following the startup scene in India. "As a developer dreaming of launching a startup, I know what used to make good websites those days. Most of the e-commerce websites weren't user-friendly."
More importantly, the site stocked the book he wanted. He decided to luck it out.
"It was not an expensive book, just about ₹500. I could afford to risk losing that money," Chandra recollects, chuckling.
He ordered. And waited.
A whoop of cheer went up in a small two-bedroom apartment in Koramangala, Bangalore, where Flipkart had just taken its baby steps. Nobody had yet made a purchase on the freshly unboxed website. Co-founders Sachin Bansal and Binny Bansal, unrelated despite the common surname, spent their interminable waking hours promoting their new startup and feverishly scanning their inboxes for emails. Chandra's order was the very first.
Jubilation turned quickly to confusion, with a hint of panic. Leaving Microsoft seemed to be unavailable.
"We looked for the book for two days across 50 bookstores in Bangalore and even called up a few in Delhi and Mumbai," remembers Binny. He dashed off an email to Chandra.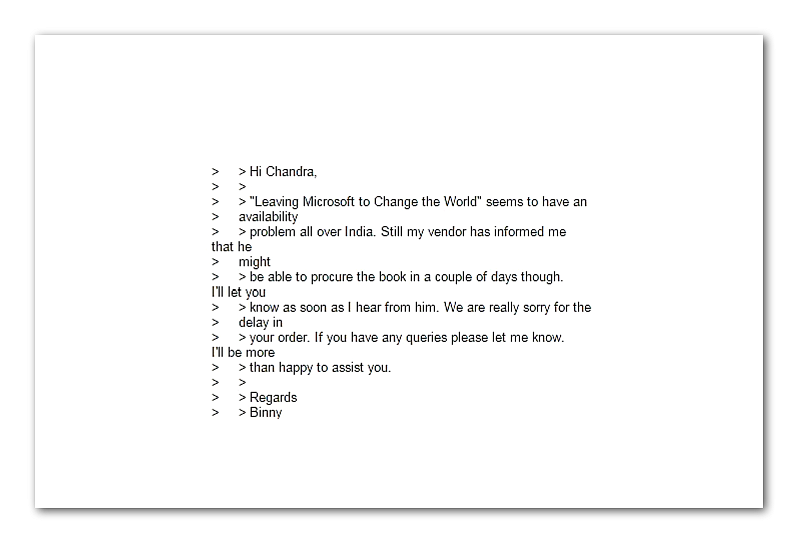 Was Flipkart's first sale going to be a damp squib? Tensions ran high.
"I finally spotted the book at Sapna Book Store in Indiranagar," Binny recalls. It was the last copy and it wasn't exactly in mint condition. "The pages were yellowish but thankfully they were not torn," he says.
Binny phoned Chandra to buy time. He couldn't get through.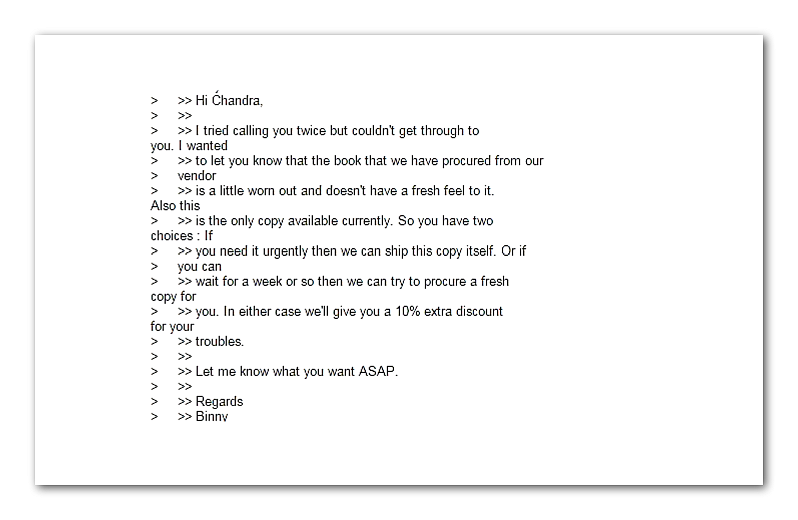 When Chandra received Binny's email he felt reassured. "I thought, at least this is a real company," he mused, recalling the episode. "I felt like I could trust them."
Chandra wanted the book so badly that he didn't care if it wasn't bookstore-fresh. The man who was about to be the first Flipkart customer wrote: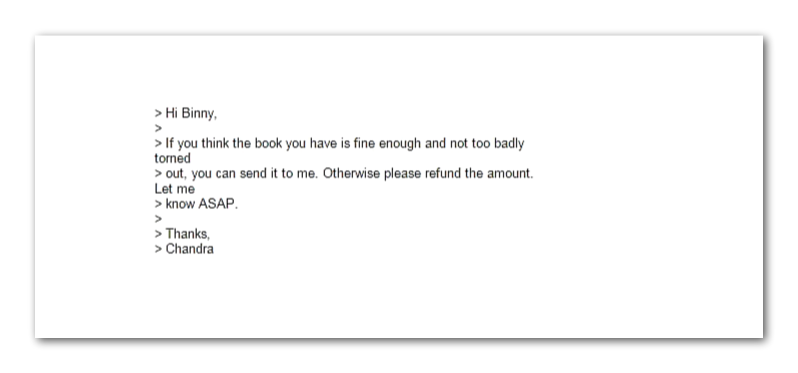 History was one step away.
But there was more drama in store. October in Bangalore is known for torrential rains, waterlogged streets and traffic woes. All of which makes riding a bike a reasonably heroic pursuit as many Bangaloreans on two wheels will attest. At about five in the evening, soaking wet, Binny arrived at the bookstore in Indiranagar. And realized that he had forgotten his wallet. He went right back into the rain.
"I borrowed money from one of my roommates to pay for the book," says Binny who returned to the bookstore to purchase the book.

On October 31, 2007, Chandra's order was shipped. Since November 1 was a state holiday in Karnataka on account of Kannada Rajyothsava, the book reached him in Mahabubnagar the following day.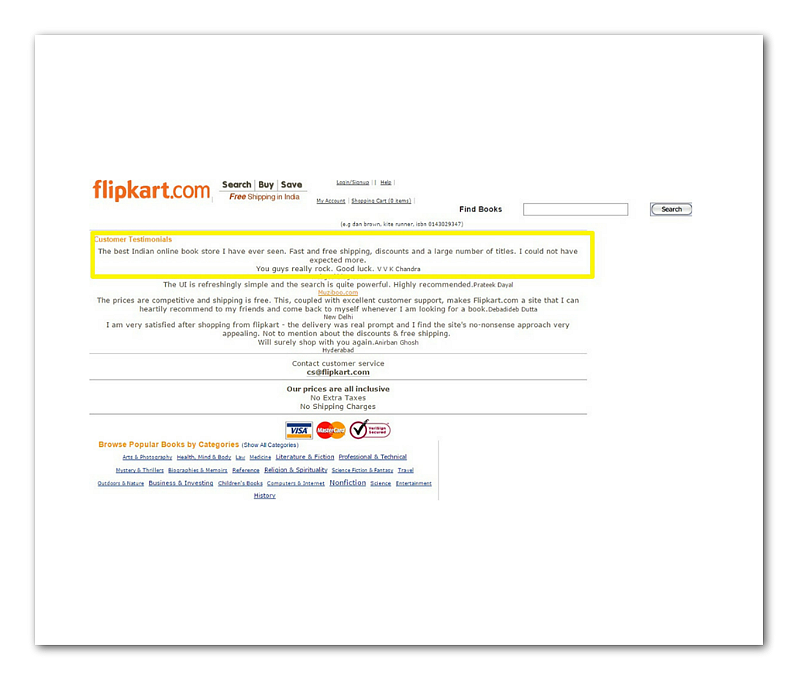 Not just the first Flipkart customer but a satisfied one, too!
"Not only did they deliver the book, they offered me a 10% discount for my troubles," says Chandra. The first Flipkart customer who left a glowing customer testimonial that was featured on the Flipkart home page for months to come:
The best Indian online book store I have ever seen. Fast and free shipping, discounts and a large number of titles. I could not have expected more. You guys really rock. Good luck.
Heartfelt praise from a young bookworm in Mahabubnagar who was spared the ordeal of a 90-km commute to Hyderabad. Who took a chance and went down in history as the first Flipkart customer!
That's how Flipkart fulfilled its first wish. And that's the story of how the first Flipkart customer came to be!
Bijoy Venugopal is Editor @FlipkartStories. He tweets at @bijoyv
Lead image courtesy Sumanth Anand