Long before the much-talked-about Indian e-commerce wave credited to the millennial breed of Indian unicorns made its presence felt, a silent revolution that began in the 1990s had already empowered the Indian traveler with access to online railway ticket reservation. The man who helmed this project, Amitabh Pandey, is a former economics teacher and academic. Pandey, who has also authored three books of fiction, relates the story of India's first e-commerce revolution in his new book, When It Clicks — Field Notes From India's e-Commerce Revolution. Read excerpts from an exclusive interview and buy the book on Flipkart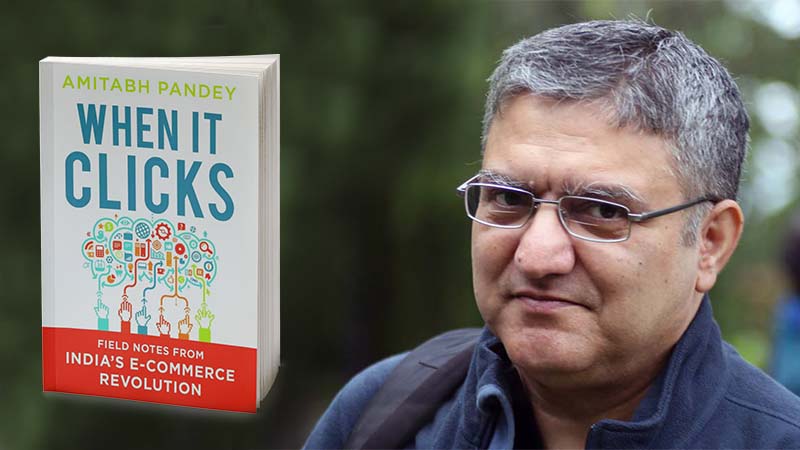 It is not unusual to see corporate stalwarts leave distinguished careers to find their calling in academia, but the converse is harder to come by. Amitabh Pandey can be counted among those contrarians who relinquished an early stint in teaching to essay an instrumental role in shaping India's incipient e-commerce revolution in the 1990's.
Pandey studied economics at St Stephen's College (1974-77) and the Delhi School of Economics (1977-79). He later taught at Sri Venkateswara College, New Delhi for three years and then joined the Indian Railway Traffic Service — one of the Central Services of the Government of India. After postings in Nagpur, Jhansi and Mumbai managing various areas of rail operations — freight, passenger and suburban — he came to the Ministry of Railways (Railway Board) on deputation. He joined Indian Railways Catering and Tourism Corporation (IRCTC) when his deputation to the ministry ended and worked there for five years. Subsequently, he took voluntary retirement from government service and spent five years building software systems in the private sector.
It was in the Indian Railways, where he worked for nearly 25 years, that Amitabh Pandey left his mark. He led the digitization of IRCTC and catalyzed its foray into online commerce. His years at IRCTC were akin to running a startup, with pretty much the same growing pains and teething troubles as experienced by unicorns of the post-millennial generation. When IRCTC ventured into online ticketing, the first hurdle was customer trust. Once that obstacle was overcome — and therein hangs a rather gripping tale — Indian e-commerce was transformed. Customers, who no longer had to stand in long queues to book a train ticket, welcomed the change. It was nothing short of a revolution.
Since 2012, Pandey has lived in retirement in NOIDA reading — history, economics and thrillers — and writing. His first two novels published by HarperCollins (India) are a series of thrillers — Himalayan White and Himalayan Hazard — and the third, published by Pan Macmillan (India), is a love story titled Love in Lutyens' Delhi. He is currently working on his third thriller in the Himalayan series.
In his new book (and his first nonfiction work) titled When It Clicks — Field Notes From India's e-Commerce Revolution, Amitabh Pandey reminisces on a momentous journey that laid the foundations for the much-hyped e-commerce boom of the 21st century that was to follow. In an exclusive interview with Flipkart Stories, he shares his experiences. Also read an exclusive excerpt from the book.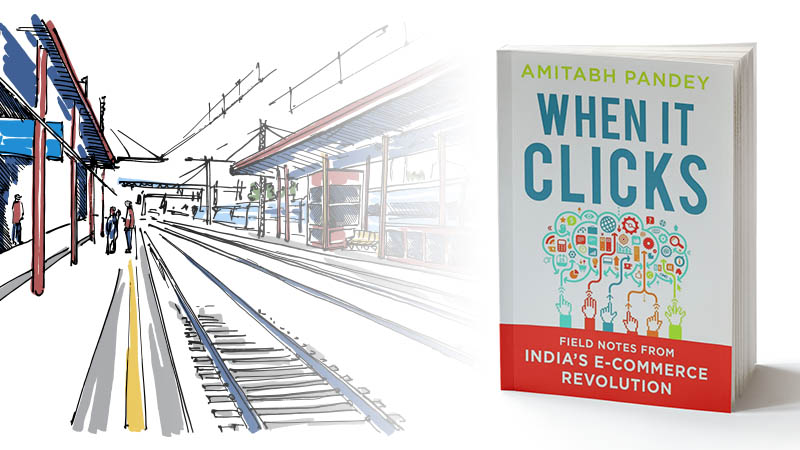 ---
Congratulations on writing When It Clicks. What can a reader expect from your new book?
The book is a study of the e-commerce revolution that has overwhelmed the Indian marketplace in the new millennium. The reader will get a picture of the policy changes that created the conditions necessary for this revolution, an understanding of the manner in which e-commerce spread across the country and the learnings that early participants acquired in the process. Project management lessons are shared as are some thoughts on the implications of information technology developments for modern governance.
When we think of the e-commerce industry in India, it's mainly the online retail giants like Flipkart and Amazon that come to mind. However, in your book, you chronicle the evolution of Indian e-commerce from an earlier time through the online Indian Railway ticket reservation system. Why did you situate your book in this period?
The story of e-commerce in India begins with the telecom revolution that began in the 1990's and made possible the subsequent proliferation of the Internet that brought e-commerce in its wake. The significance of the Railways' e-commerce venture lies in the fact that it established in the citizen's mind the validity and value of e-commerce. Thus, by positively impacting the minds of people it laid the foundations for subsequent developments in online commerce. The story would have been incomplete without examining these issues.
In the early 2000's, you joined IRCTC — the Indian Railway Catering and Tourism Corporation. Why do you describe this period as "exciting, frustrating and ultimately rewarding?"
Going where nobody had ventured before was exciting, dealing with the naysayers who discouraged and obstructed our efforts was frustrating, and the immediate acceptance by the customer of our product was enormously rewarding.
What were you working on before the IRCTC gig, and what led you to take a job with the IRCTC?
I was on deputation to the Ministry of Railways (Railway Board) and when that ended, IRCTC was just being launched. The MD of the company was very positive and supportive of the idea of attempting an online venture for reserved ticket sale and offered me a position there.
What were the challenges of porting the traditional railway reservation system to an online commerce model? What is the scale of data that was involved?
The Railways permitted us to connect to the Reservation System and the 'integration' was jointly done by the two technical teams. At our end, we built a complete business application including a database, as we were responsible for dealing with our customers and so had to maintain complete information about our transactions. Technically, however, it was not rocket science — the technology was available and the development and integration took about seven months.
Efficiency and accountability are not attributes normally associated with government-run projects in India. In a gigantic public sector undertaking such as the Indian Railways, what did it take to enthuse and motivate people on your project to stay committed and to deliver?
The Railways is an ocean and negative stereotyping of such a large population is unfair. We had a small team of mostly young railway persons who were interested in computers and related applications and required only an opportunity to dive into this new and fascinating space. Incidentally, our two in-house experts on reservation rules and procedures were elderly retired railwaymen who worked closely with the youngsters in the rail and the tech teams to design the system. Commitment is an individual thing and has little to do with age or occupation.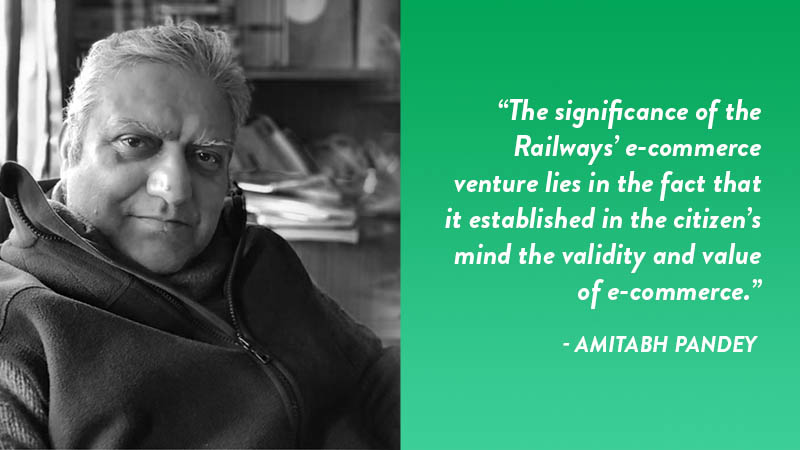 Can you tell us about a few game-changing bets that you took that are still operational today?
The most significant decision was to insist on online payment. Most people were sure it would not be acceptable to the Indian consumer and the effort would therefore fail. Circumstances proved the naysayers wrong. I have argued that later use of 'cash on delivery' by e-commerce portals was a desperate measure to boost transactions and has created major problems for such portals.
E-ticketing was another significant decision that the Railways encouraged and supported and it has transformed the manner in which business is done in many spheres besides railways.
The monopoly that IRCTC's ticket reservation platform enjoyed and the clunky user experience left a lot to be desired. How did you take on these challenges?
The fact that ticket sale online has increased continuously and very rapidly establishes the fact that the system worked well enough and continues to do so. In the early years, a lot of the problems were due to poor internet connectivity, since most customers used dial-up connections, which were quite unstable.
The huge and rapid growth in traffic may also have led to capacity constraints, creating operational glitches. Web design was a new area, and designers were expensive and unaffordable in the early days. Improving customer interfaces is, of course, a continuous iterative process and requires constant attention to customer feedback.
You list Rediff.com, Sify and Bazee (later acquired by eBay) among the pioneers of Indian e-commerce. Can you recount their successes, and how they negotiated the stumbling blocks of that time? Also, why did these e-businesses not endure and strike gold?
The core contribution of these efforts was to introduce the notion of a new business paradigm to the Indian consumer. Their success in the e-commerce space was limited because the value offered was not perceived to be enough to overcome the natural inertia of customers with regard to commercial behavior. The significance of IRCTC's efforts was that the perceived value offered was more than enough to overcome the natural resistance of consumers to changing the way they did transactions.
---
Read a sample chapter from the book
---
Buy When It Clicks on Flipkart
Read more author interviews in our Books section