Across the country, members of the Flipkart ecosystem leverage the power of e-commerce to nurture innovation, foster inclusiveness, create equal opportunity and empower communities to shape a better tomorrow. From Kullu to Chennai and beyond, watch their remarkable stories.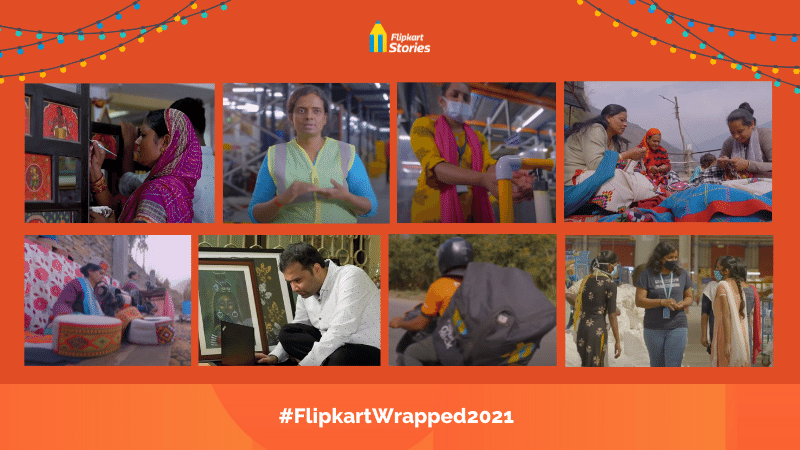 The Flipkart ecosystem goes far beyond just the walls of our offices. From the valleys of Kullu in Himachal to the shores of Chennai in Tamil Nadu, it's the weavers and artisans, a diverse supply chain workforce, partners who foster true inclusiveness, an army of employees battling the pandemic to ensure safe commerce, and so many others who form the Flipkart family batting for a better tomorrow.
Our incredible partners are the changemakers who leverage equal opportunity, diversity, inclusion, and growth offered by this ecosystem to write amazing success stories in 2021 and beyond. Watch some of the many heartening stories from across this vibrant and resilient ecosystem.
---
An artist village in Odisha finds a lifeline
A community supported by local tourism, Raghurajpur is a unique village near Puri, Odisha, where almost every resident is an artist. From pattachitra paintings to wood carvings, the legacy of craft embodied in this village has been passed on through generations. While the pandemic and its resulting restrictions brought hardships to this idyllic village, hope was around the corner. A partnership between the Government of Odisha and Flipkart Samarth ensured these artists access to a pan-India customer base through e-commerce. Today, their intricate handiwork is accessible to millions across India, bringing back hope to the vibrant village.
---
All-inclusive – Flipkart eDAB For Equal Opportunity
Diversity, equal opportunity, and inclusion are all core principles of the Flipkart ecosystem and there's nothing more rewarding than seeing them flourish in action.
Flipkart introduced the eDAB program (Ekartians with Disabilities) in 2017 to provide equal employment opportunities for people with disabilities. Starting as a pilot with just a few eDAB employees, Flipkart now employs over 1,000 people with disabilities across its supply chain.
Inclusion & Diversity are at the heart of Workplace Equality at Flipkart. We are committed to
For Bharti, Elango and Sundar, all of whom work at our warehouse in Bengaluru, a culture of equal opportunity, respect and access for all inspires them to call Flipkart more than just a workplace. It's a place that, they say, empowers them to be who they are, grow confident and feel secure.
---
A 90-minute delivery promise!
In the making since 2019 but accelerated in response to the growing need for timely essentials amid multiple lockdowns in 2020, Flipkart Quick promises speed, quality, and above all, safety. What emerged was a hyperlocal provision that turbocharged e-commerce with online shoppers getting their groceries and essentials delivered to their doorstep in under 90 minutes. Here's how technology with a strong supply chain ecosystem leveraging local vendors, farmers, and supply chain partners work together to make this service truly hyperlocal!
---
Woven Into The Fabric Of E-commerce
In 2019, we launched the Flipkart Samarth program to strengthen our commitment to bringing India's artisans, weavers, MSMEs and small businesses into the #ecommerce fold.
All the way in Kullu, Himachal, three women – Ritu, Ramkali and Kaushalya – are witnessing, first-hand, the power of e-commerce. Under the aegis of the National Urban Livelihoods Mission, these women, like many others in their community, craft the region's traditional woolen products. When NULM joined hands with #FlipkartSamarth – a partnership that spans 25 states – it enabled their products to reach customers across India.
Here's how e-commerce opened windows of opportunity, boosted their craft and income, and gave them access to a customer base they never imagined they'd reach.
---
COVID-Negative, Commerce-Positive
We believe that it takes an ecosystem to combat the COVID-19 crisis.
All through the pandemic, Flipkart's commitment has been, above all else, the safety and well-being of our customers, employees, sellers, vendor partners, and our entire Flipkart ecosystem through safe commerce.
From measures at our supply chain facilites, multiple initiatives for our employees and their families, financial and wellness support for our seller community, and stringent protocols to keep our customers safe, here's an inside look at our continued commitment to safety in a year like no other.
---
Chennai Super Queens: The Women In Yellow & Blue!
Sasikala, Monika, Jenifer, Sumathy and Bhuvana are among 300 women who work the special women-only shifts across multiple Flipkart hubs in the country. And every day that they walk in through the doors of the Flipkart hub, they create history. In a professional domain that's long been considered a male bastion, many of these women are the first in their families to work in such roles.
The women are employed in a host of roles — from sorting, to delivery, shipment checks, security and more — creating an inclusive and empowering workplace.
Theirs is a story of inclusion, equal opportunity, dreams and success.
Meet Flipkart's very own Chennai Super Queens!
---
Art & Ability
Vineet Saraiwala is not your typical entrepreneur. An IIM-Bangalore alumnus, he's run 7 half marathons, cycled 5000 km across India, and founded Atypical Advantage – India's largest inclusive platform to generate economic livelihood for people with disabilities. He's also a person with a visual disability.
Much like the tenet he's lived his life by, he believes that it's our abilities that matter. Watch how Vineet, along with Flipkart Samarth, is working to ensure that every artist with disability gets the opportunity they truly deserve.
---
Every year, partners and innovators within the Flipkart ecosystem reach newer heights, communities in need and sectors that are yet to be explored, creating change for the better. To discover more stories like these, click here.