Stay updated on all The Big Billion Days 2022 news. Mark the dates - September 23 to 30, 2022. And refresh your wishlist - because it's time to upgrade!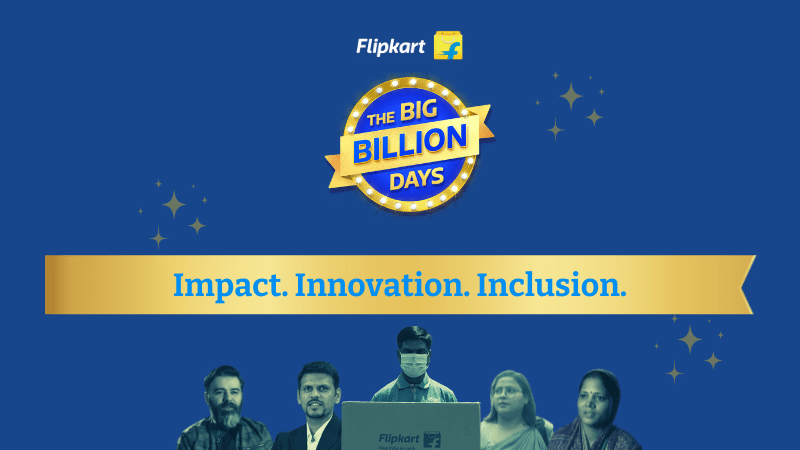 Looking for press releases? Head over to Newsroom 
---
Dressing up India — TBBD 2022 smashes records!
This year's The Big Billion Days(TBBD) sale was bigger than ever before. Records have been broken and new ones set during this year's festive season with Flipkart. When it comes to Fashion, we had a fun time picturing the numbers.
Here are some mind-boggling statistics:
During #TheBigBillionDays 2022, @Flipkart Fashion really dressed India up! Did you know we shipped shoes equivalent in weight to 67 Blue Whales? And sold enough baggage trolleys to make 80 global round trips?

Picture these and more fun facts! pic.twitter.com/kEq1IDolWz

— Flipkart Stories (@FlipkartStories) October 10, 2022
---
It's a wrap!
Flipkart delivers unmatched value for first-time sellers, artisans and kiranas, this Big Billion Days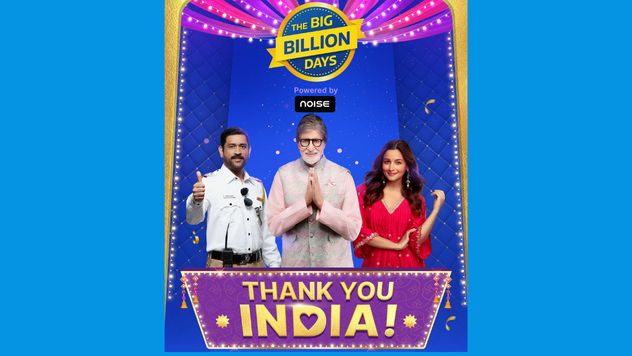 Read the press announcement on Newsroom >>
---
Inclusive commerce with Flipkart Kirana partners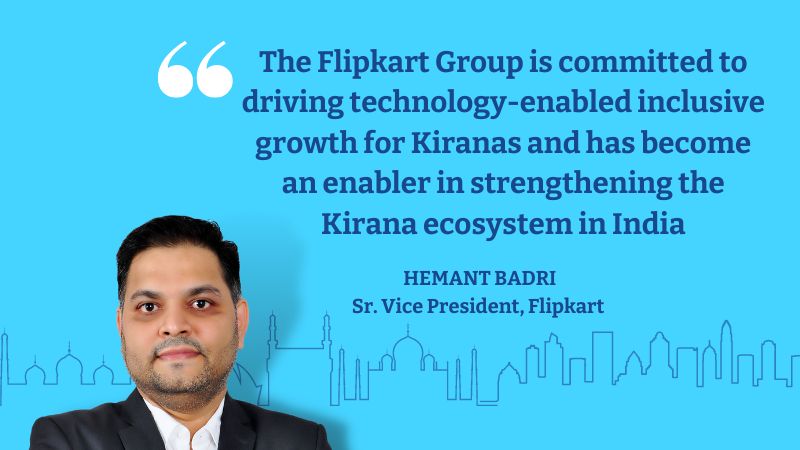 Kirana stores have been the backbone of the Indian retail system for generations. They make their way into stories that grandparents tell us, with nostalgic memories of their monthly groceries being available for a mere few annas – a currency that only a few elders now remember. Kiranas are as much a part of India's retail history, as they are in the present, with stores spread across the biggest of metros and the smallest of villages in India. The Flipkart Kirana program combines the strength of these long-standing institutions with that of modern technology to create inclusive growth for store-owners and access for customers.
Follow the lives of Gaurav, Faizan, Srikanth and Suresh, four of our Kirana partners across India.
---
From farm to fork – The growth story of Flipkart Grocery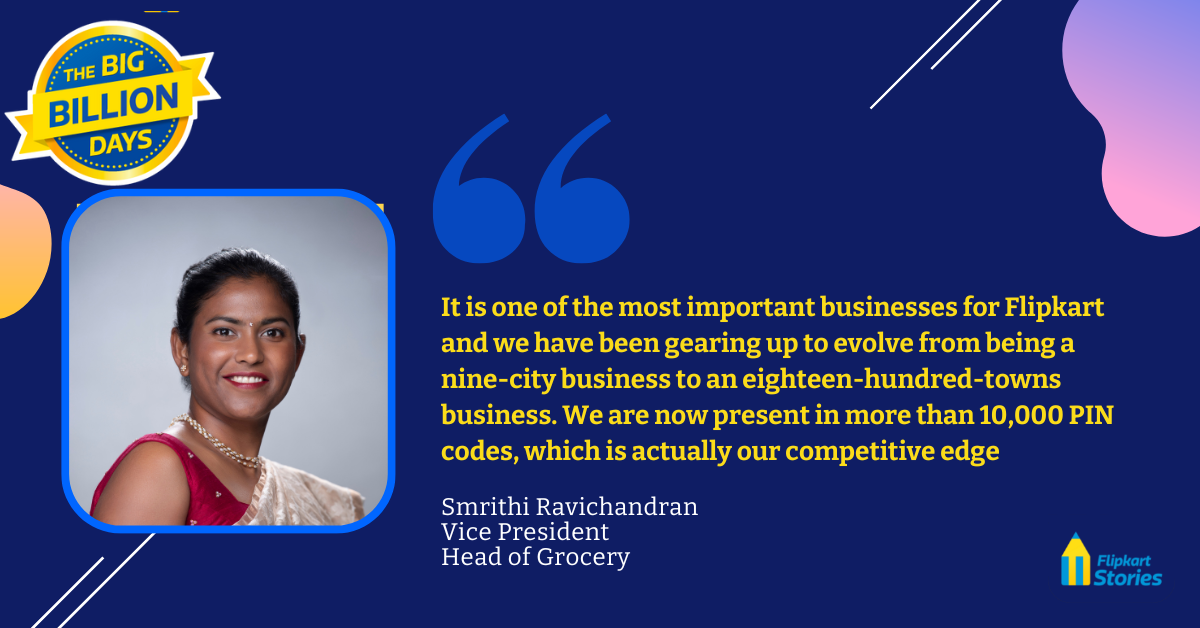 For Flipkart, Grocery is one of the fastest growing businesses, currently serving more than 1,800 cities and 10,000 PIN code areas across India. The category has strengthened its operations over the past two years by establishing fulfillment centers nationwide to meet the growing demand.
As Flipkart Grocery continues to attract consumers from non-metro cities, especially tier-2, tier-3 and smaller markets with our accessibility and affordability features, Smrithi Ravichandran, Vice President, Head of Grocery, shares insights into how the business is creating a positive impact for local farmers, enabling greater inclusivity, and assisting customers in their shopping journey.
"One of the biggest priorities, when we started this business, was to actually build a very resilient and inclusive agribusiness supply chain," she says. "We have accelerated our efforts in the last year and started working with about 300 FPOs across all states in the country, because grocery is a very local business."
More insights in this Q&A. Read >>
---
How Flipkart kirana partner Ranjan Kumar found personal growth
When he lost his father, Ranjan Kumar abandoned his studies and his dreams of joining the Army to take care of his family. Despite the struggles, Ranjan persevered. Today, with his savings from the Flipkart Kirana partner program, he's able to resume his studies, and is daring to dream once again.
"I have learned a lot during my tenure at Flipkart – from managing my responsibilities, engaging with customers to approaching our seniors," he says. "I used to be a very shy person. But I have realized that, over the years, through constant contact with customers and my colleagues too, I have become more vocal. I feel that I express my thoughts better than before."
---
Throwback Thursday – Flipsters share their favorite memories of The Big Billion Days
The festive season in India is synonymous with The Big Billion Days. While the event itself has evolved, the infectious enthusiasm remains as fresh as it was in the first edition. In this episode of Studio 34, Flipsters from diverse roles talk about their favorite TBBD memories, what makes TBBD extra special every single year, and most importantly, what drives them to be a part of one of India's most anticipated events.
---
Leading by example
"In my current role at Flipkart, I take care of 360 degree operations in the hub. I take care of the hub the way my father took care of my family. I look at ways to maximize productivity, budgeting, forecasting, planning, scheduling, and do everything we can to clear the floor and deliver every package."
That's Sharanagouda Chougale narrating his #OneInABillion story, in his own words. Hailing from a small village in Vijayapura, Karnataka, Sharanagouda Chougale is a focused and determined individual who topped every course he ever undertook. He spreads his infectious energy at the Flipkart hub he's in-charge of.
"This is my fifth Big Billion Days sale. Hindus celebrate festivals like Diwali. Christians celebrate Christmas. Muslims celebrate Eid. Similarly, The Big Billion Days is a festival for all of us at Flipkart!"
Be inspired by his story. Read >>
---
All in the family
We use the term 'family business' rather loosely, without being fully aware of its significance. The Flipkart ecosystem comprises sellers, artisans, weavers, craftspersons, women entrepreneurs, self-help groups, people with disabilities, MSMEs, kiranas, farmers and more. Besides being one large family in the sense of looking out for each other, the power of e-commerce to bolster the income of family-owned businesses is immense.
We explore two stories where family is at the core of the drive to excel and succeed.
Couple Goals
"I had never imagined that I would become an owner of a company." When a single income fell short for a family of 4 in New Delhi, Anita decided to start her own business to support her husband. Today, just over 4 years as a #FlipkartSeller, what started as an additional earning meant to keep the family afloat has turned into the main source of income. The unimagined success has even spurred Anita's husband to leave his job and join the family business. "Our family is our success mantra," says Anita. This is their story.
Family First: Flipkart Wishmaster Vivek Kumar finds balance
Vivek Kumar wakes up every day raring to go. Having moved to Patna in search of better opportunities, he doesn't take his goals lightly — he works, studies, and takes care of his young family of four. After signing up as a Flipkart Wishmaster, he says he's already achieved one of his goals — to upgrade from a borrowed bicycle to a motorcycle of his own.
Read his heartwarming story from our #OneInABillion series here >>
---
OTP Fraud – here's what you should know to stay safe
The key to enjoying shopping during The Big Billion Days is to shop safe. To safeguard our customers, we have various measures in place. One-time passwords a.k.a. OTPs safeguard your information during financial transactions, and it is critical to keep them confidential. Here are key practices you can adopt to beat OTP Fraud and ensure a smooth online shopping experience.
OTPs or one-time passwords are an important part of safe and secure online transactions. With OTP fraud on the rise, it's important to be aware and safeguard yourself against such scams. Read this to know more. https://t.co/ZV210Biiih@Flipkart

— Flipkart Stories (@FlipkartStories) September 26, 2022
---
Third edition of 'Crafted by Bharat' celebrates 'Indian Handicrafts'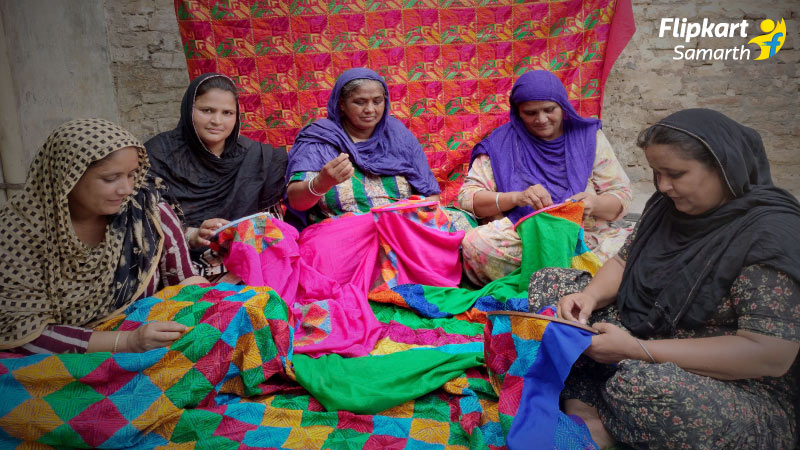 Coinciding with The Big Billion Days 2022, we announced the third edition of the Flipkart Samarth Festive sale event – 'Crafted by Bharat' to be organized over September 26-27, 2022. The two-day event is focused on showcasing a variety of handloom and handicraft products by artisans, weavers and artisans from across the country during the festive season.
Flipkart Samarth positively impacts 1.5 million livelihoods across the country today. Over the last three years, 26 MoUs with Government bodies have been signed under the Flipkart Samarth initiative, including with the Ministry of Housing and Urban Affairs, to collaborate with their DAY-NULM initiative and the Ministry of Rural Development (MoRD) of the Government of India for the Deendayal Antyodaya Yojana – National Rural Livelihood Mission (DAY-NRLM) program.
Flipkart's One District One Product (ODOP) project exhibits products developed by local sellers, artisans, weavers and craftsmen showcasing the indigenous and specialized products and crafts in the state. Earlier this year, UP Government's ODOP products recorded Rs 1,600 crore sales on the Flipkart platform.
---
Flipkart Sellers relate the #MakeInIndia success story
Lakhs of marketplace sellers on the Flipkart platform look forward to The Big Billion Days and the festive season to make their dreams come true. Today, we bring you two heartening stories.
Ikramullah Khan, who retired after 20 years in the Indian Air Force, found a second calling as an entrepreneur, with Flipkart as the wind beneath his wings.
Piyush Agrawal, a first-time entrepreneur from the temple city of Mathura, discovered a market in the city's floating population of pilgrims and devotees, and then took his agarbatti manufacturing business online on Flipkart.
Be inspired by these seller stories. Read >>
---
September 24 
Day 1 roundup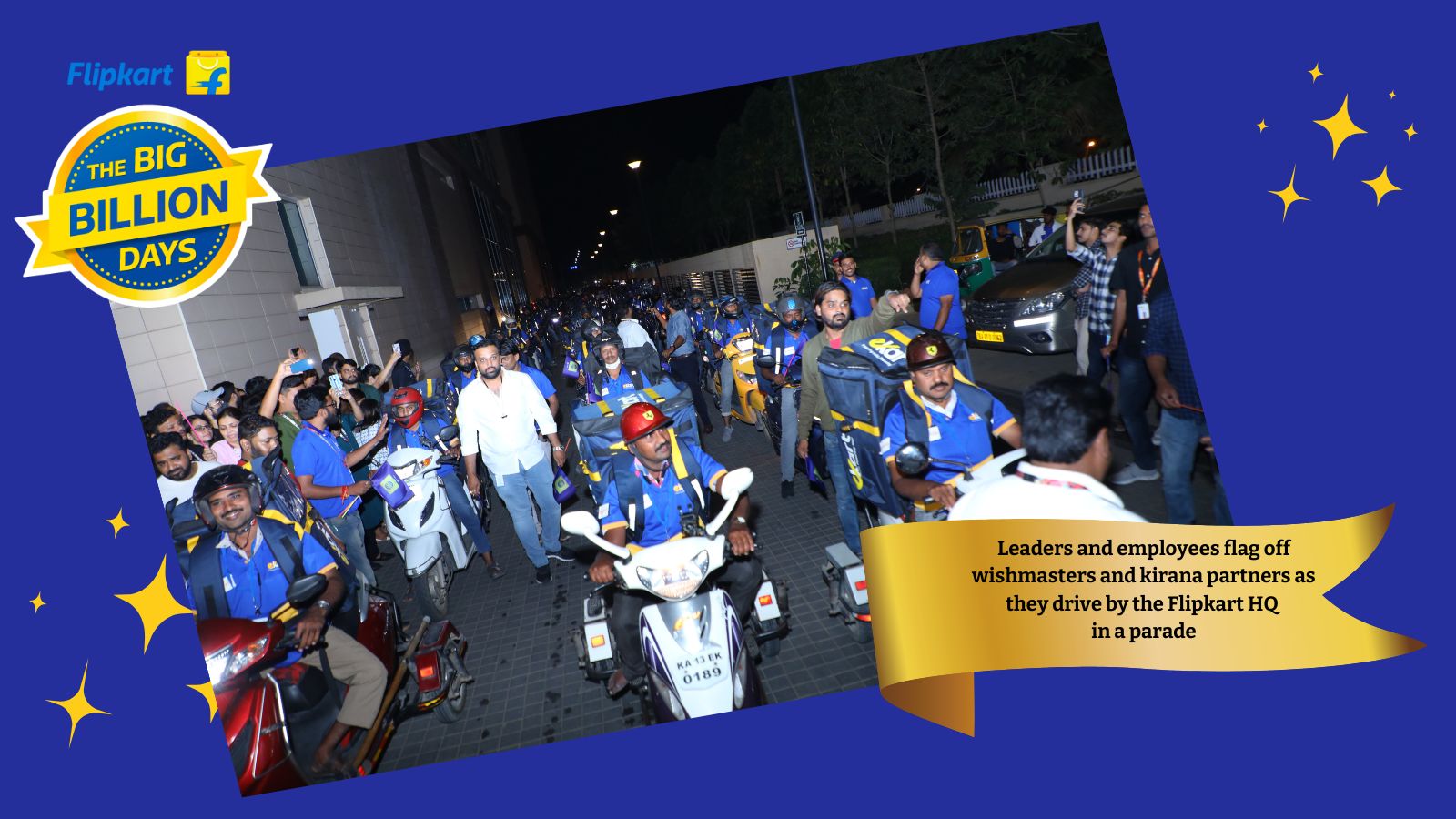 Early access to the ninth edition of The Big Billion Days 2022 kicked off for Flipkart Plus customers at midnight on September 22.
Flipkart leaders interacted with kirana partners and sellers, who were invited to join the celebratory kick-off. A festive atmosphere prevailed at the Flipkart HQ in Bengaluru as leaders flagged off a parade of wishmasters to kick off The Big Billion Days deliveries. At midnight on September 23, the sale opened for all customers.
Delighted to interact with our kirana partners Prajith, Harish and Mohan, as well as our sellers Rajat, Rupesh & Shailaja. The Big Billion Days is truly a festive celebration for India, bringing impact and inclusion powered by @Flipkart innovation! pic.twitter.com/jIru0FYVo9

— Kalyan Krishnamurthy (@_Kalyan_K) September 22, 2022
Highlights:
---
Go Figure: 1.6 million users per second!
Sellers and brands on Flipkart have been able to offer customers the best and widest selection of products during TBBD 2022. Early trends indicate that the overall consumer sentiment towards festive shopping is very positive, with categories such as mobiles, large appliances, fashion, furniture, and home appliances witnessing the greatest interest and demand among buyers.
TBBD 2022 witnessed an unprecedented number of concurrent users on the app – 1.6 million per second. The number of Flipkart Plus customers using Early Access during TBBD 2022 saw a healthy growth as compared to last year's event. The majority of these customers were from Tier-2 cities and beyond, reflecting the e-commerce adoption and Flipkart's growing reach and popularity throughout the country.
The Business Standard has the story. Read  >>
---
One In A Billion – don't miss these stories of the people who power The Big Billion Days!
People have always been at the heart of everything we do at Flipkart. Whether it is our millions of customers across India, or the resourceful, talented people who put in their heart and soul to ensure India always gets what it wishes for. This festive season, we introduce you to just some of the people in our extensive ecosystem who bring their passion to work every single day, and make Flipkart what it is. These are the stories of the individuals who work their magic to make The Big Billion Days a festive season to remember.
Ashu Adhana, Tahaseen, Sajid Usmani, Amit Kumar… their stories form the bedrock upon which The Big Billion Days stand.
Take a moment to read, watch and listen. Each one of them is #OneInABillion! >>
---
September 23
Flipkart Wholesale brings the festive cheer of The Big Billion Days for B2B members
The uniquely curated sale will run from September 23-30, 2022, where kirana members
can avail of exciting deals and offers across a host of categories and products
With the tagline 'Iss SALE Ke Aage Sab Fail', the sale event aims to extend the benefits of TBBD to small retailers and kirana members by giving them an opportunity to save more and increase profits. Through this, members can avail of exciting offers and deals spanning a host of products and categories, including staples, confectionery, beverages and others, depicted through its catchphrase 'Dumdaar Offers Aur Shaandar Daam'.
Read the press release >>
---
September 22
Did you see that? BBD just zipped by!
Chances are, if you commute to work on a Mumbai local, you've already been dazzled by The Big Billion Days 2022 branding. There are more places where this festive artwork will find you. Look out for Flipkart branding, pamphlets and outreach across more than 40 trains including Shatabdi, Rajdhani, Tejas and Vande Bharat along with the Mumbai local network. Those trains sure are fast, but you still have time to shop your heart out!
If you commute to work by a Mumbai local train, chances are you've already been dazzled by #TheBigBillionDays2022 branding. Look out for @Flipkart pamphlets & outreach across 40+ trains including Shatabdi, Rajdhani, Tejas & Vande Bharat! pic.twitter.com/XPKYAWybFU

— Flipkart Stories (@FlipkartStories) September 22, 2022
---
2015 – Remember the time?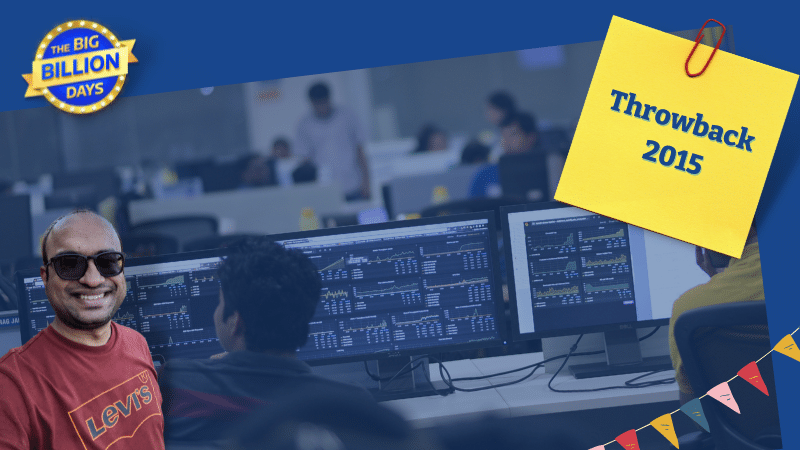 On October 6, 2014, a seven-year-old startup waged a big bet. Flipkart's first-ever Big Billion Day broke news, the internet, and the country's supply chain infrastructure. The single-day festive sale event that Flipkart pioneered in India, and which media commentators compared to Black Friday in the US, was remembered for having made e-commerce history, besides setting the bar way up high for online sale events in India. The next year, in 2015, Flipkart geared up for a rinse-and-repeat, this time spreading the sale event over five days, from October 6 to 12.
In this feverishly penned insider's memoir, a Flipster about to celebrate his ninth TBBD describes the excitement, anxiety and exhilaration that gripped a sleep-deprived, adrenalin-addled startup that was all set to repeat, and rewrite, history.
Who doesn't love throwbacks? Read >>
---
September 21
Shiny, App-y – Inclusive tech to bridge India and Bharat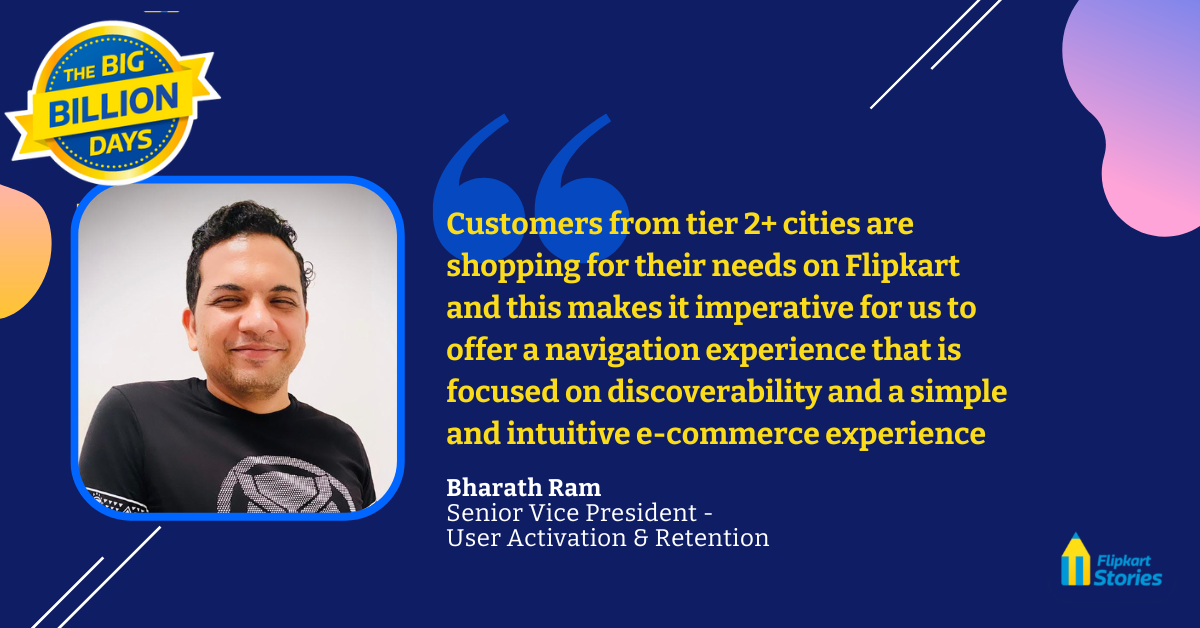 Ahead of The Big Billion Days, you'll see that your shopping experience has undergone a total revamp. Fire up the new, improved Flipkart app, and you'll notice a slick new interface that's cleaner, clearer, and better organized than ever. If you were one who grumbled about the clutter, you can be sure your complaints have been well received, and attended to. After all, the new app experience was dreamed up after hours of listening to customer feedback, and taking it all back to the drawing board to be reengineered, pixel by pixel.

Bharath Ram, Senior Vice President – User Activation and Retention, believes that the new features aim to bridge the accessibility gap between India (read metros, big cities and towns) and Bharat (the hinterland comprising small towns and villages). In this Q&A, he shares insights on the inclusive technology set to redefine the shopping experience for Flipkart customers.
---
This is what festive cheer looks like!
A revamped app experience. Lakhs of sellers onboarded. An inclusive ecosystem orchestration that brings together Kiranas, MSMEs, and the best of brands to deliver India's most-awaited festival. That's what is brewing at Flipkart as the ninth edition of The Big Billion Days kicks off.
For us at Flipkart, The Big Billion Days is a celebration of Impact, Innovation and Inclusion. It is a festival that brings together lakhs of Indians comprising MSMEs, women entrepreneurs, sellers, craftpersons, self-help groups, artisans, farmers, empowering them with pan-India market access, and connecting India and Bharat through our technology-enabled supply chain. Enjoy this film!
You must have seen the commercials. Alia, Dhoni and the inimitable Big B are ringing in the festive season, bringing the best of The Big Billion Days 2022 to you, whatever your screen size.
So, what are you missing if you plan to go AWOL during TBBD 2022?
Here are the highlights:
When we say #FlipkartForIndia, we mean it! The new @Flipkart app ensures a seamless experience for every Indian. From language interface, to image & voice search, brand mall & more, the #InclusiveTech removes barriers, making it an intuitive e-commerce experience for all. pic.twitter.com/bepXcwoTiN

— Flipkart Stories (@FlipkartStories) September 23, 2022
Get cracking on updating your wishlist… it's time to upgrade!
---
Watch this space for more news updates every day during The Big Billion Days 2022