Stay updated on all the news from The Big Billion Days 2021. Mark the dates – October 3 to 10, 2021.  Looking for press releases? Head over to Newsroom  October 10 The Big Billion Days brings lakhs of sellers, MSMEs and kiranas closer to consumers s The Big Billion Days 2021 draws to a close, […]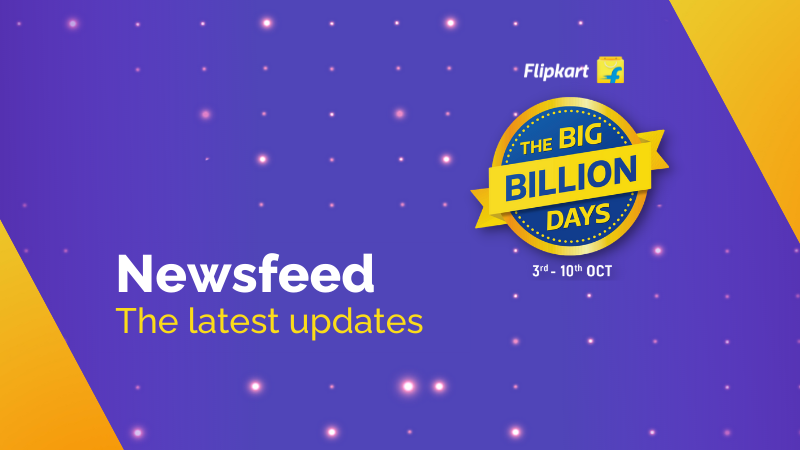 Stay updated on all the news from The Big Billion Days 2021. Mark the dates – October 3 to 10, 2021. 
Looking for press releases? Head over to Newsroom 
---
October 10
The Big Billion Days brings lakhs of sellers, MSMEs and kiranas closer to consumers
As The Big Billion Days 2021 draws to a close, India has witnessed renewed growth for sellers, kiranas and MSMEs. The consumer response has demonstrated the growing adoption of e-commerce, driven by purchases of a wide range of products, increased convenience and user-friendly technology, and financial constructs. The 2021 editon of The Big Billion Days drove robust growth opportunities for sellers and MSMEs, and enabled better income and livelihoods for Flipkart's Wishmasters and supply chain partners, including Kiranas.
With 1.3 times the number of transacting sellers this year, consisting of MSMEs, artisans, weavers, and craftsmen, more than 10% of them witnessed a 3X growth in sales this year. There were more than 55% new sellers this TBBD, with 57% hailing from Tier-2, Tier-3, and smaller cities and towns such as Jaipur, Surat, Howrah, Tirupur and Panipat, among others.
There was a significant increase in customer satisfaction with same day deliveries across thousands of pincodes. In a significant effort to augment their income, Flipkart aims to make over 30 million deliveries through kirana delivery partners this festive season.
During the Big Billion Days 2020, top artisans and weaver partners from Flipkart Samarth witnessed a growth of 6X compared to TBBD 2020. The Samarth initiative, initiated in 2019, aims to uplift and embrace India's artisans, weavers and micro-enterprises into the e-commerce fold. The most popular Samarath products were from categories like Home Decor (showpieces), Natural Beauty products (shampoos, moisturisers), and Women Ethnicwear (sarees).
Key takeaways
The most popular purchases over the course of the Big Billion Days so far, are across lifestyle, electronics, books and general merchandise, home and mobiles
The number of premium smartphones sold during the Big Billion Days has doubled from TBBD 2020. From this, 41.78% of premium smartphones were purchased by customers in Tier 3 cities. Every 1 in 5 smartphones sold this TBBD was 5G-enabled.
Customers purchased lifestyle products from over 44,000 unique brands this TBBD, reflecting a positive sentiment towards stepping out and upgrading fashion wardrobes
While buying large appliances, about a fifth of all customers opted for an affordability payment construct
In the consumer electronics segment, smart watches and Fitness bands saw a 100% jump from last year, marking a clear shift towards smart wearables
The grocery and hyperlocal segments continued to address growing needs, as consumers from across the country shopped for their daily requirements online
With gardening becoming one of the most-pursued hobbies, Home Improvement Tools, especially Gardening tools, have seen a sharp rise in interest. The Home Improvement category grew by about 80% year on year. Work from home also continues to boost demand for furniture and mattresses in this edition of TBBD.
Driving affordable access
Innovative and bespoke financial constructs such as Flipkart Pay Later, no-cost EMI, the Flipkart Axis Bank co-branded credit card, and others enabled consumers in buying their products of choice. Accessibility was also a key catalyst, with the entire product range available across all pin codes. The anticipation for TBBD was evident as millions of customers pre-booked products just prior to Early Access by paying just Re.1.
---
Horn OK Please! These Star Truckers are bringing your festive shopping to your doorstep!
We waited till the final day of The Big Billion Days 2021 sale to bring you this warm-hearted and uplifting message from our trucking partners, recorded well before the festive sale got underway. From Bengaluru to Kochi, across Odisha and Gujarat, speaking every language from Odia and Kannada to Gujarati and Malayalam, more than 8,000 trucks across over 370 transport partners are on the road as you read this, carrying your precious festive orders. It takes some of India's largest trucking fleets to ferry orders across the length and breadth of the country, through rain and shine, across highways and past toll booths, through narrow bylanes and weaving through crowded streets to deliver a smile to your face. On time!
Cheer on our trucking partners. Record a video message for them and tag @FlipkartStories on Twitter or Instagram. We'll pass it on. Make a trucking partner's day just like they've made yours.
---
Get the picture? A snapshot of Flipkart impact in three infographics
The Big Billion Days are a great time to celebrate and reflect on the scale, reach and impact of the commerce ecosystem that Flipkart catalyses and orchestrates. Take a look at three aspects of the Flipkart experience in infographics — Flipkart in regional languages, our Sustainability promise, and the Flipkart Samarth footprint. ICYMI, these were also posted on our very busy social media feeds.
We speak your language! 
Striving to create an online shopping experience that is truly inclusive and accessible. Earlier this year, we introduced the Flipkart experience in several Indian regional languages on the Flipkart app to bridge language barriers and ease e-commerce adoption for millions of Indians. Take a look at these insights.
Every step towards Sustainability
At Flipkart, we advocate, support, and action sustainability initiatives to protect our environment and safeguard the future. Putting our responsibility towards sustainability first, this is the road so far in our journey this year.
The Flipkart Samarth impact
All through The Big Billion Days, we have shared a number of stories about the reach and impact of our Flipkart Samarth program. Launched in 2019, Flipkart Samarth seeks to empower artisans, weavers and micro-entrepreneurs through the power of e-commerce. Two years down the road, the program continues to fuel growth and these numbers tell a special story.
---
Support the artisans of India by buying their work on the Flipkart Samarth store
Initiated in 2019, the Flipkart Samarth program aims to empower India's under-served artisans, weavers, craftspersons and small businesses to tap the benefits of e-commerce by enabling market access and insights through technology.  Through a number of MoUs signed with state boards and government bodies, the Samarth program has on-boarded Self Help Groups and cooperatives to bring the crafts of India's talented artisans to the mainstream.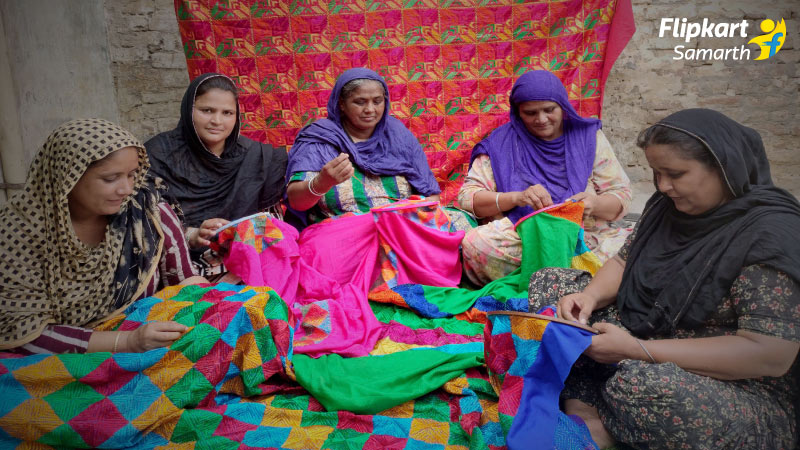 When the pandemic led to a near-complete halt in sales and incomes of Punjab's women artisans, the self-help groups they belonged to turned to e-commerce. With training, multiple benefits, and an introduction to the world of online business, the women are optimistic that their handmade and original designs will receive the recognition they deserve and lead to better lives and days ahead.
The National Bank for Agriculture and Rural Development (NABARD), which primarily provides support to Farmer Producer Organizations (FPOs), also supports and promotes Self Help Groups (SHGs), enabling rural women to become financially independent entrepreneurs through skill development training, and exposure visits among other interventions. NABARD and Flipkart have worked together to on-board SHG products on the online store to give a wider market and remunerative prices for products crafted by women in these groups.
From Warangal, Telangana, to Kullu, Himachal Pradesh, lakhs of artisans have been working through generations to create and preserve India's complex and centuries-old artforms. The Housing and Urban Affairs Ministry's Deendayal Antyodaya Yojana – National Urban Livelihoods Mission (DAY-NULM) enables these artisans and urban poor women in this mission by helping them gain access to emerging market opportunities. In January 2020, NULM joined hands with Flipkart to further empower skilled workers and artisans by bringing them into the e-commerce fold.
As part of the Flipkart Samarth-NULM partnership, scores of artisans and craftspersons across India have been eagerly awaiting The Big Billion Days to showcase their products and ensure sales to support their craft.
Read this story to take a virtual trip to these artisans' hometowns and trace the making of your #ArtFormsOfIndia products from the artisans themselves, and be sure to support them this festive season on Flipkart.
The Tribal Cooperative Marketing Development Federation of India (TRIFED), administered by the Ministry of Tribal Affairs, was established in 1987 to promote tribal art and craft and handlooms. Responsible for promoting and marketing products made by tribal craftsmen across the country, it impacts close to 3,50,000 tribal people in India. The apex body markets its range of exclusive handlooms and handicrafts under the Tribes India brand.
In 2020, Tribes India partnered with Flipkart Samarth to bring these products on an online platform, giving the art and craft, steeped in tradition, a modern market of over 350 million customers across India.
The Gujarat State Handloom & Handicrafts Development Corporation Ltd., (GSHHDC) is an undertaking by the state government of Gujarat which aims to identify, revive, develop and promote these artforms and artisanal products. In 2020, Flipkart signed a Memorandum of Understanding (MoU) with the GSHHDC to bring the products sold under its Garvi Gurjari chain of stores to the e-commerce fold. Read this article to learn more about the vibrant crafts of Gujarat that you can buy on Flipkart.
The initiative is one of the many partnerships undertaken by Flipkart Samarth, offering cataloging support, training sessions, advertising credits and more, enabling smoother integration and equity to underserved sections. This Big Billion Days, artisans and weavers who are part of the program have curated a special line of products under the theme 'Artforms of India'. Peek into the art and soul of India through their meaningful and heritage-rich work, and support the artisans directly on Flipkart this festive season.
---
In Lucknow, a traditional family business adapts to e-commerce with Flipkart Samarth
This is the story of a traditional family business of Ayurvedic products, Meghdoot Herbal, run by Vimal Shukla and his sons Vipul and Vishwas. The business ran into challenges when the pandemic struck in 2020 and their staff stopped coming to work. Having been part of Uttar Pradesh Khadi and Village Industries Board (UPKVIB), with whom Flipkart Samarth signed an MoU, they became beneficiaries of Seller Support during the pandemic. Not only did they find a way to support their workforce, they relied on the strategic counsel of their Flipkart account managers and innovated to start manufacturing sanitisers, a highly sought-after essential item that flew rapidly off the shelves and helped revive business and revenues.
---
Shopsy sees 16X growth in first 4 days of The Big Billion Days 2021
Shopping has gone goes social during The Big Billion Days 2021 as sellers, resellers and consumers flock to Shopsy. Flipkart's social commerce offering has witnessed immense response from sellers, resellers and consumers across the country, with the platform already observing 40X growth since launch. Within 100 days since it was launched, Shopsy has amassed over 2.5 lakh sellers, 51 lakh users, and a catalogue of over 150 million products.
Welcoming consumers to shop and earn on the platform, Shopsy has already witnessed 16X growth in the first 4 days of The Big Billion Days festive event. During this period alone, the platform has seen 35X growth of the pre-festive daily average.
Prakash Sikaria, Senior Vice President – Growth and Monetization, Flipkart, said, "With Shopsy, our effort has been to give consumers across the country an opportunity to do a lot more with their commerce experience. By bringing in opportunities to shop and earn , we have been able to make commerce social for all. Flipkart Group's best in class locally developed technology, resilient supply chain, and deep consumer understanding has enabled Shopsy to scale as the leading social commerce platform within 100 days of its launch. We are seeing interesting trends with Shopsy, sellers and entrepreneurs that shied away from e-commerce are now able to overcome trust barriers and engage more deeply with the digital economy. We continue to stay focused on solving pain points for entrepreneurs and sellers along with delivering technology that makes their business journey convenient."
Users who turned entrepreneurs this festive season on Shopsy, witnessed an average earnings growth of upto 30X this festive period. Some of the top user categories include fashion, home and mobiles categories, amongst others. Resellers from Tier 2, Tier 3 cities such as Vadodara, Guntur, Agra onboarded Shopsy to start their entrepreneurial journey this festive season.
Shopsy recently launched its brand campaign #HarBuyPeKamai envisioned to bring alive Shopsy's value proposition to consumers on 'Shop and Earn'.The campaign takes a departure from conventional ecommerce focus on end consumers, instead tries to attract key opinion leader or an 'influencer' who is often consulted by their near and dear ones on recommendations on what to buy.
Leveraging their local network, Shopsy influencers are able to share catalogues of a wide selection of 150 million products offered by over 2.5 Lakh sellers through social media and communication apps. Providing access to its catalogue and full stack e-commerce services over simplified social media interface, Flipkart believes it can democratize commerce and can disrupt the emerging social commerce landscape.
---
A canvas of change in Odisha's Raghurajpur
The picturesque heritage village of Raghurajpur in Odisha's Puri district is famed for its unique array of crafts like Talapatra and Pattachitra among many others. Fringed by coconut palms and criss-crossed with streets lined with tiled roofed houses, this unique artists' village lives and breathes art, being home to artisans who carry on a vibrant family tradition hundreds of years in vintage. Dependent on income from tourism for their livelihoods, the artisans of Raghurajpur braced with anxiety for an uncertain future when the COVID-19 pandemic put a halt to tourist footfalls. Even as the administration intervened to help the artists, their partnership with Flipkart, through the flagship Flipkart Samarth program, that opened up online market access and fresh avenues of income for these gifted artisans.
Watch the video to know their story.
---
October 5, 2021
Flipkart Wholesale brings festive cheers to kiranas and retailers as it hosts The Big Billion Days
● Retailers in over 10,000 plus PIN codes across 24 states and union territories to enjoy upto 85% increased profit margins on over 5 lakh listings across Fashion, Grocery and General Merchandise
● Flipkart Wholesale members to benefit from up to 14 days of interest-free credit with line limits ranging from ₹10k to ₹25 lacs in partnership with Banks and Fintech lenders
Millions of retailers, kiranas and small businesses in the country are excited at the onset of the Flipkart Group's The Big Billion Days sale. At Best Price cash-and-carry stores and on Flipkart Wholesale across 24 states and Union Territories in the country, the sale features attractive offers to more than 1.5 million kiranas, who can choose from a wide selection of products ranging from over 4 lakh listings in Fashion, 13,500 in Grocery, and 25,000 products in General Merchandise. This Big Billion Days, kiranas and retailers can avail higher margin gains, in return passing on benefits to end consumers.
#News: @FlipkartW brings festive cheers to kiranas and retailers as it hosts The #BigBillionDays

• Retailers in over 10,000 plus PIN codes across 24 states & UTs to enjoy upto 85% increased profit margins

Read more https://t.co/bE4F28Alxa @Flipkart @FlipkartSellers pic.twitter.com/wP6SHV5LeA

— Flipkart Stories (@FlipkartStories) October 5, 2021
Best Price members can walk into Best Price stores or order conveniently from the Flipkart Wholesale app, and avail best deals on a varied assortment of high-quality products across categories such as packaged food, home care, personal care, fashion, grocery and general merchandise.
---
In Conversation – Flipkart Sellers share why The Big Billion Days moves the needle on market access and growth
From brands seeking to penetrate emerging markets to MSMEs seeking broader market access via e-commerce, sellers pin optimism on #BigBillionDays. This festive season, they hope to flip over the pandemic slump.
Rajneesh Kumar, Chief Corporate Affairs Officer, Flipkart Group, interacted with Flipkart sellers in Bengaluru ahead of the launch of The Big Billion Days. Speaking with Bengaluru-based Flipkart sellers Raju Lunawath, proprietor of Amazestore, and entrepreneur Smita Kulkarni, founder of StoneSoup, he inquired about their journey with Flipkart and their expectations of the festive season sale.
In a conversation peppered with insight and anticipation, Flipkart Sellers Smita Kulkarni (Co-founder, @StoneSoup_in) and Raju Lunawath (proprietor, Amazestore) speak to @rajneeeshkumar Chief Corporate Affairs Officer, @Flipkart Group about the excitement of #BigBillionDays. pic.twitter.com/k3ljJ2n812

— Flipkart Stories (@FlipkartStories) October 4, 2021
Raju, who inherited his traditional family business, realised the value of taking it online on Flipkart with his father's blessings more than five years ago. Today, his success makes him a poster-boy of e-commerce. Smita's company StoneSoup joined hands with Flipkart as a Flipkart Samarth partner, and lists products like compost kits, and feminine hygiene products like menstrual cups and reusable cloth sanitary pads on the platform.
While Raju counts on key market insights from his account manager to plan for volume-driven sales, the success of Smita's StoneSoup hinges on the right positioning to the right audience.
---
Industry leaders cheer the #PowerOfPartnership with Flipkart
The power to cater to growing consumer needs, bring about innovation, become a trailblazer, and ignite the spirit of entrepreneurship is often unlocked through an ecosystem buoyed by strong partnerships.
Flipkart's The Big Billion Days is a celebration of these very partnerships, which enable brands to reach customers across India, all while unlocking value and quality. It's a collaboration that benefits an entire ecosystem of customers, sellers, brand partners, MSMEs, artisans, and much more.
This festive season, hear from top industry leaders and doyens of entrepreneurship from beloved Indian and global brands as they dive into The Big Billion Days sale. Whether it's unique collaborations, new launches, or relationships that go back years, here's their take on how partnering with Flipkart has created value for all.
---
For fans of cricket and KL Rahul, it's a 1DER-ful world this Big Billion Days
For KL Rahul, the man who radiates elegance and style both on the pitch and off it, 1DER by PUMA is simply an extension of his personality. The athleisure collection, comprising hoodies, sneakers, sweatpants, flip-flops, and so much more, captures cricketer KL Rahul's love for all things fashionable and street. He is, in the words of the legendary Sunil Gavaskar, "the next big thing in Indian cricket," and thanks to the power of partnership, you can be part of his world during The Big Billion Days 2021.
"I always wanted to do something like this, and it's always been a dream of mine," says the swashbuckling cricketer. "So when PUMA and Flipkart approached me to launch my own collection, I was thrilled! Then I sat down and wondered what it would be like. That's how 1DER came into existence."
While many athletes would identify themselves with performance clothing, this batsman sided with streetwear. "I am not the typical athlete," confides KL Rahul. "I love streetwear; it breaks all the stereotypical boundaries of fashion and makes you comfortable and stylish at the same time. You can be laid back yet make a statement with what you are wearing. That's how you will see me dressed off the pitch and that's why this collection draws a lot of inspiration from streetwear."
1DER by PUMA includes a wide array of apparel and footwear for men, priced in the range of ₹1,499 to ₹4,999. "We curated this range, a complete interpretation of his personality, which is cool and chill," reveals Abhishek Ganguly, MD PUMA India & Southeast Asia.
"With 1DER, we will continue to bridge the gap between metros and Tier 2+ regions, where people seek the best of current fashion trends but suffer from limited access in terms of selection, range and affordability," reveals Nishit Garg, Vice President – Flipkart Fashion.
---
News Wrap – October 3
Big Billion Days 2021 brings unprecedented opportunities for MSMEs & Kiranas and delivers unmatched value to customers
Upbeat consumer sentiment and robust seller participation give positive indications of sustained consumption in the year ahead
Opportunities for new sellers from 124 new cities/towns, including Hingna, Baghpat, Attingal, Sambhal and Dewa, among others
More than 100,000 Kiranas are part of this festive event as last-mile delivery partners
Cities such as Patna, Lucknow and Vizag led the customer demand alongside top metros with nearly half of all orders coming from tier-3 and beyond cities, in a continuation of last year's trend with smaller towns leading the adoption of e-commerce
Categories like mobiles, electronics, large appliances, lifestyle, BGM and home witness the highest demand
---
Humans Of BBD – Meet the people who bring you the joy of India's most-loved festive sale
Hard work, excitement, preparation, unfaltering attention to detail, and passion to keep Flipkart's customer promise — these #HumansOfBBD do everything to make The Big Billion Days truly special. Some have stepped up to support their families in troubling times. Others have faced adversities in life like never before. But they share one thing in common: A passion and desire to push themselves and achieve things they previously considered impossible. From overcoming life's many challenges to finding independence, each of these individuals have stories of courage, resilience and determination.
In Port Blair, Andaman & Nicobar Islands, wishmaster Joy David dreams of being a musician, making time to practice riffs on his electric guitar. Pursuing a bachelor's degree in sociology, he delivers products to Flipkart customers on the island. Menaka S lost her husband to a tragic road accident. Just as she picked up the pieces of her life and opened her beauty parlour, the pandemic put paid to her plans. Battling anxiety and depression, she refused to give up or give in. Today, she is a Flipkart wishmaster in Mysuru. When the pandemic cost Geeta Sharma her job in the Bollywood film industry, she returned to her family in New Delhi and found a job with Flipkart as a wishmaster to provide for her children. When trucking partner Nawaz Pasha took over his father's business in 2005, he and his brother inherited a fleet of ten trucks. When e-commerce boomed and spurred the growth of the trucking industry, Nawaz began to partner with Flipkart. Today, he has a fleet of 200 vehicles.
Read their stories and find out what makes the Big Billion Days a festival of humanity.
---
Sunday listening – Audio Stories by Studio 34
The Big Billion Days 2021 has cranked up the festive season spirit. While many of us may miss the physical bustle and on-ground action of the sale, voices from across the ecosystem are breathing life into the festivities. These are the dramatis personae that bring verve and action to the stage of India's most exciting festive shopping event. It has taken months of preparation for artisans, craftspersons, account managers, product managers, brand leaders, wishmasters and kirana partners to contribute their mite.
Listen to their stories in these bite-size podcast episodes, specially compiled for your listening pleasure. This is the soundscape of commerce in India!
---
Your next order may be delivered by a Flipkart kirana partner!
The festive season presents an excellent opportunity for Flipkart's kirana delivery partners to supplement their income and fulfil their aspirations, while ensuring that Flipkart customers get their much-awaited orders on time. Come October, many of these small business owners will start their day early while their family members take charge of their stores while they are out delivering orders.
By a conservative estimate, India has more than 12 million kirana stores. These small neighborhood stores are closely integrated with the communities and locales in which they operate. In description, they range from provision and general stores, mom-and-pop stores, tailor shops, stationery shops, etc.
Flipkart's kirana partner program was initiated in 2019. In the past year, partnering with Flipkart has contributed to an average increase of 30% in their monthly earnings.
Got a first hand opportunity to meet our #Kirana partners who have been part of #ecommerce ecosystem as part of @Flipkart last-mile Kirana partnership program; Proud to see how this initiative is helping achieve their cherished dreams. @PMOIndia @CimGOI @nsitharaman @amitabhk87 pic.twitter.com/Ve1gWacBg7

— Rajneesh Kumar (@rajneeeshkumar) October 2, 2021
Doorstep deliveries to customers have been one of the most successful kirana programs, observed Rajneesh Kumar, Chief Corporate Affairs Officer, Flipkart Group, following his interactions with these kirana partners in Bengaluru on the eve of the Big Billion Days 2021. He spoke to a number of kirana delivery partners including Somasekhar Reddy, Prasad and Suresh about their experience with the program and learned how it has brought prosperity to them and also helped them upskill themselves digitally.
Your next order may be delivered by a kirana partner. Look out for a familiar face and be sure to return the smile behind the mask!
---
It's more festive when you shop sustainably!
Flipkart is going plastic-free for the delivery of millions of packages along with deploying over 2,000 electric vehicles in our delivery fleet prior to the festive season and The Big Billion Days 2021. After successfully eliminating single-use plastic in our own supply chain in July this year, more than 75% of Flipkart's seller-fulfilled shipments are now being processed in sustainable packaging, marking a 20x increase over July 2020 and covering more than 70 facilities across India.
Featured Coverage: ET | Outlook | Business Standard
---
Powering up kirana delivery for Big Billion Days 2021
At Flipkart, we have strengthened our 'Kirana Delivery Program', which helps onboard local general trade stores as delivery partners. This festive season, the Kirana delivery program has on-boarded more than 100,000 Kirana partners from across the country that will deliver millions of shipments during the festive season beginning with The Big Billion Days 2021.
Last year, more than 10 million deliveries were made by specially trained Kirana partners across the country during the festive season. Flipkart started the program to help local stores and shops get on board as delivery partners in 2019, and since then, has invested consistently to get these businesses ready for making deliveries. Flipkart has a dedicated team as part of this ongoing partnership that helps the Kiranas with knowledge, expertise, experience and technology to make millions of deliveries seamlessly.
With a 100,000 strong Kirana delivery network which doubled from last year, Flipkart is further strengthening its last-mile network and reach, especially in PIN codes and towns that are difficult to reach and creating opportunities for digital upskilling as well as additional income for kiranas.
This festive season sees participation of Kiranas from regions including Khammam (Telangana), Bareilly (Uttar Pradesh) and Junagarh (Odisha), to name a few, as consumers seek safe and timely deliveries through e-commerce.
---
A new series of Nokia branded Smart Products, ahead of The Big Billion Days 2021
The Big Billion Days 2021 will be made extra special for shoppers looking to bring home feature-rich branded electronic appliances. Look out for the new range of Nokia Smart TVs, powered by the latest Android 11 with HD, Full HD and Ultra HD 4K variants, and the Nokia PureBook S14 with Windows 11 out of the box. Nokia Smart TVs are packed with rich features and powerful sound quality, while the laptops address remote working and learning needs.
Ajay Veer Yadav, Senior Vice President – Mobiles, Electronics and Large Appliances, Flipkart, said, "Our product offerings and expansion plans pay close attention to customer feedback. Over the past year, there has been a surge in customer interest around laptops and smart TVs with theater-like experiences at home and hybrid work environments shaping societal needs. We are thrilled to enhance our partnership with Nokia to offer our customers several industry-firsts, and an extensive product lineup during the upcoming festive season."
Vipul Mehrotra, Vice President, Nokia Brand Partnerships, said, "We are excited to see the new Nokia branded smart TVs and laptops by Flipkart showcase the very latest sound and screen innovation, in response to people's evolving needs. Our aim, along with our partners, is for technology to work for people, enhancing daily lives through new possibilities and experiences."
Flipkart is also expanding the Nokia audio product portfolio with four new products, including a first generation of Nokia Headsets with model T4010 and three True Wireless Earphones with models T3030, T3010 and T3020. The Nokia Headset T4010 is now live on the platform while the TWS range will be available from October. Nokia TWS headsets will be available on Flipkart with prices starting from ₹1,499. With this addition, the Nokia brand is now present across Televisions, Laptops, Audio devices and Air Conditioners in India.
The Nokia Smart TV range with the latest Android 11 and the new Laptop range will be available from 3rd October 2021 during Flipkart's annual festive sale event as part of 'The Big Billion Days Specials' – a unique line of special products curated in partnership with leading brands across various categories.
Featured Coverage: Business Today | The Indian Express | NDTV Gadgets
---
4.2 lakh sellers & MSMEs to do business on Flipkart by December 2021
Flipkart continues to strengthen its seller base and is on-track to add 1.2 lakh new sellers to the Flipkart marketplace platform by December 2021. Flipkart has already onboarded around 75,000 sellers on its platform over the last few months as MSMEs and small business entrepreneurs continue to be enthused by the potential of e-commerce ahead of the festive season.
Currently, the Flipkart Marketplace supports digital commerce for 3.75 lakh sellers and is steadily working towards taking this number to 4.2 lakh sellers on its platform by the year end. Since the pandemic, the Flipkart marketplace has seen an encouraging response from MSMEs who want to take their business online with e-commerce. The new sellers and MSME base predominantly come from Tier 2 and 3 markets such as Agra, Indore, Jaipur, Panipat, Rajkot, Surat, and many others. The Flipkart marketplace platform has also witnessed the rise in categories such as General Merchandise, Home and Kitchen, and Personal Care.
Each of these 1.2 lakh new sellers has the potential to generate additional 4 lakh direct and indirect jobs in the ecosystem, unlocking the potential of e-commerce as a sector contributing to economic growth. To support the business continuity and growth of these sellers during the festive season, Flipkart has enabled a next-day payment program that allows sellers to receive their order payments within a day. Sellers can avail of a 30-day free trial on this program. Should the seller choose to continue availing the program beyond this period, a nominal transaction fee will be applicable for the extended period. This construct allows a continuous flow of working capital for the sellers, many of whom face financial challenges that hinder their business growth.
---
Building capacity – Flipkart's festive season supply chain expansion across India
E-commerce has been a pandemic helpline for millions of Indians, playing a vital role in reviving businesses and helping sellers strengthen their economic recovery, delivering products to customers in a safe and sanitised manner, and creating a multiplier effect on local job creation.
The investments from Flipkart for the festive season will further augment these benefits for the entire ecosystem. Through the year, Flipkart has incrementally strengthened and expanded its supply chain across the country. The expansion has been ramped up in the run-up to The Big Billion Days 2021 and the festive season to cater to the growing needs of millions of consumers coming online and to support market access for lakhs of MSMEs, sellers, artisans, and kiranas.
Towards this effort, Flipkart has added 66 new large-scale fulfillment and sortation centers across the country in the states of Assam, Chhattisgarh, Gujarat, Haryana, Karnataka, Maharashtra, Odisha, Punjab, Rajasthan, Tamil Nadu, Telangana, and West Bengal.
Further, Flipkart has strengthened its last-mile reach with the addition of more than 1,000 new delivery hubs (DH) across the country. The complexity and scale of the Big Billion Days require investments for capacity, storage, sorting, packaging, human resources, training, and delivery, which helps generate additional employment during the festive season.
Flipkart has also strengthened the partnership with Kiranas as part of its 'last-mile delivery partnership' program and enabled them to become part of the technology-enabled digital ecosystem. This year, Flipkart is creating direct seasonal employment for more than 1,15,000 people of which 15% are women and people with disabilities.
Key Supply Chain expansion efforts for 2021
More than 100 facilities added from brand partners to help customers get faster deliveries
The alternate delivery method of Kiranas as delivery partners strengthened with 1,00,000 Kirana partners
Working with many third-party logistics partners across the country to create faster deliveries while creating indirect job opportunities
Servicing customers across 17,700 pin codes through Jeeves with more than 8,000 trained service technicians for mobiles, large appliances, furniture, and IT peripherals
---
Flipkart Pay Later brings festive cheer to consumers with additional benefits on EMI offerings
As the festive shopping season draws near with The Big Billion Days 2021, Flipkart has extended benefits on its 'Flipkart Pay Later' offering to drive affordability and convenience of purchases. The 'Flipkart Pay Later' EMI facility opens a credit line of up to ₹70,000 that can be paid back over flexible tenures of 3, 6, 9 and12 months for eligible customers, enabling them to purchase products this festive season.
Highlights
Credit limit up to ₹70,000 with flexible repayment plans with up to 12 month tenures, from a previous limit of ₹10,000
Flipkart Pay Later will become a open-to-all construct, providing credit to over 100 million new consumers
Credit and Debit Card EMIs to be offered to all Flipkart customers through partnerships with over 18 leading banks and financial institutions
Flipkart will also offer no-cost EMI offers across a wide range of products, as well as standard EMIs, in partnership with 18 leading banks and financial companies including American Express, Axis Bank, Bajaj Finserv, Bank of Baroda, Citibank, Federal Bank, HDFC Bank, Home Credit, HSBC, ICICI Bank, IDFC FIRST Bank, IndusInd Bank, J&K Bank, Kotak Bank, RBL Bank, Standard Chartered, SBI, Zestmoney and others. The tenures for no-cost EMIs and standard EMIs will be up to 12 months and 36 months respectively.
How to access 'Flipkart Pay Later' EMI facility
Users need to enter their PAN and Aadhar details on the app
Verify the Aadhaar number with an OTP
Verify their bank account details
On making their purchase, users can select 'Flipkart Pay Later EMI' as their payment option and choose their preferred tenure.
The application process is quick and frictionless, and customers can manage their account easily through the Flipkart app.
Learn more about Flipkart Pay Later