The supply chain is the backbone of businesses across the country. As we met and overcame the many challenges of the pandemic in the past two years, our learnings have bolstered our pan-India supply chain. Today eKart Logistics is in the pole position to help other businesses in the nation focus their efforts entirely on growth, while we provide our expertise in logistics and our deep-rooted understanding of the pan-India market. How has the growth of our robust supply chain impacted our ecosystem and the nation? How are we giving back to the planet and its people? In this article I have summarized our efforts to build an inclusive and sustainable supply chain for India in 2022.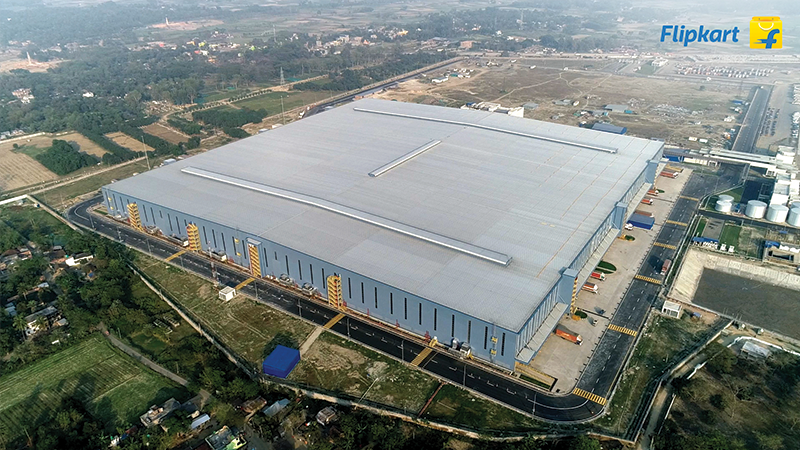 2022. I call it the year of Growth. Not only did we witness the unparalleled growth of the industry over the last year, but we also witnessed sharp growth in several initiatives, within Flipkart.
In the two years preceding 2022, we focussed on ensuring a robust supply chain that could continue to serve every customer across the country and ensure the continuity of life and livelihood. This year, we wanted to focus on building upon the strong foundation we created. We were already delivering smiles to every serviceable PIN code in India. However, the pandemic-induced lockdown was not just a test of our infrastructure, but the entire fabric of Flipkart's supply chain. During these trying times, our entire family of Wishmaster and supply chain teams came together to deliver to every customer seamlessly.
In 2022, as more people came online to shop for their everyday needs and to shop for their aspirations, we at Flipkart were not only providing the best shopping experience to our customers but also capitalizing on this opportunity to enable growth for the entire ecosystem.
Our annual festive event, The Big Billion Days 2022 (TBBD), was a testament to the growth of e-commerce in 2022. Apart from having over a billion customers and four million first-time customers visiting Flipkart during the eight-day festive event, we also saw a 100% growth in the number of first-time sellers and a 100% increase in crorepati sellers.
These interesting stories of Flipkart sellers Ankit Pahuja and Ajay Kumar during #TBBD2022 should give you great insight into the vibrant online commerce ecosystem that is shaping up before our very eyes.
What made our largest TBBD possible? Our expansion efforts, focus on growth, and commitment to putting the customer first in all that we do.
Ekart Expansion
At Flipkart, we have always believed that collaboration is the key to growth and success. Taking the principle forward, we decided to offer our supply chain services and post-sales services for consumer electronics and appliances, and let companies — especially startups and MSMEs, take benefit from our pan-India supply chain network.
This is another step in our journey of commitment on working towards building the seller ecosystem in India. Startups and MSMEs can continue to focus on their core operations while using Flipkart's expert network of pan-India supply chain and grow their business.
Soaring Higher with a Robust Supply chain
This year we worked on building a stronger supply chain by ramping up capacity for serving millions of more customers. Our facility at Haringhata in West Bengal, spread across 110 acres, is India's largest modern fulfillment center to cater to our growing customer base. This technologically advanced facility will reduce the turnaround time for processing shipments by 30-35%, creating value for the entire ecosystem.
Technology has always been at the heart of all we do at Flipkart. Our robust tech-enabled supply chain network, helps us deliver 100 million shipments each month. Technology ensures faster processing of orders and thus, faster deliveries. Automation and robotics used at our fulfillment centers enable us to delegate tedious and repetitive tasks to automation while harnessing human intelligence to manage and survey these tools. A true combination to bring solutions at scale to serve a billion customers.
Skilling for the Future
This year, we also worked to bring skilling closer to our network by launching the Supply Chain Operations Academy (SCOA). By imparting the necessary skills and knowledge to the youth of the nation, SCOA's goal is to create future leaders in Supply Chain Management.
With our ongoing supply chain expansion, we want to build a powerful e-commerce network for not only our present customers but also the future of e-commerce. Our goal with these expansion efforts is to bring the next 200 million customers to e-commerce and play a key role in bridging the gap between India and Bharat. While this year's TBBD was our largest ever till date, it is just the beginning of our growth journey.
Going Green
When I joined Flipkart in March 2021, the task at hand was not only to expand the supply chain by deploying innovative solutions but also to build the greenest e-commerce supply chain in India. In 2022, Flipkart decided to weave a thread of sustainability initiatives throughout every node of our extensive supply chain network. Taking a big step in that direction, we have set an ambitious target of net zero carbon emissions in our supply chain by 2030, and in our larger operations by 2040.
While we made a pledge to achieve our Net Zero target by 2030 only this year, our efforts toward building a sustainable supply chain started much earlier. Flipkart became the first e-commerce company to take the EV100 pledge in 2020, to replace 100% of our last-mile delivery vehicles with electric vehicles by 2030. In a #Studio34 podcast earlier this year, I discussed how the challenges we faced during the pandemic accelerated Flipkart's EV journey with over 2,000 electric vehicles already being a part of Flipkart's supply chain and our plans to further neutralize our footprint in the years to come.
In an attempt to limit our carbon footprint, we went beyond developing sustainable logistics to also building green infrastructure. Our Big Box project in Haringhata became India's first e-commerce facility to be certified as Platinum by the Indian Green Building Council (IGBC).
Today, as soon as a customer places an order, the product gets dispatched from a sustainable building and gets delivered in an electric vehicle 一be it through our pan-India network or in our hyperlocal, kirana network.
Kirana Network Growth
2022 was an incredible year for our kirana delivery programme. While the programme was launched in 2019 to bring kiranas into the e-commerce network, we could scale it to new, unimaginable heights in the past year.
With over 2 lakh Kiranas as delivery partners (of which 1 lakh was added in 2022), we could create shared value by connecting the backbone of retail commerce in India to the future of commerce. Today, kirana accounts for over 30% of our 100 million shipments per month. Our kirana partners' success stories motivate us to further strengthen the kirana delivery ecosystem in India.
Customer-first, Always!
At the heart of great customer experience is the seamless delivery of products and ensuring safe commerce, this is a strong driving force for every action we take at Flipkart.
We have committed to fighting for safe commerce by running our #FightFraudWithFlipkart initiative in an attempt to educate our customers about the different types of internet fraud they could fall victim to and how they can safeguard themselves against it.
I believe when people feel safe shopping online and can fight against these frauds, they will truly enjoy the journey of the future of e-commerce. The future of e-commerce will be led by three important pillars of the supply chain: automation, sustainability and inclusion.
By deploying futuristic technologies in our supply chain such as IoT, robotics, automation, blockchain and even Metaverse, Flipkart is standing tall on automation. Technology and digitalization are helping us create not only a more robust supply chain but also an efficient one. Our teams are made stronger through participation from individuals of diverse social, cultural, and socioeconomic backgrounds, ensuring inclusive growth at every level. Our green packaging, infrastructure, and vehicles have been instrumental in our journey toward sustainability.
We believe our focus on these 3 key pillars will help us build a future for the e-commerce industry in India. A future that is strong, safe, and sustainable with a supply chain network that brings every stakeholder in our diverse nation into the future together.
About the author:
Hemant Badri is Senior Vice President, Head of Supply Chain at Flipkart Group. He is a seasoned business leader with 20 years of experience across product supply chain, manufacturing and customer service. Hemant spearheaded Flipkart's efforts in strengthening the supply chain and enabling millions of brands, platforms and small and large businesses across the country to seamlessly connect with their customers through its tech-enabled infrastructure.