Apart from electric mobility, sustainable packaging, and more, Flipkart's planet-friendly initiatives also include sustainable infrastructure to ensure a truly responsible value chain. Take a look at some of our green buildings - certified by the Indian Green Building Council - that ensure we're not just working for the planet, but also giving back to it.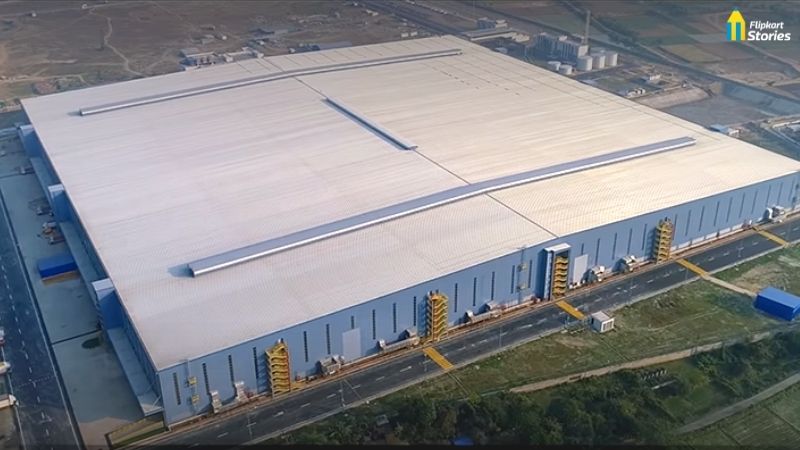 Flipkart's Haringhata Big Box project has been certified as "PLATINUM" by the Indian Green Building Council. Scroll for video. 
---
Sustainability is one of the core tenets of our values and how we conduct business at Flipkart. As we continue to grow and democratise e-commerce across India, we have made conscious efforts to incorporate sustainability across functions to reduce our environmental impact and build a responsible value chain. Some of the initiatives currently being implemented include sustainable packaging, electrification of our last mile fleets, renewable energy, and ensuring that our warehousing operations across the country positively impact the environment.
Flipkart is focusing on resource efficiency in its operations by increasing the use of renewable energy and implementing measures to improve water management, waste management, and overall energy productivity across its strategic facilities, including fulfilment centres and data centres.
Sustainable infrastructure has been an important area of focus in this respect. It requires the integration of several dimensions of sustainability. These include efficient water use, better waste management, reducing carbon emissions, protection of biodiversity, occupational health and safety, ensuring human rights are protected, providing security, and sustainable management of resources. It also ensures the management and mitigation of social and environmental impacts from the construction and operation of infrastructure. Most of Flipkart's facilities are also ISO 14001 certified, and many of the company's large warehouse projects are developed in line with IGBC's Green Building Guidelines.
An IGBC PLATINUM rating for Flipkart's Big Box facility
As a part of its Net-Zero commitment, Flipkart has adopted IGBC's Green Logistics Parks and Warehouses Rating system for its warehouses.
In Haringhata, West Bengal, Flipkart's Haringhata Big Box project has been certified as "PLATINUM" by the IGBC Green Logistics Parks & Warehouses rating system. With a score of 90 points (Platinum being 75 to 100 points), the facility has created a record, receiving the highest score in India under the IGBC Green Logistics Parks & Warehouses rating system in the warehouse category.

With this, Flipkart is also the first e-commerce company to have a Platinum-certified warehouse of this scale. This year, Flipkart has also joined the Founding Members of IGBC, giving it an opportunity to play an active role in the advocacy of sustainable infrastructure.
---
Take a sneak peek at the Haringhata Big Box facility:
---
The Big Box facility is also the first platinum-rated project in West Bengal. With this certification, it now becomes the largest warehousing facility with the highest green building score.
Grant of Environmental Clearance (EC) for Flipkart warehouse facility at HSIIDC Warehousing Hub, Haryana
Earlier this year, as a first step towards sustainable infrastructure, our warehouse facility at HSIIDC Warehousing Hub in Haryana, which is under development, was pre-certified as "PLATINUM" by the Indian Green Building Council under the IGBC Rating System for Green Logistics Parks & Warehouses. This has resulted from cross-functional teams collaborating with external partners over a few months.
One of the essential aspects of park planning and design credit under the rating system is Regulatory Compliance, which ensures that the project complies with the necessary statutory and regulatory codes. In this regard, we have been granted Environmental Clearance (EC) to the proposed Project Activity under the provision of EIA notification, 2006.
---
---
Also read: Repair, Refurbish, Reuse and Reduce: Solar power is just one of many green wins at this Jeeves-F1 factory