The shift to solar power at Jeeves-F1's repair and refurbishment factory in Noida was born in March 2021 from a visionary drive to maintain worker comfort while optimizing energy consumption. Today, approximately 40% of the company's energy needs are met by solar power.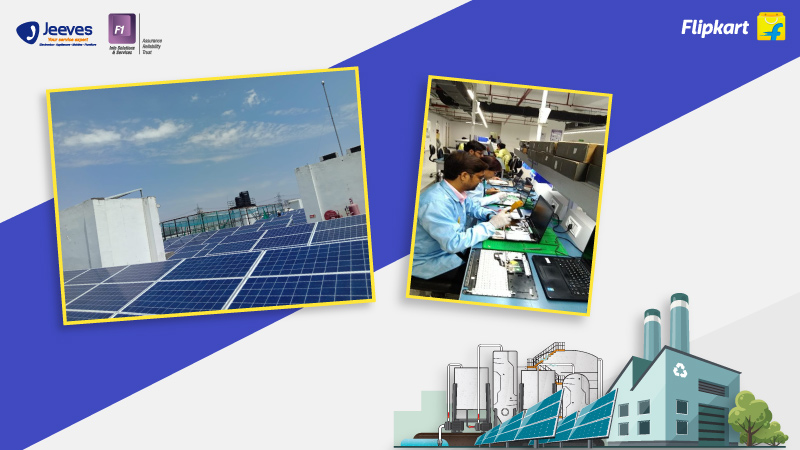 It started on a warm and humid day, typical of summers in Noida. Chatting with his colleagues and remarking about the weather, Ashok Kumar, an employee at the Jeeves-F1 Repair and Refurbishment Factory glanced at the sun, and was struck by an idea.
With such an abundance of sunshine, why couldn't the facility harness the benefits of solar energy? He took the idea to his manager.
The five-story building spread over 1.4 lakh square feet in Sector 63 of the industrial city in the Delhi-NCR region houses this state-of-the-art Jeeves-F1 Repair and Refurbishment Factory. Here, skilled technicians oversee repairs of various gadgets and home appliances, refurbishment of pre-loved electronics, as well as refinishing operations.
---
Enjoying this story? Check out the accompanying podcast!
---
Maintaining worker comfort while optimizing energy consumption was the focus for the Jeeves-F1 team. The ethos of Jeeves-F1 — while based on the tenets of customer satisfaction, access and affordability — is to contribute to a planet geared towards the principles of repair, refurbish, reuse, while reducing wastage. The core team ideated on how to enable the factory to utilize and harvest solar power to further solidify Jeeves-F1's commitment to work both for the customer and the planet.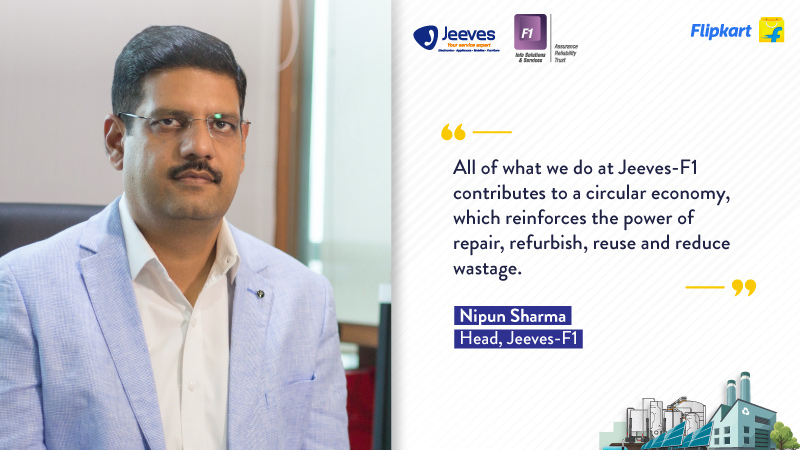 "All of what we do at Jeeves-F1 contributes to a circular economy, which reinforces the power of repair, refurbish, reuse and reduce wastage," says Nipun Sharma, Head, Jeeves-F1. "We are always consciously seeking to ensure that there is less pressure on the environment."
Now, two months since the initial discussion, approximately 40% of the facility's energy needs are met by the solar panel set-up.
"We set ourselves an ambitious goal of completing this work within a month. The permissions followed by the execution phase began in March 2021," says Nepal Singh, who heads operations for the factory and has played a pivotal role in bringing various teams together to work through tight deadlines and external challenges. "Then the lockdown was announced in the NCR region and we had to stop work. Despite that, and keeping the safety of our workforce in mind, we were able to complete the project within two months," he adds.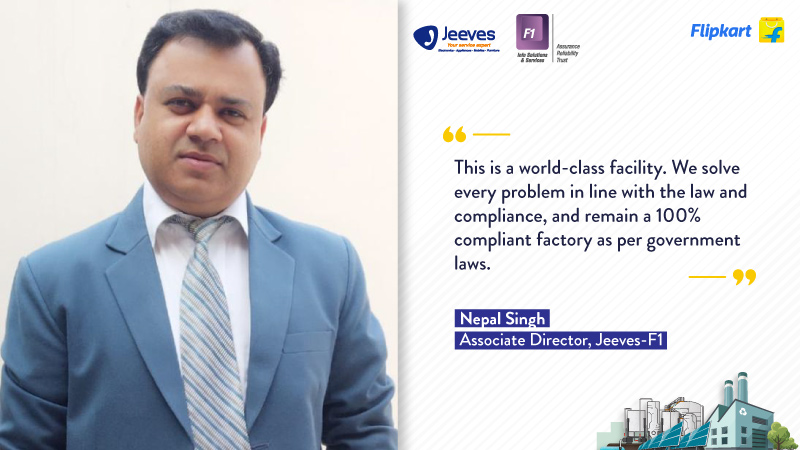 While a commendable feat in itself, the push towards solar energy is not the factory's first brush with successful sustainable endeavors.
Every year, the Jeeves-F1 factory in Noida repairs and refurbishes about 500,000 electronic devices to the highest quality, saving as many units from turning into e-waste in landfills and enabling both access and affordability for millions across India.
A 40-KLD sewage treatment plant (STP) treats 21 kiloliters of used water every day to be reused for various purposes. Every year, over 2,000 kg of e-waste generated at the facility is recycled through government-authorized e-waste partners, while annually, more than 100 liters of hazardous waste (such as waste oil from diesel generators) are sent to be recycled. Bio-waste from the factory's wellness center is disposed of safely through bio-waste partners.
"This is a world-class facility," stresses Nepal. "We solve every problem in line with the law and compliance, and remain a 100% compliant factory as per government laws."
"This is a great example of how sustainability can be embedded in the different levels and components of business," Mahesh Pratap Singh, Head, Sustainability at Flipkart, points out. "Especially since this is a facility that drives recommerce and recyclability. We are fully committed to making renewable energy even more mainstream in the days to come," he adds.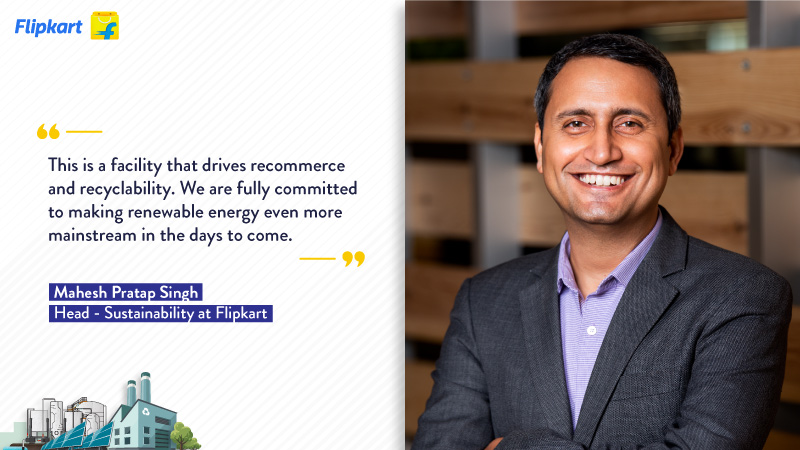 Incidentally, many of the ideas for planet-friendly initiatives have come not as mandatory directives from leaders, but from employees who honor and live the company's sustainability ethos.
"We're a pull-based, rather than a push-based organization," says Nipun, adding, "A good idea can come from anywhere."
The idea for the solar panels, too, was suggested by an admin team member, Ashok Kumar, during an employee town hall.
"We're always asking ourselves: How can we be more environmentally friendly? How can we reduce our carbon footprint? This facility is a testament to this commitment," observes Nipun. "What we want to do is create facilities that contribute to a sustainable value chain."
---
Also read: Pedal to the mettle: Amid lockdown, this Jeeves technician cycled 25 km to help a customer