In a city infamous for traffic jams, most Bengaluru residents have resigned themselves to the fact that they're going to be spending a lot more on petrol than they'd like to. However, Jeeves furniture technician Chikkanna Swamy wasn't ready to go down without a fight. Over a six-month period, the self-taught mechanic pulled off a stunning DIY project, building an e-bike from scratch. Read all about how it came to be.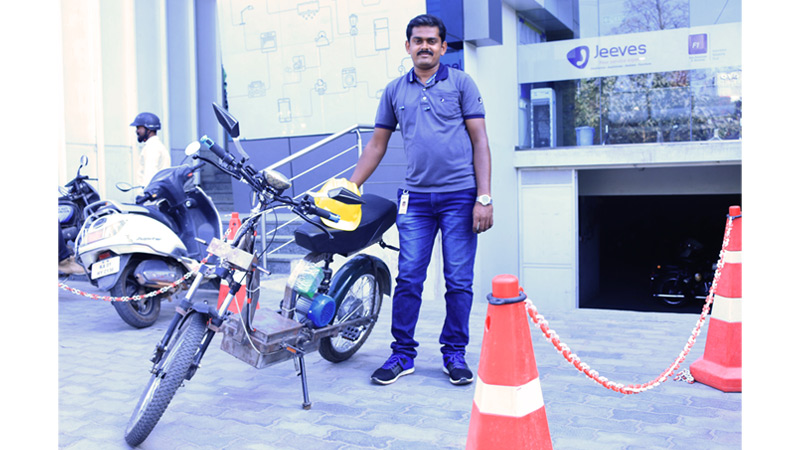 Chikkanna Swamy is early to bed, early to rise. As a furniture technician who travels over 70 km back and forth in the most traffic congested city in the world, he needs the early start. Six months ago, he only had the faintest idea of how an electric vehicle works.
---
---
Bangalore Blues
"I was paying ₹3,000 to ₹4,000 every month, just for petrol," Chikkanna, a resident of Peenya industrial area in the outer reaches of Bengaluru city, explains. Shy and soft spoken, Chikkanna, in his late 20s, is one of Jeeves' furniture technicians. Every day, he visits multiple Flipkart customers' homes across the city to install and give demonstrations of their orders.
Fourteen months into his stint at Jeeves, he was beginning to get tired of the traffic and was bogged down by petrol prices. It was around this time, just over 6 months ago, that he first started thinking about building an electric vehicle. With no experience in engineering, he turned to the internet for help.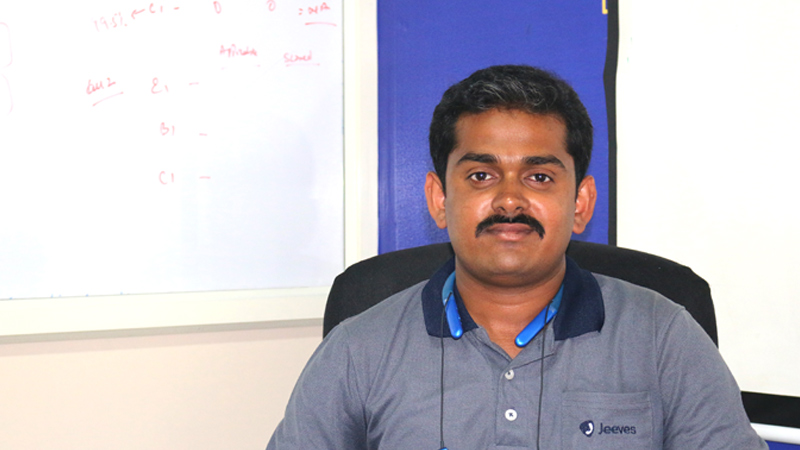 "I started watching a lot of YouTube videos about how to make an electric vehicle. None of them gave me a complete idea, so I gathered ideas from many places over a few months and started building the vehicle," says Chikkanna.
But he had neither the bike parts nor the budget to buy them, at hand. So he began by borrowing a lithium ion battery from a friend. He ordered the motor and chain online, collected spare parts for the rest of the body and set to work.
"It took me six months to finish," he adds, unassumingly.
When he began, he didn't think of it as anything more than a hobby project. From Kunigal in Tumakuru district of Karnataka, Chikkanna is a carpenter by trade. "I had no previous experience with automobiles, I just went for it. This is my first project, actually," he says.
He has yet to pay his friend back for the batteries. "He gave them to me to test them out," he explains. One can only imagine his friend's surprise when he saw the finished product.
The Electric Vehicle: A Labor Of Love
Outside the Jeeves office in HSR Layout, Bengaluru, is a row of two-wheelers and only a couple of cars. Among these vehicles, Chikkanna's creation stands out.
His electric vehicle, an e-bike, is built on what looks like a hand-welded steel chassis. On this sits a large battery operated motor, attached to a chain-and-sprocket assembly that lets it cruise at a top speed of about 80 kmph. With parts sourced from — among other things — a Duke motorcycle, a scooter and a moped, it is surprisingly packed with features, including an odometer, speedometer and even an anti-theft alarm system. A collage of two-wheeler parts, it is the kind of fully realized DIY creation that only a dedicated hobbyist could put together. Six months later, Chikkanna's project is complete.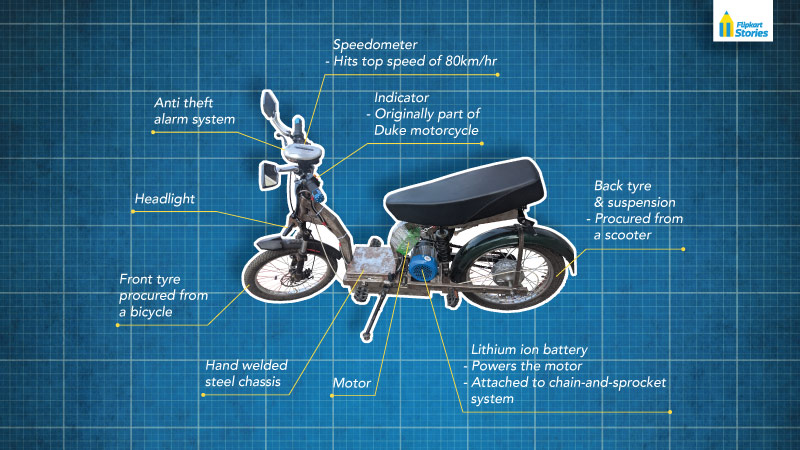 Outside of its obvious technical merits, Chikkanna's electric vehicle stands out as a triumph of curiosity. With no formal training (Chikkanna has completed high school), he built something out sheer will-power and passion. The only 'experience' that Chikkanna can even remotely think of is owning two motorbikes.
"Technology is in our DNA," says Nipun Sharma, VP, Jeeves, talking with pride about Chikkanna's project. "We want to encourage our engineers to think innovatively, and I hope that this will encourage more people to think innovatively," he adds. He says he likes to believe that part of Chikkanna's creation is a manifestation of the culture at the company, which rewards independent thinking.
Krishna Prabhu, Senior Director, Jeeves F1, goes into further detail. "We wanted people to get motivated at a grassroots level. So we introduced a few changes. If an engineer gets an incentive, he will be notified that very day. Also, if someone does a beautiful installation, we make sure it's published along with a photo in an internal email. When we realized this is working, we also decided that we would create a grading for engineers, classify them into gold standard, silver standard and bronze," he explains.
Chikkanna, a gold standard furniture technician, is thriving in this system. He's won the best performer award twice already.
"Jeeves is a company that gives me a lot of freedom. If you work sincerely, you are rewarded. This is not available in many companies," he asserts.
One Day At A Time
Chikkanna's bike is already attracting attention. A crowd hovering around the electric vehicle outside the Jeeves office is a common sight by now. Recently, someone dropped off their business card at the front desk, asking about the bike and its inventor. "I think this is a story of determination and passion. If you have passion, pretty much anything is possible," attests Nipun.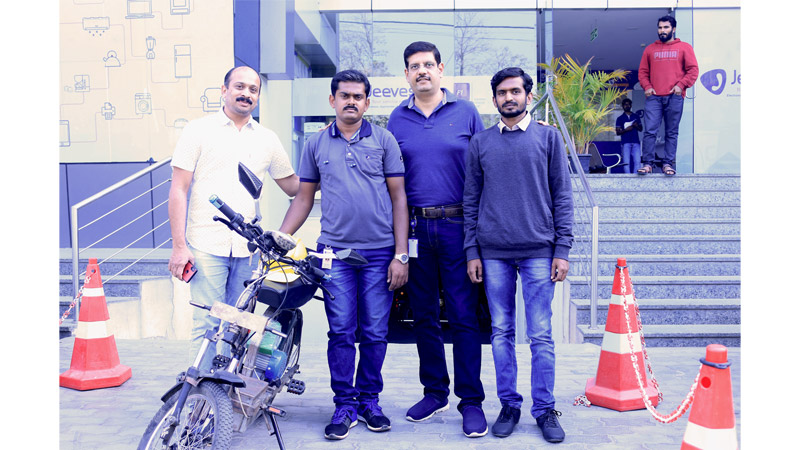 Chikkanna, however, is immune to the hype. Like many passionate engineers, his goals are pragmatic. He just wants to make his product better. "I want to use it for a long time. My goal is to do 10,000km on this bike. If I can use it for a year, I can make my money back. Other than that, my immediate goals are to get it painted and attach a good cover," he explains.
If things go well, Chikkanna will never have to pay for petrol again. Maybe that's why he's so keen not to get too excited so quickly. Perhaps he doesn't want to jinx it.