Flipkart's Big Billion Days Sale is hard to miss. Brimming with offers and unbelievable discounts, it's every shopper's dream sale. Behind the scenes, along with Flipkart employees, are scores of sellers working relentlessly to provide you with everything you desire. Flipkart's top sellers share the secret recipe of success during The Big Billion Days sale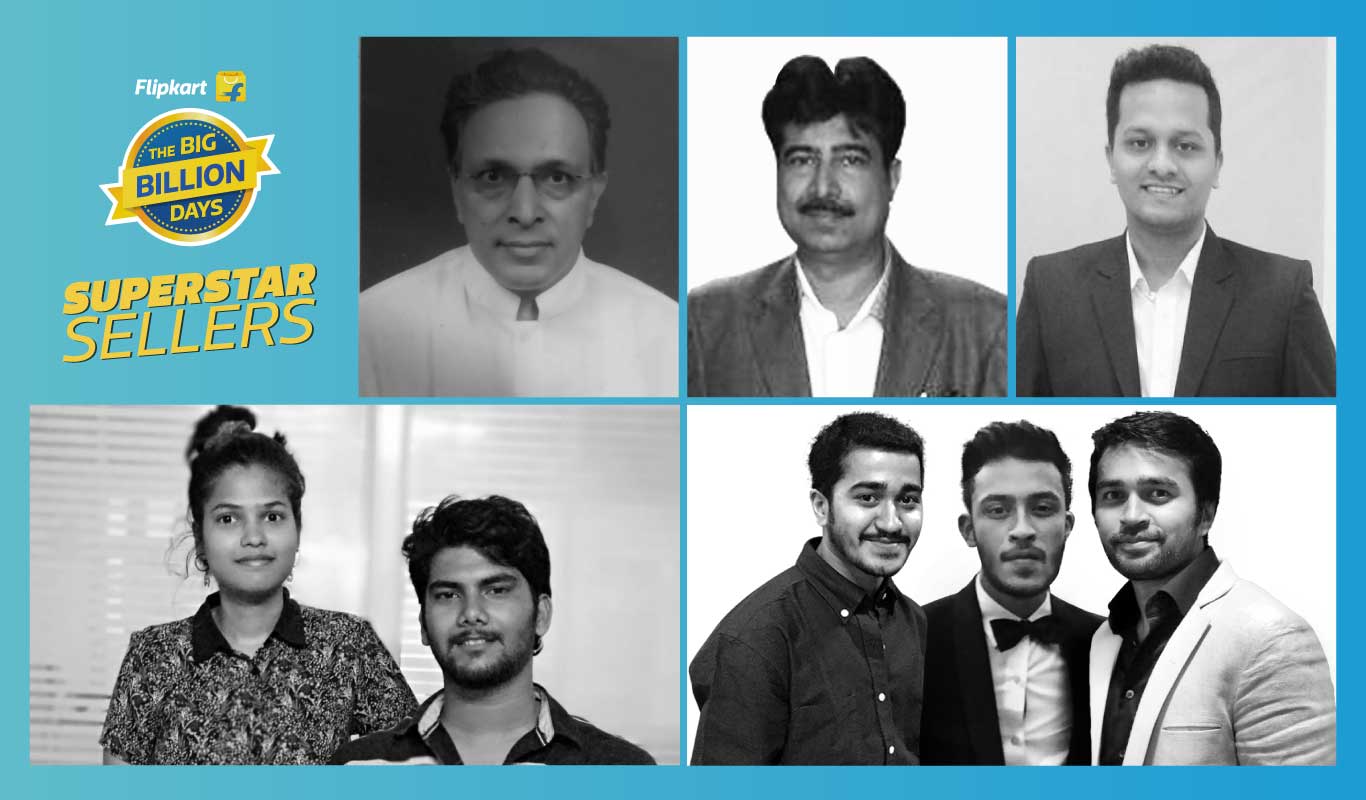 Closely monitoring what's trending on Twitter, seeing what people shop for overseas and testing packaging material — what has all of this got to do with The Big Billion Days? For Flipkart's superstar sellers, Just about everything.
---
Behind this massive celebration that is The Big Billion Days is not only an army of Flipkart's employees, but also a fleet of dedicated and competitive sellers ready to do business.
Making every day count: Gearing up for The Big Billion Days
---
Talk to any superstar seller on Flipkart, and you'll learn two things about prepping for The Big Billion Days Sale. First, start planning in advance. Way in advance. Praween, a partner at Young Trendz, a men's clothing brand, vouches for this. "Sindhu (my partner) and I started preparing a whole two months in advance. Even then, within the first hour of the sale, the orders were beyond what we had anticipated. On the first day itself, we had around 6,000 orders," he shares.
Second, leverage the assistance of a Flipkart account manager assigned to each seller. "My account manager has played a key role in my splendid performance this Big Billion Days," says Raju Lunawath, proprietor of AmazeStore. Operating from Lal Bagh Road, an old part of Bengaluru that shares space with the historic Lalbagh Botanical Garden, Raju attributes his success to his account manager. "Hats off to him! He worked extremely closely with me. He helped me identify the products and told me which products I should bet big on. We've been planning since January!" Raju adds. "Our account manager had great ideas too," says Praween.
Flipkart congratulates the sellers who won big at The Flipstar Awards 2017 in Bangalore! Keep climbing the #LadderToSuccess and growing with Flipkart! pic.twitter.com/cwms7nUxFl

— flipkartsellers (@FlipkartSellers) November 17, 2017
But is starting on time all that it takes? Hardly. From tripling and quadrupling packaging material to concocting a logistics plan to ensure smooth delivery, these superstar sellers look into everything. Prem Ramchandani sells furniture on Flipkart through his company, Bharat Furnishings. Although his association with the platform is as recent as mid-2017, he's got some excellent insights on what goes into preparing for an event of this magnitude. "The operational challenges are plenty. Transporting furniture is not easy, and installing it can become cumbersome. Although we've done really well, next year we're going to streamline our processes and come back with a much bigger range of products."
In the eye of the storm: What happens when the orders stream in?
"We had to add manufacturing stations and almost double the number of units we were manufacturing each day to meet the volume of orders. To help us out, our account manager kept staggering our orders so we could power through without feeling overwhelmed," Prem adds.
---
"Our orders were significantly more this Big Billion Days as compared to last year. We had prepared a month in advance and stocked our warehouses as well as Flipkart's warehouses to smoothly process orders," shares Amrish Miyani, proprietor of ParomaArt.
From adding shifts and doubling inventory, to working 24 hours a day; there's nothing that these superstar sellers leave to chance.
"This was our first Big Billion Days experience and the number of orders pouring in was phenomenal. We were equipped with the stocks and appropriate pricing, but I would like to do things slightly differently next year," says Deepak Verma, who handles the e-commerce division for MMTC-PAMP, a company that mints gold and silver coins and products. "Next year, I want to pack products in advance and have them ready, so that customers get what they've ordered in just 1–2 days, instead of 6–7 days. When they know that they'll get express shipping on their products, I think they'll be more positive about our brand and keen to order."
For Raju, a personal care products seller, the process is systematic as well. With Flipkart's support he's gone from having a completely offline outfit, to one that's savvy, research-driven and a 100% online.
"We track our products, see how they're selling and make projections accordingly. We then distribute stocks evenly across all Flipkart warehouses. This makes it easier for us to complete orders once the sale actually begins. Right now, we're already in the midst of preparing for Christmas to ensure smooth operations."
Superstar Sellers: Reaping big rewards
---
Despite the condition of the market and their personal challenges, Flipkart's superstar sellers are jubilant about the success that has come their way. "One of our top-selling products contributed to 50% of the company's revenue from Flipkart," says Prem from Bharat Furnishings. "In fact, we've achieved our entire year's sales targets already! A few months on Flipkart, and pushing through the Big Billion Days sale were all it took."
"Our order volumes double, if not triple during The Big Billion Days. Obviously, this translates into more revenue," quips Ashok Mishra, owner of Fair Shop Global, a company that specializes in the Internet of Things. Despite demonetization and GST, he tells us that his business has done considerably well.
But, it's not all about the money either. Partnering with Flipkart has also helped sellers earn the customer's trust. "When they see us listed on Flipkart, offering superior-quality products at affordable prices, the confidence and love they towards Flipkart is extended to us too. We've been able to expand our customer base significantly because of this," says Prem, with warmth in his voice.
Deepak, from MMTC-PAMP, has a similar anecdote to share: "Although our brand has been one that the country is familiar with, selling on Flipkart has definitely helped us attract a lot of attention."
From the horse's mouth: sharing mantras for success
While each of the superstar sellers who have shared their story retail different kinds of products, they all agree on one thing. You have to constantly work to improve yourself as a seller. Sunil Agarwal, proprietor of Tvesa, a company specializing in shoes, is happy with the business that he's done on Flipkart in 2016. "We started our business based on the fact that we wanted to sell on Flipkart. My tip for sellers is that they must focus on attracting new customers. This will help them do better business in the long run," he advises.
---
Pankaj Sethi, proprietor of MDI, has some great inputs too. "It is crucial that you understand what customers want. Choose your products wisely and pick a combination of products. You must cover what people need as well as products that are trending in the market. Focus on quality and price your products correctly," he says encouragingly.
Raju, on the other hand, has cracked a formula for success. In fact, his advice stems from his own experience. "When I started selling products on Flipkart, sometimes, we got negative feedback. Now, we have a method to assure good performance. We always test products before listing them on Flipkart by noting what 50–100 customers like and dislike. Then, we go back to the drawing board and refine our product until we're absolutely certain that it is the best that it can be." On a parting note, he adds, "Work with integrity, trust Flipkart, believe in yourself — nothing is impossible."
We couldn't have said it better ourselves!
---
Also Read: Flipkart's top sellers are in a relationship built for success