This year we've witnessed the release of these two beautiful devices with baited breath — the Samsung Galaxy S8 and the S8 Plus. These flagship devices are nothing short of spectacular in the way they are designed and equipped to perform. The twins from Samsung's stable [not entirely identical] are the newest 'Guardians of the [Samsung] Galaxy' and have all the ammunition to take on the competition.
---
---
With envious looks, brutal performance and a state-of-the-art hardware, the Samsung Galaxy S8 and S8 Plus are here to redefine your smartphone experience. Here's an inside-out review of the new devices.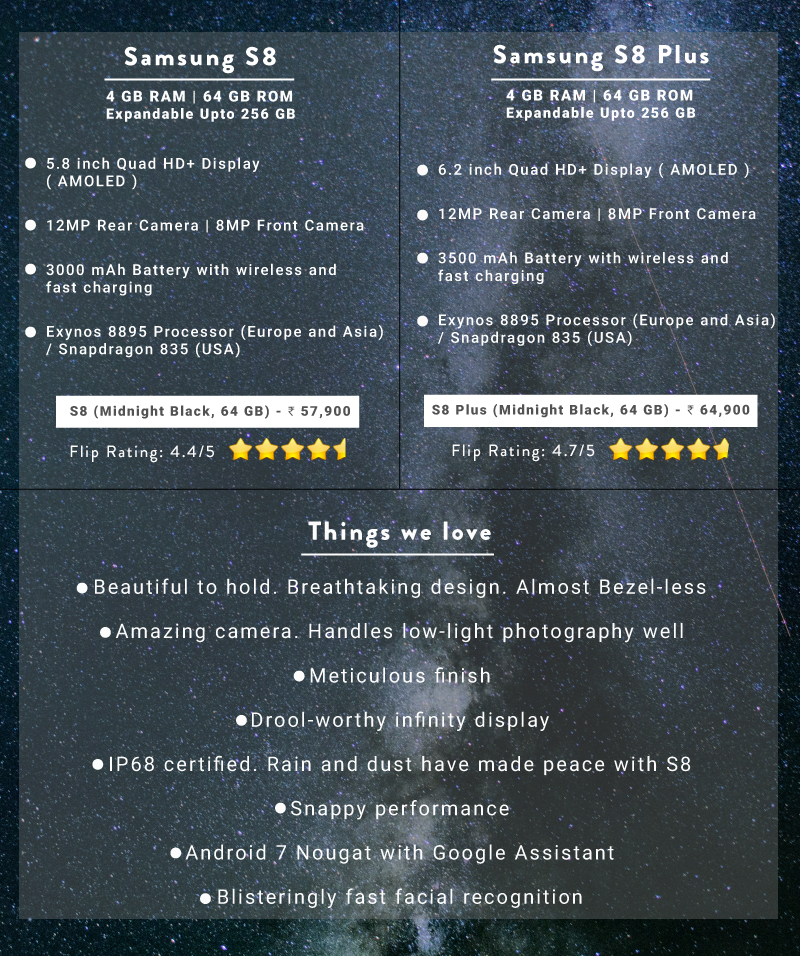 ---
Build and hardware that's straight out of the future

When it comes to a smartphone's visual experience, the cutting-edge 'Infinity Display' from Samsung definitely owns the edge over the rest — and this feature remains unchanged on the latest S8 and S8 Plus. The curved edges of the new Galaxy series flow seamlessly at the right places, integrating apps for quick access. The S8 and its bigger brother have iris scanners and a lightning-fast face recognition capabilities for fool-proof security. The fingerprint scanner is placed at an unconventional position, quite close to the rear camera, and takes some getting used to. Being Samsung's flagship phone also means that the entire package runs seamlessly on the new Android Nougat 7.0 OS.
For users who look for aesthetics, more than anything else, these devices are pure ecstasy. Unlike new-gen smartphones that are hard to differentiate, the Samsung Galaxy S8 and the S8 Plus offer a unique design, that's eye-catchy and practical for use. A smooth and continuous surface perfectly blends into the aluminum shell, making these two the most attractive phones currently available in the country. The phones fit comfortably in one's palm, the S8 Plus being on the larger side. This is what getting rid of bezels can do to a smartphone — bring out the real beauty of the devices.
Infinite entertainment on infinity display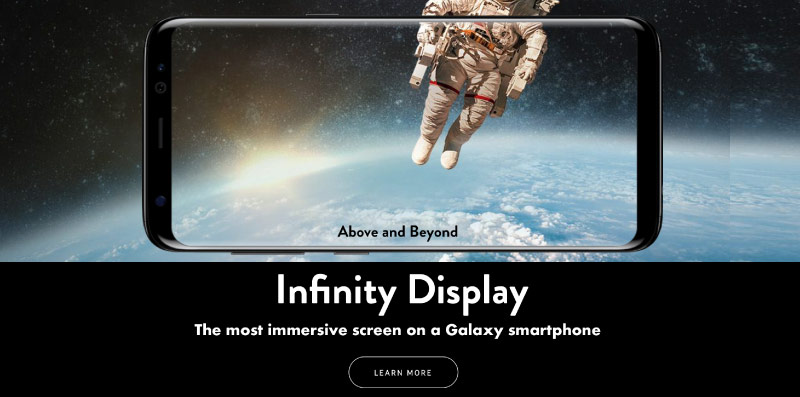 One look at the Samsung Galaxy S8 and S8 Plus will make you fall head-over-heels in love with its seamless bezel-less design and body. The 5.8-inch edge-to-edge 'Infinity Display' is sure to have you drooling at everything you see on your S8. The display on both the phones offer absolutely stunning clarity complimented by the Quad-HD Plus screen producing some crisp colours. From crystal clear images to High-Definition visualization, the new Samsung twins guarantee to be everyday eye candy for users! On the other hand, while the Samsung S8 Plus retains all the best qualities of the S8, it missed out on the convenience of being used in a single hand. But for those who are in for the size, why not. Samsung DeX provides PC like experience by casting your entire display on your TV, something others have not yet experimented with.
---
See the display prowess of the S8 here:

---
A processor that screams power and performance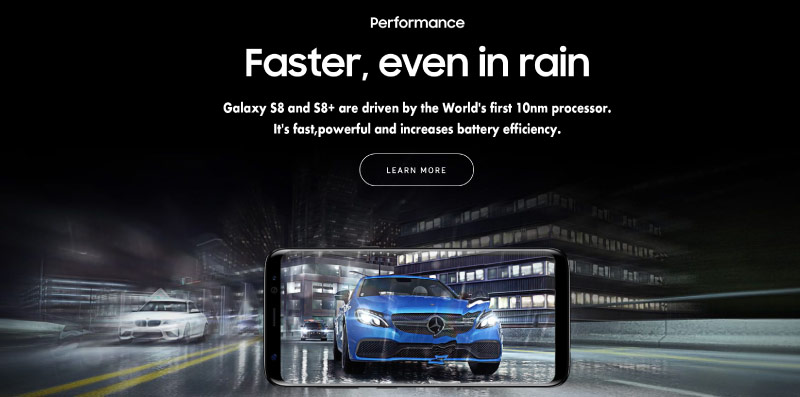 Samsung boasts of the world's first 2.3 GHz 10 nm processor till date, under the hood there's a 1.9 GHz octa-core processor and 4GB RAM juicing it up, the Galaxy S8 delivers performance unlike anything you would have experienced before. You can multi-task, browse faster and run heavy apps without compromising on this system's performance. And if this double whammy hasn't floored you yet, the battery can be recharged in less than one-fourth the time it takes for other smartphones. You can browse through your favorite social media platforms, share your selfies and take videos simultaneously — all without hurting, thanks to the massive 3000 mAh battery. The Galaxy S8 also features Vulkan — a powerful 3D API (Application Programming Interface) from Khronos which can handle high RAM applications with ease and has made playing graphic-intensive games a breeze.
Capture every moment like a filmmaker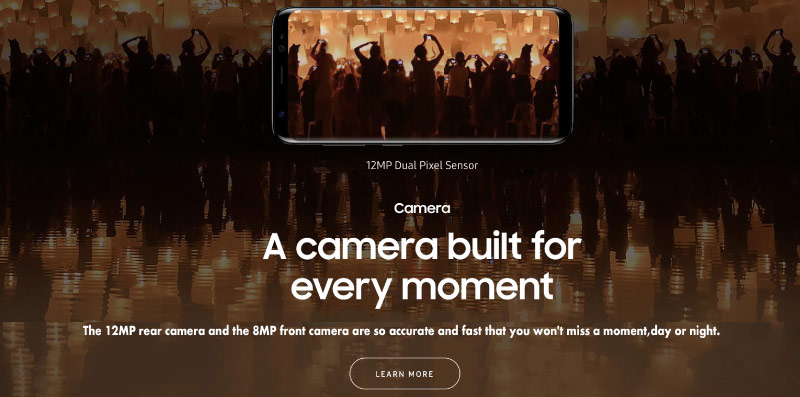 Special moments capture the essence of life — at least on the Samsung Galaxy S8 or S8 Plus. The two devices are integrated with cameras that are designed to record moments in high-definition and with razor sharp focus. The cameras in the S8 and S8 Plus have been virtually left untouched. With top-of-the-line 12MP rear camera to the 8MP front camera, you can document all your favorite memories in their picturesque glory, even under low-light conditions. While the camera is a hand-over from the predecessor, they deliver exceptional pictures, especially when compared with other Android smartphones within this segment.
Sure to give other camera smartphones a run for its money! From Smart Auto-Focus to the Dual Pixel Sensor, the camera has you spoilt for choice with a range of features that let you design and capture the perfect selfies, videos and pictures for every occasion.
---
See just how well the S8 photographs here:
---
Security like Fort Knox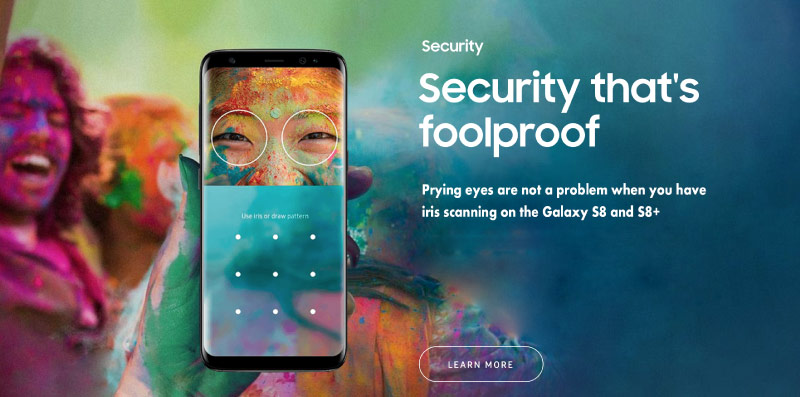 Armed with a defense-grade security system, the Galaxy S8 offers air-tight security to protect your data around the clock. Coupled with the iris scanner which uses iris authentication to unlock your phone and the ultra fast face recognition software, where your selfie validates your ownership. Looks like Samsung has upped the ante when it comes to mobile security.
Samsung Galaxy S8 and S8 Plus – AKG earphones – The epitome of audio quality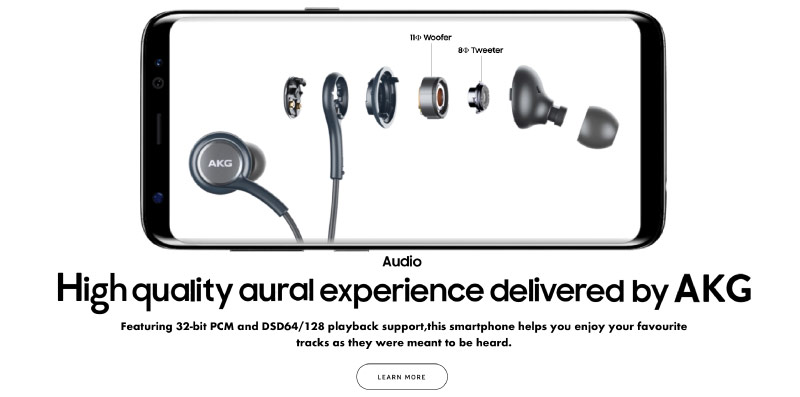 With better playback support the Samsung S8 helps you enjoy your favourite tracks as they were meant to be heard. It has a good level of bass and thump to it which is very impressive for an in box accessory which is free. Samsung's AKG earphones boast of "comfortable hybrid canal fit" for better noise cancellation. These earphones are made up of metal-fabric, to prevent it from tangling in your pockets. The AKG earphones take you on a journey to a different world and immerses you into a whole new level of auditory experience.
Bixby here to serve you 24×7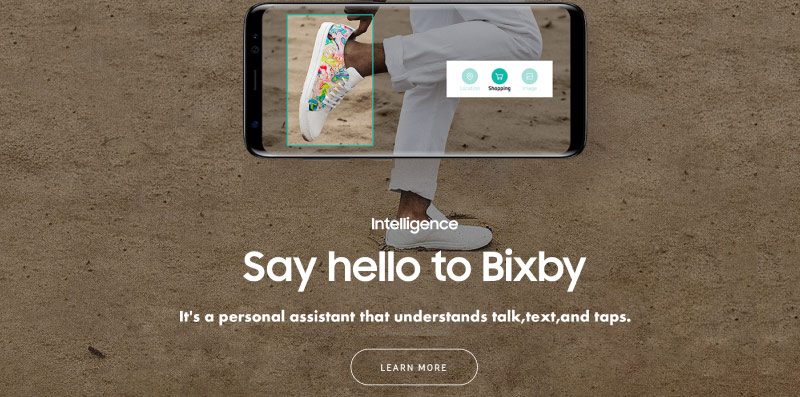 While AI (artificial intelligence) has invaded almost every sphere of our life. Now, Samsung has taken a stab at impressing its customers by introducing it's own virtual assistant. One of the most interesting things Bixby can do is magically identify objects. If you point your camera towards a famous monument, it identifies the name of the landmark and suggests other recommendations. If it is a commodity, it identifies it and shows where you can buy it online; perhaps, Flipkart.

Samsung has taken it one step ahead and even added on a dedicated 'Bixby' button. Apart from that, Bixby can also locate the best restaurants in your neighborhood, systematize your documents, optimize your app performances and much more. Bixby can make your Samsung Galaxy S8 and S8 Plus device open your camera, access your documents, save reminders and organize your life in just a tap.
---
Here's everything you need to know about Bixby
---
If you're waiting to treat yourself a new phone or contemplating to change one, now is the time to go ahead and buy this beauty now.
.