Read this article in
বাংলা
Increasing digital adoption, reinforcing customer trust, and enhancing customer safety are the three pillars of Flipkart's new QR code Pay-On-Delivery facility. With this, Flipkart looks to empower new-to-internet and Cash-on-Delivery shoppers, helping them embrace digital payments and reap the benefits. Read on to know more about this Flipkart innovation.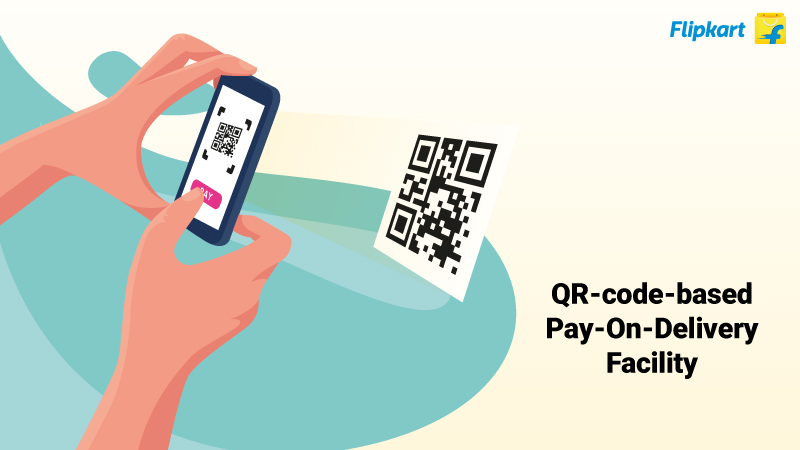 For many customers spread across the nation, online shopping became the easiest and safest way to shop for their needs amid the pandemic. With more than 150 million products on Flipkart's roster, you can find everything you need right at your fingertips, from household essentials to groceries, WFH supplies, tech and more. While the pandemic has accelerated the adoption of UPI payments, almost 75% of customers still choose the traditional option of Cash on Delivery (CoD). Recognizing the need for simplified and easily accessible payment solutions, Flipkart has launched a contactless, QR-code-based payment facility for all its pay-on-delivery shipments.
Customer safety and accessibility are the guiding principles of Flipkart's innovation agenda. From Flipkart Quick, which enables the delivery of COVID-essentials in 90 minutes, to the various initiatives undertaken to promote #SafeCommerce, these in-house advances leverage both Flipkart's technology and its customer-centric focus. The QR code pay-on-delivery facility, too, serves to empower customer safety, trust, and digital adoption.
How Flipkart's QR code payments work
The QR code payment facility makes paying for online orders quick and easy. For one, it utilizes the QR code provision already available on UPI systems. Next, it leverages it to improve upon the traditional CoD transaction model to achieve hygiene and safety while addressing the apprehension that new shoppers may experience when buying online.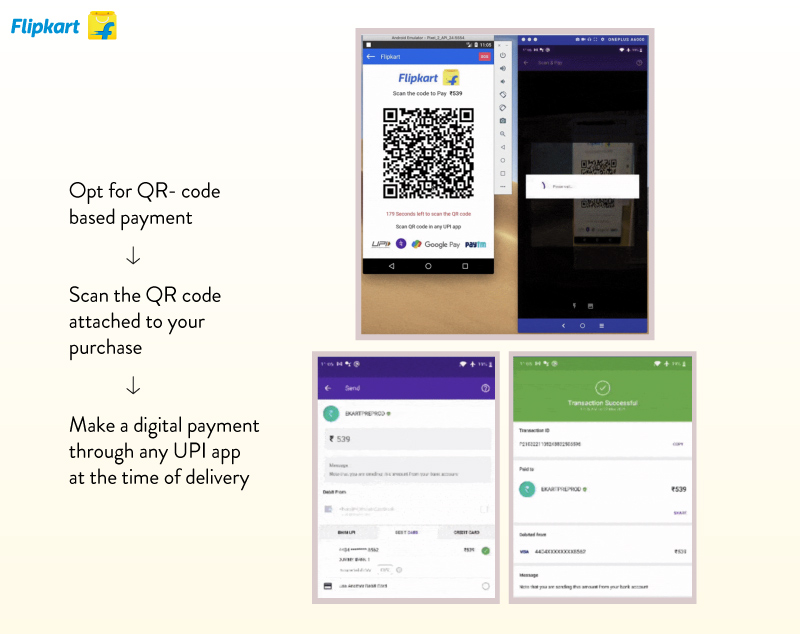 All you need to do is scan the QR code and complete your payment with your preferred UPI, be it PhonePe, Paytm, Google Pay, MobiKwik or any other app that you use. The entire process is user-friendly, requiring minimal effort. Simultaneously, it addresses any and all safety concerns that arise with handling cash during the exchange while eliminating the need to provide exact change or deal with the hassles that come with cash transactions.
Here is a quick 3-step guide on completing a payment digitally with the QR-code pay-on-delivery facility.
Opt for the QR code facility at delivery.
Scan the QR code applicable on your Flipkart shipment.
Pay for the order through the UPI app of your choice.
By transacting in this manner, you retain the freedom to shop from home and pay digitally with ease.
Digital payments: The need of the hour
Until recently, the traditional practice of paying with cash dominated person-to-merchant transactions. However, owing to the pandemic, there is an increased need for safety-first practices and UPIs serve as a vessel for this transformation. In April 2021, there were over 2.64 billion UPI transactions—a 100% increase compared to the past year. Flipkart's QR code payment solution hopes to contribute to this change.
Ranjith Boyanapalli, Head – Fintech and Payments Group at Flipkart, says, "As the lines between e-commerce marketplace and fintech continue to converge, it becomes imperative to solve for customers' evolving needs and attitudes." The QR code pay-on-delivery facility does just that and has even proven effective in the early rollout.
Flipkart continues to work toward empowering its new-to-internet consumer base with payment solutions that simplify online shopping while also offering a safe payment experience.
---
Also read: Manage incidental expenses during hospitalization without worry with Hospicash