Tired of waiting in ATM queues for cash? It's time you switched to PhonePe, the UPI app from Flipkart that is revolutionizing cashless payments. This quiz requires you to read the article — 7 things you must know about the PhonePe app from Flipkart — and answer all five questions. To be considered for a prize, the winning entries must fulfill the following conditions:
(A) Get all answers right
(B) Like the Flipkart Stories Facebook page
(C) Tweet the link to the contest after you are done playing
(D) Enter your name and email address in the form
Ten contestants who complete these steps will be selected to win Flipkart electronic gift vouchers (EGVs) worth ₹500 each. The contest closes on Wednesday, December 7, 2016 at 1600 hours IST (4 pm). Once the quiz closes, the Flipkart Stories team will subsequently announce the winners. Winners may expect to receive their prizes within 30 days of the announcement.
By playing this quiz, it is understood that you have read and accepted the contest terms and conditions.
---
THIS CONTEST IS CLOSED. CONGRATULATIONS TO THE WINNERS! But if you like quizzes, just play for the fun of it.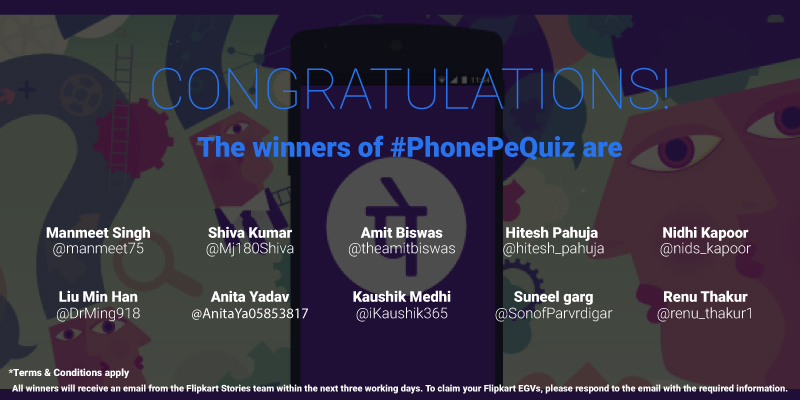 ---
---
TERMS AND CONDITIONS