When you shop online, it's important to make sure that your personal information and data like bank details, account numbers, passwords etc., are kept safe. Fraudsters will not hesitate to misuse this data, if they get their hands on it. But do not worry! The power to keep your account safe from fraudsters is in your hands. Have you made sure that your Flipkart account's password is foolproof? Read on and find out how to keep your account safe.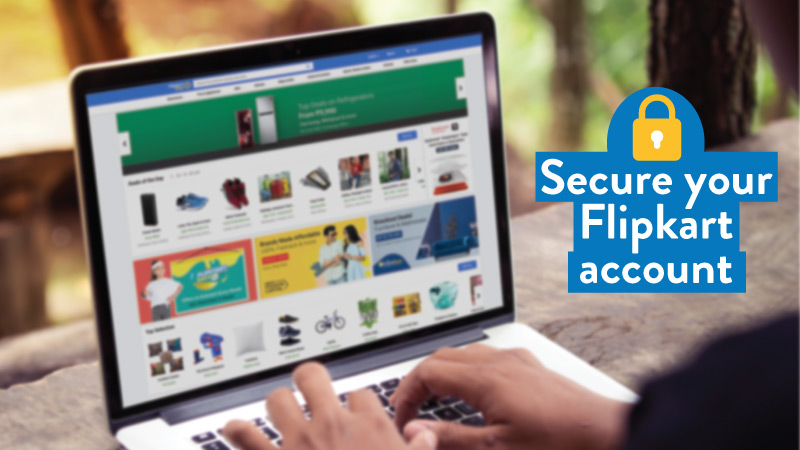 If you are a frequent online shopper on Flipkart, you would have entered your bank details and saved passwords online for easier and convenient transactions. It is absolutely safe to do so. However, in such cases, it is important to make sure that you've taken every measure of protection to protect your confidential bank details and passwords from the eyes of fraudsters. When you login to Flipkart to shop online safe and hassle-free, here's a comprehensive list of guidelines to make sure that you've taken every safety precaution to keep your account safe:
Update your Flipkart mobile app to the latest version on iOS or Android
You can log in to your Flipkart account on desktop, app or m-site with your registered email and/or your registered mobile number along with a password.
Ensure that you are logging in to the correct Flipkart site. If you are logging into your Flipkart account using a web browser on your desktop/laptop or to the Flipkart m-site using a mobile device such as a smartphone or a tablet, you must ensure that the URL is https://www.flipkart.com. It is important to look for the "https" in your URL, as it means that the website has a valid security certificate, and is therefore trustworthy. In some browsers, the address bar may display a "closed lock" symbol to indicate that the site is secure. A number of fake websites illegally use Flipkart official logos without our permission in order to mislead users and steal their data, so it is very important for you to take this precaution before you sign into your Flipkart account. We are actively working with law enforcement authorities to bring these fraudsters to book. Meanwhile, a little caution from your side will make your shopping experience pleasant and safe.
Set a strong password. It is also important to make your password fool-proof and difficult for a fraudster to guess. Here's how you can do that:
Choose a strong password with a mixture of capital and small letters, numerals and special characters
Do not use your Flipkart password for any other account
Do not share your password with anyone
Do not write it down anywhere
Never share passwords over email/WhatsApp/SMS
Remember to change your password every month. Never reuse old passwords.
Do not use your name, mobile number, or date of birth as your password
If you cannot remember your password, use the "Forgot Password" option on the Flipkart website or app to recover it. This is the safest method of recovering access to your account.
If you are logging on to Flipkart from public computers or someone else's mobile device, ensure that the "Remember Me" box is unchecked
Do not share with anyone any OTP (One Time Passwords) that you receive to recover your account
If you are logging into Flipkart from a computer at a cyber-cafe or public internet browsing center, or even from your office computer, ensure that you log out of your account, clear your browser cache, and shut the browser window before you leave. When you are away from your desk, remember to lock your desktop.
Always lock your mobile phones with PIN code locks, Fingerprint Locks or TouchID (for iPhone users) as this prevents fraudsters from accessing important apps, including the Flipkart app, on your phone.
Never share your debit card or credit card number or CVV (Card Verification Value) with anyone. Flipkart authorized agents will never call you and ask for these details.
---
Can't login to your Flipkart account? Don't panic! Here's what to do
Keeping your data and access details safe is a big priority for us. Even if you forget to update your password, we'll remind you to do so. Therefore, in order to keep your Flipkart account secure, you may be asked to update your password from time to time.
If you find that you are unable to log in to your account using your old password, click on the "Forgot Password" option to reset your password.
Please ensure that you do not share your Flipkart login credentials with anyone to ensure account safety and privacy of all your orders.
Note: If you receive multiple OTPs or "Forgot password" requests, there is a chance that someone is trying to break into your account. Remember to secure it with a stronger password.
---
If you suspect that your account has been compromised and you cannot log into your account, please get in touch with Flipkart Help Centre or reach out to Flipkart Customer Care to report the issue.
To report any compromise of your banking data (i.e. credit card or debit card information), please get in touch with your bank's customer support helpline.
Keeping your Flipkart account safe is a necessary step to enjoy peace of mind. Share this article with your loved ones and friends to help them shop safe.
Also read: Scam Advisory – Beware Of Fraudulent Sites And Fake Offers Misusing Flipkart's Name