Have you recently received an email, call, SMS, WhatsApp message, or any other social media message claiming to provide unbelievable discounts and offers from Flipkart? Be warned that these messages are not sent by official Flipkart channels, but by fraudsters and scammers who intend to deceive you. If you are not careful, you may be at the receiving end of fraud. Fraudsters intend to make a fast buck by misappropriating the familiar and trustworthy name of Flipkart. You are advised not to trust these fraudulent individuals or agencies with your money, or your personal and financial information. Always check with authentic and original Flipkart sources first.
So, what should you do if you come across a suspicious fraudulent promotional message? Without hesitation, please report them immediately by reaching out to the Flipkart Customer Support toll free number 1800 208 9898. Please help the Flipkart customer care representative with as many details as possible, as this will enable us to investigate the issue deeply and protect other customers like you.
This article informs you about how you can shop safe on Flipkart and still get the best deals without falling prey to scammers and frauds. Read more to understand how you can prevent and report potential frauds.
---
How can I identify Flipkart fraud advertising and fake offers?

Flipkart is India's largest e-commerce marketplace with over 100 million registered customers. For us, the safety and security of customer information is a high priority. Our data center complies with international security standards like PCI:DSS. We ensure that the data is stored under the highest level of security controls. Further, our information systems are protected by sophisticated security measures to ensure that data is never compromised, tampered with, or shared with unauthorized persons or agencies. In addition, we continuously educate and inform our customers about how they can safeguard their own data and prevent it from getting into the wrong hands.
Certain fraudsters and scammers are misappropriating the Flipkart name in an attempt to intentionally cheat and mislead online shoppers. They endanger both Flipkart's reputation and the safety of online shopping in India. You are strongly advised not to conduct any business with them.
The content of the fraudulent messages/calls sent by these individuals or agencies may include references to tempting deals, discounts and offers on Flipkart. These messages may be designed to closely resemble Flipkart's official trademarks including logos, typefaces and brand colors. Some of the fake websites may also have the word 'Flipkart' in the URL or logo.
Here are some ways in which fraudsters may get in touch with you: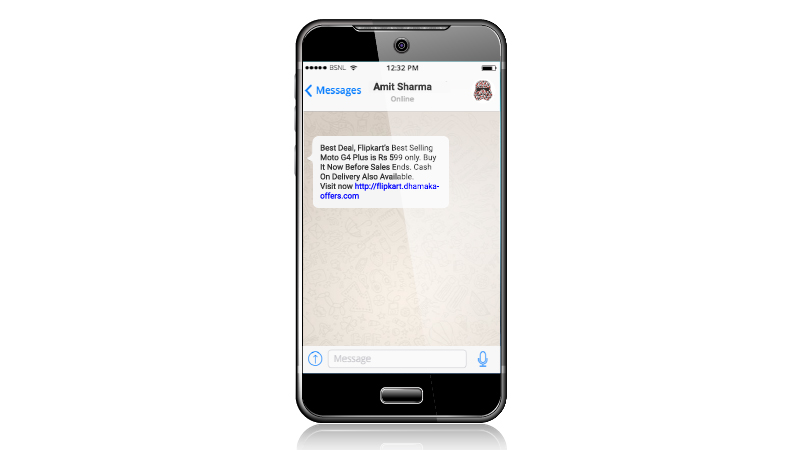 Fake websites: These websites may have names and internet addresses (URLs) like flipkart.dhamaka-offers.com, flipkart-bigbillion-sale.com among others. Such websites pretend to be associated with Flipkart by using similar-looking and similar-sounding names. However, they are not authorized by Flipkart.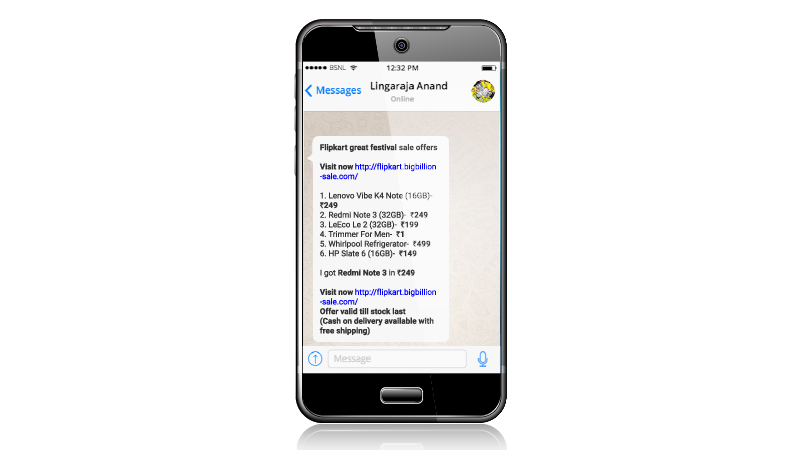 Slam the door shut on #fraudulent #websites pretending to be https://t.co/0tCwHL4MnQ. Find out how to #FightFraudWithFlipkart here: https://t.co/hwqZHtFUJj pic.twitter.com/NnRDlyBoZX

— Flipkart Stories (@FlipkartStories) July 16, 2018
WhatsApp, Facebook Messenger and/or other social messaging platforms: Fraudsters may try to send you messages over these familiar messaging platforms. Many Flipkart customers have reported receiving messages similar to these:
You are asked to provide personal details such as name, mobile number, address, banking details, etc.
You are asked to share these fraudulent messages with other individuals or groups in your Contacts list to win lucrative prizes
You are offered products at unbelievable and very lucrative prices (e.g. a 32 GB pen drive for ₹25)
You are lured to a website that appears to be very similar to Flipkart
You are asked to make payments through online wallets, bank transfer, or other means for logistics or taxes to avail a free gift
Please do not reply to these messages or click on any links they contain without verifying their authenticity with Flipkart, no matter how attractive the offers may appear. Flipkart has no connection with these fraudulent senders, and we have no control over any information that you share with them. Any details that you share with these fraudulent senders that impersonate Flipkart can compromise your personal and financial information. Payments once made to these accounts cannot be retrieved or reversed, and you may be cheated of your hard-earned money.
---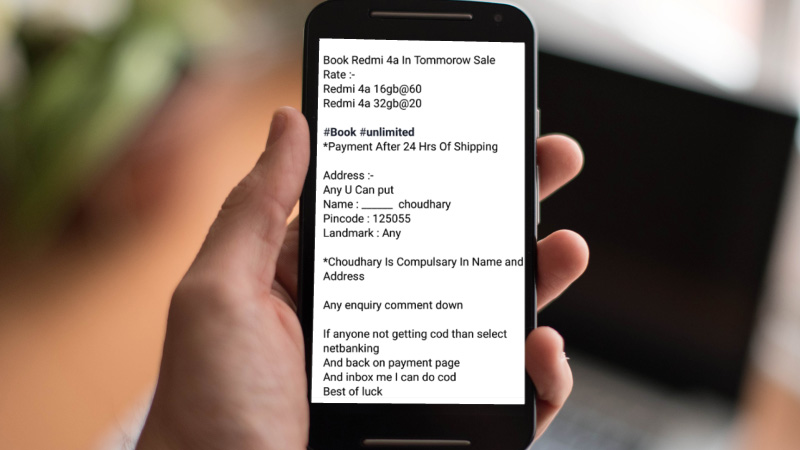 #Flipkart doesn't do business on #WhatsApp so waste no time hitting that block button! Read more to #FightFraudWithFlipkart: https://t.co/hwqZHtFUJj @Flipkart pic.twitter.com/Sy0BzBbJEG

— Flipkart Stories (@FlipkartStories) July 18, 2018
Fake Calls or SMS to customers: Sometimes, customers may receive calls from unknown numbers. The callers may speak English, Hindi or any other language. They may lure you with information that you have won free gifts or that your mobile number has been selected through a lucky draw, etc. In order to avail these gifts, you will be asked to reveal secret and sensitive personal financial information or access credentials such your bank account numbers, electronic wallet details, credit/debit card information, CVV, PIN or OTP. They may also lure you to a website appearing very similar to Flipkart or send you a fake fabricated certificate. They may also claim to be Flipkart employees, or partners of Flipkart, and may display fake Identification cards as proof. It is easy to fabricate such documents in order to make you believe that they are genuine. You may also be asked to transfer money to certain digital wallets to claim prizes or gifts. Note that these accounts are not managed by Flipkart, but by fraudsters who want to cheat you.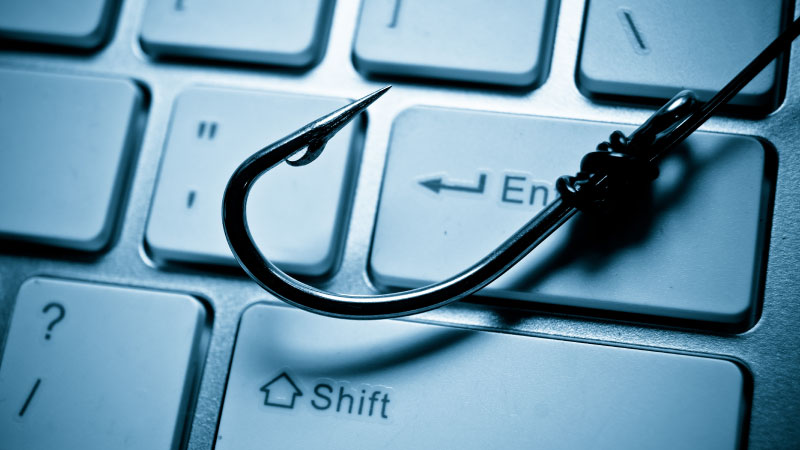 #ThursdayThoughts: @Flipkart doesn't do business over text. So make sure you ignore these #fraudsters! Stay woke! https://t.co/FlfOtpLYL8#FightFraudWithFlipkart pic.twitter.com/mf9WO3QvjA

— Flipkart Stories (@FlipkartStories) July 19, 2018
Phishing (Fake Emails): Phishing is a fraudulent attempt to obtain sensitive information such as usernames, passwords, and credit card details for malicious reasons by disguising as a trustworthy entity in an electronic communication. Phishing emails are sent by fraudsters. The emails may ask you to visit malicious links through which your personal and/or financial information can be obtained and be used without your consent to carry out fraudulent transactions. You may lose money, personal and sensitive information and your systems — desktop computers, laptops or mobile phones — can get potentially compromised by malware/viruses upon opening or clicking on links in such mails.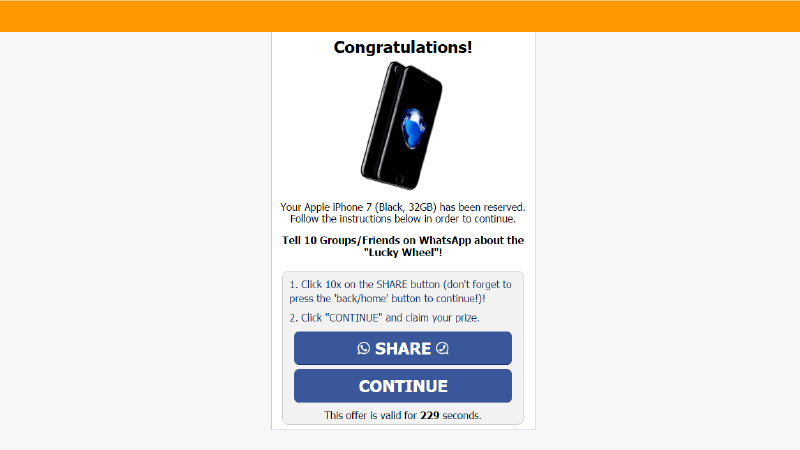 Online games/websites (discount coupons/gift vouchers/offers/online games): Online scams of this type reach out to customers, asking them to play games such as 'spin the wheel,' which promise free gifts, cash prizes, and other tempting bait. The players are often asked to share the game with their contacts to be able to avail the prize, which, of course, never materializes. Users are made to part with sensitive personal information such as their email id, address and mobile phone number. By participating, you are at risk of fraud. Please read this article on fake online games for more information.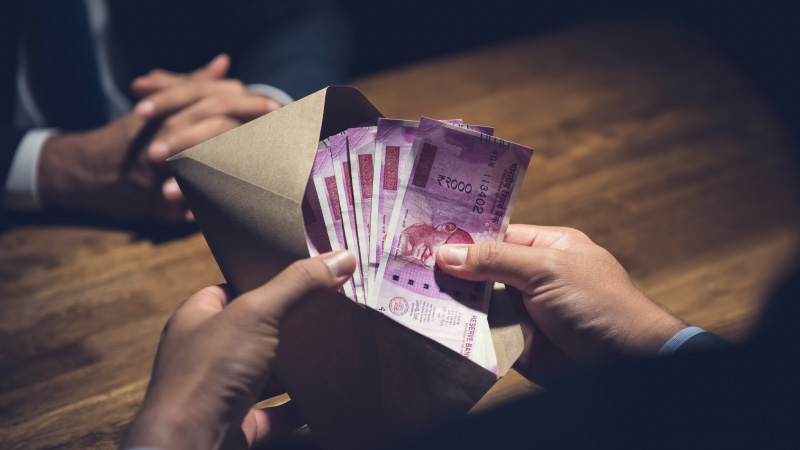 From Marketplace Sellers: While you may have received an order placed on Flipkart, you may receive a pamphlet or inserts, asking you to make future purchases on some other online shopping site or portal to avail higher discounts. Similarly, sellers/callers posing as sellers may ask you to place order directly with them, and may ask for payment to be made directly. Often, they may ask you to cancel your Flipkart order. Once you agree to any such deal with these fraudulent sellers, Flipkart will not have any control over any information you might share with them. You are at risk of fraud if you accept such offers.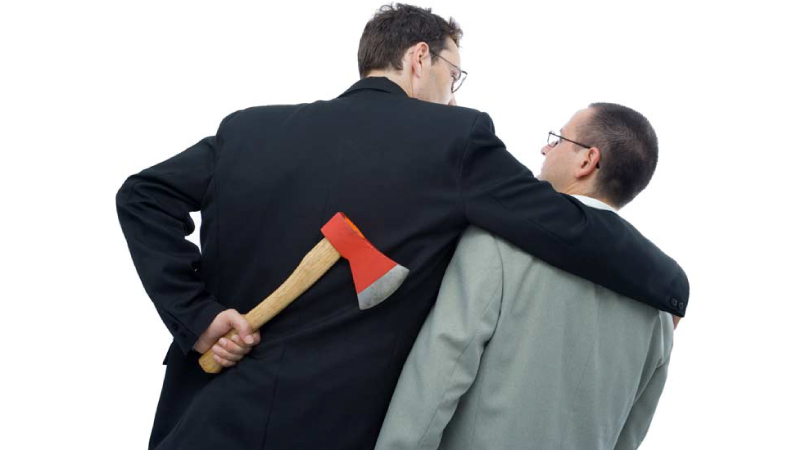 Offline media: Such scams may involve offers of employment against certain commissions/fees, and may appear especially in newspaper advertisements and job portals. Flipkart never solicits, nor has it authorized any third party, to collect money from potential candidates for employment or contracts (for more information, read this post on Fake Flipkart job offers).
Other known modus operandi of fraudsters
We have observed certain other fraud patterns in which customers may receive fraudulent SMS or WhatsApp messages or calls from fraudsters. These fraudsters may mislead customers by telling them that they represent Flipkart or its group companies like Myntra, Jabong, Jeeves or PhonePe. A fraudster may quote your recent order numbers (which may be obtained from discarded packaging labels or covers) and ask customers to pay some upfront charges through bank transfer/ wallets, etc., or they may ask you to share your banking and/or debit/credit card details and/or personal details. In a few instances, customers and the general public may be asked to install some third-party applications (like Anydesk). Please be warned that such applications can take control of your mobile phone and access personal information as well as stored financial information. Please be assured that Flipkart or its authorized representatives will never ask you for these details or ask you to install any third-party applications.
In case you receive any such calls or messages, disconnect immediately and do not share any information. Please bring such matters to our attention as soon as possible by contacting our customer care number (1800 208 9898) or by sending a direct message (DM) on Twitter to Flipkart Support (@flipkartsupport). Do share details like fraudsters' phone numbers, or screenshots of suspicious messages received with our customer care representatives.
How to shop safe on Flipkart and avoid risk of fraud

Flipkart customers can shop only on the official desktop website of Flipkart, Flipkart mobile shopping app (iOS and Android), and Flipkart mobile site. Online shopping on Flipkart cannot be conducted on any other website or online platform other than these.
Flipkart has not authorized any third-party sites to represent it or its group companies (the Flipkart Group includes Myntra, Jabong, PhonePe, Jeeves, F1 Infosystems and 2GUD.com) to offer discounts or deals on its behalf. If you part with your personal/financial information or monies despite our cautionary advice, please understand that you are doing so at your own risk.
---
Where can I get reliable information about offers, deals and discounts on Flipkart?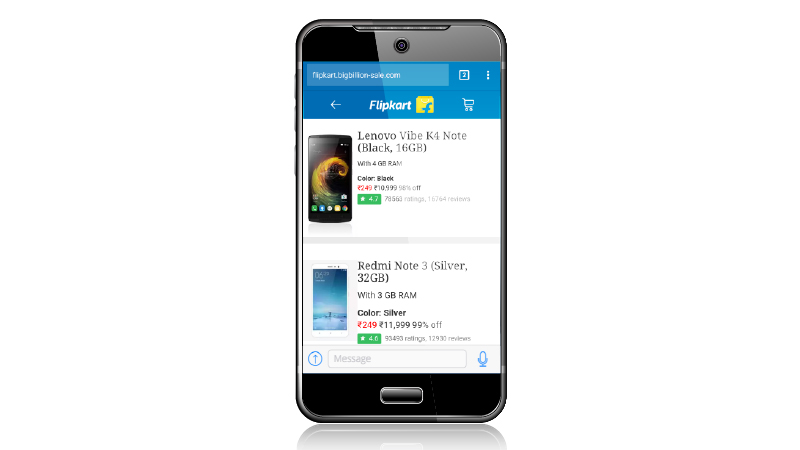 That's a good question. Of course, we know you want to make the most of deals, discounts and offers, but you must ensure that they are legitimate in the first place. Please visit https://www.flipkart.com/ and https://stories.flipkart.com for the latest news and announcements regarding all authorized offers, sales and discounts. These are the most accurate and reliable sources of information.
Enable notifications on your Flipkart mobile shopping app and ensure that you update the app to the latest version.
Please visit these online resources for the latest information about Flipkart:
– Official Facebook page for Flipkart
– Official Facebook page for Flipkart Stories
– Official Twitter account of Flipkart
– Official Twitter account of Flipkart Stories
Flipkart or its authorized representatives will never ask you to disclose your confidential information such as passwords, OTP and PIN numbers. By disclosing such information to unauthorized persons, you are at risk of being a victim of financial fraud and unlawful collection of personal information. You may even be lured into conducting fake online transactions or fraudsters may use your banking credentials to carry out frauds on our platform.
In case you have encountered financial loss due to any such frauds, you may reach out to us to immediately by calling the Flipkart Customer Support toll free number 1800 208 9898. We will try to cancel the order and process the refund back to source, wherever it is feasible and within control of Flipkart. In other cases, you will have to reach out to your banks and respective cybercrime police stations to lodge an official complaint. We will not share any details of suspected buyers with you directly. It will be shared only with law enforcement agencies on a case-to-case basis.
Your support can help protect customers like yourself, and the general public, from frauds. Report any suspicious activities to the Flipkart Customer Support toll free number 1800 208 9898. You can also send us an email or chat with us from within the Flipkart app (see screenshot):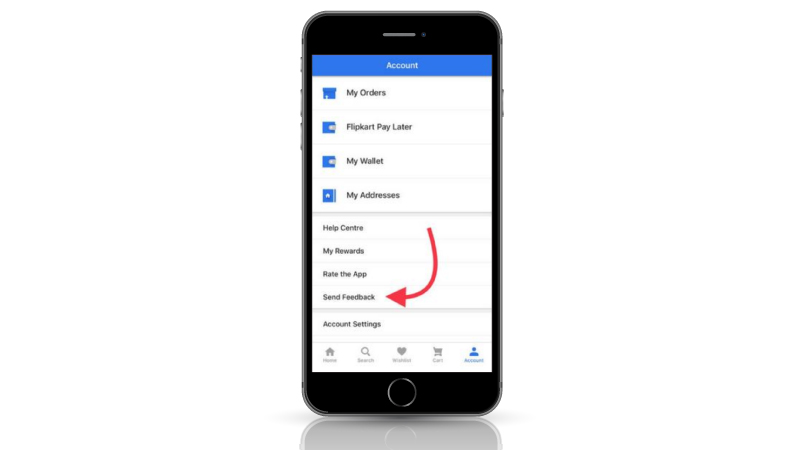 Flipkart takes information security seriously and initiates necessary actions on a continual basis. In the past we have investigated cases and have taken legal action against fraudsters, scammers and imposters, while continuing to strengthen our systems and processes. Please help us in our endeavor to enhance customer data security for online shopping in India.
Please read Flipkart's Privacy Policy for more information. For any of your customer support requirements, please do not hesitate to reach out to us via the Flipkart Help Centre.
---
ALSO READ
Beware of fake Flipkart jobs and fraud employment agents
Fake reviews on Flipkart? Read this before you believe them
---
Read more customer education articles in our Safe Shopping section