Shop safe! Beware of fraudulent sites and fake offers misusing Flipkart's name
Stay clear of unauthorized websites and messages claiming to offer you unbelievable deals and discounts. Here's a tip sheet for safe shopping
Have you recently received an email, SMS or Whatsapp message from a website claiming to advertise unbelievable discounts and offers during Flipkart's The Big Billion Days sale 2017? Unbelievable is the only word to believe here, for these messages are sent by cheats and scammers operating fraudulent websites. They intend to make a fast buck by misappropriating the familiar and trustworthy name of Flipkart. You are advised not to trust these websites with your money, or your personal and financial information.
How can I identify fraudulent websites that advertise fake Big Billion Days offers?
Certain fraudulent websites are misappropriating the Flipkart name in an attempt to intentionally cheat and mislead online shoppers in India. These websites may have names and internet addresses (URLs) like flipkart.dhamaka-offers.com, flipkart-bigbillion-sale.com among others. Such websites are not authorized by Flipkart. They endanger both Flipkart's reputation and the safety of online shopping in India. You are strongly advised not to conduct any business with such websites. 
Here are some ways in which scammers can get in touch with you:
Through WhatsApp and/or other instant messaging platforms: Customers are asked to provide their personal details such as name, mobile number, address, banking details etc. They are also asked to share these fraudulent message to other groups to win lucrative prizes.
Fake Calls/SMS to customers: These calls or texts usually lure in customers by telling them that they have won free gifts. They are then told that in order to avail these gifts, they have to share banking details, such as account numbers, electronic wallet details, credit/debit card information and even OTP.
Fake emails: Such emails ask customers to visit malicious links through which their personal information can be hacked.
Fake online games/websites (offers / online games): This online scam reaches out to customers asking them to play game such as 'spin the wheel,' which promises free gifts, cash prizes and other tempting bait to customers. The players are often asked to share the game with their contacts to be able to avail the prize, which, of course, never materializes. Users are made to part with sensitive personal information such as their email address and mobile phone number. Please read this article for more information.
How to shop safe during The Big Billion Days sale
The Big Billion Days is India's biggest sale and this year it is scheduled to take place from September 20 to 24, 2017. During the sale, customers can shop exclusively on the official desktop website, mobile shopping app, and mobile site of Flipkart. The sale will not be conducted on any other website or online platform other than these. 
Flipkart has not authorized any third-party sites to represent it or its group companies (including Myntra, Jabong, PhonePe and eBay India) to offer discounts or deals on its behalf. If you continue to trust these websites in spite of our cautionary advice, please understand that you are doing so at your own risk.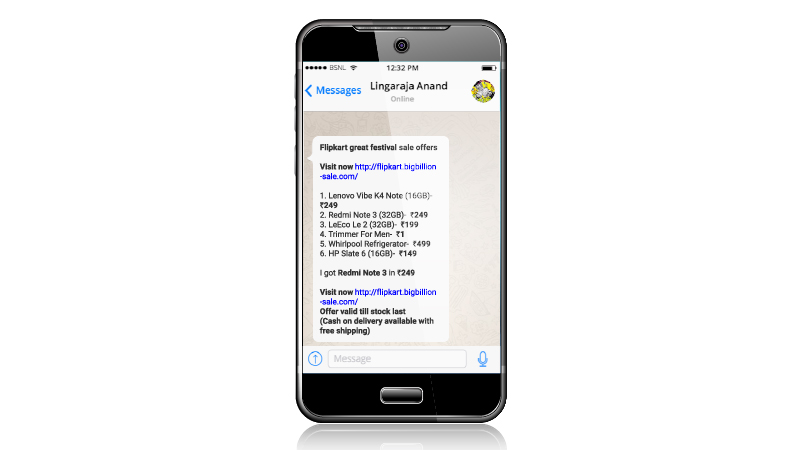 What is the risk of clicking fraudulent links?
Clicking on these fraudulent links in messages and emails may compromise the security of your computer or device, and may install harmful software on your system. Further, these sites may install software designed to compromise your internet security, which may put your personal and financial information at risk. Sharing your Flipkart username and password, bank account details or credit card information with these sites may lead to fraud and theft of both your money and your personal data.
We appeal to our customers and all online shoppers in India to exercise caution while interacting with websites that may claim to offer discounts on behalf of Flipkart. Some people have also reported fake online games offering Flipkart rewards. These are created and circulated by fraudulent elements and we advise you to stay away from them. All offers, deals, and discounts applicable to the Big Billion Days sale will be announced exclusively on Flipkart, as well as the official media vehicles and social media handles owned, managed and operated by Flipkart.
Flipkart is the largest and most respected online marketplace in India and has earned the trust of over 100 million registered customers since its first online transaction in 2007. This year, Flipkart is celebrating 10 years of innovating for India. At Flipkart, we care deeply about the safety and security of online transactions both on our own platforms and marketplaces, as well as the larger e-commerce ecosystem in the country. As the pioneer of safe, secure and foolproof online shopping in India, we believe it is our responsibility to safeguard the rights and reputations of our customers and the larger online shopping community, including sellers, customers, and our employees including logistics personnel.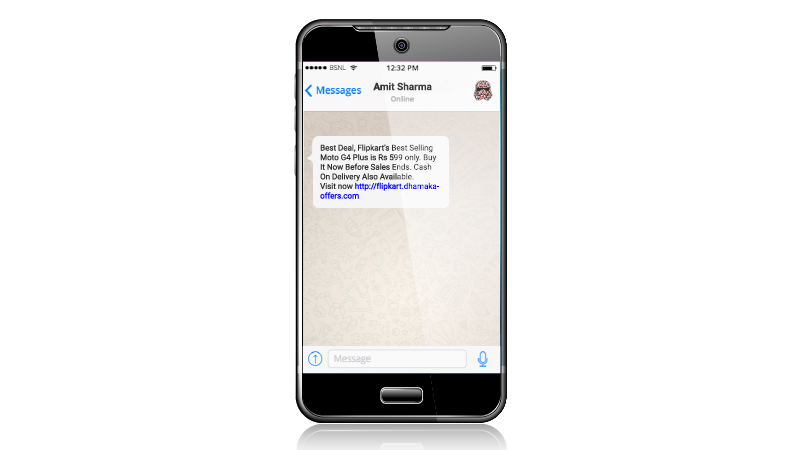 How can I identify fraudulent advertisements related to The Big Billion Days?
As the date of The Big Billion Days 2017 sale approaches, many fraudulent entities and scammers have been reaching out to customers with communication that tempts and entices them to avail of offers and discounts. 
In order to confuse and mislead internet users like you, these fraudulent websites and other online entities may attempt to contact you over social media, SMS text messages, Whatsapp messages, and other channels including offline channels. The content of these fraudulent messages may include references to great deals, discounts and offers on Flipkart. These messages may be designed to closely resemble Flipkart's official trademarks including logos, typefaces and brand colors. Some of these websites may also have the word 'Flipkart' in the URL or logo. Please note that Flipkart has not authorized these websites to represent it.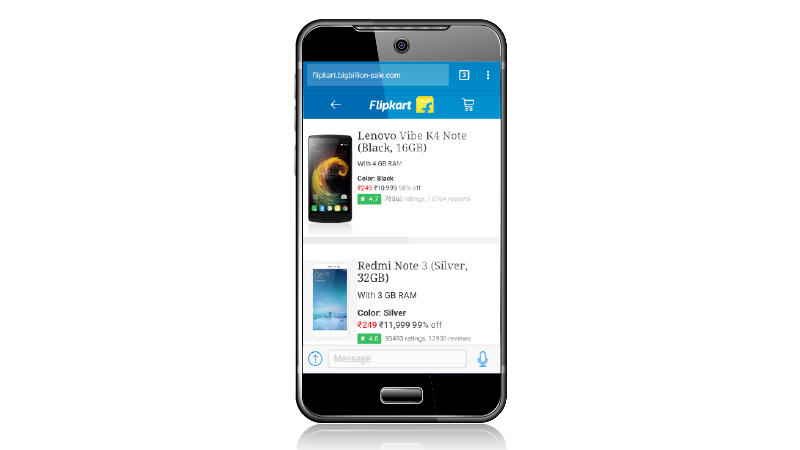 Where can I get reliable information about The Big Billion Days offers, deals and discounts?
Please visit

https://www.flipkart.com/

and

http://stories.flipkart.com

for the latest news and announcements regarding The Big Billion Days and all authorized offers, sales and discounts. These are the most accurate and reliable sources of information
Enable notifications on your Flipkart mobile shopping app and ensure that you update the app to the latest version
Please visit these online resources for the latest information on The Big Billion Days sale on Flipkart.
Flipkart or its authorized representatives will never ask you to disclose your confidential information such as passwords, OTP and PIN numbers. By disclosing such information to unauthorized persons, you are at risk of being a victim of financial fraud and unlawful collection of personal information. You may even be lured into conducting fake online transactions and losing your money.
If you come across any of the above suspicious activities, you are requested to report them to us by reaching out to the Flipkart Customer Support toll free number 1800 208 9898.
---
Note: Images depicted in this article are representational in nature and may not be screenshots of actual fraudulent and fake websites misusing the Flipkart name