From comprehensive family support for deceased employees, extended medical coverage, and flexible insurance plans, the newly introduced employee policies for Flipsters focus on health and wellbeing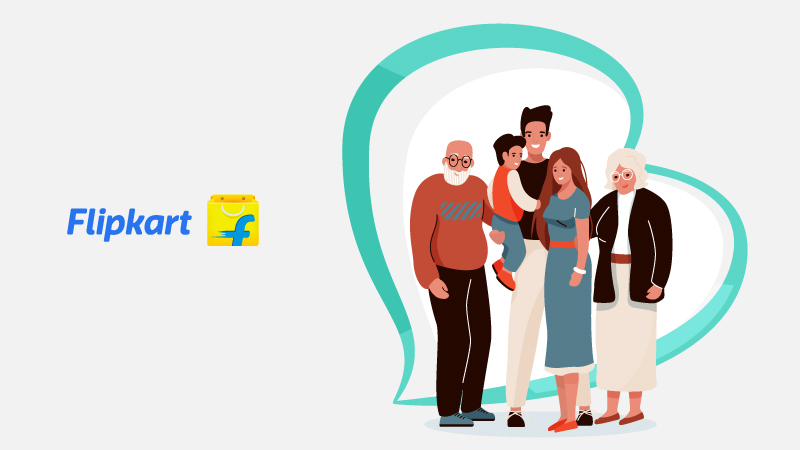 Flipkart continues to prioritize employee well-being with a slew of measures extending care and wellness initiatives to all employees, including supply chain staff, across the country.
---
Bereavement — New Family Support Policy for India
Beyond grieving for colleagues lost to COVID-19, Flipkart stands with their families. The new Family Support Policy for India extends additional support for the families and dependents of Flipkart employees who have lost their lives to the COVID-19 pandemic.
Additional support measures for families, apart from existing provisions, have been introduced.
Life Insurance Cover: The family of the employee who succumbed to COVID-19 will be provided with a life insurance cover to the value of 5X of the employee's CTC along with a notice period settlement as per their contract.
Education Support: Flipkart will provide education support of up to INR 1.2 lakh per annum for up to two children of the deceased employee until the children reach 22 years of age.
Medical Insurance Cover: Flipkart will sponsor and extend the current Medical Insurance cover for the family for a period of 60 months.
Financial Planning Assistance: To support strong and independent financial planning for the future, Flipkart will facilitate professional financial assistance programs for the family of the deceased employee.
Accelerated ESOP vesting: Flipkart will also enable an accelerated ESOP vesting and future liquidation opportunity, as needed. The company will also cover the one-time cost of an independent financial planner.
---
Unlimited medical insurance cover for Flipkart employees and updated policies for families
The past year has highlighted the increased importance of healthcare and the need for funds to fight the pandemic. Our policies have been suitably shaped to ensure that employees feel safe and secure. Offering Flipsters the right support, which enables them to focus on work while providing the best medical resources and insurance benefits, is a priority in these times.
In this endeavour, Flipkart has introduced a first-of-its-kind unlimited medical insurance cover for employees, thereby fully covering all medical expenses and cost of hospitalization, without employees paying any premium for it.
Flipkart has also announced updated policies, designed to look at the post-pandemic world and the needs of the employees and their families. Our comprehensive healthcare policy includes mental wellbeing cover for all treatments, enhancement in maternity limits, advance procedures and non-medical, critical illness cover with lump sum payment, over and above medical cover for employee and spouse.
To formulate these initiatives, Flipkart conducted an engagement survey among its employees to understand their preferences and priorities. The FlexBen policy enables employees with the freedom to choose benefits based on their individual needs, including both insurance and non-insurance options. Employees have been given a choice to choose covers for their families, including children and both sets of parents.
---
Vaccination drives
Flipkart continues to work with hospital partners and local authorities to arrange for vaccinations for all employees across the country over the next two months. Over 15,000 employees and their families have been vaccinated to date. Flipkart will cover the full vaccination cost for employees and 5 dependants each.