A hard-worker, a supportive husband, a reliable store-owner — these are just a few of the many hats Flipkart Kirana partner Amit Kumar wears. His wish to support his wife's dreams, and the life lessons passed on from his beloved mother drive him to be better, every day. For him, there's no room for compromises — at work or at home. Here's his story.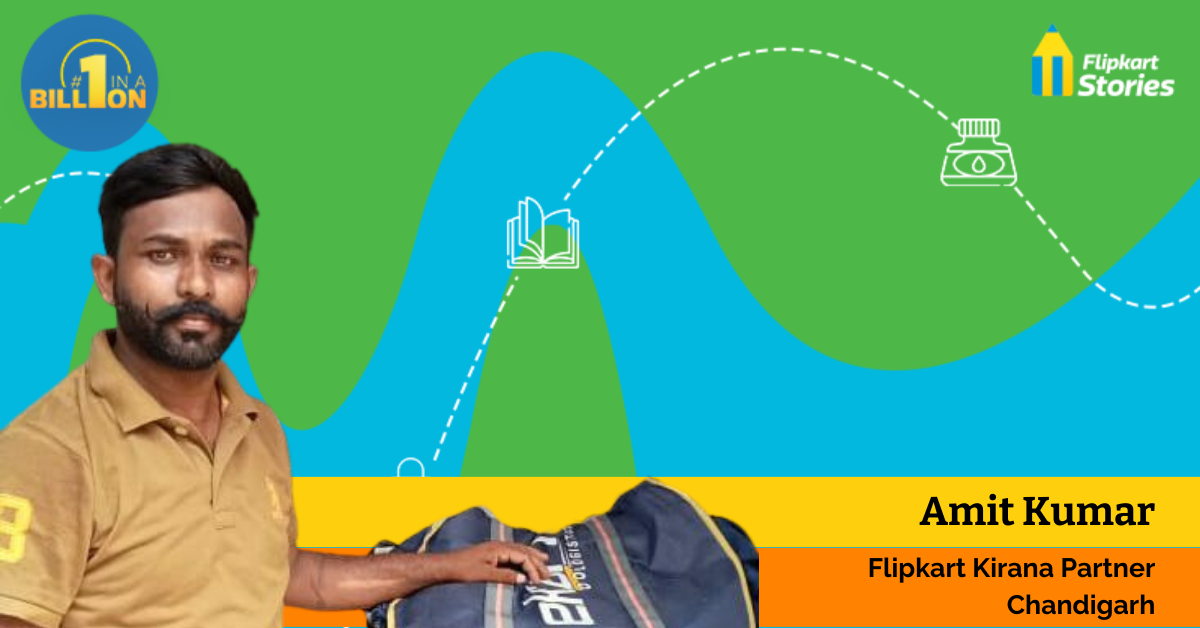 Heartbreak, dreams and an unyielding commitment to work and family, Flipkart Kirana partner Amit Kumar's #OneInABillion story.
---
I  lost my mother in 2013. She was my whole world.
My father is a lab attendant at a research institute in Chandigarh and my mother was a homemaker. I also have 3 older sisters and a younger brother.
I got married after my mother passed away. At the time, I was living with my father. I was lucky to have met my wife.
But my family began to pressure us to have kids. This didn't fit well with us because we weren't ready. My wife is still pursuing her studies and we didn't want to add extra responsibilities right away. My father didn't take it well and soon, we moved out of his house.
It hurts me to this day but Monika, my wife, has always comforted me through the pain, and I try to be there for her as well. She is my inspiration to move forward in life and I want to support her dreams to become a teacher. I also dream of us building our own home and I am saving up for it.
I've been a Flipkart Kirana partner for 3 years now and it is going pretty well.
I could have done any job in Chandigarh that's on the same level at Flipkart, but I know for sure I will be paid less for more hours of work. This is not the case at Flipkart.
I love working as a Kirana Partner for two reasons. Firstly, the flexibility it allows. I can do my kirana work and be there to drop off my wife at work or take care of personal chores without affecting my work flow. Secondly, I get paid way more than other places for similar work.
I have a good rapport with my customers and most of them are regulars. It takes me only a short amount of time to build trust with my customers and they feel comfortable reaching out to me. If there's any issue, they know they can contact me and I always make sure things are sorted out. This drive to build good relationships comes from my mother's mentoring. As a child, whenever I got into a tiff with my friends, she would make me patch up right after. I guess that just became my whole personality as I grew up.
I have been toying with the idea of creating a social media page to document the lives of delivery personnel for some time now. I want to showcase how much hard work goes into the profession. Even though there are millions of amazing customers who get us, there are still many who don't connect with our lives.
For me, The Big Billion Days gives me space to do my best work and earn more than usual. I also earned really well during BBD last year. I have been awarded for the highest number of deliveries during BBD multiple times. Healthy competition is something that I enjoy and it drives me to put my best foot forward. And I am eagerly looking to get competitive this year too!
---
Also read: In Gujarat, a Flipkart Samarth seller weaves success with uncompromised quality