It's been a breathless wait for the iPhone 8 and iPhone 8 Plus. The new releases from Apple are finally here, and you can get your hands on them on Flipkart, the online partner for Apple in India. Take a look at all the features of these power-packed devices before you buy!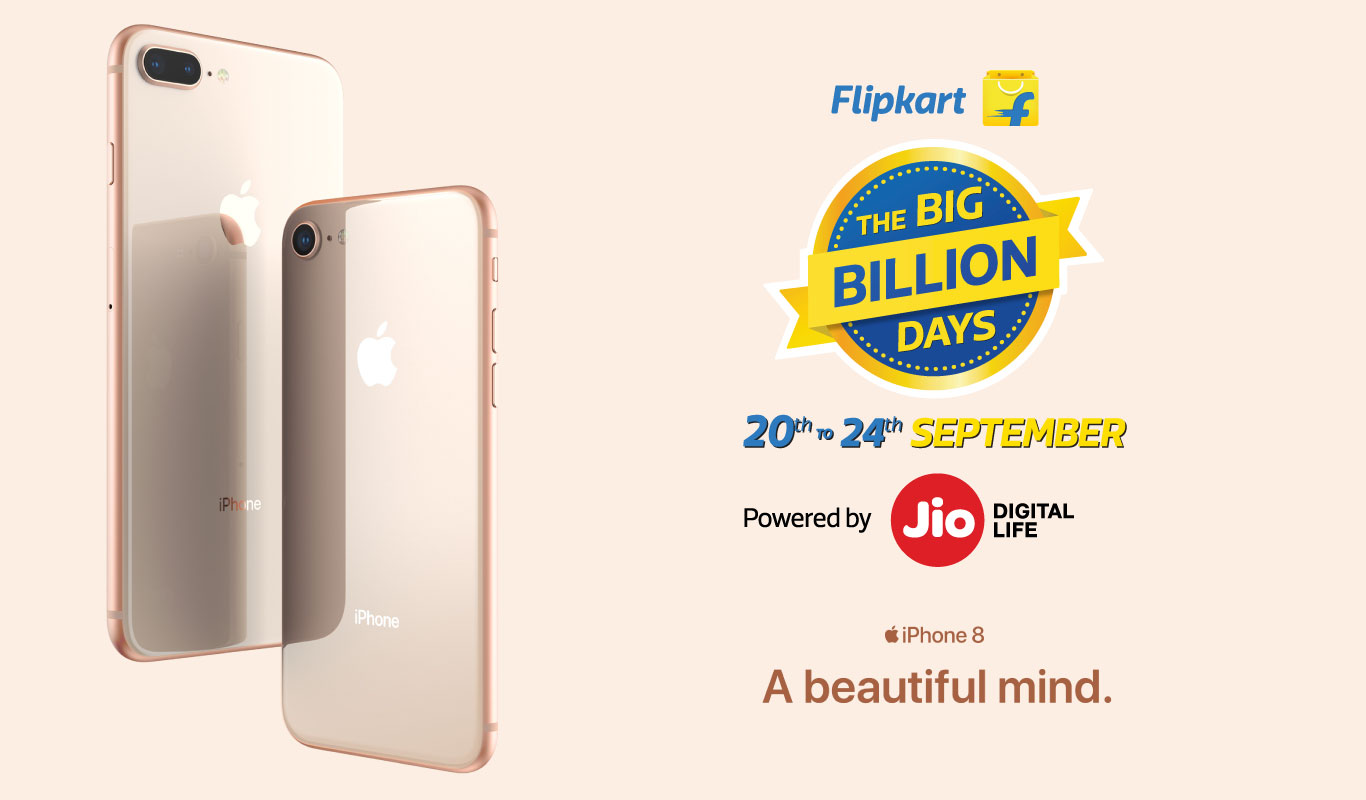 The wait for the new iPhone is over for Flipkart customers. The new iPhone 8 and iPhone 8 Plus are now available on Flipkart for pre-orders. And, wait, did you hear about the iPhone X? Here's everything you need to know about these newest power-packed phones from Apple. 
Apple calls it "a giant step" and the features of iOS 11 might just justify the tag! This advanced operating system opens up augmented reality and personal learning for iPhones in ways we have only imagined. And the latest phones from the brand's stables, the iPhone 8 and iPhone 8 Plus have this and more to their advantage. A report from Kantar Worldpanel states that Apple is the second-most preferred buying brand in India, with 15% of all smartphone owners hoping to get their hands on an iPhone. If you're one of the many iPhone enthusiasts or are ready to become one, here's what you can look forward to.
iPhone 8 and iPhone 8 Plus – Elegant all-glass design with stronger glass
The iPhone 8 and iPhone 8 Plus are encased completely in glass, as opposed to the iPhone 7 that had an aluminum casing. This change is similar to the iPhones 4 and iPhone 4s, which had glass front and back panels separated by a stainless steel band. Those models, however, were criticized for their lack of durability as they cracked very easily if dropped. That is why Apple has outfitted the new iPhone 8 and iPhone 8 Plus with "the most durable glass ever in a smartphone". The new models are available in space grey, silver, and gold, with matching aluminum edges. They will also be water- and dust-resistant for those who need a phone as tough as them.
Improved Camera
Apple is always known to provide an outstanding camera, among other exceptional attributes, on its phones, and here's where the latest models surpass their predecessors. The iPhone 8 features a 12MP camera with an enhanced sensor that facilitates faster low-light autofocus. It also provides 4K recording with the best video quality. The iPhone 8 Plus features two 12MP cameras, plus a new Portrait Lighting mode to capture more clearly-defined portrait shots. Here's to clicking away!
Faster processor and wireless charging
Both iPhone 8 and iPhone 8 Plus come equipped with a new A11 Bionic chip that contains six cores, making it considerably faster than the A10 processor, which was used in the iPhone 7 and iPhone 7 Plus. The phones can also be charged wirelessly. Additionally, you can also use third-party charging pads from Belkin or any other company to charge your iPhone. There is also a possibility that in 2018, you will be able to charge all of your Apple products, like the iPhone, Apple Watch, and AirPods, simultaneously with an AirPower charging mat!
Clearer 'True Tone' display
Although the iPhone 8 and iPhone 8 Plus have the same display sizes as the iPhone 7 and iPhone 7 Plus, they also come with a True Tone display that automatically adjusts the white light intensity according to ambient room light for increased viewing convenience. The iPhone 8 Plus has a 5.5-inch screen size, while the iPhone 8 has a smaller 4.7-inch screen, though both feature Retina HD displays for true clarity.
Augmented reality and redefined color
The iPhone 8 Plus has dual cameras customized for augmented reality, so gamers and those looking to join the AR bandwagon can rejoice. These cameras contain accelerometers for precise motion tracking, new gyroscopes, and individual calibrations. There is also a provision for iOS developers to utilize the TrueDepth camera and the rear cameras to create apps and games featuring a mix of real-world view with graphics. For those looking for style, there's good news. The iPhone 8 and iPhone 8 Plus will be available in a new pink-tinted gold color, as opposed to the earlier models, which were available in rose gold.
The iPhone X
The iPhone X is a class apart from any Apple iPhone model you've ever seen, which makes it that much more extraordinary. It's like looking at a futuristic screen that has somehow been equipped with all the features of a smartphone. The bezel has been minimized, and the home button has been removed. The screen is a Super Retina Display with OLED, providing unbelievably rich, dark colors.
The phone runs on 3GB of RAM that will prove invaluable when you dabble in augmented reality and artificial intelligence. Apple also claims the iPhone X battery lasts two hours longer than the iPhone 7, and wireless charging through an inductive pad provides a more convenient charging experience.
Looking to buy one of these incredible smartphones for yourself? Flipkart is an authorized online reseller of the iPhone 8, the iPhone 8 Plus, and the iPhone X.
---
Customers can now pre-order the iPhone 8 and iPhone 8 Plus on Flipkart.
Watch this space to know about the iPhone X pre-order date.