Instakart (The Flipkart Group) is a fair employment opportunity provider. Learn about benefits provided to last-mile workforce and gig workers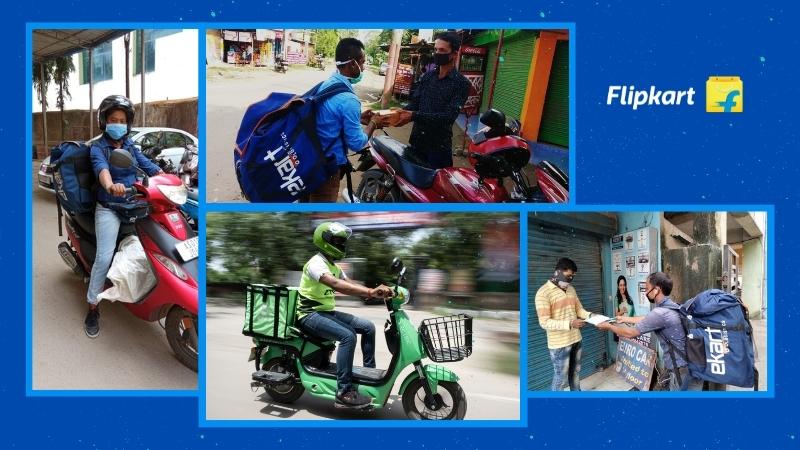 Instakart (a Flipkart Group Company), as a committed corporate citizen, believes in being a fair employment opportunity provider and has hence, initiated various progressive measures for the benefit of the entire last mile delivery gig workers engaged by Instakart and personnel, who are deployed by Instakart's contractors and service providers, across the country. These initiatives include the right training, ensuring hourly labour rates equivalent to applicable minimum wage after costs, and ensuring additional health benefits.
As a testament to our efforts, Instakart has been chosen among the top organizations by the Fairwork Project in 2019 and 2020.
Listed below are some of the benefits provided to our last-mile workforce:
Flipcare: Flipkart is committed to providing a safe working environment to all its last mile workforce and safeguarding them from potential harm.

All our contract delivery partners are provided with ₹7.5 lakh accidental insurance along with a ₹7.5 lakh term-life insurance. This is over and above the benefits offered under Employees State Insurance Corporation (ESIC). Also, there is no ceiling on expenditure on the treatment of an insured person or his/her family member.
Our gig delivery partners are covered under Group Personal Accident Policy of ₹5 lakh, Group Medical Insurance Policy of ₹1 lakh (doubled to ₹2 lakh in case of accident) and Group Term Life Policy of ₹5 lakh sum insured value.

Suraksha – A Wellness Program: We have a comprehensive wellness program for all our frontline workforce (including delivery workforce of all models, sorters, off-rolls, teamleads), which provides them and their families immediate assistance in case of any health issues.
This includes:

24×7 Free video consultation with doctor – for the worker and his/her family (4 adults + 2 kids) on Practo
Flat 20% discount on prescription medicines, lab tests & health packages on Practo Discounted Services on XOXOday

Flat 10% discount for medicines at the Apollo pharmacy stores
Free Lenskart Gold membership – up to 50% discount on eyewear & free eye check-up
Fitness package access – 28 days to all fitness videos at Cure.fit Live
Flat 50% discount on eyeglasses and sunglasses at Lensfit

Instant Credit: We have observed that many delivery partners run out of money when they need it the most during some exigency, which is generally towards the end of the payment cycle. To help our delivery partners have access to instant credit, we have launched an Instant Credit program for our EKL & Eflex Wishmasters (WMs).
Vaccination Incentive Program: For all other locations across India we have launched a Vaccination Incentive program for all workers, which has encouraged all workers to get vaccinated.
FlipAhead: FlipAhead is a program focused on equipping supply chain workers with the right training to enhance their growth opportunities. The 50-hour training program is held over the course of 4-5 months and is built to identify and develop potential talent by training and guiding them through an enriching and structured experience.
RPL (Recognition of prior learning) training: Flipkart partnered with the National Skill Development Corporation's (NSDC) Logistics Sector Skill Council (LSC) to help train close to 20,000 of its delivery partners across the country.
SHEroes: Driving one of the core values "Inclusion", a program dedicated to women has been implemented across India for upskilling our women workers. SHEroes is a program where the overriding objective is to strengthen the Performance & Personality of our women workers through structured learning interventions.
Flipkart's Employee Health & Safety (EHS) team conducts regular training for all hub staff and delivery personnel. The modules covered in the training include modules on road, fire and electrical safety.