Hard work, excitement, preparation, unfaltering attention to detail, and passion to keep Flipkart's customer promise — these #HumansOfBBD do everything to make The Big Billion Days sale truly special. Some have stepped up to support their families in troubling times. Others have faced adversities in life like never before. But they share one thing in common. A passion and desire to push themselves and achieve things they previously considered impossible. From overcoming life's many challenges to finding independence, each of these individuals have stories of courage, resilience and determination. Read their stories and find out what makes them human.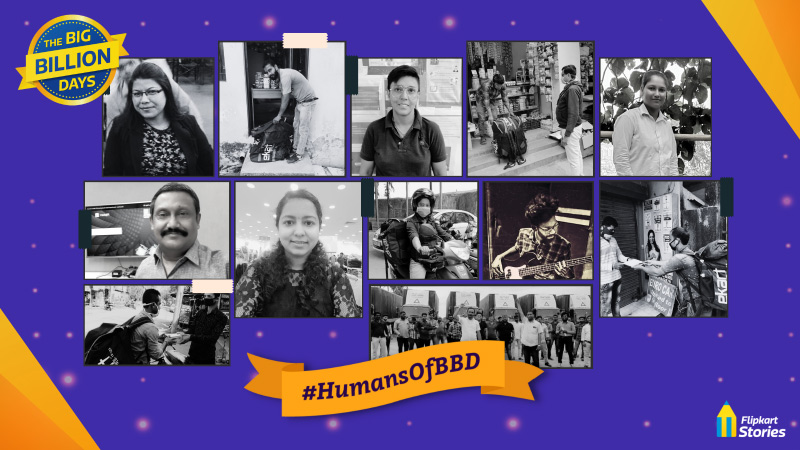 In this story: Be inspired by stories of hope and optimism from the #HumansOfBBD.
---
Every year, The Big Billion Days is a time for celebration and joy across the country. A heralding of festive cheer. And this year especially, it's a time for us – our employees, customers, our seller community, supply chain and kirana partners, artisans and weavers across the country, and the entire Flipkart ecosystem – to celebrate the spirit of resilience and look towards a time of revival. 
All through the festive season, follow our #HumansOfBBD series for stories of hope and optimism from people across India, who call Flipkart home. 
---
"You have arrived at your destination ー success!"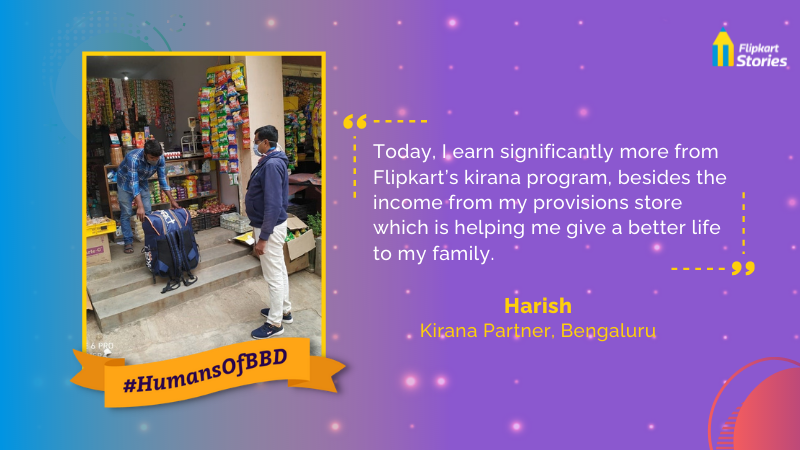 My name is Harish and I have been a part of the Flipkart Kirana program for a year now. I relocated to Bangalore seven years ago from Mandya district, 100 km from Bangalore, in the quest for a better work opportunity. Before starting my own provision store, I worked as a corporate cab driver for five years. I drove 12-14 hours a day at a stretch and earned a fixed salary of ₹20,000. Exhausted by this routine, I decided to start something on my own and become an entrepreneur.
When I opened my provision store, a field officer from Flipkart approached me and explained the Kirana program and the way it can create an additional source of income. This really intrigued me and I was excited to join the program. We had to go through a four-day training program on how to interact with customers, PoS machines, the importance of on-time deliveries, etc. Now I deliver a minimum of 30 packages each day!
Today, I earn significantly more from Flipkart's kirana program, besides the income from my provisions store which is helping me give a better life to my family. I deliver packages between 7 AM and 3 PM and then I get back to my store. When I am out delivering Flipkart products, my wife supports me by attending to the store.
---
Saving for college and making mom proud!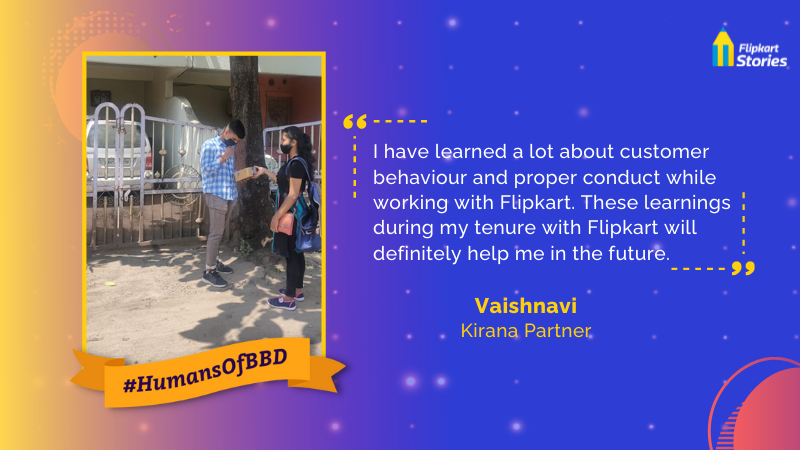 The nationwide lockdown to fight COVID-19 led to a challenging time for all small businesses, including my godown, which remained shut during the lockdown. My name is Vaishnavi and I am a Flipkart Kirana partner. As businesses are returning to normalcy, my mother manages the godown while I deliver about 50 to 60 packages in a day. As a single parent, my mother appreciates me stepping up to help the family and is grateful for Flipkart's kirana program. Working as a part of Flipkart's kirana program provided me and my family with much needed financial support, and is helping me to save for college along with my preparation for banking exams.
I have learned a lot about customer behaviour and proper conduct while working with Flipkart. These learnings during my tenure with Flipkart will definitely help me in the future.
---
Flipkart's Kirana program and a wedding ceremony to remember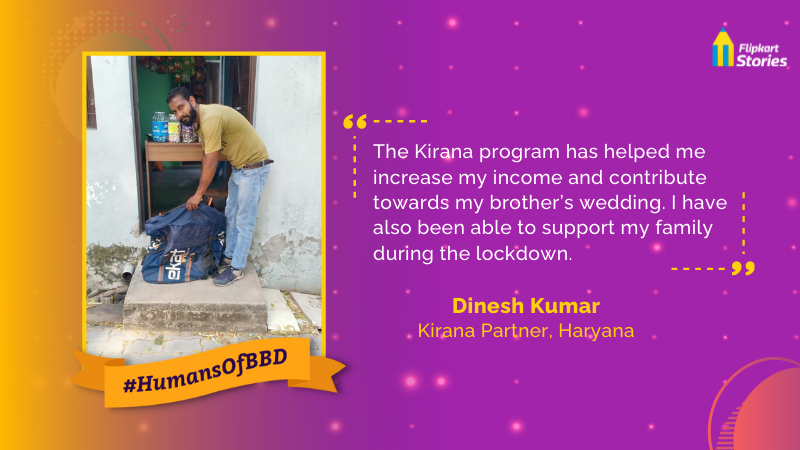 My name is Dinesh Kumar. I am 27 years old and I am from Panchkula District in Haryana. I am a dairy shop owner who joined Flipkart's kirana programme in 2019. With extra time and space at hand, I started making deliveries in nearby areas and underwent training with Flipkart as part of the onboarding process in shipment handling, customer management, and more!
The Kirana program has helped me increase my income and contribute towards my brother's wedding. I have also been able to support my family during the lockdown. Now, with things coming back to some level of normalcy, I am preparing for the upcoming The Big Billion Days sale. I feel it will be a good opportunity for me to provide service to more customers and earn more during the festive season. Last year, I delivered more than 2,000 parcels during the Big Billion Days. It was hectic, but I was happy to earn additional income and support for my family.
Today, even my family is involved in running the business. When I am out making deliveries, they step in and take care of the store and help customers.
---
A father-son duo find their feet amid a pandemic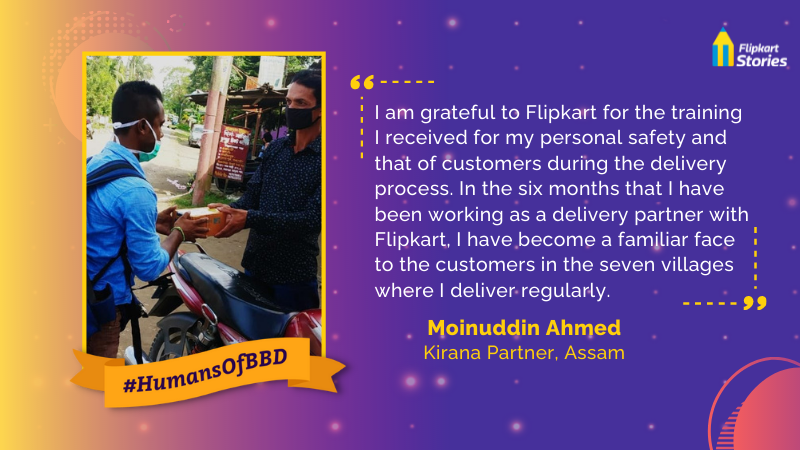 My name is Moinuddin Ahmed. I am 28 years old, and I hail from a village in Assam called Ghilagur. I joined Flipkart's kirana program in March 2021, amid the nationwide lockdown. The store actually belongs to my father, and because of COVID-19, our business had stopped entirely. That's when I joined hands with Flipkart, and became the main financial support for my family during the pandemic.
Ours is a local grocery store, but it has also become a mini warehouse where I receive packages and I plan the daily deliveries. Several customers also come to pick up their Flipkart orders from my store. Safety and hygiene have always been a top priority for me, and since the pandemic, even more so. I am grateful to Flipkart for the training I received for my personal safety and that of customers during the delivery process. In the six months that I have been working as a delivery partner with Flipkart, I have become a familiar face to the customers in the seven villages where I deliver regularly. The people of Amgury Ghat, Naali, Ronghor Charli, Hatukuhk, Amguri Gao, Meteka, and Dhuliayapar now reach my number directly for updates on their packages.
The Big Billion Days sale is not far away, and during this time, people prefer to order online rather than stepping out to crowded markets. I hope to receive more parcels and make more deliveries so that I can help customers to enjoy timely and safe delivery of their products. This also helps me earn additional income for my family.
---
Securing the future with Flipkart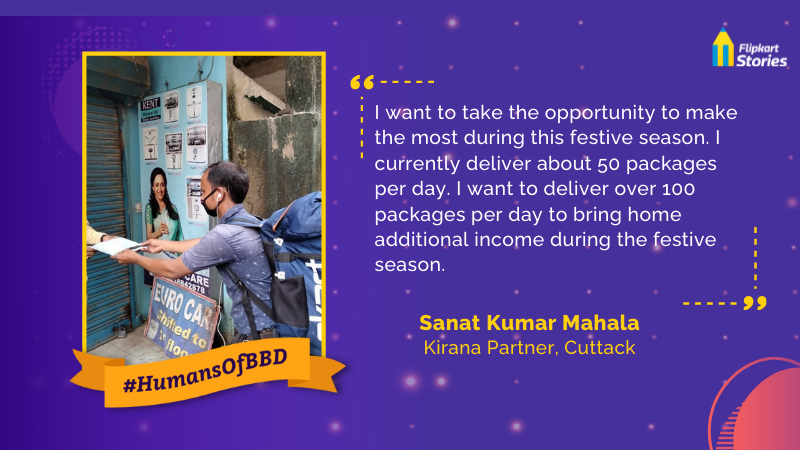 My name is Sanat Kumar Mahala and I own a small grocery and stationery store in Cuttack, Odisha. I am the sole earning member supporting my aging parents, my wife and my son. I have been running the store for over 5 years, and it has been a challenge making ends meet. Flipkart's kirana program has enabled me to achieve financial stability for my family.
I joined the Flipkart kirana partnership program 8 months ago and my income has grown almost three times. In my spare time I even try to deliver as many of the packages as I can. The Big Billion Days sale is coming up, and I know many of the residents in my area are excited because I know them personally. I want to take the opportunity to make the most during this festive season. I currently deliver about 50 packages per day. I want to deliver over 100 packages per day to bring home additional income during the festive season.
With Flipkart, I can now save for my son's future education, get insurance coverage for my family, and I'm able to provide us a better standard of living. I also order my son's books and stationery on Flipkart. Apart from diligently delivering in a timely manner, customers also often pick up products from my store on their way back.
Nowadays, whenever people in my locality see me, they think of Flipkart.
---
#HumansOfBBD – From Kargil to Flipkart, a veteran's story
I have worked in the supply chain almost all of my career. Although, supply chain, in a very different scenario. 
I'm a highlander – from Nainital. And my father always wanted either me or my brother to join the Indian Army. After college in Mumbai, I joined the Officer's Training Academy in Chennai and, after rigorous training, was posted in Kargil. 
Commissioned as an officer there, I was in charge of the entire supply chain – from a needle to a tank – to the Kargil, Drass, Siachen and Batalik areas. We had to move supplies in very challenging conditions, be it the below-freezing temperatures, wind speeds, or even enemy shelling. Some of the posts are very close to the international border and the enemy forces conduct shelling sometimes when a convoy is passing through.   
I left the Indian Army in 2010, worked for some time in various start-ups and also did an executive MBA from IIM-A. In 2015, I took a career break after my son was born. 
In 2020, when we moved to Kolkata, a friend of mine told me about opportunities at Flipkart. I'd already heard about the incredible work culture so I immediately applied, interviewed, and joined as an Operations Manager at the Flipkart warehouse here. 
I did have some inhibitions in the beginning — until now, I've always worked at startups, mostly because that's where I see a lot of scope to innovate as an individual. It's really my basic nature and what drives me. Flipkart, being a big company, I was worried I would not be able to do this. But, in the past few months that I've been here, I've already led a project that has increased inventory by over ₹12 lakh. That's the kind of freedom and ownership that Flipkart affords you. 
It's also a work environment that is very inclusive, with several programs in place that ensures that the culture is upheld. The FlipMarch initiative, for example, is something that I found to be very useful, especially since we have so many army veterans at Flipkart. When I left the army and transitioned my career to a more corporate set-up, I really missed something like FlipMarch. 
Veterans are qualified individuals but these kinds of programs really help them assimilate better in terms of culture. The army culture is very different, and has its own way of functioning. I was in the army for fewer years, but there are people who spend 18-20 years in the army. Assimilation and transition programs really help here as people take time to adjust to change. For someone who's been in the army, even addressing each other by name in a professional setting is a huge change. 
Having said that, there are also many ways that the army prepares you for corporate work. In general, those in the army learn very quickly to adapt to any situation and we become very flexible. For me especially, the kind of supply chain management learnings I got in the army have helped me adjust to my role here seamlessly. 
I'm also someone — a woman — who has always worked in what are known to be traditionally male-dominated frontiers. Both the army and supply chain in general. 
When I was first posted in Kargil as a 23-year-old, I was the only woman among the 10,000 troops there. It was very intimidating in the beginning, but I soon realized that no matter what, we were all wearing the same uniform. We all lived alongside in mud houses, faced the same circumstances, and I proved myself with everything I did. I was commanding almost 1,400 male soldiers, and they all addressed me as saab.
At Flipkart, there are many programs in place to embrace more women across our supply chain. I think perception is changing about supply chain being something only men can do, and I'm happy to see so many women working alongside me. Everyone now realises the commendable work that women do in the supply chain. 
One of the learnings from the army that I carry with me until now, and has also shaped my time here at Flipkart, is leadership and utmost trust in your team. Here, I oversee a team of 250 people and we share a mutual respect and are very tight-knit. That makes all the difference.  
My husband is a Colonel in the Indian Army. He was one of the NSG commandos battling terrorists at the Taj hotel during the 26/11 attacks in Mumbai. He has even received a gallantry award from the President of India. For now, we are in a peace posting in Kolkata, where we're both dedicated to our work. 
I'm a very different woman than I was at 23. The army completely changed me. I used to be a timid girl from a small town. Now, I am confident. I have no fear. 
---
For this former IAF officer, Flipkart is an adrenaline rush!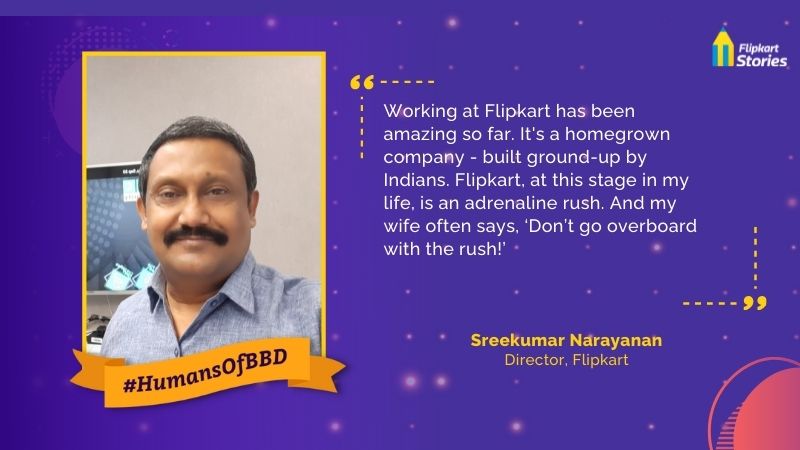 I had a fairly long stint in the corporate world after I left the Indian Air Force in the 1990s. I started as a Pilot Officer in 1987 and left my posting as Flight Lieutenant in 1991. I was in the guided missiles and air defence systems arms as an engineer, posted across the north and east of India as that's where most of our combat forces are. A childhood love for all things space and aeronautics steered my journey here.
My family was in South India, and, after my short service commission in IAF, I mulled a lot about leaving. But eventually, I wanted to be closer to them and decided to make the move.
I entered the corporate world in 2004 leading business continuity and risk management for various companies across India and the Middle East. I then set myself up as an entrepreneur — I started a risk management company in Bengaluru — and had a good run, but the pandemic undid me. Destiny had other plans once again.
Luckily for me, I was able to get back to the corporate life, and I joined Flipkart earlier this year.
The transition from IAF to corporate for me was fairly smooth, with a few challenges. I truly wish there was a program like Flipmarch back then. Then, there were no bridge courses for those of us coming out of the armed forces and joining corporate and civilian lines of work. It was tough for an officer to find their footing in civilian life.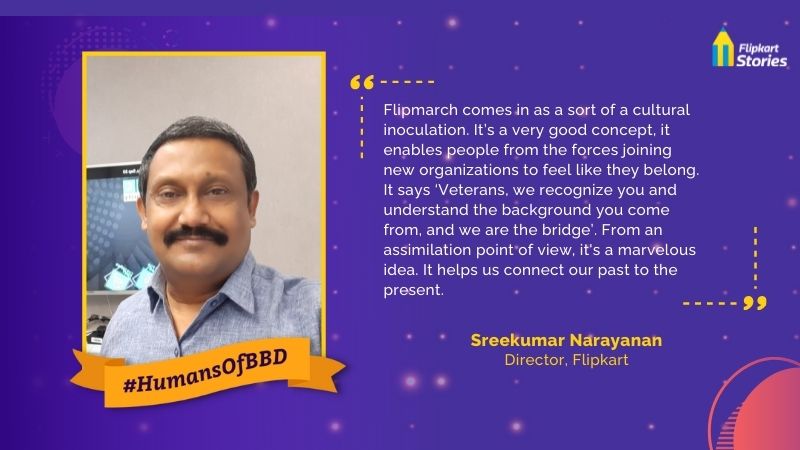 Veterans already bring with them strong value sets like integrity, discipline, fungibility and ability to adapt. And a lot of management theories were founded in the defence forces. Management, team building, building reserves and inventory building is something we already have a lot of experience in. 
Flipmarch comes in as a sort of a cultural inoculation. It's a very good concept, it enables people from the forces joining new organizations to feel like they belong. It says 'Veterans, we recognize you and understand the background you come from, and we are the bridge'. From an assimilation point of view, it's a marvelous idea. It helps us connect our past to the present. 
At Flipkart, I am in charge of Business Continuity. The pandemic especially is a huge stressor for businesses. We had a trying time in the early days, but we did well. Business continuity functions silently in the backend, even during the most trying times, and ensures everything is smooth and uninterrupted. While it looks to be inward looking, the customer is at the front and center of business continuity too. At Flipkart, that means no service to the customer should be disrupted.
In the forces too, we do this. But while in corporate situations, you can have a Plan B and C, in the armed forces, there is no room for Plan B. 
My 6 years in the air force taught me to always prepare for success. I live by this saying by Benjamin Franklin – 'Failing to prepare is preparing to fail.' 
It also inculcated in me values that I'll live by for life – integrity, ability to lead by example and embrace and appreciate diversity. Diversity is the norm in defence forces, you work with people across caste, community and location. When you are mission focused, nothing else matters. 
I always used to think that your background and where you got an education etc mattered. But in '89 when we were deployed to a forward base in Punjab – the first time in war mode for me – most of my background of engineering and education was stripped down. Living in tents and preparing for war, I realised then that none of our differences matter at that point. Each of us had so much to learn from the other. 
I was born and raised in Manipal. Those days it was a small place. My father was a professor of Maths in the engineering college there. I now live in Bengaluru with my wife and daughter – we are a small and happy family. 
Working at Flipkart has been amazing so far. It's a homegrown company – built ground-up by Indians. Flipkart, at this stage in my life, is an adrenaline rush. And my wife often says, 'Don't go overboard with the rush!' 
---
Student. Rockstar. Wishmaster – Joy David is making waves in Andamans
My name is Joy David. I am 20 years old and I am a Flipkart Wishmaster. I am from Port Blair in the Andaman and Nicobar Islands. I grew up, studied, and have lived my whole life here. Now, I am pursuing my Bachelor's degree in sociology and also delivering products to Flipkart customers. I live with my father and younger sister. My dad works in the Indian Coast Guard and I try my best to support him with my job.
With the onset of the pandemic, my classes started to be conducted online, and I was at home for most part of the day. I hate sitting idle, which is why I decided to find a job and start becoming independent as soon as I could. My close friend and neighbor had just become a Flipkart Wishmaster, and after speaking to him about his day-to-day life, I decided that this job could prove beneficial to me. So I went to his hub, met his Team Lead, and after my interview, I was also zooming around making deliveries to customers.
Being organized, I find it quite easy to manage my studies and this job. I have found a balance, where I can meet my targets as a Wishmaster and ensure that my studies are not affected. My father did have some apprehensions about me working. He is worried about my safety on the roads riding a two-wheeler, but I like to think he'd be worried about my safety no matter how old I am. I can see that he's proud of me for wanting to use my time productively and becoming independent.
I finish about 40-50 deliveries in a day as fast and as safely as I can, before returning home and focusing on my studies. At the hub, everyone is very supportive. Our Team Leads communicate with us respectfully and help us in every way they can to achieve our targets. I enjoy working as a Flipkart Wishmaster.
Flipkart has now become a popular e-commerce business in the Andaman & Nicobar Islands. People are buying products online every single day. Flipkart has also opened up opportunities for the youth here.
The Big Billion Days are coming up and it is going to be my first time fulfilling Flipkart's customer promise at this scale. I am quite excited. I can't wait to test myself.
I love being a Wishmaster but my dream is to become a rockstar! I am a guitarist, and I play the lead, bass, rhythm, everything really. I am inspired by Arjit Singh and Justin Beiber and I hope to be a famous musician like them someday.
---
For Wishmaster Menaka, patience & perseverance is the key to success
I was born and raised in Bengaluru, where my mother and father still work. I had begun a pre-university course (PUC) but I couldn't complete it. My life was beset with challenges, but I am proud of how far I have come. Today, I am one of the few women Wishmasters operating out of Flipkart's hub in Mysuru.
I got married a few years ago, but I lost my husband in a tragic road accident. Then started my long battle with depression and anxiety — I moved back in with my parents but we had many financial constraints.
To aid the family financially, I decided to open a beauty parlor, and also took a beautician's course. Just when things were looking up, the pandemic struck and I had no customers. Money was tight, and eventually, I had to shut down the beauty parlor too. I did not like sitting at home and not being able to contribute.
Although my family members are supportive, they are quite conservative. They were not completely on board with the idea of me taking up a job and traveling to work daily. But I was determined to be independent. So I moved to Mysuru and put myself up at a hostel while I looked for work.
One day at the hostel, I saw a postwoman, and other women working in delivery jobs. And I wondered if that could be a suitable choice for me. When I saw a Flipkart Wishmaster delivering products at the hostel, I asked him how he became a Wishmaster. He told me that Flipkart makes it easy for people to be hired as Wishmasters and they give opportunities to women too. He told me about some openings too. I visited a Flipkart hub and spoke to the manager, and was soon hired as a Flipkart Wishmaster.
I remember the anxiety on the first day — I couldn't even step into the hub. But I found the courage and started making my deliveries. I now make almost 100 deliveries and facilitate product returns for Flipkart. All my peers and managers at the hub are very supportive. They ensure that I don't have to struggle with bulk shipments. And the customers too are very happy to see me at their doorstep with their products.
I don't face financial constraints like I used to. There was a time I would be scared to even spend Rs 100. But my situation has improved considerably and I have built myself up to face life's challenges.
I have learned something about myself over the years. No matter how life tests me, my resolve cannot be broken. And I have a lot of patience. These qualities have helped me do very well at my job. And I have found success.
---
#HumansOfBBD – 'As a Flipkart Kirana partner, I have freedom & flexibility to earn'
I was worried that this was a job I could not do. It was challenging in the beginning, but now it's become easy. I've learned how to talk to customers, map addresses, ask for feedback, and a lot more. I feel good doing what I do.
I struggled to complete my studies after my father passed away when I was 16 years old. We had a lot of financial trouble at home and I had to find a job. I'm 26 now, and I've been working for 10 years to support my family. My sister and I both work, and my mother supports us in everything we do.
I found out about this job through a friend. Before this, I also worked part-time with a food delivery app company. There, it was very different. Most food deliveries happen later at night, so I had to work long hours and late nights to make ends meet. My mother was worried for me, so was I.
After joining with Flipkart as a Kirana partner, I have a lot more flexibility. I live nearby and my shop is also pretty close to the Flipkart hub. I get here around midday and deliver the packages until evening, and go home once I finish. I have the freedom to work the hours that I choose to, and I also feel much safer.
There are some challenging deliveries, but a lot of times when I deliver a package to a customer, they ask me about my job and give me good feedback. Some women also ask to take a picture with me because they feel proud to see a woman doing this work. Just today, I had a customer ask me, it made me feel really happy. Each time that happens, I find that I get more confident in what I do.
I made deliveries during the pandemic too, but the people at the Flipkart hub as well as our customers supported me in staying safe and following all protocols to keep everyone else safe as well. Because of that, I never really felt worried.
I joined in December 2020, so this is my first experience of The Big Billion Days. I've heard that there will be a lot more shipments to deliver and I'm getting ready for that. I'm looking forward to earning more at that time and maintaining a good customer satisfaction record.
The people at the Ulubari hub are very supportive and treat me like one of the employees. I love to come here. For the future, I want to continue to do this along with running my shop. I know that Flipkart will continue to support me, and more than that, I know that I have my sister and mother cheering for me.
---
From the film industry to e-commerce: Navigating lockdown uncertainties
Before the pandemic struck, I used to work as an Assistant Production Manager in the film industry in Mumbai. I was in love with the city – the sea, the air, there was just something about it. I remember going to sit by the sea after work. But once the pandemic lockdowns began, there was no job for me there. Film shoots stopped and when I could, I moved back to my family in Delhi.
My family was always in Delhi, my husband and two children. My husband runs a martial arts studio, but he too had to shut down operations because of the pandemic. It quickly became clear to me that I needed to find a job to keep my family afloat.
During that time, it was very difficult to find a job in Delhi too, but I got to know about Flipkart hiring women for the role of delivery personnel, or Wishmasters as we're called here. I came for the interview and also went through training which prepared me for the job.
I work at the Nehru Place hub, which is very close to where I live. I travel on my scooter to and from work, and also to deliver about 70 orders a day in my locality.
Every time I deliver to women customers, they are always interested to know more about my job. They encourage me and that motivates me to do what I do. In turn, I also tell them that there is nothing a woman can't do. I know that this makes them feel proud too.
At Flipkart, I can work with a free mind and no tension. It's been one-and-a-half years of working here and I know that my seniors are always looking out for me. At work, there are measures and protocols in place and I feel safe knowing that. I can also always call my seniors and colleagues for anything.
I believe that no job is too small if you do it with pride and honesty. At one time, I even owned my own mobiles repair shop. I knew everything about mobile phones. I taught myself how to repair phones and other electronics and was enjoying it, but the business did not work out for me.
Today, when I look at my son and my daughter, I feel proud that I am able to provide for my family. When I go home, there is no tension. My husband is very supportive – he ensures that he cooks dinner for all of us when I get back from work in the evenings. We share the work at home, and support each other in doing so.
This is my first job as a delivery executive, and I know that a lot of women are curious about this line of work. I want to tell them that women can do anything they put their minds to. We should be proud of that.
---
As Flipkart grew, we grew with them: A trucking partner's road to success
This was originally my father's business. He started it back in the '90s and it was a simple transportation company. My brother and I took over the mantle in 2005. We had only 10 trucks, but we wanted to dream big!
In 2014, we heard about Flipkart. My brother and I are both young. When we heard about e-commerce it was exciting, and we knew that e-commerce was the future and joined hands with Flipkart. It was challenging in the beginning but we did a good job and fulfilled all requirements. As we went on, the trust grew and we got more lines and routes. At the time, the warehouses and delivery hubs were much smaller. But as Flipkart grew, we also grew with them.
We soon rebranded and added more quality vehicles to our fleet. From a transporter, we became a vendor. Before, as a transporter, there was no guarantee of an up-down trip – which is when your loaded vehicle goes up one route and is able to come back loaded the same route at a fixed time schedule. Now, we have fixed schedules (not very different from your train or flight schedules), guaranteed up-down trips, and get paid well and on time. This helps us plan much more efficiently.
Now my drivers are also happy. They are able to plan their own schedules, where they will eat, where they will take a break and also have control of their day.
We had 100 vehicles before. After we joined Flipkart, we were able to grow to 200 vehicles. We own all our vehicles in our fleet as we want to ensure we have control over quality and also meet the exact requirements.
I was born and raised in Bengaluru. I feel lucky that this is the capital of e-commerce and I found success here. I want more people to experience that success, not just in Bengaluru but in every place that we are present. We appoint drivers based on distance and the area that they are driving in. For example, in Kerala, where there are ghats, we employ drivers who can drive these routes. In north Karnataka, the roads are different and we ensure that we employ experienced drivers from the local area for this. When there is a long distance — say Bengaluru to Hyderabad or Kochi, we make it mandatory to have two drivers on shift so they are not strained and maintain optimum conditions.
Apart from drivers and transporters, we also have a call center which can answer any calls made by these drivers, be it maintenance, accidents, or any trouble. We have also appointed GMs and executives on the business side to be able to coordinate and plan with Flipkart. We provide health insurance, PF, accident insurance and more to our drivers so they are able to work with less stress.
For The Big Billion Days, we get all information from the Flipkart Operations teams at least 2 months in advance. This year, we've got 25 new vehicles and more drivers to cater to this demand.
I know that we're a small link in the supply chain, but I also know how important we are as a trucking business to customers. I also shop online, and I understand that when you order something online, however big or small, you do so with hope and expectation. Our mission is to ensure that the customer gets the order on time and in the best conditions. I play a small part in this. If there are 500 bags in the truck, there are things reaching 5,000 people. As long as the packages are in my truck, it is 100% my responsibility. I'm very proud of the part we are able to play a part in customer delight.
As we grow bigger every day and add more vehicles to our fleet, we've also become well known in the automotive industry. Automobile companies now invite us to their launches and that feels really good! The industry is also advancing in terms of technology – every launch there is a new technology that is added to vehicles. We take time to train our drivers each time, be it in GPRS, digital lock systems, speed and safety technology and more. With time, they also learn the latest in technology and are able to upskill. We all want to do better tomorrow than we did yesterday.
My family understands my job – they know what to expect. We do have very busy schedules, of course. But now, even our status, respect and position in society has increased. If our income was less, tension would be more.
I remember this one time very well. In 2018, Flipkart had arranged an awards ceremony and SLV enterprises won the best company in south zone. That feeling I got going on stage and getting that award, I will never forget it. It was just like in the movies. That night, I felt that all the sleepless days, tension, pressure, finally paid off. I was happy that somebody finally recognized my talent and awarded me for it. My kids often come home and tell me how well they did at school and how they won an award. This time I was able to show them that their father has also won an award!
To be honest, I get a kick out of working at Flipkart. I remember, as a young boy too I always loved technology, automobiles and innovation. Now, I have a good platform to perform and showcase my knowledge. Seeing my performance, other e-commerce companies have also offered me a job. But I am happy and loyal to our partnership with Flipkart.
I do what I know, what I understand, and what I can. I can't fly a plane, this is what I can do and I will make the most of it. This is also an expertise field and needs skills, same as any job.
You can say that our growth with Flipkart has been like a rocket that's taken off. That is the truth.
---
Stay tuned for more stories from the #HumansOfBBD.
Read all our #HumansOfBBD stories here.
---
Also read: Rajkot Calling: Flipkart Seller Rashmi Wagerah reveals her no-holds-barred approach to success