Starting 00:01 hours on October 13, 2016, the Google Pixel will open up for pre-order #OnlyOnFlipkart. If you are planning to buy the phone and want to make the deal a little sweeter, play this quiz and get your hands on some Flipkart electronic gift vouchers.
Flipkart launched the much-awaited Google Pixel smartphone, an online exclusive that went up for pre-order starting midnight on October 13. The phone packs ground-breaking hardware and exclusive Android features.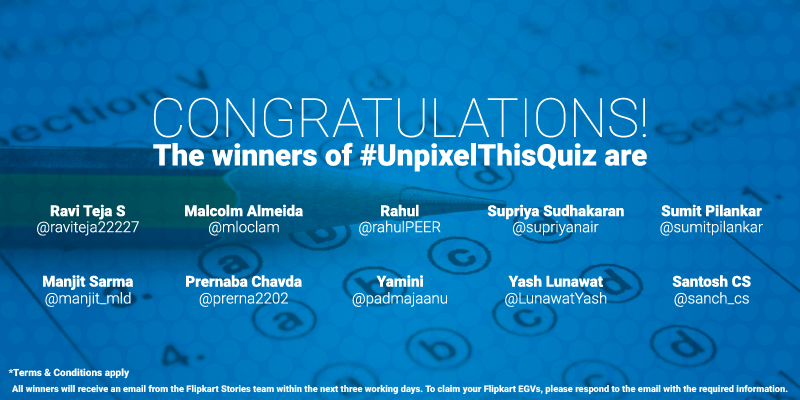 ---
THIS CONTEST IS CLOSED. The lucky winners are announced above and prizes will reach them within 30 days. But don't let that stop you from playing. It's fun!
---
The question is: Do you know everything about the new Google Pixel smartphone? Play this quiz to prove it.
This quiz requires you to read the Google Pixel review on Flipkart Stories and answer the questions. To be considered for a prize, winning entries must fulfill the following conditions: (A) Get all answers right, (B) like the Flipkart Stories Facebook page, and (C) tweet the link to the contest after you are done playing.
Ten contestants who complete these steps stand a chance to win Flipkart electronic gift vouchers (EGVs) worth ₹500 each.
The contest was closed on Tuesday, October 18, 2016 at 1600 hours IST (4 pm). Winners have been announced. 
Congratulations! Here are the #UnPixelThisQuiz contest winners!
Read more –> https://t.co/P2e71fciJF pic.twitter.com/FtSvKTdlLF

— Flipkart Stories (@FlipkartStories) October 21, 2016
---
Ensure that you read the terms and conditions before you participate in the contest.
---
TERMS AND CONDITIONS