The Flipkart Windows 10 app for Microsoft Windows users lets you avail of offers and discounts on the mobile, tablet and desktop, along with an intuitive shopping experience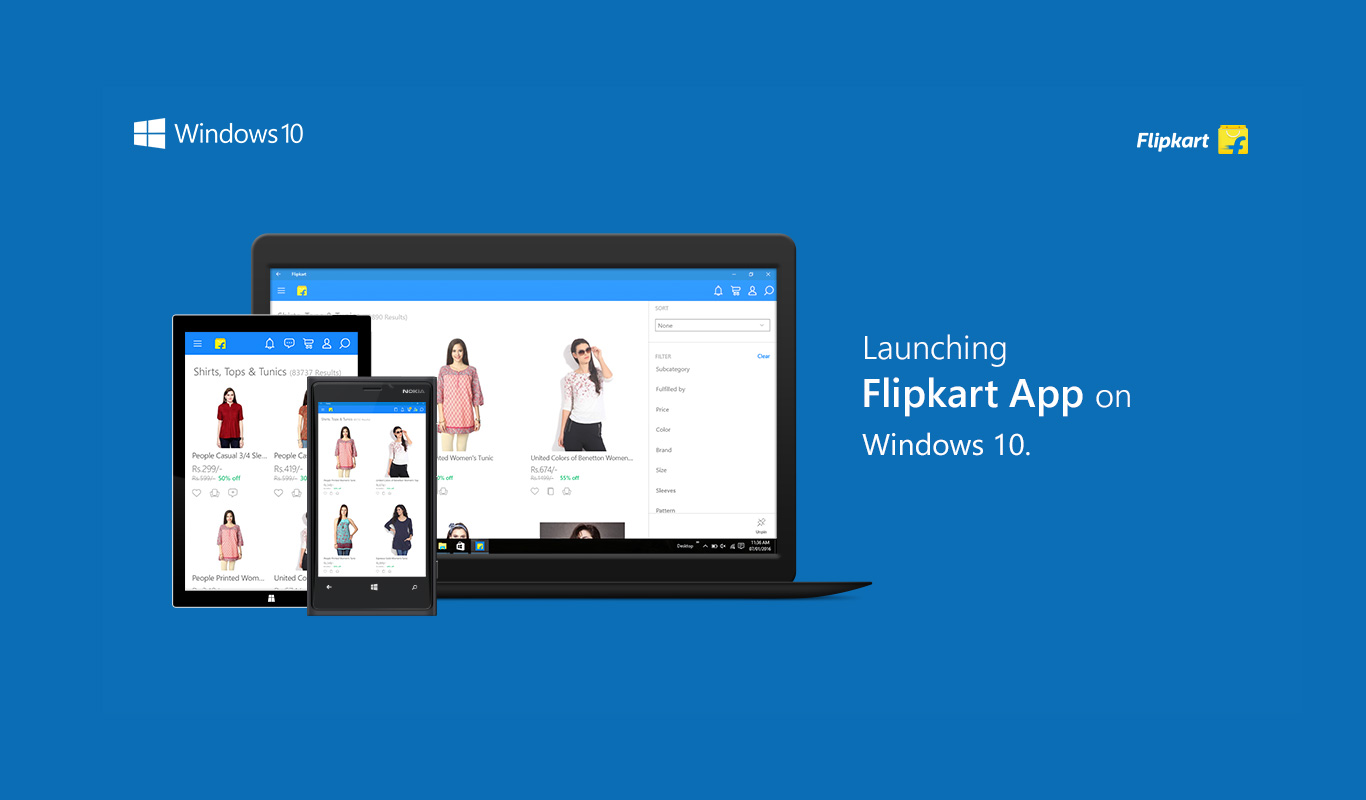 Last year, in August, Flipkart launched the Ping feature, a unique addition to the app-only shopping space that allows users to communicate through the Flipkart mobile app. More recently, Flipkart created and launched Flipkart Lite — a web-app that brings together the best of the web browsing experience and the richness of a native app. The innovation opened the gates to a seamless shopping experience, even under low network availability. Flipkart is always innovating to improve your shopping experience and the latest development is the Flipkart Windows 10 app.
News: @Flipkart launches for #Windows10, takes online shopping experience to next level https://t.co/lR0sXdSIPt @WindowsInd

— Flipkart Stories (@FlipkartStories) January 14, 2016
The world loves Microsoft Windows and there is a huge population of internet users in India who find comfort in using the Windows OS. Flipkart understands this and our team worked hard over the last few months to create an incredible shopping experience native to Windows devices. Having spent days deliberating on how a stellar native-app-like experience can be delivered to those who want richer app-like experience on Windows desktops, Flipkart has worked closely with the Microsoft team to develop the Flipkart app for a universal Windows platform. It gives you the benefits of a native app on the desktop. Here's what you can expect to see on the Flipkart Windows 10 app: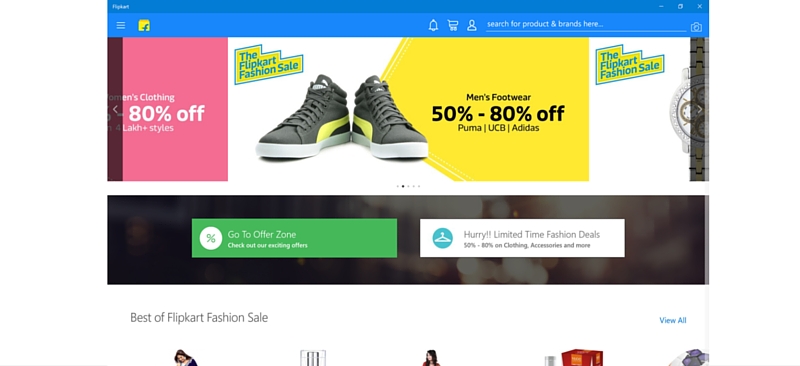 Richer app-like experience
Redefining the shopping experience for Windows 10 users, the Flipkart app brings a number of features, previously restricted only to the mobile app, to desktop. Features such as image search, where a user can upload a picture of a product to find similar products, will now be available to desktop users. The Flipkart Windows 10 app will also enable users to access better offers, which are presently restricted to the Flipkart mobile app. More shopping, less hassle.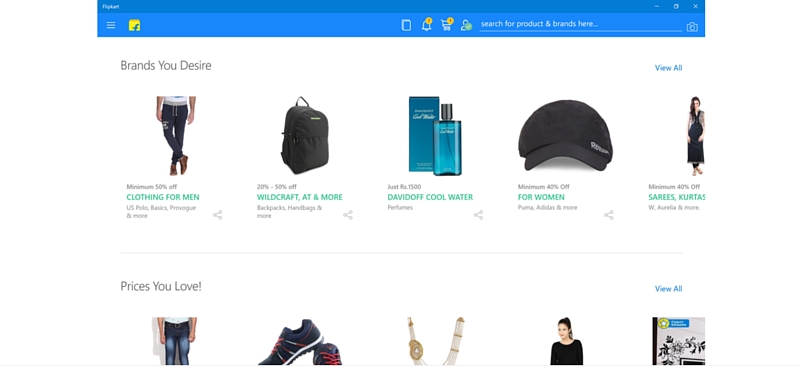 Flipkart Windows 10 app is more personal
The Flipkart Windows 10 app experience is highly personalized. Under normal circumstances, shopping on a desktop is less customized and this is what we wanted to change. From recommendations, merchandising and notifications to offers, everything will be customized for you.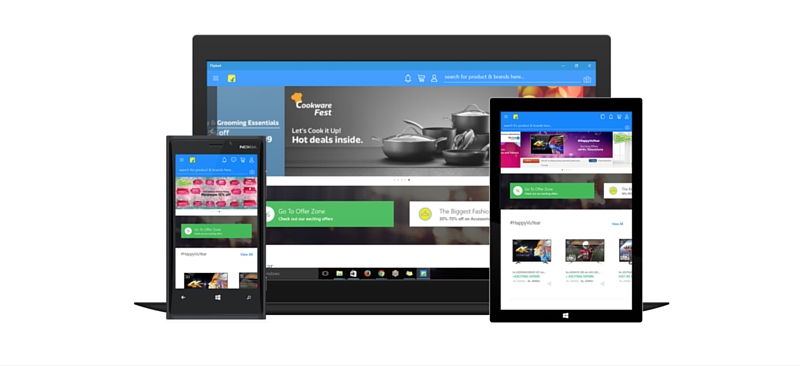 Flipkart Windows 10 app is optimized for all devices
The Flipkart Windows 10 app has been developed with hybrid devices (touch and non-touch) in mind. Optimized for use of different inputs like touch, keyboard, trackpad and mouse, it mirrors the Windows OS saving you the hassle of adapting to a different shopping experience. For power users, the app can also be navigated using only the keyboard, giving you that much flexibility in where and when you are using it. Use familiar shortcuts Ctrl+F to start searching and the arrow keys to navigate products!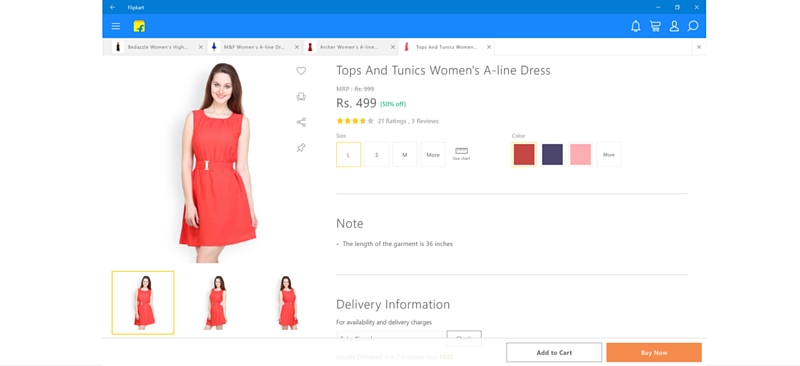 Multiple Product Tabs at a time
The Flipkart Windows 10 app also introduces Product tabs. These will enable customers to open tabs in the background to view products later. Making for easier product comparison between different products and allowing for a more streamlined browsing experience, it's bound to change the way you shop entirely.
@Flipkart Universal app on #Windows10 explained in one info graphic. pic.twitter.com/aRFGSi7CwZ

— Amar Nagaram (@_Amar_N) January 14, 2016
Want to try it out? Download the app here and give it a shot. We're waiting to hear your feedback and know how we can do better. Tweet to us @FlipkartStories and @Flipkart_tech
*Users must be running the Windows 10 OS in order to download the app.