Fourteen percent of all internet users in India — 60 million people — shopped online in 2016. According to a Morgan Stanley report, by 2026 this number will rise to over 50%. As more and more Indians embrace online shopping, Flipkart's technology with a human touch is helping bolster this shift, shaping digital habits in a rapidly evolving digital marketplace. These customer stories attest to the effort that Flipkart has made in research, development and innovation to deliver technology that understands and serves the unique needs of the Indian customer.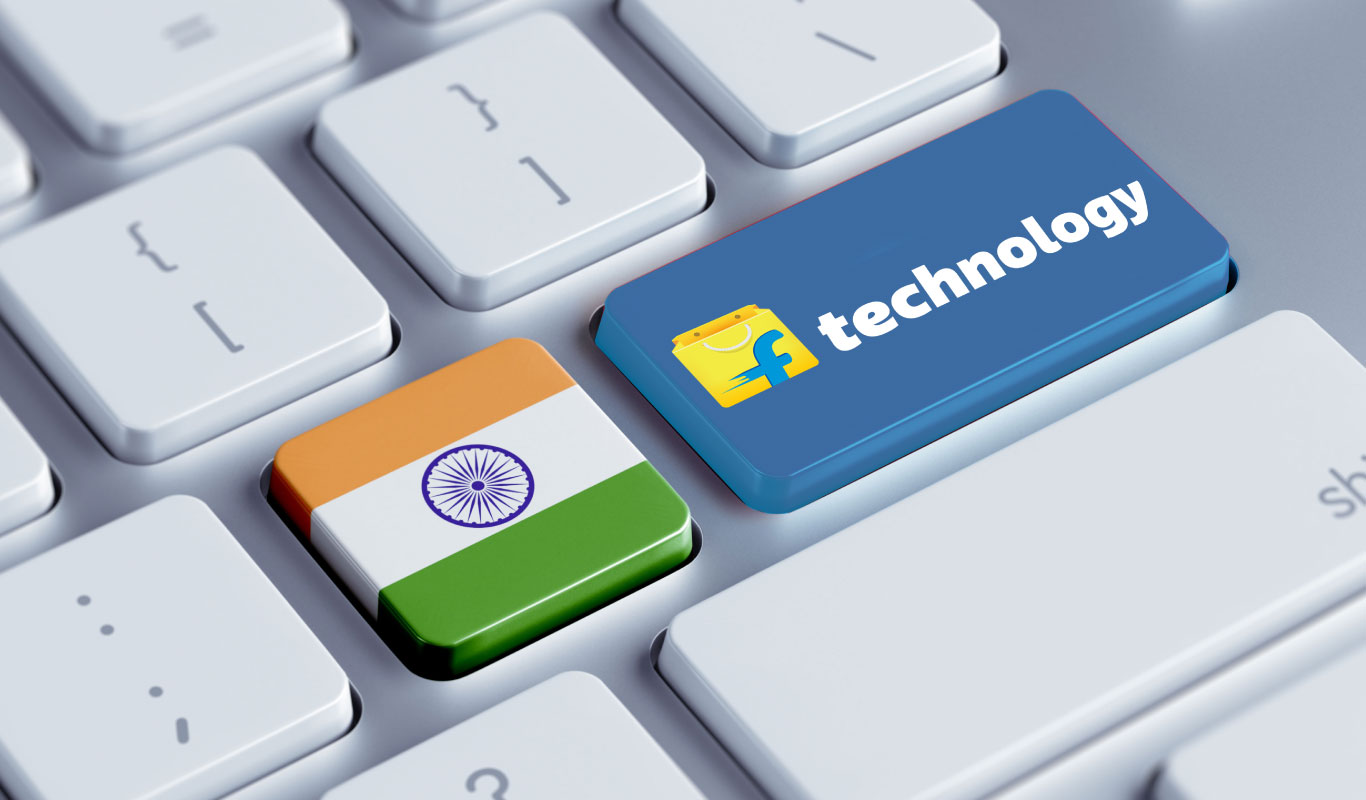 At the heart of Flipkart technology are the needs of the unique Indian online shopper, and every innovation is geared to solve the problems of the evolving customer. 
---
Technology is the currency that powers e-commerce innovation. From the get-go, it has been Flipkart's mission to employ technology with empathy and understanding to solve the unique problems of Indians. For a decade since 2007, Flipkart has harnessed technology to drive path-breaking, customer-focused innovation that makes high quality products accessible to Indians, besides making the online shopping experience convenient, intuitive and seamless. These innovations range from designing intelligent buying experiences and building customer trust, to FinTech (financial technology) that improves customers' access to affordable shopping. At Flipkart, technology serves a purpose. Innovation drives solutions. At the core of the Flipkart technology mission to innovate for India is the evolving Indian customer.
Take connectivity, for example. According to OpenSignal, a company that maps wireless coverage, India has the slowest 4G speed among 77 countries. For an e-commerce market leader like Flipkart whose success is contingent on customers' access to functional data-carrying capacity over mobile networks, the path is riddled with obstacles.
Flipkart navigated these complexities by building a lightweight and fast-loading progressive web app that works seamlessly even on choked networks and poor signals. This is an innovation unique to the Indian milieu, where thousands of new customers embrace the mobile internet each day. What endeared Flipkart to India is the fact that this milestone was achieved without compromise on a warm customer experience. Customers, particularly those in smaller towns, reinforced their trust in the brand. A December 2017 report in Scroll quotes findings from a RedSeer Consulting survey, stating that Flipkart enjoys "greater recall with new online shoppers… from Tier 2 towns."
---
https://www.facebook.com/flipkart.stories/videos/842534355908354/
---
Informed and technology-savvy customers like Suraj Nathani attest to the incremental impact of Flipkart's customer-focused innovations. "My online shopping habits have certainly evolved over the years," says the 25-year-old hospitality professional. "Flipkart, and the overall development of the industry, has fueled this process."
Suraj bought his first smartphone, a Samsung model, on Flipkart. "I appreciate Flipkart's customer-centric approach," he says. "From selling only books to giving customers exactly what they're looking for, Flipkart has come a long way."
Power up: Applications that never let you down 
To ensure that you can shop when you're on the go, Flipkart's website and application work in tandem
---
Access to the platform is key, and so, to cater to the customer who's always on the go, Flipkart technology ensures that the app is optimized for use in areas with poor connectivity.
"A few years ago, I was facing speed issues while using the app during a sale. But its performance has improved vastly since then. It is so easy to use when you're out and about. Now I feel that it is faster than using the desktop site," says Govind Rajan. The Bengaluru-based HR consultant has been a Flipkart customer for over five years and switches between using the app and the desktop site. He reserves the desktop site for when he is purchasing toys for his son, so that his wife can browse alongside him. When he is shopping on his own,, he prefers firing up the app and fancies its handy filtering feature.
Chaithra Aravind, a new mother, has a similar story to tell. "I have been shopping from Flipkart for the past two years because of the amazing deals and discounts and the app is the most convenient way to shop, especially since I have a baby in tow."
Flipkart customers agree that there is no perceptible difference in the ease of shopping over WiFi or 4G/3G cellular networks.
"You can use the app no matter where you are — whether you're relaxing at home or going to work on the Metro," adds Suraj. "I mostly use the application on 4G/3G and have never faced any problems. In fact, when I shop through the app, I also have the option to quickly save items in my cart."
Find what you're looking for
Like Govind, who is equally conversant with both the desktop site and the Flipkart mobile app, other customers appreciate the ease of shopping on Flipkart
---
"The app is a convenient way for me to browse a range of products — whether it is clothes or kitchen items," says Renuka Narayan, a 48-year-old homemaker. "In fact, all the deals and offers are displayed on the homepage itself, making it easy for me to find what I'm looking for."
The user-friendly Flipkart mobile app helps customers in other ways as well.
"Since it is so simple to use, it is a great place to explore your options. When you think of buying something, you can immediately open the app and check out the product. You don't have to put off the task for later," quips Suraj. "The app takes care of everything."
How Flipkart technology enables fast decision-making
Rahul Manakur, a 29-year-old software engineer, loves browsing the Flipkart app. It's almost like browsing Facebook, says this power user with a broad smile. He prefers using the app because it has all his details saved, and his cart updated. Yet, he has another specific reason for using the app — one that resonates with customers across the board.
"When there's a new launch, I check the app to see its features and reviews, then I shortlist the product I like," explains Rahul. This increases the time I save while shopping. But, more importantly, while a product may or may not be available in a store that I visit, with the app all I have to do is type in the name to check availability. It saves a lot of time," he adds.
Shopping is a process fraught with uncertainty. For most shoppers, the assurance that they are making the right decision is a make-or-break criterion. For any e-commerce platform, conversions are key; in other words, when a browsing user makes the decision to complete the purchase. Product reviews and ratings are vital to influencing the purchase decision and, on Flipkart, reviews from certified buyers are accorded priority of display.
Flipkart customers endorse the importance of product reviews and ratings in aiding their decision to buy.
"If a product's review or rating is poor, then I'm uncertain about buying it. I don't want to have to return the product," says Ashwini Pujari, who is an engineer and team lead with a Bengaluru company.
"If a product has low ratings, I will think twice about buying it. Reviews and ratings help me differentiate original products from fakes," Chaithra chimes in.
For some customers, reviews and ratings are an excellent way to learn more about a product before they add them to the shopping cart.
"Sometimes, if I want a product and its rating is low, I will still buy it. That being said, I do find reviews helpful, especially for products I don't have much knowledge about," shares Renuka.
Reviews and ratings serve different functions for different customers.
P Selva Ravindran, a 59-year-old schoolteacher, enjoys Flipkart because it gives seniors like herself a chance to shop to their heart's content right in the comfort of their homes. Selva says that reviews help her make the right decision.
It is a view that other customers echo. "While shopkeepers can embellish the truth to suit them, you know that a fellow customer's review or rating will be authentic," says Rahul.
"I only consider products that have a rating of over 4," adds Govind. "I diligently rate products myself and buy only those that come with a glowing recommendation."
Human Tech – How Flipkart technology makes online shopping affordable
Flipkart upended the myth that e-commerce begins and ends with flash sales, offers and discounts
---
The Indian e-commerce leader is well known for affordability innovations that enable customers to afford the products of their dreams. For instance, affordability innovations such as No Cost EMI, Debit EMI, Mobile Exchange and Buyback Guarantee offer better value and flexible payment options to Indian customers that may be unavailable in offline retail. In India's primarily cash-driven economy, Flipkart's pioneering innovation of Cash-on-Delivery continues to be a popular payment option for customers, although other affordability constructs are closing the gap.
No Cost EMI, Buyback Guarantee and Product Exchange are very popular with Flipkart's customer base. Govind never uses CoD, but No Cost EMIs are his go-to choice. "Without this feature, I would think twice before buying an expensive product, such as a smartphone that costs ₹65,000. But now I have to spend only ₹5,000 a month, which is hardly an expense."
Ashwini, who recently bought a Xiaomi Mi A1, says that she wouldn't have made the purchase if not for these options. "Good reviews, Buyback Guarantee and No Cost EMIs convinced me to buy my phone!" she says.
For Suraj, No Cost EMI allows him to make a smarter purchase. "First of all, with this feature, you can indulge in shopping that's driven by impulse. But more importantly, it allows you to buy a better product. I have been researching washing machines for my mother recently, so here's what I feel. For example, if my budget is ₹10,000, but I'm getting a much better product for ₹14,000, I can afford the upgrade with the No Cost EMI. I don't have to compromise. Also, even if I save ₹1,500 on a mobile phone, I can use it to buy a sturdy cover for it or even a tempered glass case!"
"All customers think economically," Rahul chips in. "No Cost EMIs, coupled with Buyback Guarantee, have made it easier for people to shop for expensive items such as smartphones every 6-8 months, without wasting money."
Delivering joy, one package at a time
With Flipkart, the innovation journey doesn't end at offering customers a wide range of high quality products, and the means to afford them
---
Delivery efficiency is a high priority and this is a complex ask in a country where the relative absence of zoning rules and urban planning has resulted in extremely complex and unconventional addresses.
Products ordered on the Flipkart platform, either from Flipkart Assured sellers or other sellers in its tiered marketplace, are dispatched quickly and delivered with a smile. With a network that services over 19,000 postal codes in India, along with options such as next-day delivery, Flipkart has also ramped up its last-mile delivery capabilities through innovative collaborations, such as with Mumbai's Dabbawallas, besides amping up its warehouse management efficiency.
"Earlier, I used to face issues with e-commerce websites delaying delivery. But I was very happy with Flipkart's assured one-day delivery policy," shares Ashwini.
Flipkart's Wishmasters — the final link in the purchase cycle — are the face of Flipkart. Selva, Chaithra and Renuka agree that the wishmasters are soft-spoken, prompt, efficient and cooperative. "The delivery executives always speak nicely. They handle products carefully, explain to you how they work and are patient and understanding. For instance, if they can't find your delivery location based on your directions, you won't find them losing their cool. Similarly, if you don't understand a product feature and ask them to explain it to you again, they're more than willing to!" says Suraj.
Building confidence to go digital
Over the years, Flipkart has helped usher Indians towards a digital economy, helping them enjoy the perks of shopping online
---
For Rahul, the journey has been very rewarding. "If I remember correctly, my first purchase was gym gear back in 2010. Recently, I bought my sister a Motorola smartphone and myself, a Vu television. I'm very happy with all my interactions with Flipkart over the years and truly appreciate the effort they put into making customers happy. For instance, when I was looking to buy a TV, no other e-commerce platform was offering it to me at that price, especially with the option of extended warranty." Seeing Rahul get such a great deal, several of his friends followed suit. "At least five of my friends have bought the TV after I have," Rahul adds delightedly.
For lakhs of customers across the country, shopping with Flipkart has become a reliable option. "When I started shopping online, I was scared about making digital payments and concerned about the authenticity of products," says Rahul. "Flipkart has built my confidence over the years by keeping the customer's interest at its core."
And it's not just Rahul whose online-shopping journey has evolved. Suraj, whose first purchase was his first smartphone way back when he was a student, is now the quintessential savvy online-shopper. "Today, 85% of all my purchases are fueled by the Buyback Guarantee. Compared to when I started shopping on Flipkart, now, I am spoilt for choice. Also, my experience has led me to believe that Flipkart will deliver what it advertises, and in the time frame that it promises. In fact, I recently bought that fridge I had been reading up on Flipkart for my mom," he says. 
To address India's unique problems, the solutions need to be just as unique. With innovations that focus on the customer, the Flipkart journey looks a lot like the Indian consumer's journey. And it's the human approach to technology that makes Flipkart tick.
---
Additional reportage and photographs by Rajkamal Narayanan & Arjun Paul