Want to keep a close watch on your Flipkart order once you've placed it? From order status to return details, get all your alerts and updates from Flipkart Support on WhatsApp! Read on to know about the numerous customer support features and benefits that enhance your online shopping experience.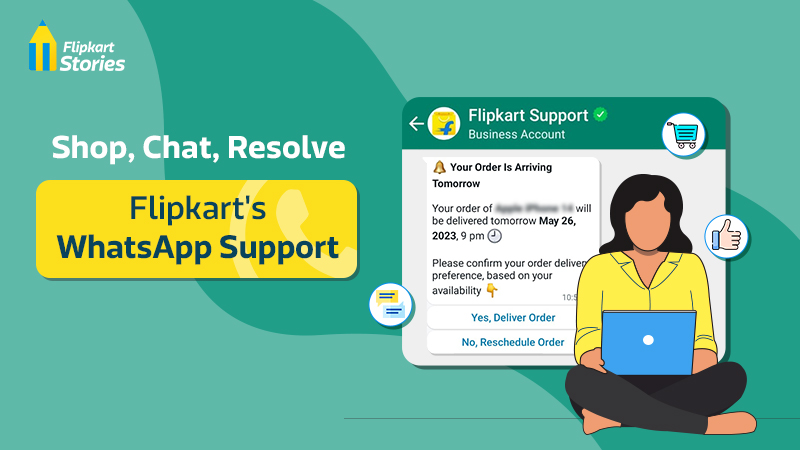 Did you know? There are multiple ways to keep a close watch on your Flipkart order. You can get in touch with us on our website, app, and social media accounts. In addition to this, you will also get all the updates you need and more via alerts from Flipkart Support on WhatsApp. From order updates to converting your COD orders into prepaid ones, you can do a lot with Flipkart Support on WhatsApp.
Take a look at the top features and benefits you can avail through these alerts and interactions.
Stay up to date with your orders
When you place an order on Flipkart, updates from the Flipkart Support account on WhatsApp will ensure you have a detailed view of your order status. right from confirmation to expected delivery timelines, alerts on WhatsApp will keep you updated all through your purchase journey.
Update delivery dates and information
While you may get advance notifications about the delivery of your order, you may not be available to receive your order. With updates from Flipkart on WhatsApp, you can choose your preferred delivery date and address. This helps ensure you are available during delivery and do not miss out on receiving your awaited order.
Confirm installation appointments
As a one-stop digital commerce platform, not only does Flipkart give you access to numerous products, you can also avail installation and after sales services from specialized technicians. Alerts from Flipkart Support on WhatsApp can also enable you to choose a date and time of your preference for the installation without any hassle in case we are unable to reach you.
Convert COD orders into prepaid orders
Chose cash on delivery (COD) at the time of placing the order but changed your mind? Fret not. With alerts on your preferred mode of payment from Flipkart Support on WhatsApp, you can choose to pre-pay for your order instead. That's not all. You enjoy convenience at every step of this process as all of this happens instantly and in just a few clicks.
Fast and simple order returns
Changed your mind about a product? Don't worry – when you choose to return your order, you will receive a prompt on WhatsApp from Flipkart Support to share pictures of your products for return ensuring a hassle-free and quick return process.
Track your refunds through alerts from Flipkart Support on WhatsApp
Need updates on the order you just returned? Well, you guessed it! You can do that via alerts on WhatsApp too. Keep an eye on the chat to know the status of your returns and refunds without multiple follow-ups so you can put your mind at ease.
Order delays – cancel or reschedule your order via WhatsApp
In case of an order delay, Flipkart Support will also notify you on WhatsApp to check your availability and preference to reschedule the order or even cancel it if the timeline no longer serves your purpose. Simply choose the option that suits you best and get all the information you need.
Now that you know the benefits and features you can enjoy, be sure to make the most of it. Here is the number of Flipkart Support on WhatsApp – keep it handy to ensure you're interacting with the official account. Flipkart Support on WhatsApp: +91 9880956318
Alerts from Flipkart Support on WhatsApp will not send you any marketing or advertisements, and is focused purely on your order details and convenience. However, you can choose to not receive updates on Whatsapp.
To read more about customer support and safety, click here.