In a #PowerOfPartnership conversation, Flipkart sellers reflect on growth and opportunities as festive season shopping kicks into high gear with The Big Billion Days 2021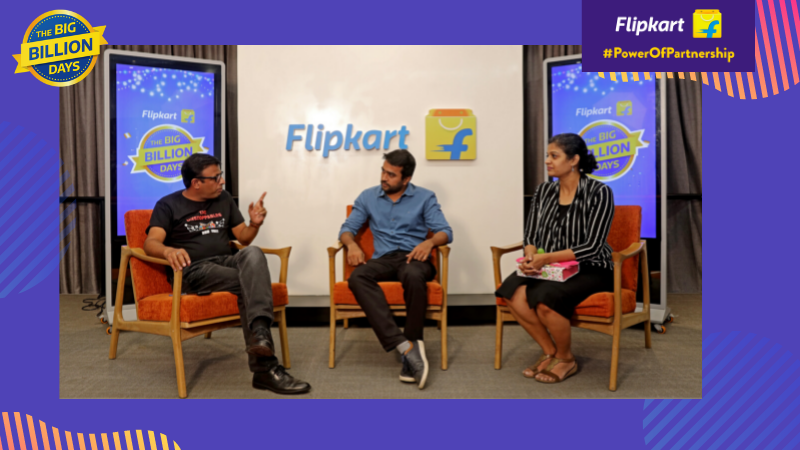 The Big Billion Days presents unprecedented opportunities for MSMEs and kiranas, and delivers unmatched value to customers. The Flipkart marketplace already supports digital commerce for a community of diverse sellers across the country.  This year, the festive season sale has extended opportunities for new sellers from 124 new cities and towns in the country, including Hingna in Maharashtra, Attingal in Kerala, and Baghpat, Dewa and Sambhal in Uttar Pradesh.
Since the pandemic, the Flipkart marketplace has seen an encouraging response from Micro, Small & Medium Enterprises (MSMEs) who want to take their business online with e-commerce. The new sellers and MSME base predominantly come from Tier 2 and 3 markets such as Agra, Indore, Jaipur, Panipat, Rajkot, Surat, and many others. The Flipkart marketplace platform has also witnessed a rise in categories such as General Merchandise, Home and Kitchen, and Personal Care.
Partnering with Flipkart, many of our sellers have shared the experience of discovering the growth pangs of e-commerce in India through multiple editions of The Big Billion Days. They have gained knowledge and experience over the years to prepare for an event of this scale and magnitude and have learned how to muscle up inventory and scale up to meet the humongous spike in demand during the festive season sale.
Rajneesh Kumar, Chief Corporate Affairs Officer, Flipkart Group, interacted with sellers in Bengaluru ahead of the launch of The Big BIllion Days. Speaking with Bengaluru-based Flipkart sellers Raju Lunawath, proprietor of Amazestore, and entrepreneur Smita Kulkarni, founder of StoneSoup, he inquired about their journey with Flipkart and their expectations of the festive season sale.
Raju, who inherited his traditional family business, realised the value of taking it online on Flipkart with his father's blessings. Today, his success makes him a poster-boy of e-commerce.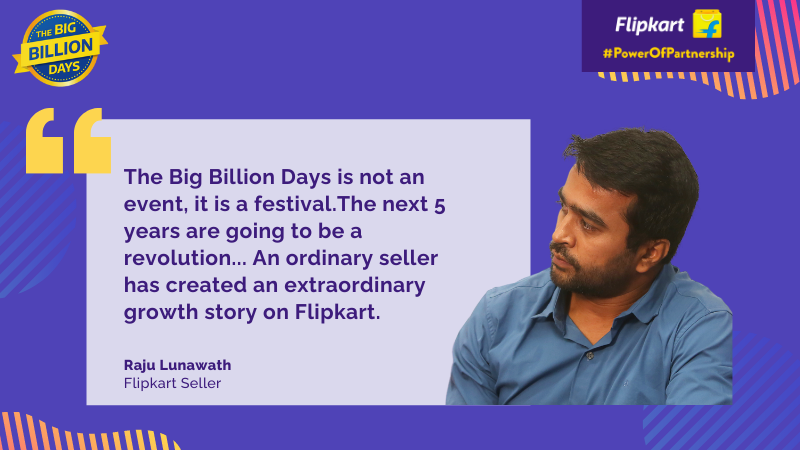 "An ordinary seller has created an extraordinary growth story on Flipkart," he said, summing up his partnership journey since 2013.
Smita Kulkarni offered incisive insight into what Flipkart has done for her business. Smita is co-founder of StoneSoup, a Bengaluru-based company that provides convenient solutions to anyone who wishes to go green. StoneSoup joined hands with Flipkart as a Samarth partner and lists products like compost kits, and feminine hygiene products like menstrual cups and reusable cloth sanitary pads on the platform.
"We are into reusable products, where people buy once and come back only after 6-10 years," she says. "It does not make good retail sense. That is where Flipkart comes in, helping us reach a wide audience and enable a conversation about a sustainable lifestyle."
She adds that being on-boarded to the Flipkart Samarth program has broadened market access for StoneSoup. "We've seen amazing growth on Flipkart and not just in metros," says Smita. "Orders have come from places like Port Blair, Jalgaon, Nagpur, and the interiors of Madhya Pradesh. I don't think I could have ever gone there on my own to talk about my products."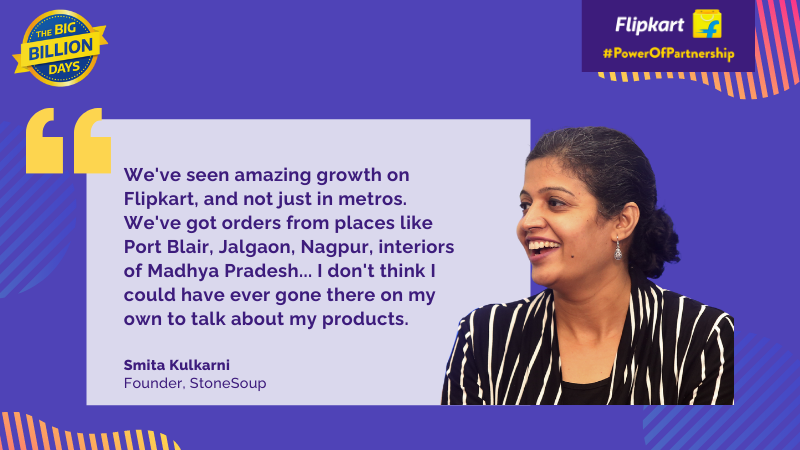 StoneSoup has been preparing for The Big Billion Days sale since May this year while Raju started even earlier, in February.
While Raju counts on key market insights from his account manager to plan for volume-driven sales, the success of Smita's StoneSoup hinges on the right positioning to the right audience.
"More than a product sell, it has been a concept sell," she observes, reflecting on StoneSoup's e-commerce journey. "We need to educate consumers on how to use our products. This 'concept sell' has been enabled by Flipkart Stories, where they tell the story of the how and why of the product, and how you can make an impact by using sustainable products. We need more explaining to be done about products like ours, and to create a deeper conversation."
Through the Flipkart Seller Hub, sellers registered on the Flipkart marketplace platform have access to a panoply of resources, including critical market insights and forecasts, in addition to specific counsel shared by dedicated account managers, which help them navigate challenges and tap timely opportunities. During the devastating second wave of the COVID-19 pandemic in May 2021, Flipkart extended various initiatives to lakhs of MSMEs, small-scale sellers, artisans, weavers, and handicraft partners including financial benefits, working capital, health and safety benefits, and support through existing seller policies. Further, responding with empathy to the need of the hour, Flipkart waived cancellation fees for orders cancelled due to lockdowns in various states and extended the window for the Seller Protection Fund (SPF), which helps sellers minimize losses on damaged/incorrect returns. Additionally, Flipkart committed to bearing a 100 percent premium on COVID-19 insurance extended to all sellers, which covered hospitalisation and consultation between ₹50,000 to ₹3 lakh.
Flipkart has made additional strides to democratize commerce and disrupt the emerging social commerce landscape by providing access to its catalogue and full stack e-commerce services over a simplified social media interface. In July this year, with the launch of Shopsy, Flipkart's new zero percent commission platform, sellers have yet another avenue to enhance their reach to approximately 200-500 million budget-friendly customers via a trusted reseller network. Shopsy provides social commerce opportunities for enterprising Indians. Registered Shopsy users can share catalogues of a wide selection of 15 crore products offered by Flipkart sellers with potential customers via popular social media and messaging apps, place orders on their behalf, and earn commissions on transactions. By creating a layer of distribution between e-commerce sellers and consumers through trusted resellers, sellers are able to target the right audiences looking for affordable products.
Inclusion and democratisation are the tenets by which the Flipkart marketplace abides in its endeavour to make access to commerce ubiquitous in India through technology. From large brands seeking to penetrate emerging markets, to MSMEs and small businesses seeking broader market access through e-commerce, sellers of all stripes pin optimism on The Big Billion Days to reach consumers and work in unison to revive the economy from the pandemic slump. This festive season, they hope to flip over to the brighter side of the coin.
---
Want to take a shot at selling on Flipkart? Immerse yourself in Sellfmade, our selection of Flipkart Seller success stories, and be inspired!
Read Impact Stories, the handbook about Flipkart sellers in partnership with YourStory