Flipkart's newly launched Perfect Buy Store offers customers a novel online experience to discover, shortlist, purchase and enjoy their Large Appliance — from televisions and washing machines to refrigerators and more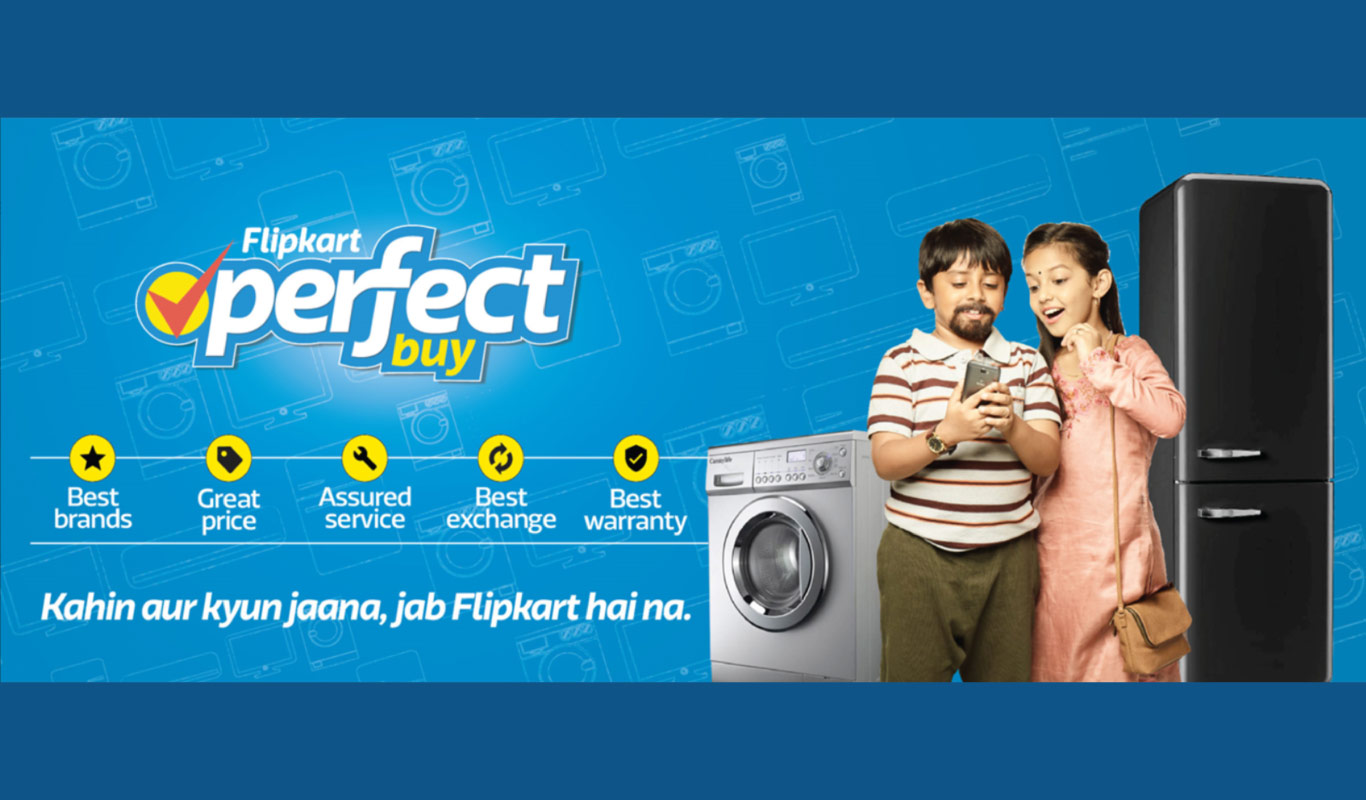 Imagine you're an online shopping customer who is confident about purchasing everything from mobile phones to apparel, but when it comes to buying large appliances online, you get cold feet. Sounds familiar? Among a string of innovations, Flipkart recently revamped its end-to-end buying experience for large home appliances by helping customers easily discover, shortlist and purchase large appliances. Based on deep insights from customers like you, Flipkart has introduced the Flipkart Perfect Buy store, a novel shopping experience designed to put your worries and apprehensions behind. This innovative one-stop shop offers everything you need to shop confidently for televisions, washing machines, refrigerators and other large appliances. With all the value and convenience of online shopping, as well as the reliability and hassle-free post-purchase benefits such as warranty and installation. Time to dispel those rumors and start shopping for your dream large appliance.
---
What to expect from the Flipkart Perfect Buy Experience
 [os-widget path="/flipkartstories/flipkart-perfect-buy-snapshots" of="flipkartstories" comments="false"]
---
What is Flipkart Perfect Buy?
Flipkart Perfect Buy is a new online experience for customers buying big home appliances like TVs, refrigerators, washing machines and more. The Flipkart Perfect Buy store offers customers best brands, great prices, assured service, best exchange and best warranty.
What are the brands I can find on Flipkart Perfect Buy?
Flipkart respects brand-loyal customers. You can get the latest products from leading brands like Samsung, Sony, LG, Whirlpool and more, who have been trusted Flipkart partners. Flipkart Perfect Buy also includes high-end homegrown brands like Vu, IFB, Onida and more, which have earned the trust and loyalty of customers in India.
I want the best brands at great prices. Can Flipkart Perfect Buy give me that?
Want the best value for your time and money? Don't lose sleep by comparing products across multiple sites. The Flipkart Perfect Buy experience factors in your need to get the best brands and the best models at the best price. And it's just a click away.
Does Flipkart Perfect Buy provide free installation and demonstration?
Wish fulfilled. Flipkart Perfect Buy provides free installation and demo apart from delivering top-notch service at your home. Flipkart also offers next-day, damage-free delivery and installation in 13 Indian cities for leading brands with Flipkart's in-house service partner, Jeeves. You can also schedule a delivery time to suit your convenience.

How does Flipkart Perfect Buy address my concerns on product quality?
All products sold on Flipkart are 100% genuine. With every purchase on Flipkart Perfect Buy, you get an authorized brand warranty. Flipkart understands the importance of a longer life for a large appliance, considering it is going to serve the users for the next few years — extended warranty is a boon. Now, you can sit back and relax, as Flipkart also offers an extended warranty at the best price in the market. (Note: The extended warranty option is shown on the product page itself).

I have an old appliance. Can I exchange it for a new large appliance?
Yes, Flipkart Perfect Buy offers convenient and easy exchange on your old appliances. In fact, we offer you the best exchange value. With instant and hassle-free hand-to-hand exchange process at your doorstep, exchanging a product has never been so easy. 
Don't let big appliance purchases pinch your wallet. No Cost EMI, the revolutionary payment model that Flipkart pioneered, has enabled customers to buy products on their dream wishlist in monthly installments at no extra cost. You can avail of No Cost EMI on the Flipkart Perfect Buy Store too.

I'm used to buying large appliances from a physical store. How is Flipkart Perfect Buy different?
When you explore Flipkart Smart Buy, you will observe that many of the features recreate the experience that you would have while shopping at a physical store. Think of Flipkart Perfect Buy as your research destination for large home appliances, with features like ePromoter videos, Buying Guides, Rich Product Description, Humanized Key Specs and Parameterized User Ratings to enrich the experience. What do these terms mean? The ePromoter video is a pioneering feature where an online promoter familiarizes customers with the product features. The promoter simplifies technical jargon into simple words and offers sharp and objective feedback on products. Parameterized Ratings, another industry first, enables customers on the Flipkart Perfect Buy store to see feature-wise user ratings. This unique innovation leverages text-mining technology, helping the user make an informed choice based on credible customer feedback. 
All of these features sound great! Where can I experience them?
The Flipkart Perfect Buy Store is accessible to anyone using the Flipkart app and desktop site. Just visit the store and start fulfilling your biggest wishes.
---