Kirana stores have been the backbone of the Indian retail system for generations. They make their way into stories that grandparents tell us, with nostalgic memories of their monthly groceries being available for a mere few annas - a currency that only a few elders now remember. Kiranas are as much a part of India's retail history, as they are in the present, with stores spread across the biggest of metros and the smallest of villages in India. The Flipkart Kirana program combines the strength of these long-standing institutions with that of modern technology to create inclusive growth for store-owners and access for customers. Read on as we follow the lives of four of our Kirana partners across India.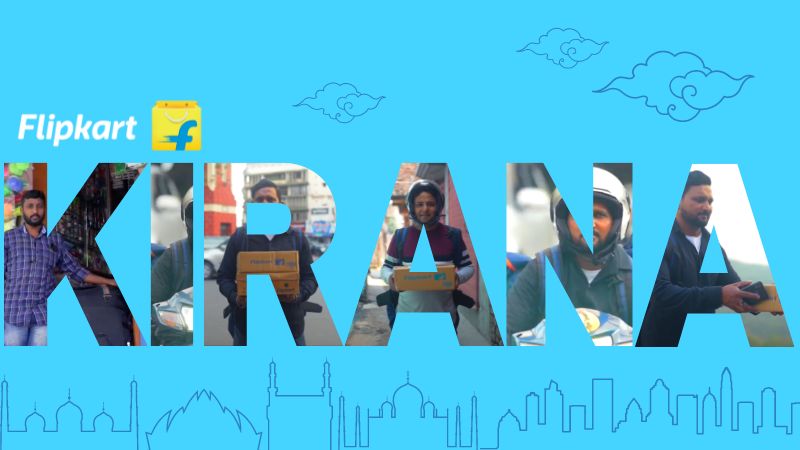 Kirana stores have been family-run establishments, and are one of India's most trusted retail formats. In a way, Kirana store owners were the first to maintain wishlists and shopping carts for the communities they operated in – they understand their clientele and their needs, and instill a sense of faith by always stocking what they need.
As access to the internet evolved in India, so did the shopping habits of a population of more than a billion people.
The Flipkart Kirana program was initiated in the year 2019 to assimilate members of one of India's oldest retail formats into the folds of e-commerce. While they continue to successfully run their established shops, which include mom-and-pop stores, tailoring shops, bakeries, and grocery stores, among others, the program enables them to earn a supplemental income as Flipkart Kirana partners. The program also enables Flipkart customers to access products across categories safely and conveniently.
Moving mountains to fulfill wishlists
In lush, green Dehradun, Uttarakhand, Gaurav Rahi and Faizan Siqqiqui, both Flipkart Kirana partners, take pride in the fact that Flipkart's technology not only enables better lives for their families, it also enables access for those around them. They say that seeing the look of happiness on customers' faces as they receive packages from across India gives them immense satisfaction.
Gaurav says, "Flipkart Kirana matlab saphalta ka pehla kadam. (Flipkart Kirana is the first step towards success.)"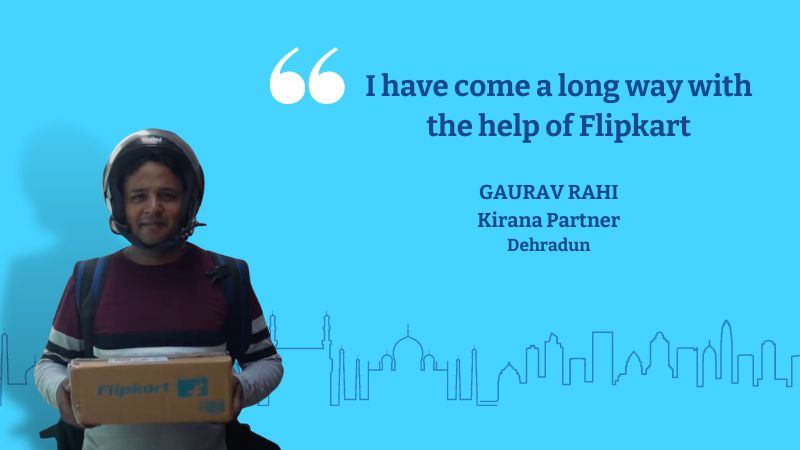 After graduating, Gaurav applied for multiple jobs. With opportunities being scarce in the region, he decided to join his father's tailoring business. When he realized that the income would not suffice to run their family of seven, he decided to join the Flipkart Kirana program.
Today, he splits his time between delivering for Flipkart, tailoring, and stepping out in the evenings just for himself. He dreams of buying his own house, and is confident that his income from Flipkart Kirana will support him through this.
"Today, even though I have received several job offers, I would never think of quitting as Flipkart has stood by us through the pandemic and provided us with a great support system," he says, adding, "I have come a long way with the help of Flipkart. I am saving money for my sister's wedding now. Yeh sab Flipkart ki wajah se possible hua. (This all became possible because of Flipkart)."
Faizan Siddiqui, also a Flipkart Kirana partner from Dehradun, chose to work with Flipkart to ease the financial situation in his family.
The lockdown proved to be difficult in the mountainous regions, and he tried his hand at multiple jobs before zeroing in on the Kirana program. While he works with his brother in the latter's grocery store, he also spares time for deliveries. He appreciates the fact that he can choose his own hours at Flipkart, while enjoying the freedom to deliver in an area of his choice.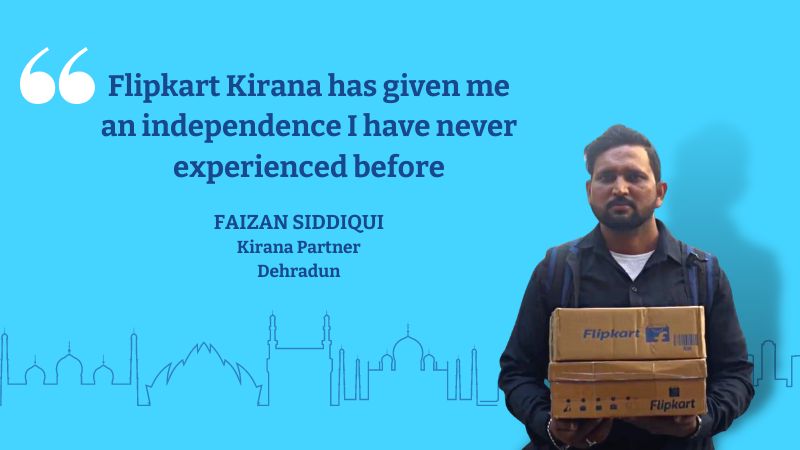 "I live in a joint family and manage the family shop with my brother," says Faizan. "Income was limited and I only got enough to cover basic expenses. After years of struggle I have now been able to buy a plot of land in Dehradun for my family. Today, I have flexibility and control over my own time. Flipkart Kirana has given me an independence I have never experienced before." He adds, "Ab apni marzi ke malik hai. (I am my own master)."
Dreaming bigger, delivering better
There are an estimated 12 million Kirana stores in India. Today, members of this business community account for nearly one third of all deliveries for Flipkart. Along with a guaranteed supplemental income and flexibility — both ensuring inclusive growth — the Flipkart Kirana program has also introduced additional incentives for partners. These include referral incentives, and personal accident policy of ₹5 lakh, among a host of benefits.
Suresh, a Flipkart Kirana partner in Bengaluru Karnataka, worked a string of jobs that required long hours and inconsistent pay. Suresh's family encouraged him to look out for other options, and the Kirana store that they eventually opened became his primary source of income. Soon, Suresh also signed up as a Flipkart Kirana delivery partner, which enabled him to earn a supplementary income. The flexibility that comes with being a Kirana partner is one of the discerning factors of this program for Suresh.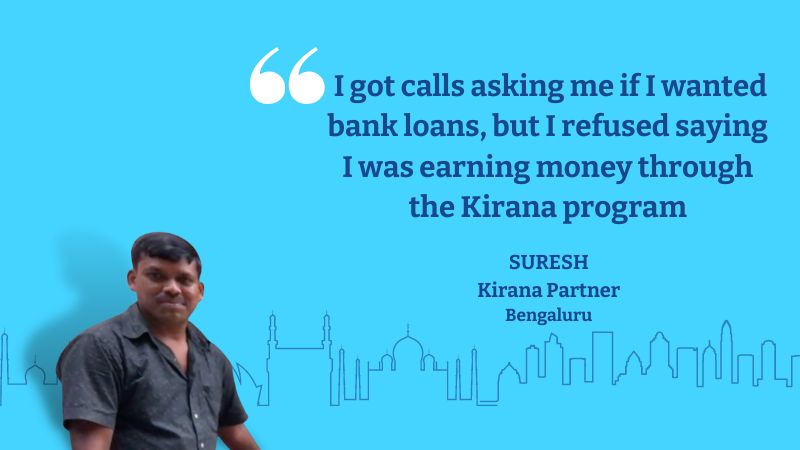 "The money I earn is very helpful for me to provide for my family, including for my children's education," says Suresh. "When I started off with the Flipkart Kirana program, I got calls asking me if I wanted bank loans, but I refused saying I was earning money through the Kirana program. Whenever there is a festival or some such event at home, my income from Flipkart Kirana comes in handy"
Srikanth, another Kirana partner from Bengaluru, specifies the transformation his life has undergone since he signed up to be a Flipkart Kirana partner. From living in a house with a tin sheet for a roof, he smiles as he tells us about the house he is now able to lease for his family.
"I have been working with the Flipkart Kirana program for the last 2-2.5 years," Srikanth states. "If you talk about extra savings, I leased a house with the money I saved, and bought some gold for my wife with the remaining money. Earlier, my father-in-law used to operate a business from a cart. We have a store today. He takes care of the store, and I work as a Kirana partner. My family is very comfortable."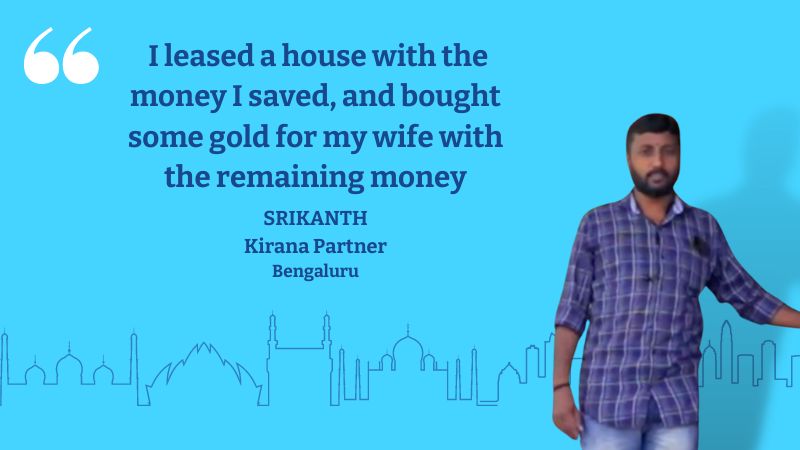 He prides himself on the fact that he is able to send financial help to his parents, who are farmers in Mandya, Karnataka. He's even been able to buy his father a motorcycle with the money he saved from the program. His role as a Flipkart Kirana partner provides him with flexibility, and the one thing he ensures he does everyday is pick up his child up from school and feed him his after-school meal. He has already made plans for his son, and is saving a part of his earnings to enroll him in a better school.
Homegrown inclusive growth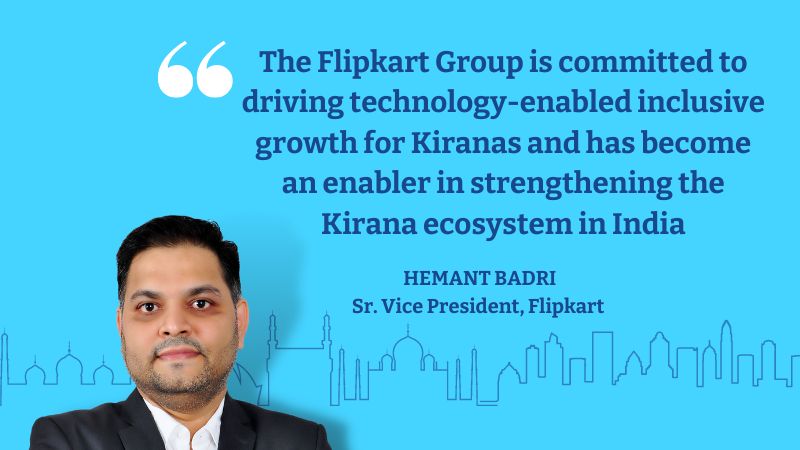 Hemant Badri, Senior Vice President, Customer Experience and Supply Chain at Flipkart, explains the impact that the Flipkart Kirana program has had on the Indian e-commerce ecosystem, both for the customers, as well as the Kirana partners.
"As a homegrown organization, the Flipkart Group is committed to driving technology-enabled inclusive growth for Kiranas and has become an enabler in strengthening the Kirana ecosystem in India," he says. "During the pandemic, our Kirana program has enabled store owners to earn a supplemental income, meet their needs, and support their families."
The Flipkart Kirana program started off with 27,000 partners following its launch in 2019. It has since witnessed increasing participation from Kiranas, with over 200,000 partners delivering to millions of Flipkart customers across India. The program also includes several women, in line with Flipkart's inclusive policies that focus on equal opportunity. The program has also seen a 5x increase in Northeast Indian states, including Tripura, Sikkim and Arunachal Pradesh, with over 15,000 partners onboarded in the region this year. In the last one year alone, Flipkart Kirana partners have registered a nearly 30 per cent increase in their monthly income.
---
Also read: #OneInABillion: For Flipkart Kirana partner Amit Kumar, family is everything