After LinkedIn Top Companies honor and a place among Working Mother and Avtar 100 Best Companies for Women in India, the Great Place to Work® Institute (India) certification is further testament to Flipkart's commitment towards its employees.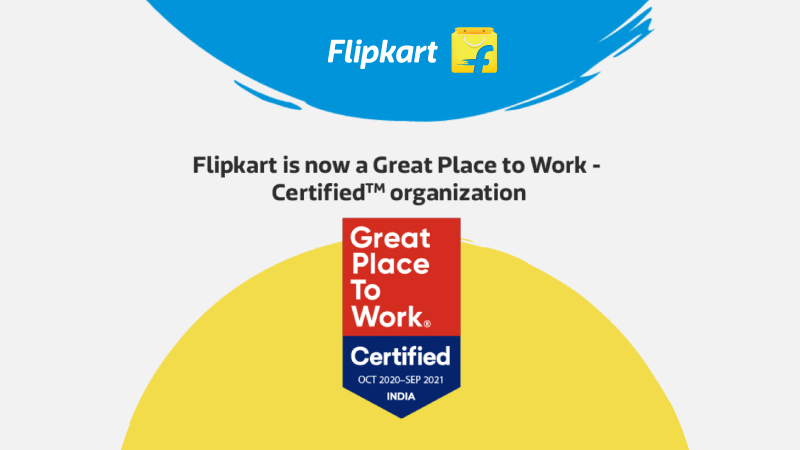 What makes a company a great place to work? For Flipkart, it is a commitment towards its employees, ensuring a work culture that is supportive, diverse, inclusive and empowering for each Flipster to be exactly who they are while bringing their best to work.
Flipkart was recently recognized as a Great Place to Work® Institute (India) Certified company. A 'Gold Standard' certification, this is among the many workplace laurels for Flipkart — including LinkedIn Top Companies (which it topped in 2019, 2017 and 2016) and among Working Mother and Avtar 100 Best Companies for Women in India for the third year in a row.
---
Watch the video for more:
---
Great Place to Work® is the global authority on building, sustaining and recognizing High-Trust, High-Performance CultureTM at workplaces. Each year, more than 10,000 organizations from over 60 countries partner with the Institute for assessment and benchmarking to strengthen their workplace culture.
"This coveted recognition not only reinforces our commitment to creating a great workplace but also gives us an insight into actionable data to help us get better. This is a true testament to the culture that binds us together!" says Krishna Raghavan, Chief People Officer, Flipkart.
In 2020, Flipkart set out on a 'Year of People' initiative, leading with the belief that our culture is the #CultureOfPeople. From our Inclusion and Diversity charter, to reimagining employee engagement and shifting towards agile and continuous employee development among others, each initiative helped us create a unique culture that is truly lasting.
"The community of Flipsters is my extended family. This feeling doesn't just come from being a part of Flipkart for the last five years, but because of our culture – one that is inclusive, caring and keeps innovations at the heart of it all," says Priyanka Bhargav, Senior Director, Brand Marketing. "Flipkart has always made me feel so empowered to make decisions!"
Chanakya Gupta, Vice President, 2GUD, says the certification is a great validation of the amazing workplace that Flipkart is. "The Great Place to Work certification is a befitting recognition for our organization! It's great to see the external world continuing to validate the amazing workplace that Flipkart is. The talent that we have around us, the infectious energy (despite working from home), and the can-do spirit that each one has, all make it a super exciting workplace for me. Add to that the virtues of audacity, bias for action, and customer-centricity, that become an integral part of you for life!"
---
Also read: From lockdown to #TBBD, the incredible women at Flipkart talk about conquering 2020!