What's the difference between a workplace and a Great Place to Work? At Flipkart, it's the #CultureOfPeople that ensures everybody gets a good seat at the table. It's the trust, inclusion, support, recognition and genuine care that enables Flipsters to create, innovate, and bring their best selves to work. Read on as 9 Flipsters share their personal and professional experiences about life at Flipkart.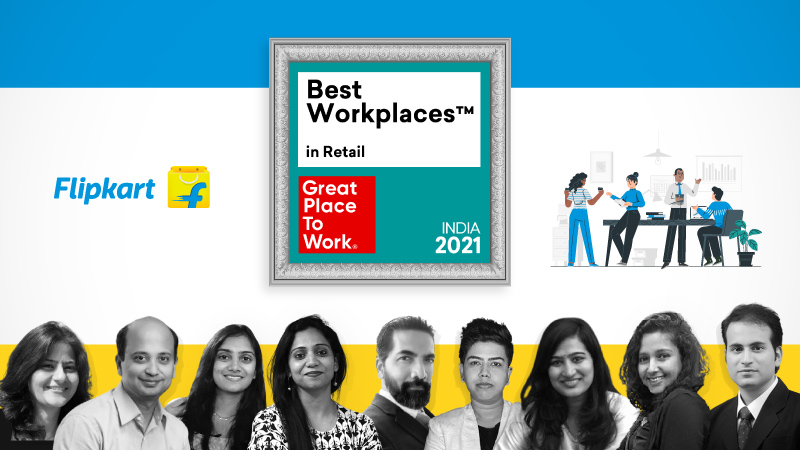 An empowering and inclusive work culture, an unwavering commitment towards employees, strong work ethics and integrity, flexibility that enables each Flipster to do their best work, and more — these are just a few things that make Flipkart a great place to work.
As a testament to this commitment, Flipkart was recently recognized as a Great Place to Work® Institute (India) Certified company. A 'Gold Standard' certification, this is among the many workplace laurels for Flipkart — including LinkedIn Top Companies (which it topped in 2019, 2017 and 2016), among Working Mother and Avtar 100 Best Companies for Women in India for the third year in a row, India's Best Workplaces in Retail 2021 and Top 3 among E-Commerce.
At Flipkart, we reach not just for laurels but, more importantly, the hearts of our employees through our people-first workplace culture. Flipkart's #CultureOfPeople is founded on 9 pillars and the Great Place to Work® award reiterates the fact that life at Flipkart is indeed like no other.
In a nutshell, Flipkart is where happy people team up with empathetic, approachable leadership to solve unique problems, all while striving for the values of audacity, bias for action, customer-first with integrity, and inclusion. Work at Flipkart is filled with care and opportunities and it's where collaboration and the recognition of each other's successes take center stage – and Flipsters take immense pride in the organization's achievements and vision too!
So what is it really that arms Flipsters with the zeal and passion to come to work everyday with their best foot forward? Here are 9 employees, spelling out what an incredible workplace culture looks like.
---
'I feel recognized, heard, and seen exactly as I am'
Nikita Prakash, Senior Brand Marketing Manager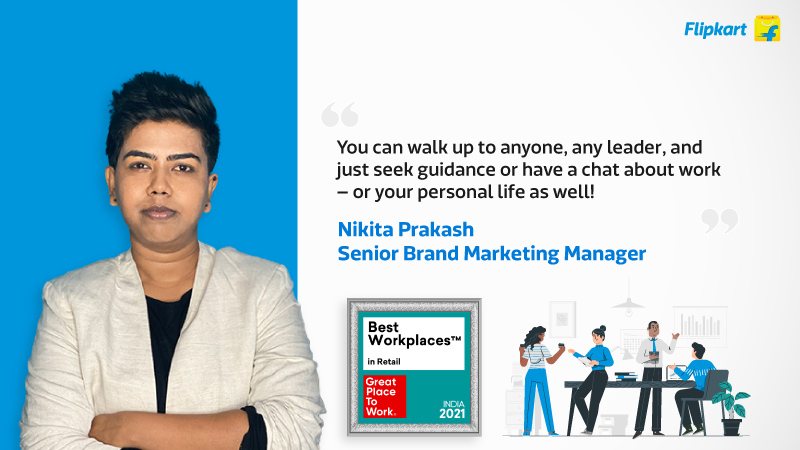 After working with the digital marketing team for almost a year, I walked up to my manager and told him that I have an interest in doing much more – without hesitation, he freely accepted! So, I got the role of brand marketing manager, where I oversaw online, offline and everything related to marketing. It gave me a lot of exposure and we did some amazing campaigns like The Big Billion Days, where not a single stone is left unturned.
I'm so glad that Flipkart believed in my potential. Here, if you have the passion and willingness, even if you fail, there are many managers who are extremely supportive, who will guide you, lift you up, and get you running again. Also, I think, what makes Flipkart a great place to work at, is the set-up is extremely beautiful where you actually get to voice out your opinions and speak out. You can walk up to anyone, any leader, and just seek guidance or have a chat about work – or your personal life as well! I feel recognized, heard, and seen exactly as I am. I'm proud to work in an organization where everyone's idea is heard. No matter what your gender, faith, belief, or ethnicity, everyone has a seat at the table."
---
'Flipkart's leaders believe you'll take the right calls'
Aayush Sikhwal, Senior Talent Management Partner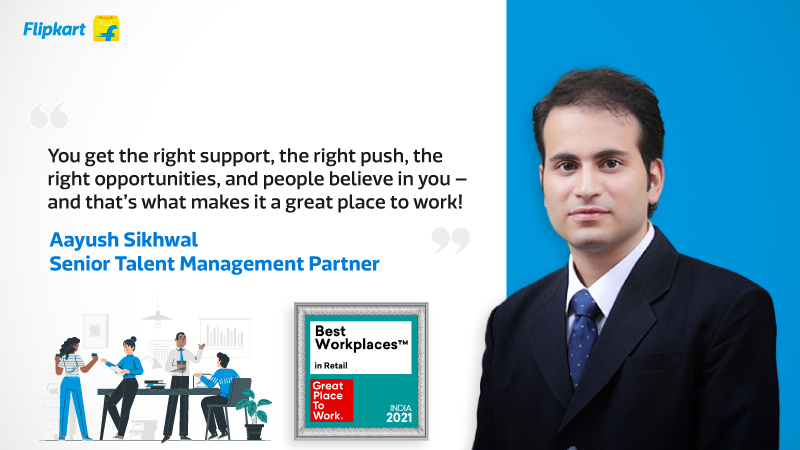 "It's very rare that somebody early on in their career gets an opportunity to take care of an overall process for a company, and at the same time, design it, execute it and see it through to the end. That's the opportunity that was provided to me, in the form of handling Product Development. It makes me both humble and grateful. At Flipkart, the leaders believe you will take the right calls. They believe you'll see it through to the end. You get the right support, the right push, the right opportunities, and people believe in you – and that's what makes it a great place to work!
I've been a part of the Flipkart ecosystem for less than two years and I was recognized as a value ambassador at the Flipkart Annual Awards. What I hear is that I'm the youngest award receiver this time. So that feels great! I mean, it's the highest level of recognition you can get in Flipkart and I got that at a very early stage of my career. So, I definitely believe that we, as an organization, celebrate successes. Recognition is a habit at Flipkart, from our thanks portal to #ThankyouThursdays, and it inspires us Flipsters to continually raise the bar and bring more value to our work."
---
New Flipster, new mom, and a warm welcome
Sapna Jain, Finance Business Partner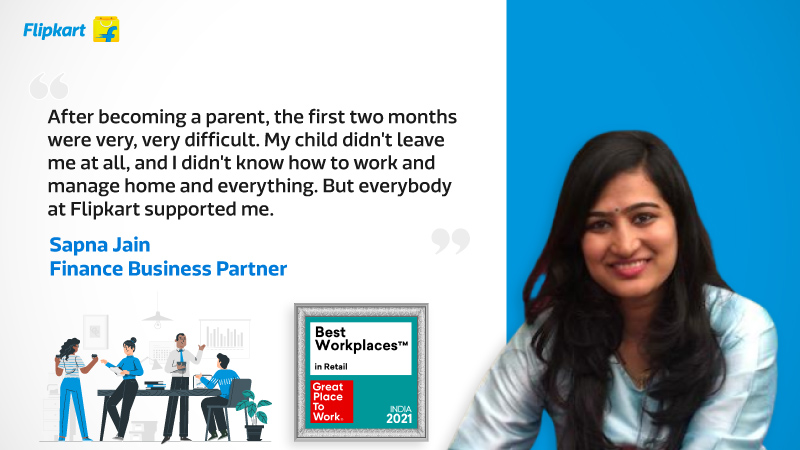 Flipkart goes the extra mile to ensure we are supported every step of the way in our journeys. When I was to join, I didn't know I was expecting a child and only after giving the interview I got to know that, okay, I'm pregnant. I told this to the HR, indicating that immediately after joining, after five or six months, I'd have to go for my maternity leave. And the response from the HR wasn't what I expected! They took it so warmly, saying that it's very good news, and I still remember them saying, 'We welcome you as a Flipster here, no issues about the maternity leave arriving in 5-6 months.'
While that was touching, after becoming a parent, the first two months were very, very difficult. My child didn't leave me at all, and I didn't know how to work and manage home and everything. But everybody at Flipkart supported me. My managers were supportive, my skip-level was supportive. They understood that if work was the second priority, there was a reason for that. That attitude is extremely encouraging. Even at the office, we have a parking policy where we have a slotted parking space for a new mother. So, these are the small yet meaningful things which are taken care of at Flipkart!
---
A place where collaboration comes alive!
Sita Subramanian, Associate Director, Flipkart Wholesale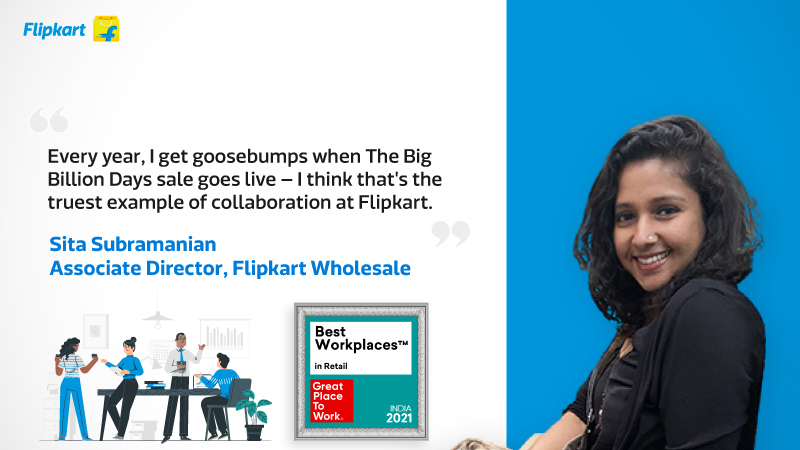 One of my favorite reasons for saying that Flipkart is a great place to work boils down to how people collaborate. Many of the milestones Flipkart has crossed over the years are direct results of the synergy among Flipsters. I've seen six Big Billion Days sales – a time where collaboration really comes alive! There is debate and negotiation, of course. But all the teams —  from marketing to supply chain to category to finance to last mile —  actually come together to make this a phenomenal success. 
The Big Billion Days sale is our biggest event and the fact that we pulled it off virtually in 2020 truly amazes me! Every year, I get goosebumps when the sale goes live – I think that's the truest example of collaboration at Flipkart. I see the same collaborative energy at work with our ecosystem partners, for instance, when Flipkart Wholesale and Walmart India teams integrated.
---
'The most empathetic, people-friendly organization'
Dinesh Keerthy, Associate Director, Corporate Communications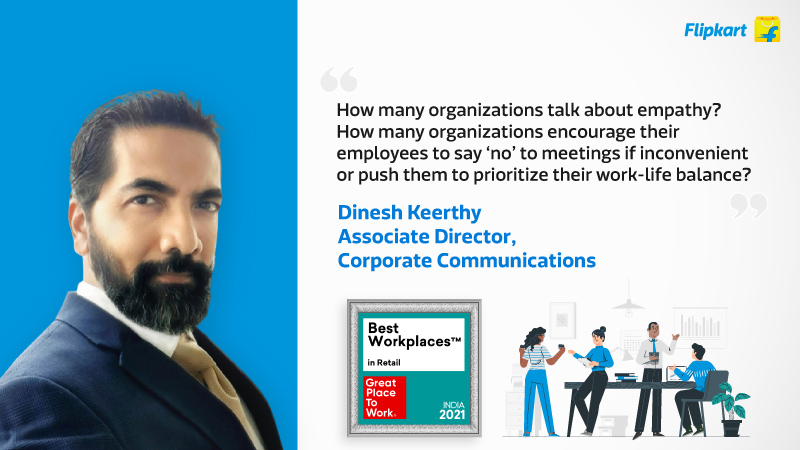 Flipkart is the most people-friendly organization that I've been a part of across 20 years that I've worked. Every policy, every decision is crafted with people being at the heart of it. All the focus is really on what the employee needs primarily. And Flipkart is really very empathetic. I mean, how many organizations talk about empathy? How many organizations encourage their employees to say 'no' to meetings if inconvenient or push them to prioritize their work-life balance? So, this is a great place to work and, really, the best place to be for me.
I also love the fact that we're still that startup. We still have that mentality that keeps us ahead of the pack. And Flipsters embody Flipkart's vision, believe in it, and understand how their work benefits customers across the nation. It's extremely meaningful when you can clearly see the impact your work makes on a daily basis.
---
Keep expanding your learning
Deepti Agrawal, Director, Engineering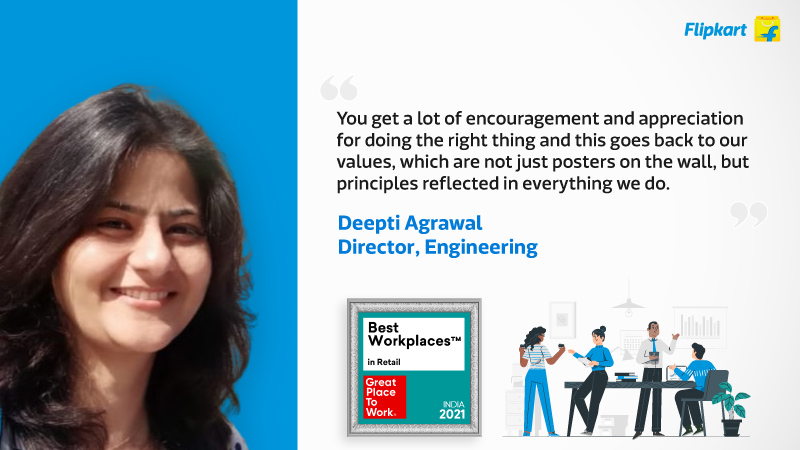 I joined as an engineer and started with the marketing tech team, where I built the platform for managing automated campaigns. Since then, I took up a managerial role, working with a team for powering user apps, went into backend catalog engineering, and now, I'm finally with the central platform, which is very, very different from what I've worked on before. What I really appreciate about Flipkart is that the moment you feel like you're saturated, you have an option to move into a different team and keep expanding on your learning.
Also, you get a lot of encouragement and appreciation for doing the right thing and this goes back to our values, which are not just posters on the wall, but principles reflected in everything we do. Like when we were bootstrapping an incident response team, we needed to ensure an extraordinarily strong bias for action and reinforce the need for integrity – you cannot afford to just keep issues lingering around, you need to squish those bugs right in time! It required a lot of customer-centricity, so that whatever happened, customers would not experience issues. And it required us to sign up for audacious goals. Our values ensure that our moral compass is always pointing in the right direction, even when no one is watching!
---
Challenge, exposure, ownership – unlimited
Shipra Yadav, Management Trainee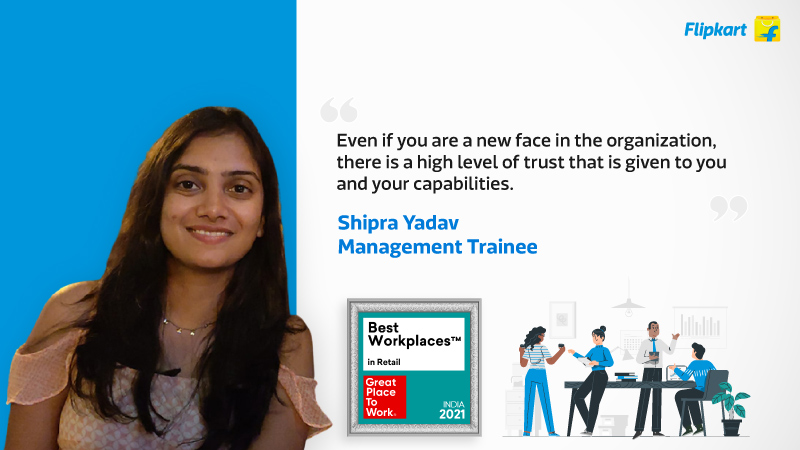 My story with Flipkart began with the annual management competition WiRED, in which my team came national runners up. From there I joined Flipkart in June 2020 as a Management Trainee in the HR domain. Right from the start, my journey has been quite interesting because I got a thorough view of every business unit and every function, even when I was starting out as a trainee. Also, you're put into roles and projects that are not only challenging but ensure that you go out and get exposure in the organization – that itself makes Flipkart a great place to work!
In the very first month I was given ownership to hold a small FGD with HR leaders, business leaders and the head of supply chain. These are the kinds of opportunities that you get! Even if you are a new face in the organization, there is a high level of trust that is given to you and your capabilities. At Flipkart, employees are given a platform to exhibit their skills and talent. I soon got a chance to work on central projects and was encouraged to come with solutions for our vast supply chain – and that's how the Instant Karma award happened for me.
---
Working woman. Working mother. Leader.
Nandita Sinha, Vice President, Customer Growth, Media & Engagement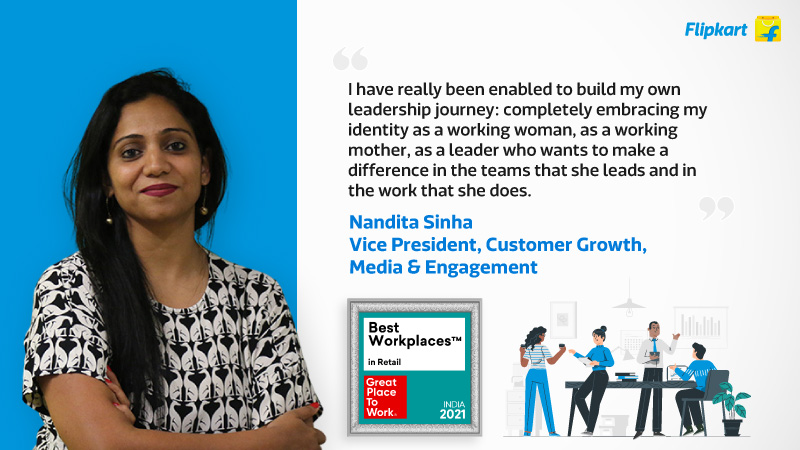 I started in Flipkart almost eight years ago and what has remained constant is the deep mission to really transform retail for millions of Indians across tier-II and tier-III cities by giving them greater access to quality products at affordable prices. At the core, we are still driven by our entrepreneurial streak, and a common set of values that binds us together.
Flipkart has been a great place to work for me, a place where I found the opportunity to grow, the opportunity to learn, the opportunity to contribute. We've never been driven by hierarchy or bureaucracy. Everybody has the opportunity to contribute in an equal manner irrespective of what part of the organization that person comes from or what hierarchy that that person has in the organization.
The other thing for me that has been very interesting is the fact that I have really been enabled to build my own leadership journey: completely embracing my identity as a working woman, as a working mother, as a leader who wants to make a difference in the teams that she leads and in the work that she does. Giving me the opportunity to carve my own leadership journey is part of the reason why Flipkart continues to be my favorite place to have worked in.
---
Setting benchmarks for empathy, audacity, resilience.
Krishna Raghavan, Chief People Officer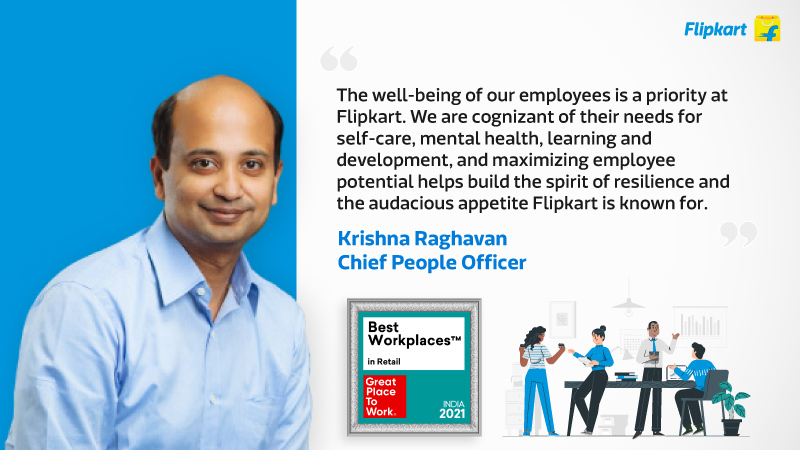 Flipkart has always been this place where individuals can craft bespoke journeys for themselves. I had this vision to do a lot more for people and got the opportunity to put my hand up and assume the Chief People Officer role. The well-being of our employees is a priority at Flipkart. We are cognizant of their needs for self-care, mental health, learning and development, and maximizing employee potential helps build the spirit of resilience and the audacious appetite Flipkart is known for.
In many of the problems we solve as a company we keep the customer at the center, but the way we approach it is with really an audacious purpose. We do not take what has been built before, or what other industries have set as the benchmark. We set the benchmark ourselves. 
Like, when the pandemic hit us, we had a situation where we needed to serve essentials to the larger country. We had a lot of our employees working remotely, and our supply chain employees were working on the ground. But the problem in front of us was how do we actually reach grocery essentials to larger sections of the population than what we had previously done before the pandemic?
That's when teams came together and we built a solution within weeks, converting different elements of our supply chain to serve grocery and partnering with cab aggregators to make all of this happen. And this kind of exemplifies the spirit of resilience and the audacious appetite of our employees.
---
Also read: From lockdown to #TBBD, the incredible women at Flipkart talk about conquering 2020!