Online gaming has seen a meteoric rise in the last decade. A 140 billion-dollar industry, games have penetrated every corner of the internet, from hyper-casual games like Candy Crush to professional Counter Strike tournaments. Meanwhile, Flipkart's gaming project, which began as a series of microgames to drive up excitement around The Big Billion Days sale, has now evolved into an ecosystem of its own. Read all about Flipkart's newly launched Gaming Platform and the story of its evolution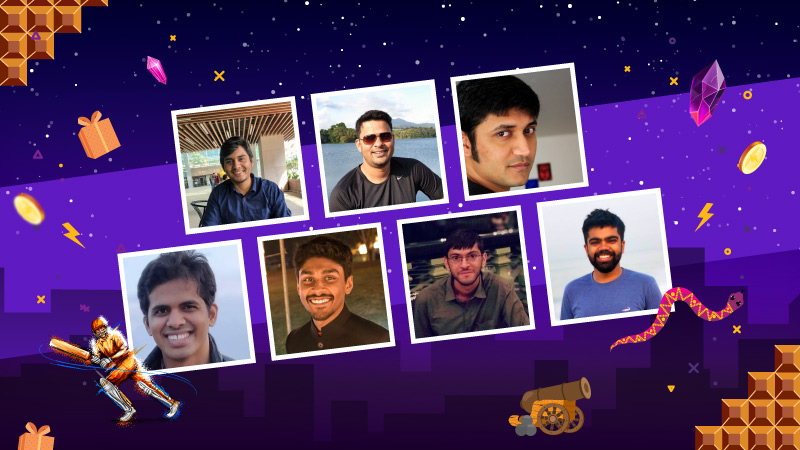 In this story: From a supporting role during sales in its early days to a full-fledged, in-house platform that led an engagement of 10 million minutes played on a single day, here's the story behind the rise and rise of Flipkart Games. 
---
Picture this: you walk out to bat against one of the world's finest bowlers in front of a capacity crowd. You're representing your hometown in one of the biggest cricket tournaments in the world. The bowler sledges you, but you pay no mind. Bigger things are at stake. He steams in and releases the ball. It is speeding towards you at a full length. This is the moment you've been waiting for. You clear your front foot and swat it out of the ground for six. The crowd goes wild.
Sounds too good to be true, right? Not if you've played Cricket Battleground on the Flipkart app.
The Thrill Of Flipkart Games
Released in March 2020 in the lead up to the IPL (which currently stands postponed due to the COVID-19 pandemic), Cricket Battleground has quickly grown in popularity among shoppers, who come back every day to spend millions of cumulative minutes playing the game. It is the latest in a series of ambitious releases on Flipkart's newly launched gaming platform. After the launch of Cricket Battleground and Crazy Cannon Arcade, another one of Flipkart's new releases, engagement shot up to never-before-seen numbers, hitting up to 10 million minutes played on a single day.
---
Enjoying this story? Check out the accompanying podcast!
---
It's easy to see why — Cricket Battleground condenses the highs and lows of a Twenty20 match into a few minutes. The user plays 3 overs against a randomly chosen opponent, out of which the last over is a power over, in which your score is doubled. Furthermore, it is designed to simulate the experience of batting as closely as possible. The player's point-of-view is unlike in other cricket games, with the camera placed just behind the batsman so that it is up to the player to judge the trajectory of the ball and select their shot. The reason behind these particular design choices is rooted in the cricket culture of India.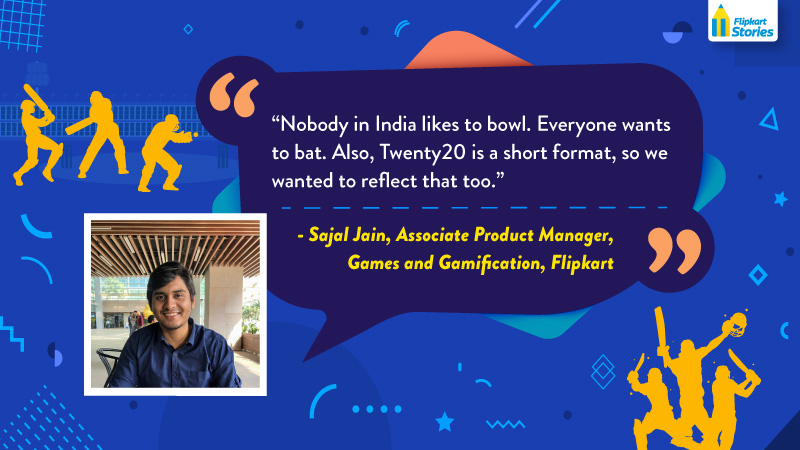 "Nobody in India likes to bowl. Everyone wants to bat. Also, Twenty20 is a short format, so we wanted to reflect that too. The third thing we were trying to simulate was the thrill of the game. Even in the last over, things might change. So we added a power over to keep things interesting. Even if you're not playing well, you can turn things around," explains Sajal Jain, Associate Product Manager, Games and Gamification at Flipkart, and one of the key figures behind the launch of Cricket Battleground.
Although the success of games like Cricket Battleground and Crazy Cannon arcade give the impression that Flipkart's Gaming project is an overnight success, this couldn't be further from the truth. These games are the culmination of a story that has been in the making for four years.
Taking Guard
"The games journey started off with a simple hypothesis," says Ajay Kumar Singh, Senior Engineering Manager at Flipkart. A Flipkart veteran, Ajay has been at the company for over 9 years. "Back in 2017, the time that people were spending online playing games was going up. Flipkart was initially designed as a pure e-commerce website. If you were to visit Flipkart, you would have a specific shopping need. The person who is playing games and the person who is visiting Flipkart, essentially they are the same user. It's just that the two needs were being met on different platforms. We were trying to see if both these needs could be met on Flipkart."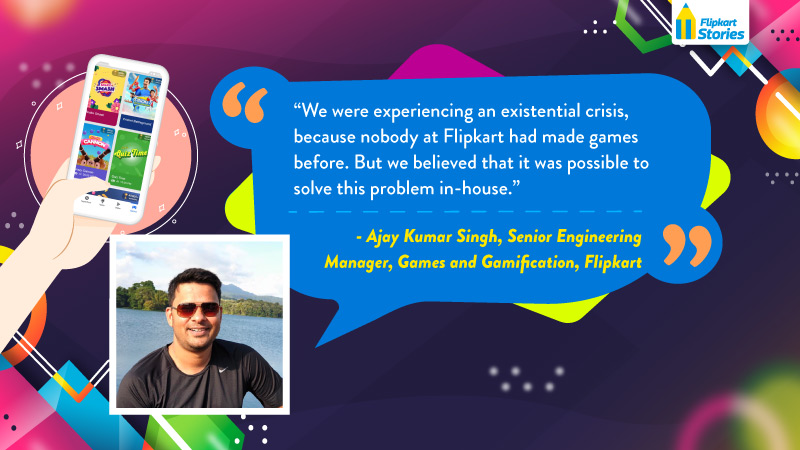 Soon after, Flipkart took its first steps into the world of gaming with the launch of a few micro games before The Big Billion Days sale in 2017. When these games attracted a lot of engagement from shoppers, Ajay and his team understood that they might be onto something. "This showed us that there were no mental blocks. People were willing to play games on Flipkart," explains Ajay.
Things started taking shape and soon, Flipkart formed the games and gamification team and launched two games — Play and Win, and Bid and Win. "We looked at the numbers and noticed that they were 10x what they were during sale days. That's when we realized that this has potential and we have to build a dedicated team around it," says Ajay.
For an e-commerce company like Flipkart, this was a hard left turn. "We were experiencing an existential crisis, because nobody at Flipkart had made games before. But we believed that it was possible to solve this problem in-house. Since developing games involved integrating with multiple existing systems, I handpicked some old-timers who had the experience to pull it off," he explains.
Flipkart Games Gets Off The Mark
"Great engineers will always be able to take up a new challenge," says Harshvardhan Singh, Senior Product Manager at Flipkart. When Harsh joined Flipkart in March 2018, he was the first product manager in a newly formed in-house engineering team tasked with building Flipkart's gaming charter from the ground up.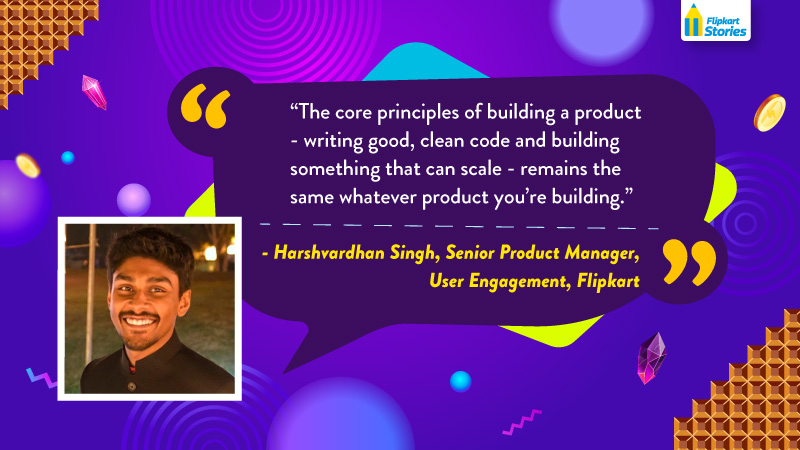 "The core principles of building a product: writing good, clean code and building something that can scale remains the same whatever product you're building," he explains. "Something that enables the millions of users to shop during TBBD doesn't differ very much from enabling the same people play games together. In fact, in the first one year, nobody in the team had worked on Games before," he says.
Looking back, this seems doubly impressive, given how specialized a skillset it takes to build and run a game for millions of people to play. So far, all the games Flipkart had launched had a clear objective — to drive up excitement around a sale, or to give shoppers something to do in the middle of a long day of shopping.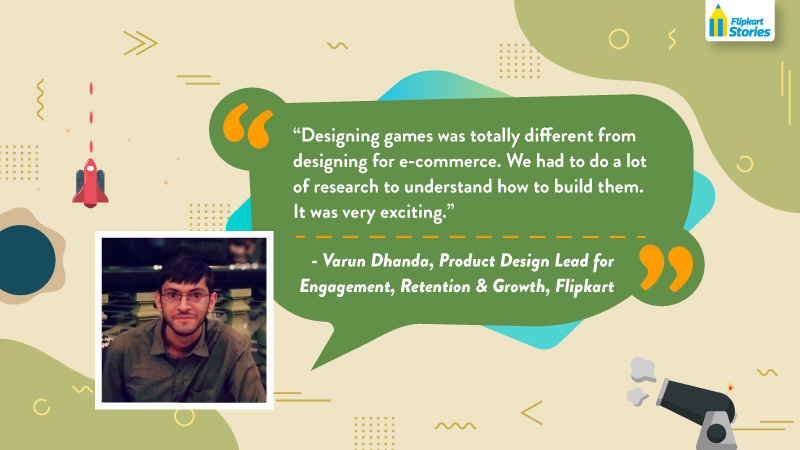 Soon, the fledgling gaming team was hard at work, learning the ins and outs of game design. "Designing games was totally different from designing for e-commerce," says Varun Dhanda, Product Design Lead for Engagement, Retention & Growth at Flipkart. "We had to do a lot of research to understand how to build games and to learn what sort of frameworks are used there. It was very exciting," he explains.
"We wanted to make an immersive game with a small app-size. This meant that we couldn't use heavy visual assets. We wanted to make it simple, yet delightful to play, something that the user would want to play every day," adds Sanket Chaudhari, Product Designer at Flipkart.
This line of thinking was reflected in the first two games launched by Flipkart. "For our first two full-time games, we picked Trivia and Pictionary because these are formats you don't have to explain to users. In these games, almost everyone could find something that they could relate with. Once the games were launched we saw a 3x rise in participation," says Harsh.
Building An Innings
"You can classify gamers into four personas: killers, achievers, explorers and socializers. Our games earlier were more geared towards explorers and achievers, who want to play games to learn something new, or achieve something," says Sajal. With the success of the trivia and pictionary games, Flipkart were looking to diversify their portfolio of online games. This meant having something for every kind of gamer.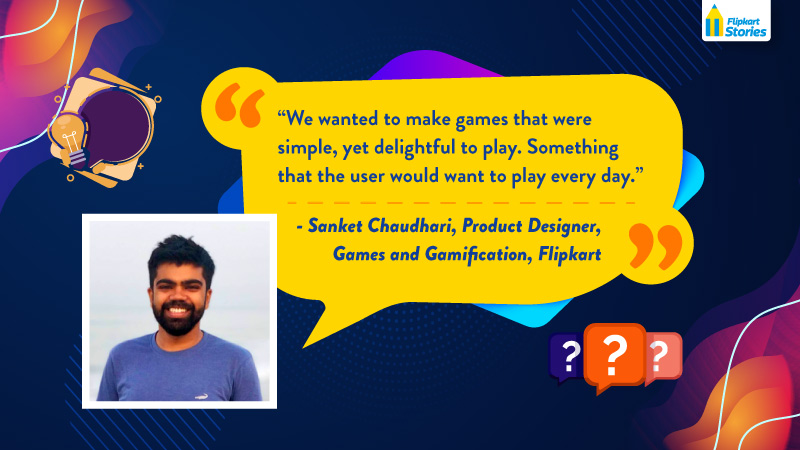 "Trivia and Pictionary were more suited to a curious, English-speaking kind of audience. Since then we've launched games like Snake Smash and Crazy Cannon Arcade which cater to the achiever kind of audience, who want to play for a high score," explains Sajal. With a more universal approach, Flipkart was steadily growing its audience of dedicated gamers, while doing most of the heavy lifting in-house.
"At the time we would build the backend in-house and approach a gaming studio to build the UI part of it. This was working well for us," says Ajay.
"But the challenge was staying fresh," he adds. It was already taking the team six to seven months to build one game and they quickly realized that to stay fresh, they had to release two games every quarter. "To combat this we decided to go with a platformization approach. That means building certain core capabilities in-house that are required for all games and outsource the gaming logic to the gaming studios," Ajay explains.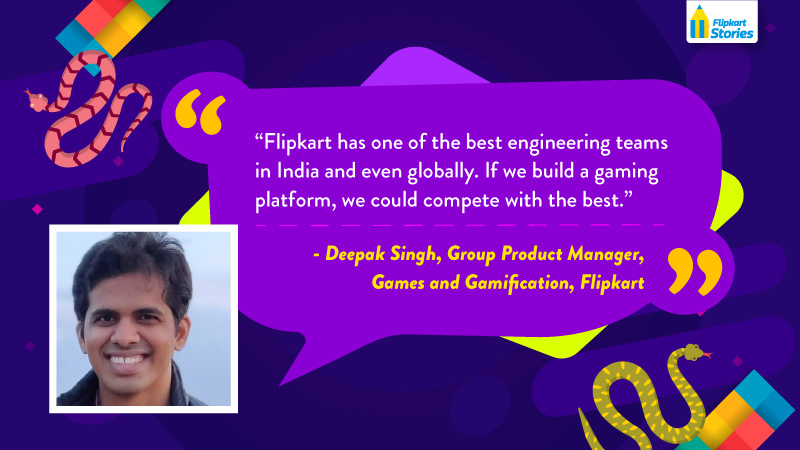 "The advantage of Flipkart is not that it is a very strong gaming studio, it is distribution and monetization," says Deepak Singh, Group Product Manager at Flipkart. A former head of growth at MXPlayer, Deepak was heavily involved in launching games there as well. "Flipkart has one of the best engineering teams in India and even globally, which has built some strong platforms in the past. If we build a gaming platform, we could start competing with Facebook games and WeChat games. The idea is to open this platform to developers and they will build games on top of it," he explains.
If we go by the success of Cricket Battleground, the platformization approach is off to a flying start. "The start of this was Cricket Battleground, where we said we will let this be built externally and we will guide it. The response has been fantastic. This has given us the confidence to launch the first version of the platform before TBBD and after that launch one game every month," explains Ajay, outlining Flipkart's plan for the immediate future.
Swinging For The Fences
The launch of Flipkart Games is the latest in a series of decisions indicating that the Flipkart universe is ever-evolving. Last year, Flipkart launched Flipkart Video, an in-app video streaming platform with over 5000 TV shows, films and reality TV episodes. Soon after, Flipkart Ideas was launched — a rich feed of engaging content including videos, images, GIFs, stories, polls and quizzes that guide customers towards their next life-changing purchase.
"It's not just a change in the paradigm, it's part of the natural evolution of an app. Engagement is moving towards shopping, shopping is moving towards engagement. We're not just competing for wallet share anymore, the currency that we're competing for is time," observes Harsh.
Flipkart's core business, however, remains unchanged. "The whole thesis is to tie this back to e-commerce," says Deepak. "That's why we have Gems. By playing games on Flipkart, users can earn Gems, which they can later convert into SuperCoins, which they can spend on Flipkart. In addition, we've observed that the average revenue of a user who engages with games is more than someone who doesn't," he explains.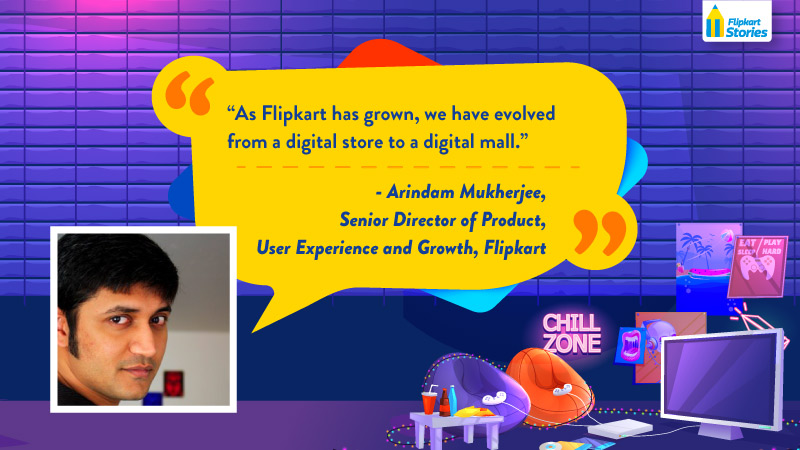 According to Arindam Mukherjee, Senior Director of Product, User Experience and Growth, Flipkart's expansion of its business model follows a real life example that many of us have probably seen. "As Flipkart has grown, we have evolved from a digital store to a digital mall. In a mall, most often people will go to watch a movie, and when you're walking out of that movie, you might actually purchase something, do some window shopping, eat some food. That's pretty much the concept here, we're trying to build a platform which can satisfy some of the shopper's non-shopping needs and build a relationship with them," he explains.
With online games like Fortnite allowing users to attend a concert online, the gaming world is witnessing never-before-seen experiments in social gaming. In a post-COVID world, Flipkart's gaming platform could be a uniting force for many isolated shoppers. "Currently, we're working on multiplayer games like Ludo, where people can chat with each other and play with their friends," says Deepak. "One thing that has changed globally after the pandemic is that everything has moved online, I myself have been playing a lot of ludo," he explains.
With the playground now expanded, Flipkart has big plans for its gaming project. "Gaming is the new social. Gaming today is what Facebook was in 2007, and we definitely want to be leaders there," says Arindam.
As bigtech and e-commerce the world over get increasingly serious about gaming, the Flipkart team is focused on building scale over the next few years "We're really shooting for the stars here and I would like people to root for us and give us all the love we need to get through this," says Deepak.
Design: Sana Khan
---
Also read: Programmed to solve: How Flipkart's Program Management team leveraged technology to serve customers amid COVID-19