What is the driving force behind any successful organization? Is it the unclouded vision of the future, or is it the unparalleled technology that it uses, or is it something beyond all that? At Flipkart, the secret ingredient behind a triumphant decade has been something else altogether, or rather someone — our talented Flipsters.
Success, however, does not stop at just having some of the best talent in the country. It comes from being in an environment that nurtures, inspires and instills the confidence to bring out the best in individuals. And this is where the Flipkart employee benefits have made a difference — not simply at the workplace, but beyond.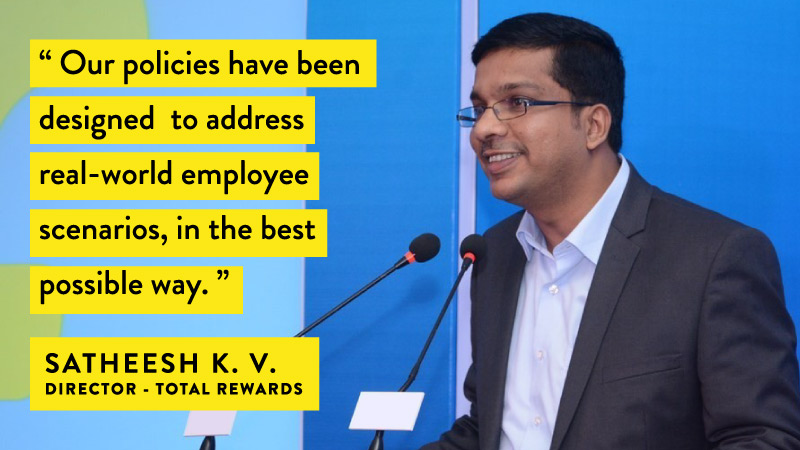 "When we designed Flipkart's employee benefits and policies, we wanted to ensure that they are meaningful for our employees, rather than being just good on paper," says Satheesh K V, Director – Total Rewards at Flipkart. In late 2014, Satheesh's team took an employee pulse and focused group discussions to understand the needs of Flipsters. The outcome of this is a gamut of benefits programs that address the diverse employee needs, which are aligned to Flipkart's people principles. "Our policies have been designed to address real-world employee scenarios in the best possible way we could as an employer," he adds.
Help in the time of need
It's been close to two years since Anshul Saxena joined Flipkart. Coming from one of the country's leading automotive companies, the switch to e-commerce was an exciting one — a refreshing change after six years of researching on and designing automotive engines. But just after taking up his new role in Flipkart's Operational Development team, Anshul was bogged down by some shocking news.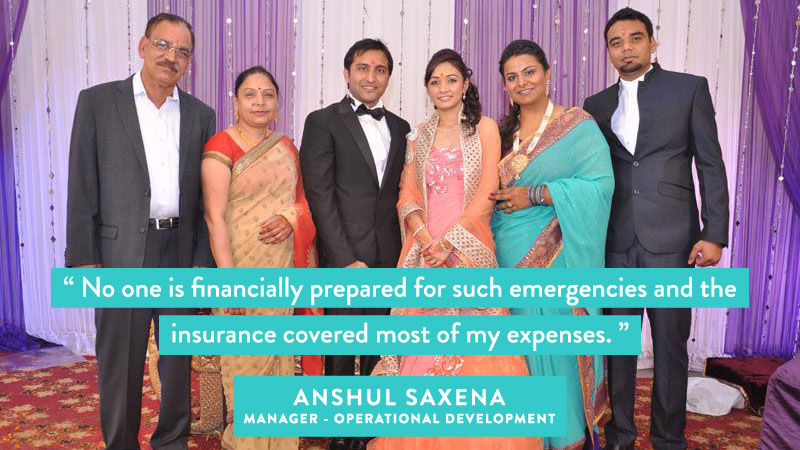 "My mother was diagnosed with a Grade-4, malignant brain tumor. And she needed immediate treatment," he says. Considering his circumstances, the sharply dressed resident of Delhi appeared unusually composed. "I went to 3-4 of India's best hospitals for my mother's treatment. A saving grace was the support Flipkart offered on the insurance front. No one is financially prepared for such emergencies and the insurance covered most of my expenses," Anshul emphasizes. He also says that the paperwork was seamless and that it was one of the things he didn't need to worry about. "She is doing much better right now. I believe people only think about something like an insurance at the time of such an emergency. I'm sure that not every Flipster knows that the insurance they take for granted can cover up to 5 family members," he concludes.
From the eyes of a father
Srikanth Adimulam's experience finds resonance with that of Anshul. The UI manager from Flipkart's Retail Team came face-to-face with one of his worst fears in January 2016. He and his wife, Deepika, went for a regular check-up during the last month of her pregnancy. "The doctor said that there is risk of hydronephrosis and that my wife has to go into labor immediately," he recalls. The next few hours saw Srikanth in a rush to close on hospitalization formalities and admit his wife to the hospital for delivery. He says, "Since I was in a hurry, there was no way I could spare time to find out more about the insurance policy terms. I called up the insurance team at Flipkart for support and they took care of everything else."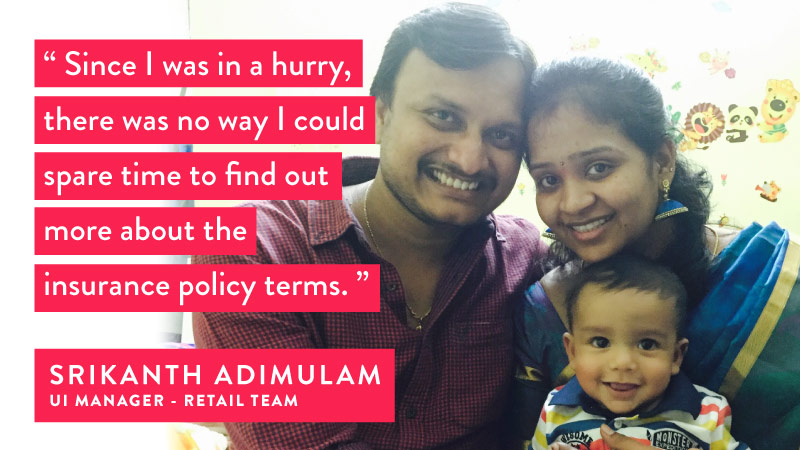 Today, Srikanth and Deepika are parents to a healthy boy. "We couldn't be happier," says Srikanth. But this was not the only instance when an insurance policy came to Srikanth's help. During one of the routine check-ups in Chennai for his son, Srikanth hit another roadblock. This was the time when a severe storm had hit the coast of Chennai, wreaking havoc across the city. "Internet network was down, and we were unable to mail the relevant documents for reimbursement to the insurance company," he mentions. And that is when Ramu M, the point-of-contact for insurance at Flipkart, came to Srikanth's rescue. He asked the new parents to fax the documents and promised he would get them the necessary approval — which he did, the same day.
Happiness — for mothers and fathers alike
For those who consider the journey to fatherhood as one that's filled with anxiety and anticipation, imagine the bearing the situation has on mothers to be. One can easily relate to the experience of Alpana Nagar, a happy mother of a one-year-old daughter. Currently a senior category manager at Flipkart, Alpana moved from Jaipur to join the e-commerce company in 2015 within the seller marketplace team.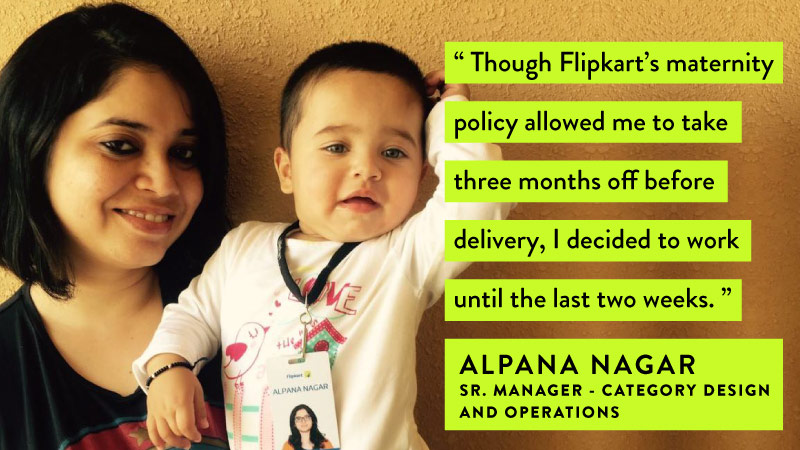 "I had transitioned through many roles within the marketplace team," she says about her stint. Alpana was expecting a baby in April 2016, a time when her work, as before, was shifting to another realm. "Though Flipkart's maternity policy allowed me to take three months off before delivery, I decided to work until the last two weeks. I believe most working women choose to do that," she says, adding that Flipkart's maternity program and her team's unfailing support made her passage to motherhood a stress-free one.
Employee benefits that allow for real balance — every time you need a hand
Another working mother at Flipkart, Akanksha Jain, joined the e-commerce bandwagon in December 2011. Currently a part of the Brand Regulations team team, Akanksha vouches for the company's culture and employee benefits programs.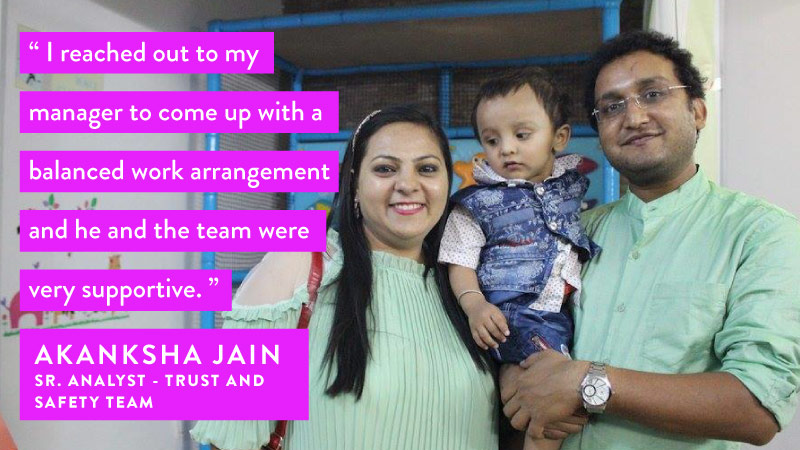 "I required more flexibility in my life when I got pregnant, early last year," says Akanksha. "I reached out to my manager to come up with a balanced work arrangement and he and the team were very supportive." Akanksha didn't see a need to take too much time away from work before her delivery, and went on a 6-month maternity leave after the delivery. She further extended her leave by another six months to take care of her son. "I had no support at home at that time and commuting in Bangalore is not easy. And I love my job here and don't want to compromise on that either," says Akanksha with a broad smile.
Family always comes first
There is a strange sense of familiarity when you cross paths with Manisha Naik — as though you have met her somewhere else. "I have an identical twin, Mansi, and people get confused between us. So we decided to smile at everyone who smiles at us," laughs the HR Business Partner for Flipkart's Engineering Function. But within Flipkart, this familiarity comes from somewhere else. Manisha was one of the early birds to join India's most inspiring e-commerce journey. "Flipkart was not very famous back then. But what really sold it for me was the interview. Sachin and Binny had a fierce, focused vision of the impact Flipkart can have in India," says Manisha, the excitement still evident in her eyes.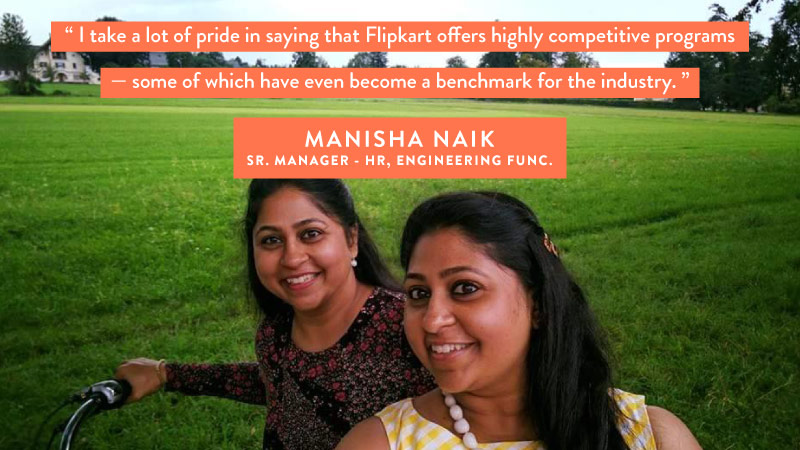 Being a part of the Human Resources team, Manisha understands the impact 'benefit programs' have on employees. "I take a lot of pride in saying that Flipkart offers highly competitive [benefits] programs — some of which have even become a benchmark for the industry," she mentions, and she relates closely to it. In September 2016, Manisha lost her father. The event, an unanticipated one, was tough for her and her family. "One can never be prepared for such events and it is very difficult to recoup. I wanted to spend some time with my family," she says with moist eyes. This is when Manisha took three months of paid bereavement leave. "There are not many companies that provide bereavement leave. The difference at Flipkart is that they provide unlimited bereavement leave to Flipsters to grieve for an immediate family member. The support I got during this phase of my life reflects the compassionate culture of Flipkart," she says.
Breaking away for a break
Flipster Rajesh Radhakrishnan has a completely different story to share about his time away from work. Known better as the walking jukebox of Flipkart, his record at Flipkart started rolling in 2010 after the e-commerce startup acquired Mime 360, a digital audio content platform.
"Music brought me to Flipkart, or rather, Flipkart bought me along with the music," humors the senior manager with Flipkart's Internal Communications team. Rajesh started his journey as a techie, but soon enough realized that his heart beat elsewhere. "I spoke to Mekin [Mekin Maheshwari, then Chief People Officer at Flipkart] about my interest in an Internal Communications role and the rest is history," says Rajesh, picking on a guitar.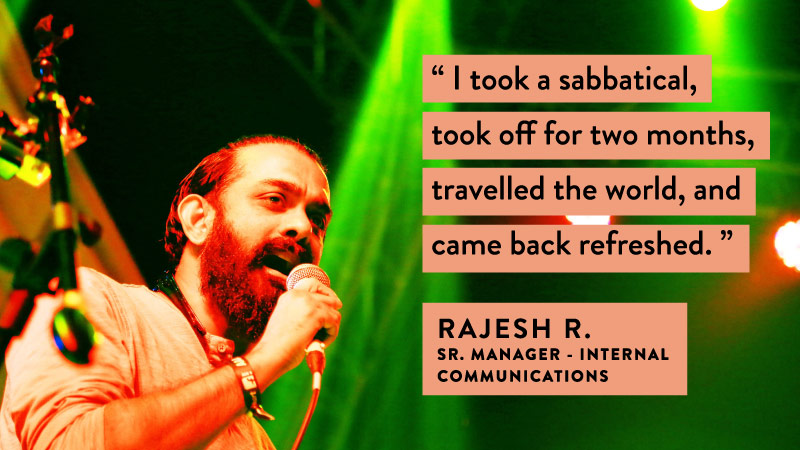 "While working in IC [Internal communications] is loaded with fun and creativity, it is also extremely demanding," says Rajesh. "I had not taken a long break in a while and I needed one. So I took a sabbatical, took off for two months, travelled the world, and came back refreshed," says Rajesh, who is also the lead vocalist of his band, RRK & The Stool Pigeons.
Sometimes you need a shoulder when you hit the books
Flipsters who have availed of the insurance support from the company have one person to thank. For the past four years, Ramu M has been answering the queries and concerns of Flipsters around medical insurance support. "I get anything between 65-80 enquiries daily around insurance support," says the smiling insurance executive, who has been delighting Flipsters through seamless employee experience. His depth of knowledge in the field is evident in every sentence he speaks.
"Every time I get a query, I put myself in the customer's shoes and try to understand their exact situation," says Ramu with a gleam in his eye. Ramu had lost his father to an ailment years ago and now takes care of his mother. "Hospitalization is a difficult time for people, emotionally and financially," he says empathetically. "I try to do my best to help them through this tough phase."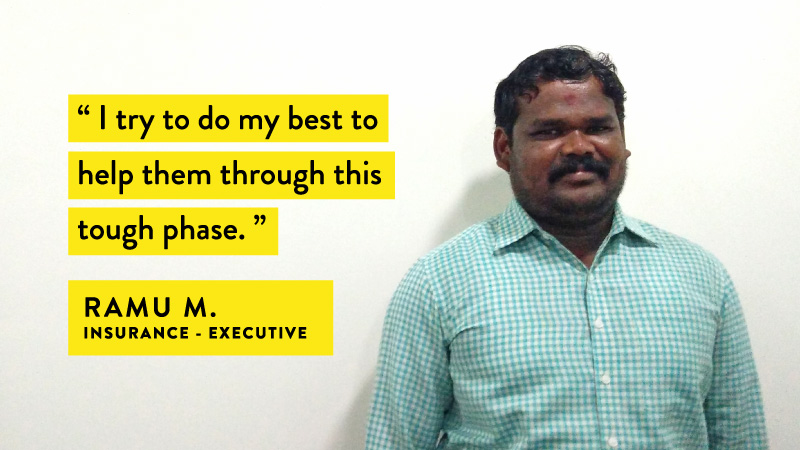 While insurance, maternity, paternity and career breaks might be the most-availed benefits at Flipkart, they are only the tip of the iceberg. "Programs like adoption assistance, leave policy and wellness programs are crucial touch-points in the lives of employees," says Kamran Kareem, Head – Benefits and Wellness. Kamran has been instrumental in designing and launching the Employee Benefits programs and policies at Flipkart and truly believes in the way it supports to create an inclusive workplace. "Our culture revolves around putting our people first. Our objective is to support employees during various phases of their life-cycle focused on enabling work-life balance," he adds.
In the rush called life, it is easy to forget the real people and the little moments that makes living even more wonderful. Today, Flipkart's ten successful years stands testimony to the dedication and contributions made by every single Flipster. And the employee benefit policies are but a small token of appreciation for the time and effort put in by every Flipster.
---
In 2016, LinkedIn ranked Flipkart among the Top 25 companies in India for attracting and keeping top talent. The report gives credit to the employee benefits and policies that go side-by-side with Flipkart's competitive environment.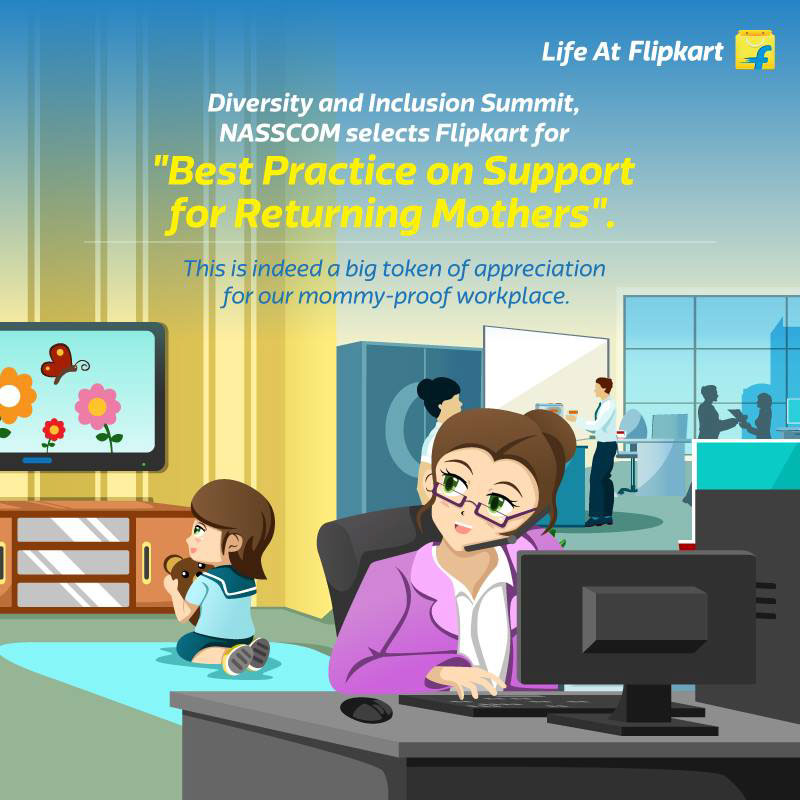 The 2017 Diversity and Inclusion Summit held by NASSCOM also recognized Flipkart for having the 'Best Practice on Support for Returning Mothers' — a testament that a well thought-out benefits program can support the lives of employees.