To keep you out of the rough, Bajaj Allianz offers privately owned 4-wheeler and 2-wheeler digital motor insurance plans. Signing up on the Flipkart app is a matter of clicks, and claiming compensation is equally easy with features like the Motor On-the-Spot, NCB transfer, Instant Support and more from the insurer. With 24x7 Roadside Assistance, you can get on the road knowing that your prized possession is protected.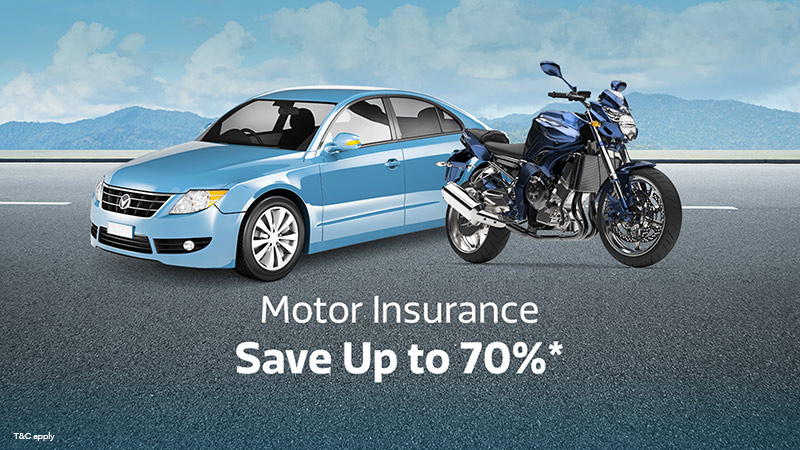 Good safety precautions, on and off the road, are a must, but did you know that the ideal travel companion that keeps you financially on track is just a few clicks away? Flipkart and Bajaj Allianz General Insurance Company, India's leading private general insurer, have come together to offer a digital motor insurance policy for your privately owned 2- wheelers and 4-wheelers. 
Ensure peace of mind, especially in these times of lockdown, with award-winning features such as Motor On-the-Spot (OTS)  and other add on benefits like 24/7 spot assistance, zero depreciation cover, cashless garages and transfer of No Claim Bonus.
Ready to turbocharge your ride? Here's a snapshot of how your journey is going to be different with this Car or Two-Wheeler Insurance.
Four-wheeler insurance: It keeps you in the driver's seat!
Protect your home on wheels with motor insurance plans that offer great value. With features like Motor OTS, 24/7 roadside assistance and cashless garages, you can keep your car in mint condition without hiccups. You get basic, standard, and comprehensive plans to choose from.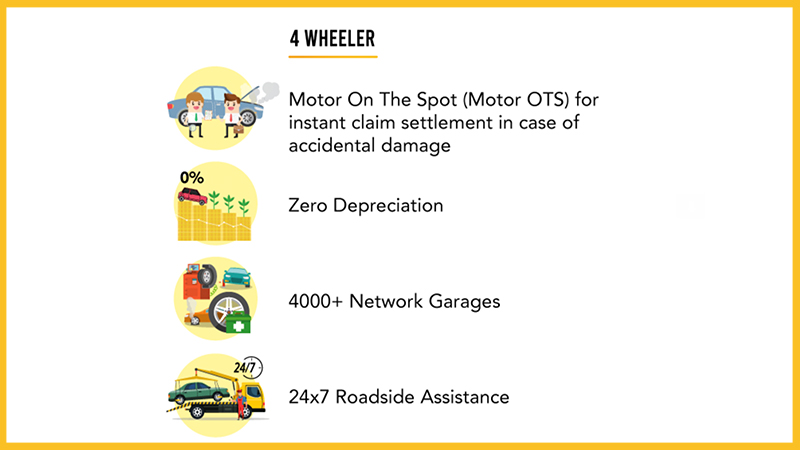 What you get
24/7 pan-India spot assistance: Get help with a flat tyre, to jumpstart a battery, to tow your vehicle and even get legal advice in case of an accident.
4,000+ cashless garages: Settle claims in a cashless manner, while availing high-quality services at your preferred garage.
Easy online purchase/renewal: Shop for the motor insurance plan of your choice and renew it with equal ease.
Motor On-the-Spot: Conduct a self-survey of your vehicle after an accident and get up to Rs.30,000 in 20 minutes!
Zero depreciation: Reduce depreciation expenses and get a better claim compensation.
Packages Available
If you want to go the extra mile, here are 3 packages you can choose from:
Drive Assure Economy: Includes Depreciation Shield, Engine Protector and 24×7 Spot Assistance
Drive Assure Economy Plus: Includes Depreciation Shield, Engine Protector, 24×7 Spot Assistance, Keys and Locks Replacement and Personal Baggage
Drive Assure Prime: Includes 24×7 Spot Assistance and Keys and Locks Replacement
Inclusions and exclusions
You get coverage for natural and man-made calamities such as fire, explosion, self-ignition, burglary, strikes, terrorist activities and malicious acts. You can also buy a Personal Accident Cover of Rs.15 lakh and a third-party liability cover. What you aren't covered against is normal wear and tear, damages caused when driving under the influence of substances, when driving without a valid license and due to war.
Two-wheeler insurance: A must-have in the toolkit
Purchase a Comprehensive Two Wheeler Insurance and stay financially protected against losses due to damage or theft and get coverage for third-party liability. You get 1-, 2- and 3-year plans with the 3-year motor insurance assuring you of an NCB benefit after claim as well as 0% hike in third-party premiums.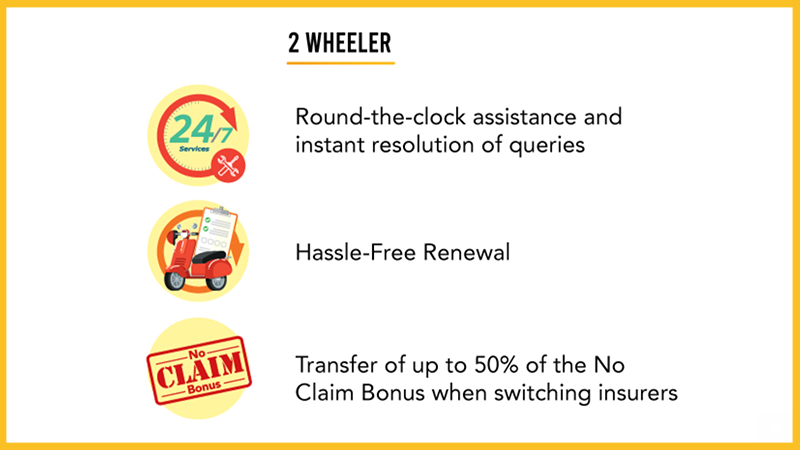 What you get
Motor OTS: Conduct a self-survey after an accident to have your claim settled in minutes, digitally.
Fuel assistance: Get help when running on empty through the 24/7 spot assistance service.
Easy online purchase: Buy and renew your Two Wheeler Insurance with a few clicks, online.
No Claim Bonus (NCB) transfer: Transfer up to 50% of your NCB from your previous insurer when you switch to Bajaj Allianz!
Instant support: Get round-the-clock claim assistance, SMS claim status updates, and help via WhatsApp, chatbot or the toll-free number 1800 209 5858.
Quick Claim settlement: Benefit from a swift turnaround time with a cashless claim settlement process and a wide network of cashless garages.
Hassle-free renewal: Enjoy uninterrupted motor insurance by renewing your policy online. No inspection needed.
Packages Available
Want to give your bike another layer of protection? Here are 3 packages you can choose from.
Drive Assure Basic: Includes Depreciation Shield
Drive Assure Silver: Includes Depreciation Shield, Engine Protector and Consumable Expenses
24/7 Spot Assistance that focuses on providing spot assistance during emergencies
Inclusions and exclusions
You get coverage for losses and damages arising due to natural calamities such as fire, explosion, self-ignition, flood, hurricane and landslide and man-made calamities such as theft, riot, accident by external means and damages during transit. Additionally you can purchase a Personal Accident Cover of Rs.15 lakh and a third-party liability cover.
What you do not get coverage for is normal wear and tear of the bike, mechanical/ electrical breakdown, damages caused due to reckless riding, riding without license or under the influence of drugs/ alcohol, damages due to war, theft of accessories and wear and tear of consumables like tyres.
How to apply for a 2-wheeler and 4-wheeler motor insurance?
You can add the right motor insurance to your gear without leaving your home! Simply:

Ensure you have the latest update of the Flipkart App
Click on the hamburger icon in the top-left corner
Navigate to 'Insurance' and click
Tap on '2 Wheeler' or '4 Wheeler', as per your needs
Enter your name and hit 'Get a quote' to get started
If securing your ride takes nothing more than a few clicks, why wait any longer? Sign up for a motor insurance policy by Flipkart and Bajaj Allianz today! 
Please note that the feature is available on the Flipkart m-site, Flipkart Android & iOS app.
---
Also read: Insurance on Flipkart: Get Industry's first Life+COVID-19 Hospitalization Cover in a Single Product