Unable to log in to your Flipkart account? As a customer-centric platform, Flipkart ensures that measures are in place for our customers' safety while they shop. Read on to understand why Flipkart accounts may be blocked, and how to get help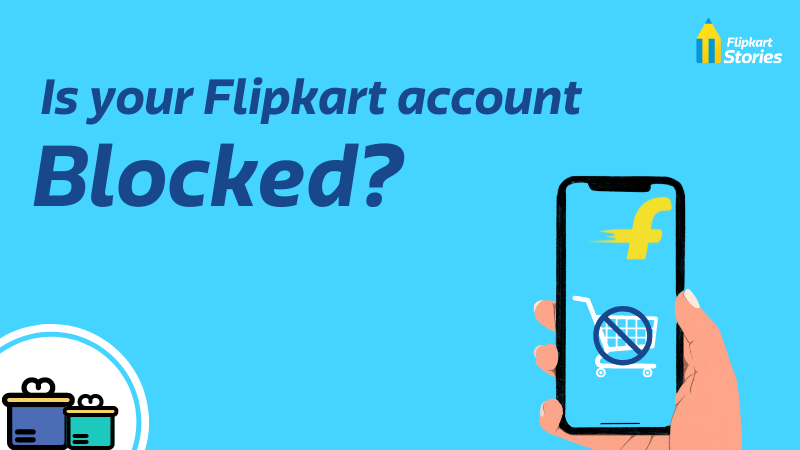 Flipkart account blocked? Read more to understand the reasons
Every day, millions of customers log on to the Flipkart app and website to shop for their favorite products. Flipkart makes it simple, convenient and affordable for Indians to shop online and fulfill their wishes.
First-time users can register and create a Flipkart account, and browse the app in their chosen language. To sign in, enter a valid email address or Indian mobile phone number along with a password. You may also be sent a secure One Time Password (OTP) to your registered mobile phone, which you can enter as a login credential. Your browsing experience within the Flipkart app is secure and safe. So are your wallets, payment information, addresses, and order history.
Customer First is the Flipkart way
The Flipkart marketplace is committed to providing all customers with a seamless experience, and we seek to ensure a quick resolution to every customer grievance. We have a team of dedicated executives that understand customer concerns and are focused on addressing their issues through established processes and technology systems.
When our customers raise concerns, we investigate each case brought to our attention and take appropriate action, which may include a refund or exchange based on the terms of the purchase. In instances where there is a concern about quality or wrongly delivered items, we also take action against any errant party.
We are mindful that customers may be disappointed due to cancellations by sellers due to the high demand for products that may go out of stock.
On rare occasions, some accounts may be blocked to safeguard and protect the larger interests of all customers.
Why are Flipkart accounts blocked?
In keeping with Flipkart's Customer First policy, we have put in place multiple checks and balances to make our technology-enabled online shopping platform safe for customers at all times.
Should your account be compromised by a fraudster or if suspicious activity inconsistent with safe shopping practices is detected, your account password may be automatically reset to prevent unauthorized access. In such cases, you may reach out for help to our support team to restore access to your account after confirming your credentials.
If you think your Flipkart account is blocked, take a look at the reasons why this might happen, what you can do, and how you can regain seamless access to your Flipkart account.
Help! I think my Flipkart account is blocked!
Relax! Your Flipkart account is blocked only in the rarest of rare cases as a safeguard measure against suspected misuse or malpractices, and to protect the interests of all consumers who shop on the platform.
Following are some reasons why an account may be blocked:
Unusually high number of return requests raised. This safeguard measure is in place to protect genuine customers as well as marketplace sellers who may be impacted by an unreasonably high number of returns.
Unusual payment activity — misuse of cash-on-delivery (COD), repeated delivery to a wrong or unavailable address, multiple order cancellations, repeatedly entering wrong card number or CVV, card not in use, etc. — such activities resemble the modus operandi of fraudsters and may result in access being withheld to safeguard your Flipkart account.
Bulk purchases of the same or similar items — buying multiple high-value items in a single session, or in a single order, may result in account block in order to discourage resellers.
Multiple incorrect OTPs entered may lead to temporary blocking for 24 hours to protect your Flipkart account from being compromised.
Dormant accounts (not logged in for more than 6 to 12 months) may be at a higher risk of being misused for fraudulent activity. If your login attempt does not succeed after a long period of inactivity, please reach out to our Help Center for support.
Follow these steps to enjoy a seamless shopping experience
Update the Flipkart app on your smartphone/device to the latest secure version from the Google Play Store (Android) or Apple AppStore (iOS).
Ensure that your device is charged and connected to a stable and secure 4G or WiFi network.
Shut down unnecessary apps as these may slow down your device's performance
Update your payment methods in the Flipkart app. Check that your credit and debit cards are updated with the correct CVV and expiry dates. Ensure that your online wallets and UPI apps are linked and topped up. If you choose to pay via debit cards, ensure that you have sufficient available balance in your bank account.
Spell-check your name and addresses, and ensure that they are correct and complete in all respects, along with PIN codes. Note that Flipkart delivers to all serviceable PIN Codes in India. However, certain items may not be deliverable to all PIN codes depending on seller policies and applicable local laws and regulations.
Never share your login access credentials such as password or OTP as this may lead to unauthorized access to your Flipkart account.
Make sure to follow these simple steps to ensure seamless access to your Flipkart account and shop safe and stress-free.
Safe Shopping starts with you
Note that Flipkart educates customers regularly on safe shopping practices through the Flipkart Stories website and our social media channels under the hashtag #FightFraudWithFlipkart. You are urged to share this educational content with your friends, family and colleagues.
In addition, Flipkart creates public awareness about the modus operandi of fraudsters and reports their activities to law enforcement agencies to ensure that customers can enjoy a safe, secure and trustworthy shopping experience.
---
Want to become a #SafeCommerce expert? Follow FlipkartStories on Twitter and Instagram to take part in exciting quizzes and contests to test your awareness of safe shopping on Flipkart. Look out for the hashtag #FightFraudWithFlipkart