Do you have questions about the Flipkart returns policy? This simple guide will help you understand how the Flipkart product returns process works, making your shopping and returns experience smooth and convenient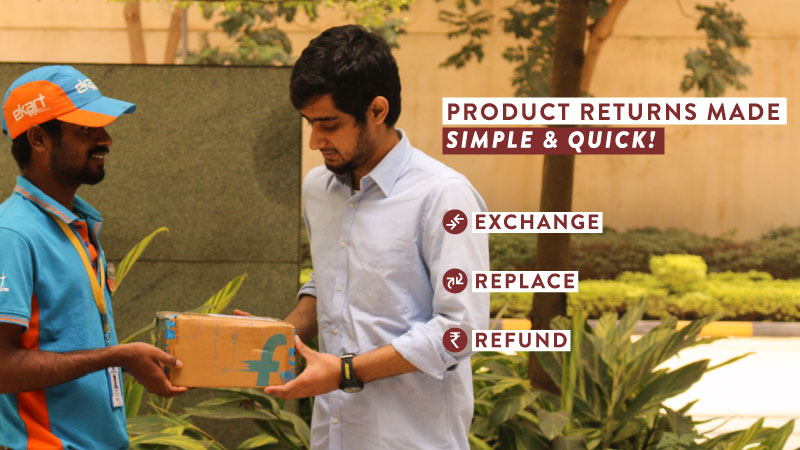 Online shopping is simple and quick. You might enjoy the comfort and convenience of buying your favorite products in a few clicks or taps. Sometimes, however, when your order arrives, you may realize that the product isn't exactly what you expected. It may not be of the right size or color, or in rare cases you might find that it is defective or damaged. What do you do now? This is where the Flipkart Product Returns process makes your life easier.
---
The Flipkart Product Returns Process Explained
This handy reference guide helps you understand how the Flipkart product returns process works: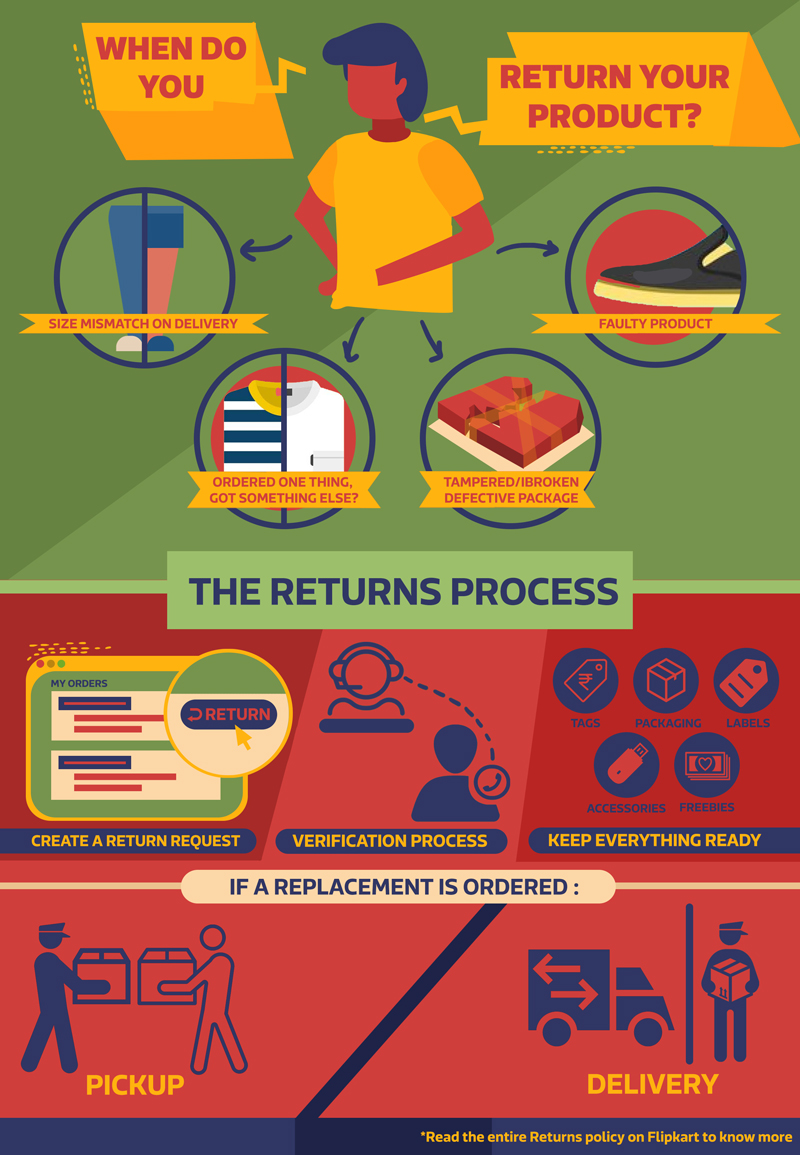 Here Is How The Flipkart Product Returns Process Works:
Log in to Flipkart and go to your Orders tab. Tap or click on Return to create a request.
Select your applicable reason of return — based on which the option of exchange, where applicable, will appear. Three options will be available:

Exchange: Your order will be exchanged for a new identical product of a different size or color
Replace: The product in your order will be replaced with an identical product in case it is damaged (broken or spoiled) or defective (has a functional problem that causes it not to work).
Refund: If the product of your choice is unavailable in your preferred size or color or model, or if it is out of stock, you may decide that you want your money back. In this scenario, you may choose Refund to have your money returned to you (See Step 6)

Depending on the kind of product you wish to return, your return request may have to undergo a verification process
Following verification, you will be required to confirm your decision based on the category of product ordered.
Keep ready all the requisite items necessary for a smooth returns process — including invoice, original packaging, price tags, freebies, accessories, etc.
Pickup and Delivery of your order will be scheduled and details will be communicated in case of exchanges and replacements
Refund will be initiated and processed if applicable
Your request will be fulfilled according to Flipkart's returns/replacement guarantee
---
How Long Does The Flipkart Product Returns Process Take?
As soon as you raise a return request, you will receive an email at your registered email address and an SMS on your registered mobile phone number. You can also track the process by visiting the My Account page on your laptop or smartphone by clicking on My Orders. If you're going in for an exchange, your replacement product will be delivered to you at the same time as the pick-up in most cases. Remember to keep tracking your order.
Click here to know more about Flipkart product returns.
---
Flipkart Product Returns Policy For Different Product Categories
Returns is a facility provided by respective sellers directly under this policy in terms of which the option of replacement and/or refund is offered by the respective sellers to you.
The returns policy brings in a lot of changes keeping in mind our loyal customer base.
One small caveat, all products listed under a particular category may not have the same returns policy.
Consider 4 buckets to understand our return policy
You may request for a replacement within 7 days of delivery for all electronics (Large appliances, mobile phones, laptops etc.) and a few verticals in Lifestyle. Click here for more details. Depending on the policy of certain brands, for product defective issues, you may be asked to visit the nearest authorised service center.
You may request for a replacement only within 10 days of delivery for large and furniture categories.
You may request for a replacement only within 10 days of delivery for large and furniture categories. Click here for more details.
NOTE: Be aware that for the above two buckets Flipkart's returns policy applies as long as the items are unused, undamaged and with all original tags & packaging intact.
Please also note, in case of Open box delivery, damage/missing/misshipment request would not be entertained post successful delivery completion. Please check the product thoroughly at the doorstep in such cases.
Certain products cannot be returned. View this list here.
---
Product Returns – Common Scenarios
When is your order eligible for product returns, exchange, replacement or refund?
Explore some of the scenarios to gain a better understanding so that you make an informed choice and experience peace of mind when you shop on Flipkart.
When your order is damaged, defective or tampered

First, check if there is any damage to the product that you ordered. Sometimes, the package may appear to be damaged due to shipping and handling but the product inside the packaging may be in good condition. However, if you notice that your package has been tampered with or the product is not sealed properly in its box, you can reject the order on the spot. If you notice this after you accept the package, you may opt to raise a Return request. Click on the Orders tab in the Flipkart mobile app or desktop site to find the Return option. Opt for this and follow the next steps of the process. The Flipkart product returns team will take over from here.
Depending on the category of product ordered, you may opt for a Replacement or Refund.
Unexpected fit, color or style 

Ordered a pair of running shoes and discovered that they don't fit you? Don't worry. Log into your Flipkart account, go to My Orders tab, click on Return, choose the reason as size fit issue and select the Exchange option. Exchanges are an option when the size does not fit you OR you do not like the color of the product.
Product returns and replacement in case of Out of Stock products

Ordered a t-shirt and discovered that it does not fit? What if there is no replacement available in that size?
You can get a full refund for the t-shirt from the same My Orders tab. In fact, you can get a refund for any product you order from the Lifestyle category
But if you like the t-shirt so much that you'd like to keep an eye on when it comes back in stock, just click on the Notify Me feature. When your favorite tee is available with a seller on Flipkart, you will receive a notification so that you have another chance to buy exactly what you like.
You ordered one thing, but got something else 

So, you ordered a Captain America mobile cover for your Moto G, but when the package arrived you got a gold iPhone cover. While this is not a common occurrence, such scenarios should be immediately alerted for Returns.
Once notified for return, our delivery personnel will collect the product delivered to you and provide you with a replacement of the exact product that you ordered. Remember to read the return policy on the page where your product is described.
All returns are covered by the Flipkart replacement guarantee.

If you are unsatisfied with your replacement, or if the specific product or model that you want is out of stock, our customer support team may advise you to opt for a refund.
Choose the Request Return option after filling out the details from your My Orders page. Your refund will be processed after approval. Once your refund has been approved, your money will be credited back to you in one of three ways:
As an IMPS transfer if you have paid via cash-on-delivery
As a refund via the same source that you used to pay for the order (called Back to Source). For example, this means that if you paid via your HDFC Debit card, your refund will be credited to the same account.
Via IMPS into a bank account specified by you while creating the return, if you choose to get refund into a bank account instead of taking refund Back to Source. (Available for Debit Card and Netbanking forward payments).
For eligible transactions, you can also transfer your refunds back to Flipkart EGVs.
A product bought from Flipkart is not functional during its warranty period
The Flipkart replacement guarantee stands applicable during the specified period, depending on the seller's return policy and the product category. It is important to first check the Replacement Guarantee period on the product page and then ask for a 'Return'.
If, for some reason, you discovered that the product you ordered has some malfunction or is not working past this guarantee period, get in touch with the authorized service center of the brand in your city, just as you would with any product that you might purchase at an offline retailer.
We hope that reading this article has made you feel more at ease about product returns on Flipkart. If you have further queries, we encourage you to carefully read the complete FAQ on Flipkart product returns and exchanges.
---
Still have questions? Click here to find out more about how you can get in touch with Flipkart.
Infographic by Sadhna Prasad | Flipkart Stories