Using Flipkart's Mobile Exchange offer, these customers exchanged their old mobile phones to get fabulous discounts on their new phone purchases. Read their story and be inspired!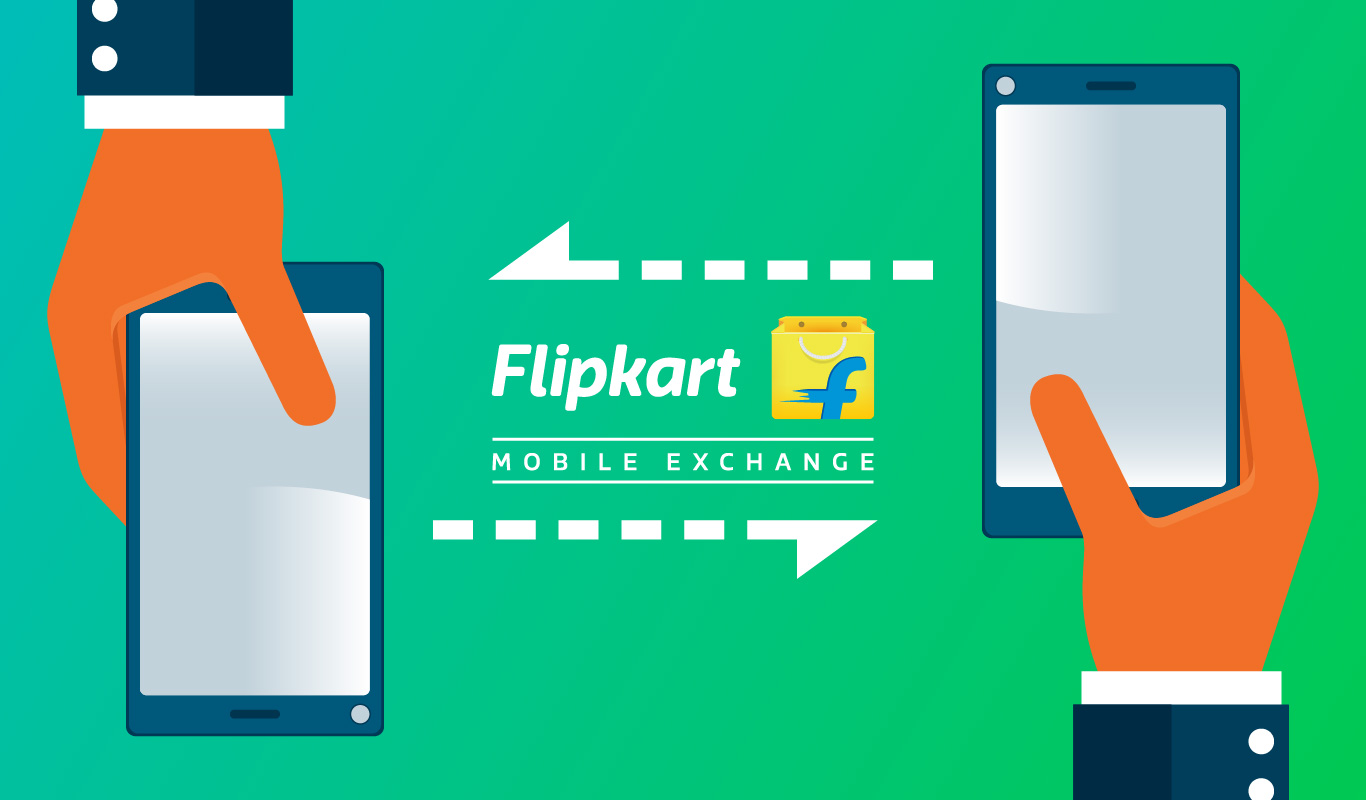 What do you do with your old phone? It was a simple question that begged an answer.
In 2015, Flipkart pioneered an innovative program that changed the way India thought about smartphones — a move that was prompted by the way most of us now looked at buying a new phone. It has become an annual errand for most of us. A smartphone is something we tend to refresh every year to keep up with both changing trends and updated technology. As smartphones became smarter, and to an extent, more expensive, how do we keep up? While Flipkart gave us attractive deals and discounts on brand new mobiles, 4G phones and the best in camera phones, what did most of us do with our old phone? Get rid of them one way or another, right?
Have you tried passing your old phone on to your mom or kids, tried selling them online, or simply put them into a drawer you never opened again? Well, no matter what you did, your old smartphone didn't really contribute beyond its first or second year of service — and for no fault of its own. Was there some way to utilize your smartphone that could advance your wait for that latest mobile you've been craving?
We spoke to the first few customers who tried our Mobile Exchange offer, and this is their story.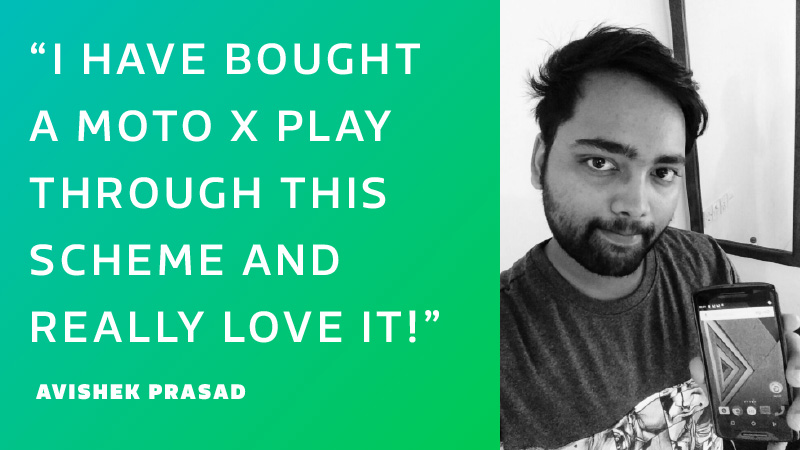 Old phone woes vs. new phone wishes
In Kalaburagi, Karnataka, Priyanka Margol was in a tizzy. A four-year Flipkart veteran shopper, all she wanted to do was gift her husband Ganesh a new Samsung Galaxy J5. But how would she get rid of her old Sony phone? And still reduce the final amount that she needed to spend?
"I was thinking of what to do — either keep the old phone or sell it on OLX. The problem with that is then I would have to haggle with buyers for a better price for phone, chat with them, exchange contact details," she says.
In Chinsurah, West Bengal, customer relationship officer Mithun Paul faced the same dilemma. He was still using his old phone while thinking of a way of getting his hands on the Moto X Play. "I had been thinking of buying the X Play for a while now, but my old phone was only a year old," he says. Beset with similar doubts of using a perfectly good phone but still wanting to trade up, Punjab resident Uttam Jaiswal tried a different tactic. "I had been trying to sell my old Samsung phone to somebody, and if that didn't work out, I would have to just keep the phone and buy the new one," he reveals. In Dibrugarh, Assam, too, research scientist Dr Avinash Saikia faced a similar conundrum. "Since I wanted to buy a new smartphone, the only thing left to do was keep my Moto G3, which I also purchased from Flipkart, and go ahead and simply buy a new smartphone," he says. But what would he do with his old phone?
Millions of customers across India had identical thoughts. What could they possibly do with their old phones when their hearts were set on a new one? Giving it away to friends and relatives wasn't really a solution. After all, they needed a solution that was lucrative, simple and convenient. What was the smart way out of this smartphone problem?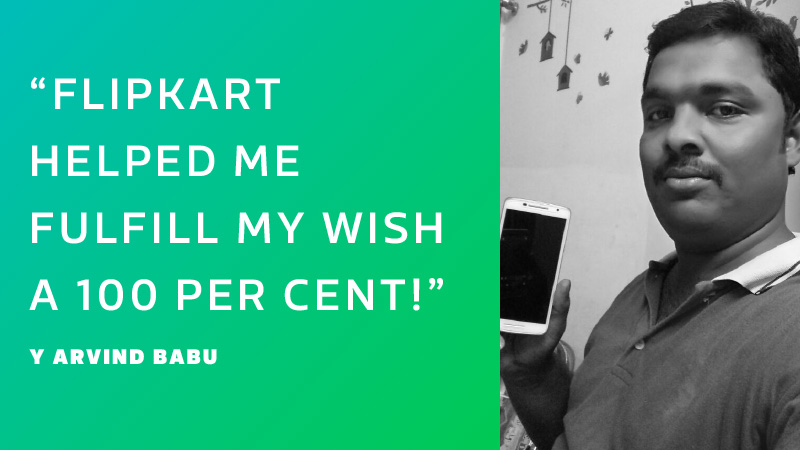 Flipkart's Mobile Exchange to the rescue
News of Flipkart's mobile exchange program turned their worry into wonder. In New Delhi, government officer Dinesh Choudhary did some good old-fashioned research before he hit upon the offer. "I first came across Flipkart's mobile exchange offer while surfing for a mobile exchange service, which in turn led me to Flipkart's website," he says.
In Durgapur, Arun Shishodia, a Quality Manager for GE, found out about the exchange offer through a television commercial. So did 21-year-old Sarnava Basak of Assam. "I learnt about Flipkart's mobile exchange offer after seeing quite a few ads regarding it on television. I also read a few articles and blogs regarding this offer and it attracted my attention immediately," he says. Others like Priyanka Margol, Gujarat's Anurag Jaiswal and West Bengal's Avishek Prasad found out about Flipkart exchange discount through notifications on the Flipkart mobile app, which they both used quite often.
And why did the offer make their hearts skip a beat?
"When I logged into my Flipkart account, I found out that I was getting a very good price for the old phone through exchange, and that was all I needed to order my new Moto X Play!" says Mumbai's Jittu Varghese. He wasn't the only one who jumped on the bandwagon.
"When I came across this fantastic scheme where I could actually exchange both my old phone and buy my dream Moto X Play, I snapped it up," says Mithun Paul with excitement evident in his voice. Even 28-year-old Sharanjeet Singh from Hoshiarpur, Punjab, experienced a moment of joy when he and his brother discovered the exchange offer for the Samsung J5 phone they wanted to buy. "What we loved about the scheme is that if a person has an old phone which he or she is finding difficult to sell off, or which doesn't have much immediate resale value, this scheme is really helpful."
And what about the mechanics of the process? After all, complicated exchange processes and long waits for receiving the exchange value are what deter most people from even trying such schemes.
Priyanka Margol explains, "I simply had to select the mobile brand and model name of the old phone, and enter the IMEI number to get the exchange value for it. If I was not happy with the exchange value or didn't like the new phone, I could choose not to go ahead with it. Isn't this great?"
Given the number of exchange orders we received, our customers certainly thought so!
For a step-by-step guide into how the Flipkart mobile exchange program works, click here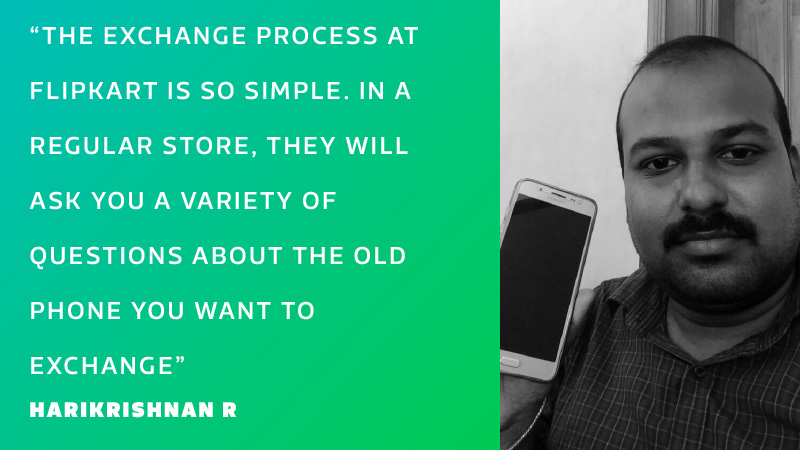 More bang for the buck
What's the vote when it comes to the exchange value offered by Flipkart's Mobile Exchange program? Most of our customers came away as happy campers.
"I felt that the exchange value I received on my old phone from Flipkart was really good. If I would have sold it on OLX, I would have got a lesser price, probably 60%-70% of the amount which I have got now," says Jittu Varghese. Mithun Paul concurs. "One great thing is that when I exchanged my old phone, I got a higher exchange value than the market. So while I got Rs. 5,200 off through exchange on Flipkart, in any other offline store I would have got maximum Rs. 4,500 off."
Arun Kumar, an engineering student based in Cuddalore, Tamil Nadu, had a similar reaction to the exchange value of Rs. 7,280 he received. "I was looking to exchange my previous phone, Moto G3. This was the first time I was trying an exchange online but the value I received on it was higher than I expected and prompted me to go for it! I'm definitely opting for this scheme in the future too."
From newbies who tried out the exchange discount for the first time to old hats who've tried it before, customers across India had great feedback. "The Rs. 5,700 discount I received on my old phone, Moto X (1st generation), was worth it, considering that I had used it for two years," says Goan architect Arijeet Raikar. "And I have never faced problems with the exchange process, and I've exchanged enough number of phones on Flipkart to say so!"
Even when our customers found the exchange value to be less, they saw the advantage of this offer. Engineer Anuraj Jaiswal, for example, thought the value of Rs 6,900 for his old Sony Xperia Z3 Compact was less than what he received elsewhere. "A retail store had offered me an exchange value of Rs. 8,100 on my old phone, but the criteria was that I had to purchase an iPhone from them. Since buying an iPhone wasn't in my budget, I opted for the Huawei Honor Holly 2 Plus on the exchange offer from Flipkart. One thing I really love about Flipkart's mobile exchange offer is that it enables customers to get an exchange value for the smartphones they've stopped using, and then buy a new phone through the after-exchange price," he says.
Priyanka, a homemaker, shares his view. "Flipkart offered an exchange value of Rs. 5,200 on our old Sony phone. Though I felt that it was less, the fact that I could buy a new smartphone at a discounted price because of it was something that I was happy with," she says.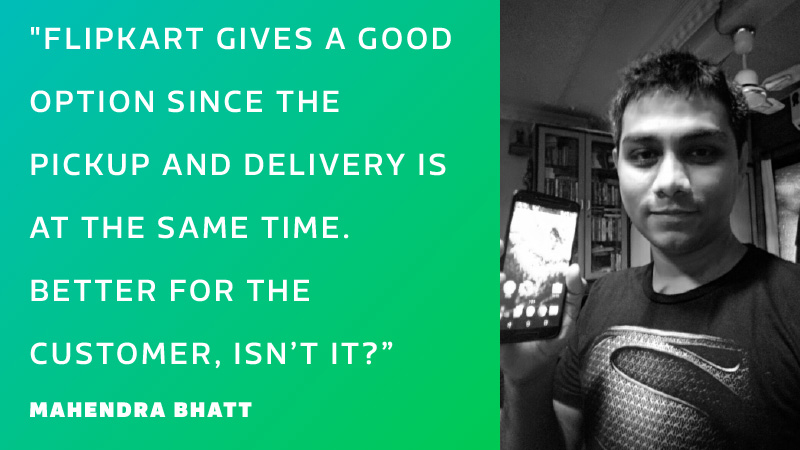 Wish fulfilled!
From the popular Moto X Play to the latest models from Huawei, from the Nexus 6P to the latest Lenovo smartphones, Flipkart's exchange discount is valid on a wide variety of brands and the newest phones released in the market. But bigger than that is the joy that the new phones bring to customers.
"I have bought a Moto X Play through this scheme and really love it!" says Avishek Prasad. Sarnava Basak is also thrilled with this latest purchase. "I am very happy with the new Nexus 6P that I have bought from Flipkart through this scheme. When it comes to hardware prowess and value for money, this phone is hard to beat," he says. If you're wondering about fake products, Anuraj Jaiswal puts all doubts to rest. "I bought a Huawei Honor Holly 2 Plus through this scheme and I really love that Flipkart offers original products with timely delivery."
When it came to convenience, too, our customers had a lot to say. Anindya Sarkar, an assistant professor at Tripura University in Agartala, had been looking to fund his desired Moto phone through an exchange. "Putting up an ad to sell my old phone on Quikr or OLX takes a lot of work since you need to handle potential buyers. What I liked about this mobile exchange offer from Flipkart is that the person comes and picks up your old phone right at your doorstep. One doesn't need to go anywhere. At any other retailer, chances are you will be required to pay the MRP upfront, then their person will come and check my old phone, and then issue a refund. In this regard, I feel that Flipkart has the best mobile buyback program, since the exchange value gets deducted from the MRP right at the outset."
He isn't the only one who appreciated the hassle-free process. Proprietor of Bharat Metal Industries, Surinder Verma from Karnal, Haryana also appreciates the simplicity and ease of Flipkart's mobile exchange. "I was offered an exchange value of Rs. 5,900 on my HTC One — this was more or less the same price that I was offered in the retail market too. Here is one thing I loved about the mobile exchange offer from Flipkart. If you take your old phone to the retail market to sell, many a retailer will check it inside out, pick even the most minor defects and often haggle with a customer to ensure they pay the lowest possible exchange value."
Besides dispensing with the inconvenience of visiting different stores and then quibbling with buyers, what stood out to most customers was Flipkart's no-questions-asked policy. Harikrishnan R, a bank sales manager from Ernakulam, Kerala, bought a Samsung Galaxy J5 through exchange. "The exchange process at Flipkart is so simple — verify by entering the IMEI number and if the display of your old smartphone is intact and its condition is good, Flipkart will facilitate exchange in no time. In a regular store, they will ask you a variety of questions about the old phone you want to exchange," he says.
With no waiting between delivery of the new phone and pick-up of the old phone, it's a win-win, and something that Mahendra Bhatt definitely approves of. "I believe that Flipkart's mobile exchange offer is the easiest way to exchange your old phone," he says. "While other shopping portals do have exchange offers, they have a different process: The delivery and pickup happens separately but Flipkart gives a good option since the pickup and delivery is at the same time. Better for the customer, isn't it?"
That's a thought that long-time Flipkart user Sarnava Basak echoes. "What I like about Flipkart's mobile exchange offer," he says, "is that customers aren't required submit their old phone first, wait for 1-2 days for the exchange money, and then buy the phone. It's all so easy!"
Confused by all you hear about the Flipkart mobile exchange offer by competing brands, news articles all else? Separate the myths from the facts by reading this article
[os-widget path="/flipkartstories/exchangesmart-quiz" of="flipkartstories" comments="false"]
What's the verdict?
"Right from the start, I wanted to exchange my old phone and buy my new Motorola phone. If not for the mobile exchange service from Flipkart, I would have scrapped my wish," says Dinesh Choudhary from Delhi. He's not the only one for whom wishful thinking became reality. The offer even served to advance some wishes."The scheme helped me fulfill my wish earlier than I'd planned," says Dr Avinash Saikia. "According to me, Flipkart's mobile exchange offer is as good as it can be, so I don't have any suggestions as such on improving it. I give it an 8 out of 10."
After all, getting a hefty discount on a new phone without letting an old phone go to waste is an idea that deserves a hat tip. Something that final engineering student Pawan Kumar Megalamani from Ballari, Karnataka finds completely logical. "According to me, exchanging an old phone to then buy a new one is better compared to spending more money to purchase a new smartphone," he says.
The exchange experience has been encouraging enough for Flipkart customers to opt for the deal over and over. "My Moto X Style, which I have purchased recently, is not the first phone I've bought through Flipkart's mobile exchange program. In July last year, I had bought a Google Nexus 6 through this scheme as well," reveals Anindya Sarkar.
Flipkart customers have now become ambassadors of the mobile exchange program, spreading the word to friends and family. "After seeing that I opted for this offer, around six of my friends opted for the mobile exchange offer on Flipkart as well, and all their experiences have been good," says Arun Shishodia. West Bengal resident Avishek Prasad has even told his friends and relatives to try the mobile exchange before they visited a multitude of stores. "Why go here and there and waste time when you can sit at home and shop on Flipkart?" he asks.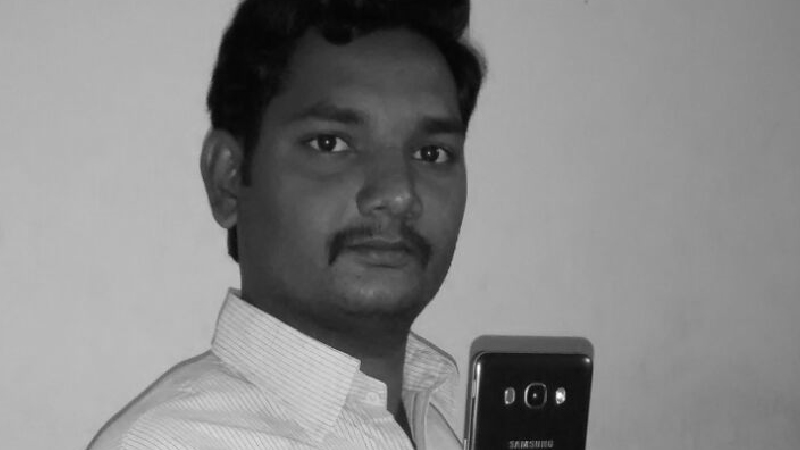 Happy to have gifted her husband a new J5, Priyanka Margol is so happy with the exchange that she's vying to try it again — this time to buy herself a phone. "Doing such a deal anywhere else apart from Flipkart would not have gotten me a new smartphone in return for my old phone at a discounted price. In the future too if I get a good enough offer or if there's a great smartphone available on Flipkart, I would definitely use Flipkart's mobile exchange offer again."
So what's the verdict? We'll let Kadapa resident and assistant professor Y Aravind Babu sum it up. "Flipkart helped me fulfill my wish a 100 per cent!"
That's music to our ears, like the tinkle of a brand new mobile phone!
Want to experience the ease of Flipkart's mobile exchange offer for yourself? Click here to see the widest range of smartphones on Flipkart and get your exchange discount right now!
---
Customer data analysis by Pushpendu Kumar | Flipkart Stories